With so much to see in this vast country, it can be difficult to know where to start when it comes to planning a trip in the United States. World-class cities, some known for history and others known for fun or glamour, give visitors a broad spectrum of places to choose from. The best places to visit in the United States may simply depend on your personal interests.

Along the Eastern Seaboard, New York and Washington, D.C. offer two uniquely different city experiences. Along the West Coast, San Francisco and Los Angeles are both hot spots for tourists. In the Southwest, Las Vegas brings the desert to life, and the Grand Canyon shows off one of nature's greatest creations. Beyond the mainland are the beaches of Waikiki and the tropical Hawaiian Islands. These are just a few key locations, but wonderful destinations for any type of traveler can be found all over the country.
Discover more of America with our list of the best places to visit in the United States.
1. New York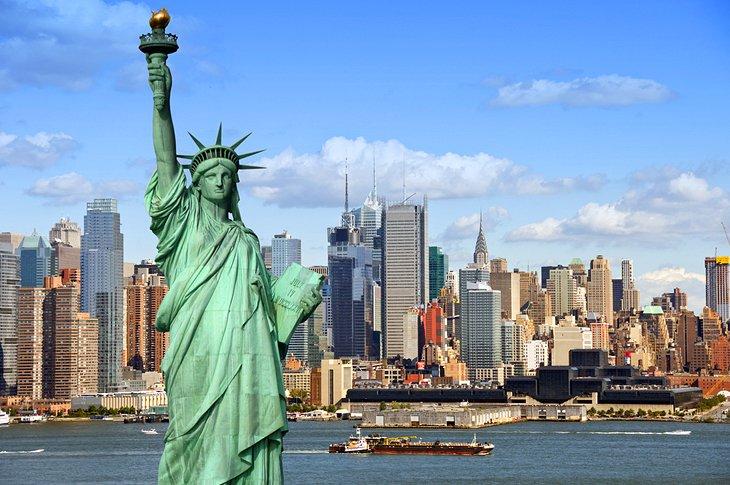 New York
New York City is like no other city in the world, and one that must be experienced to be fully appreciated. For first-time visitors, walking the streets can be like walking through a movie set, with famous sites at every turn, from the Empire State Building, to Rockefeller Plaza, the Chrysler Building, Central Park, Times Square, 5th Avenue, Broadway, and of course, the Statue of Liberty.
Sightsee by day, take in a Broadway show in the evening, work in time for shopping, and relax and reminisce over a fantastic meal. This is New York. With too much to see and do in a day or a weekend, this is a city worth visiting time and time again.
2. San Francisco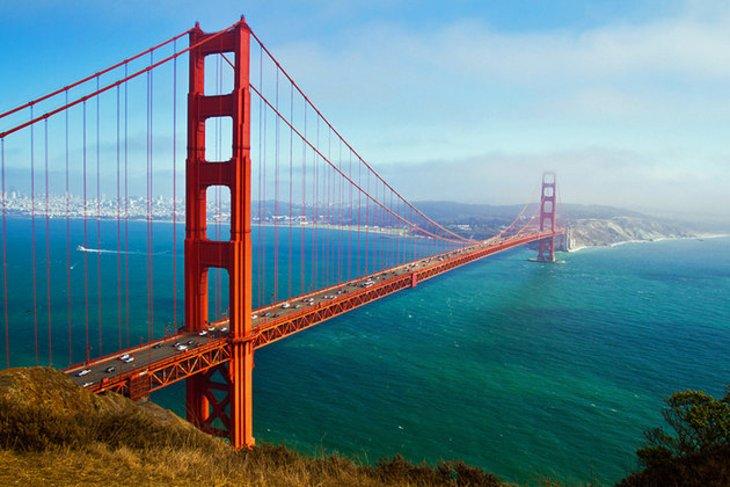 San Francisco
This charming and picturesque West Coast city is the perfect getaway destination for couples, singles, or families. Famous sites, charming streets, beautiful views, and outdoor dining are all part of what makes San Francisco such a great place to visit.
Take a cruise on San Francisco Bay, tour Alcatraz, drive over the Golden Gate Bridge, wander around Fisherman's Wharf, or hop on a street car to explore the city sites.
Summer or fall is a wonderful time to visit, but the climate here is mild and any time of year is pleasant.
3. The Grand Canyon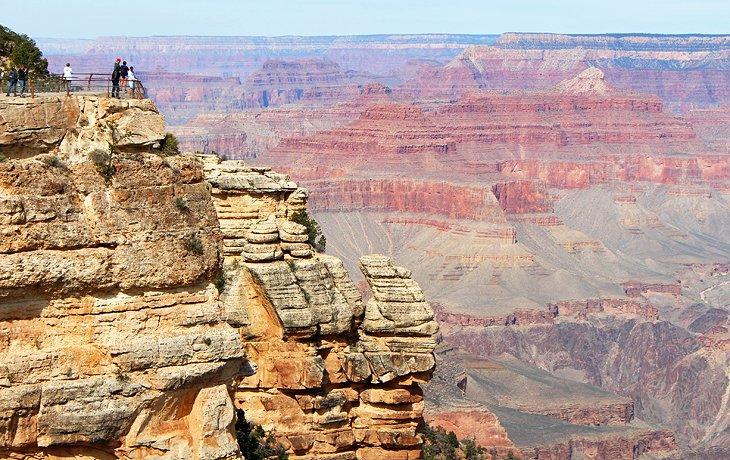 The Grand Canyon | Photo Copyright: Lana Law

The Grand Canyon is one of those must-see, bucket-list destinations that have been attracting visitors for generations. Gazing out over the canyon walls to an endless horizon and an unfathomable depth below is one of the highlights of any trip in the United States.
Visiting the Grand Canyon can easily be done on a day trip from Las Vegas or Phoenix, and some smaller cities in the vicinity, or incorporated into a larger driving trip through Arizona and surrounding states. A train trip from Williams, AZ is another delightful way to experience the canyon.
You can visit the south rim of the Grand Canyon, which is the most popular and most visited section, at any time of year. The road to the north rim of the Grand Canyon is closed in winter due to snow.
4. Houston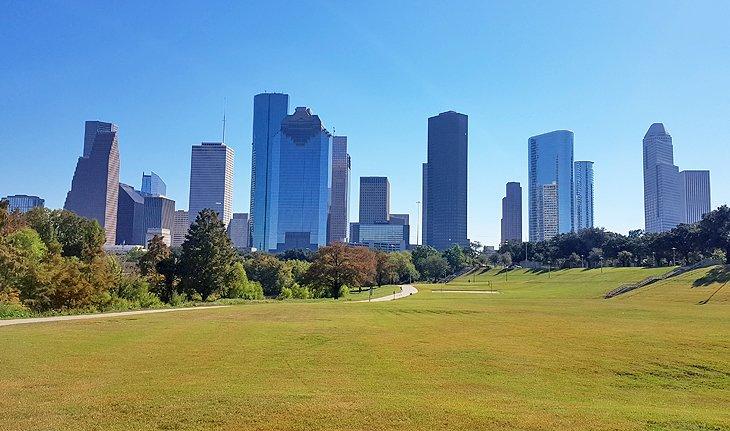 Houston from Buffalo Bayou Park | Photo Copyright: Lana Law
Houston is the perfect city for a friends getaway, a couples' retreat, or a family vacation. With direct flights from cities across the United States and Canada, you can easily fly in to see a sports game, wander through Houston's Museum District, lounge by a pool at one of the many luxury hotels, and spend your evenings enjoying incredible meals. Houston has developed into a hot spot for dining in the United States and is now well known for extraordinary cuisine.
If you want a relaxed but outdoor urban experience, rent a bike and peddle your way through the miles of paved trails in the parks or on the downtown streets. Rent a kayak and paddle along Buffalo Bayou in Buffalo Bayou Park.
In less than an hour, you can be on the nearby beaches at Galveston, and along the way, you can make a stop at Space Center Houston.
5. Las Vegas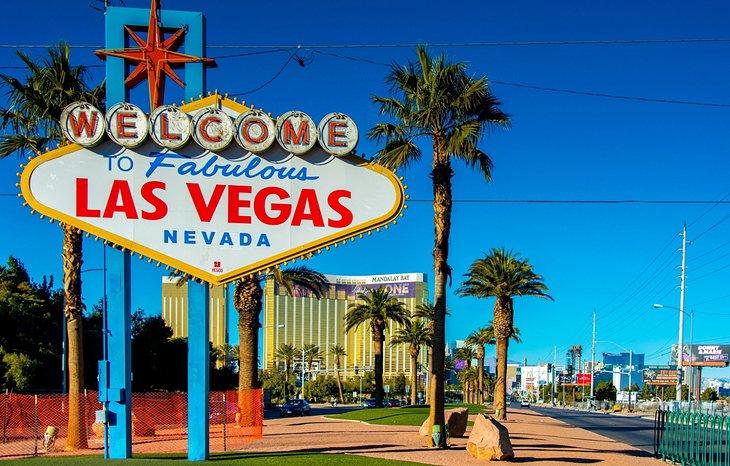 Las Vegas
This glittering city of lights in the desert holds a unique appeal, and one that has been attracting visitors for decades. Huge resort complexes, with all kinds of things to see and do at any time of year, have made this a destination that draws everyone, from want-to-be newlyweds who come here to say their vows, to families who just want to hang out around a pool.
Entertainment options are extensive, with some of the music industry's top stars calling Las Vegas home and playing to packed audiences every night. Cirque du Soleil offers another unique experience, and of course, each resort has something to entertain guests, from dancing fountains to an erupting volcano.

When you've had your fill of the city, there is plenty to explore in the surrounding area, with the Grand Canyon, Hoover Dam, Death Valley National Park, and Valley of Fire State Park all within easy day-tripping distance.
6. Waikiki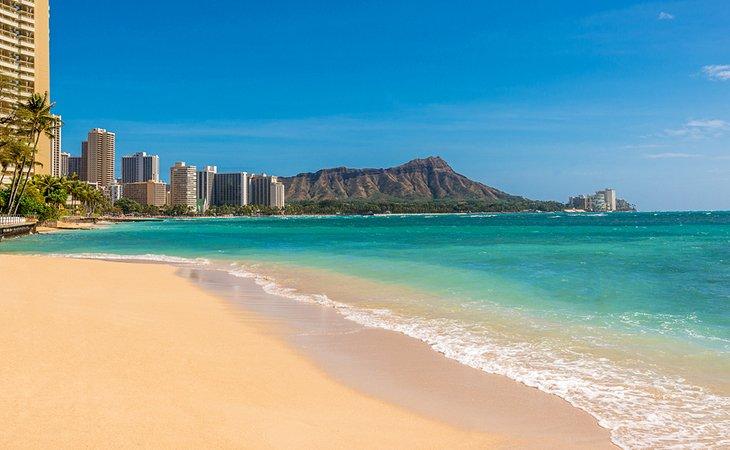 Waikiki
Waikiki is one of America's top beaching destinations, with all the comforts of North America on a beautiful tropical island in the Pacific Ocean. Located on the Hawaiian island of Oahu, Waikiki is a suburb of Honolulu known for the beautiful golden sand beach that stretches along the oceanfront, backed by hotels and retail establishments.
Rent a surfboard and test your skills in the waves, hit the shops when you're done with the beach, and enjoy great dining options in the evening. This is the perfect destination for everyone, from families to couples or singles.
7. Washington, D.C.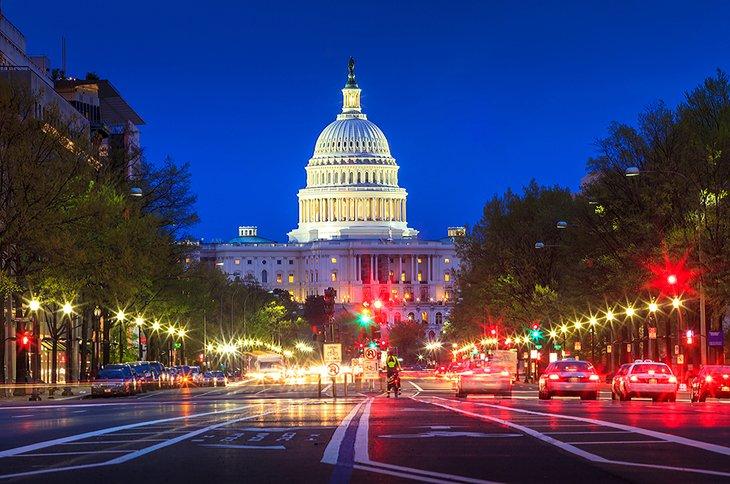 Washington, D.C.
Washington, D.C. is the US capitol and home to some of the most famous sites and national treasures in America, from the White House and the Capitol Building to the Smithsonian museums. This city should be on everyone's itinerary of the East Coast.
In the spring, the Cherry Blossom Festival is a beautiful time to visit, when the trees are in full bloom. Fall is also a good time, when the hot summer temperatures have cooled off enough to make walking around outside very comfortable and the rush of the busy summer season has passed. In winter, the crowds are definitely smaller, and the city is stunning after a fresh snowfall.
8. Miami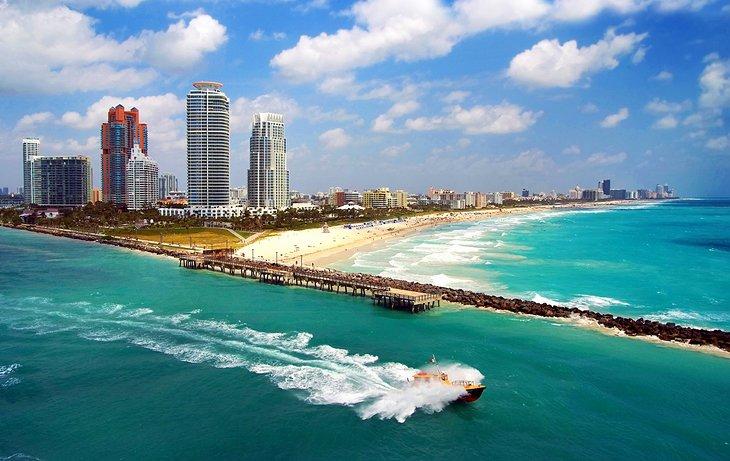 Miami
The hot spot of southern Florida, Miami is more than just a great beaching destination. Wonderful beaches can be found all over Florida, but Miami offers an atmosphere like no other city in the state.
The Cuban vibe along Calle Ocho in Little Havana, the Art Deco District in Miami Beach that calls to mind the 1930s era, the endless parade of sports cars cruising along Ocean Drive in the evenings, and the summertime beach scene of South Beach are just some of the unique aspects that make Miami one of the best cities in the US.

For a unique experience take a day trip from Miami to Everglades National Park to see alligators, turtles, and an array of birds in this one-of-a-kind wetlands area.
9. Los Angeles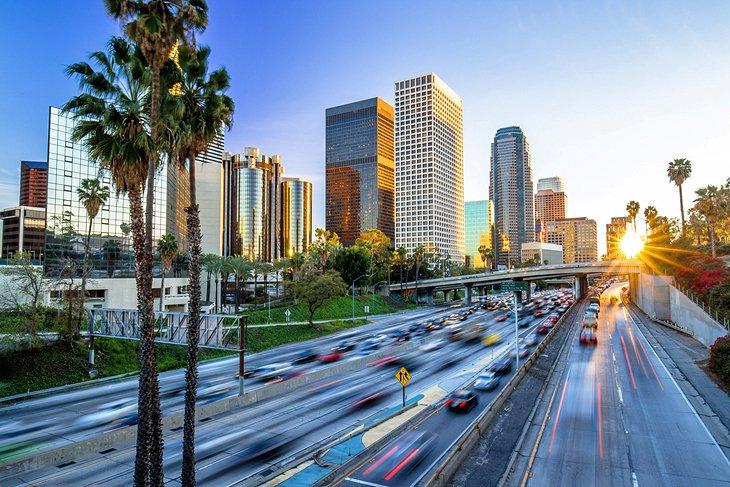 Los Angeles
Southern California has a culture all of its own, and Los Angeles is the epicenter of this unique area. The city has always been associated with glamour, with the suburbs of Hollywood, Beverly Hills, and Bel Air dominating pop culture. Travelers will find all kinds of vacation possibilities in the Los Angeles area.
Hollywood is a must for movie lovers, families come to experience nearby Disneyland, and shoppers will definitely find what they're looking for in the Los Angeles area. If you are looking for a little sand and surf, head to one of the many beaches around LA. For an interesting natural history experience, be sure to visit La Brea Tar Pits to see fossil remains of prehistoric animals that roamed this area 40,000 years ago.
10. New Orleans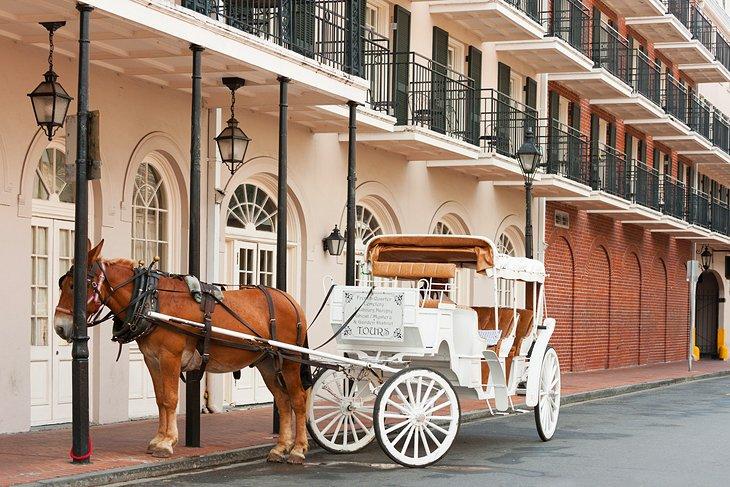 New Orleans
New Orleans is like no other southern city. The mix of cultures, with strong French and Spanish influences, is more reminiscent of the Caribbean than the United States. Cajun and Creole cuisine, jazz music, and the architecture of the French Quarter set this city apart and make it a perfect destination for a long weekend getaway.
The highlight of New Orleans' calendar year is Mardi Gras, when elaborate costumes and outrageous floats light up the streets, music can be heard everywhere, and the celebrations seem never-ending. However, if crowds are not your thing, you may want to avoid this time of year.
The best time to visit is from December to May. June to November is hotter and prone to storms and hurricanes.
11. Utah's National Parks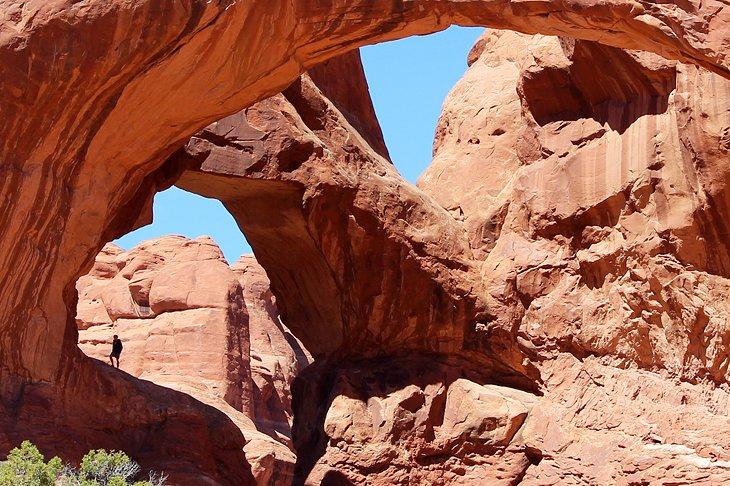 Arches National Park | Photo Copyright: Lana Law
Southern Utah is home to a landscape like no other, with canyons, arches, natural amphitheaters, and oddly beautiful rock formations. Fortunately, Utah's parks offer access to the state's most incredible scenery.

Zion National Park is one of the most outstanding, and particularly of interest for its hiking trails. Soaring cliff walls, waterfalls, and the river running through the valley, making this one of the most visited parks in the United States.
Arches National Park, near the town of Moab, is home to more than 2,000 sandstone arches, but is much more than the name suggests. Rock spires, petrified dunes, views to distant mountain peaks, and the numerous adventure opportunities in the area, make this a place you'll want to spend some time. It's also a top mountain biking destination in the United States.
Nearby, but completely different in character, is Canyonlands National Park. Some sections of this park are as enchanting as the Grand Canyon but not nearly as busy. Plan on at least a day to see two separate sections of the park, and more if you want to enjoy the hiking trails.
Bryce Canyon National Park offers a completely different scene, with a huge natural amphitheater providing the base for a forest of colorful rock pinnacles. The hiking trails in Bryce, which take you through this mystical landscape, are mostly easy to moderate and worth doing. And lastly, Capitol Reef National Park is a little out of the way but is worth a stop if you can work it into your itinerary.
12. Orlando/Kissimmee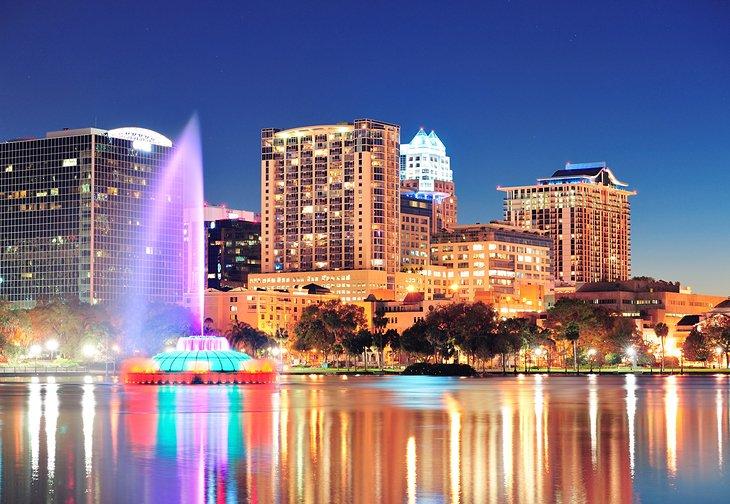 Orlando/Kissimmee
Orlando, which for most tourists is synonymous with Kissimmee, is all about the theme parks; Walt Disney World Resort, Universal Studios, and SeaWorld are the big attractions. This is one of the best vacation spots in the US for families. Kids love it. But adults will also enjoy the parks, as well as the shopping, dining, golfing, and sunshine.
School holidays are the busiest time to visit. Christmas and summer holidays are particularly hectic. Fortunately, Orlando is primed for tourists, with all kinds of hotels and home rentals available in the area. The city is located inland but within easy day-tripping distance of both coasts and the popular Kennedy Space Center at Cape Canaveral on the Atlantic Coast.
13. Chicago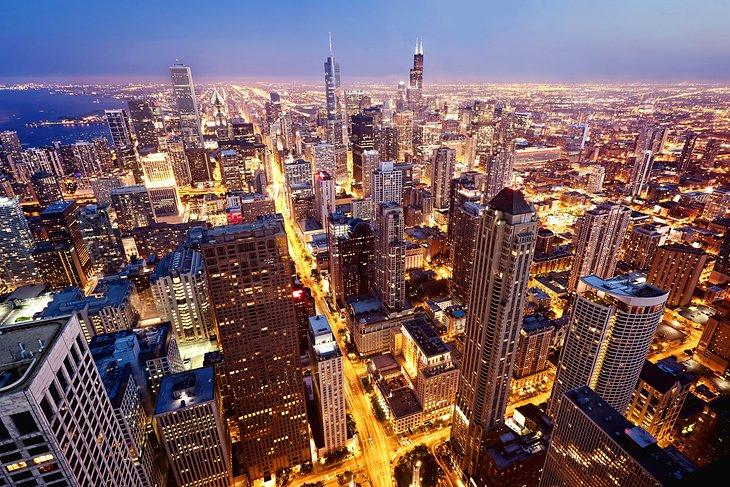 Chicago
Set on the shores of Lake Michigan, Chicago is a great summer destination, with parks and a beautiful waterfront. But its arts and cultural attractions, as well as fantastic shopping, make it a popular year-round destination.
The Magnificent Mile, along Michigan Avenue, is the city's most famous area, with high-end luxury stores and galleries, along with famous buildings and outstanding architecture. Some of the tourist highlights include Millennium Park, the Art Institute of Chicago, Navy Pier, and the views from the Willis Tower SkyDeck.
14. Phoenix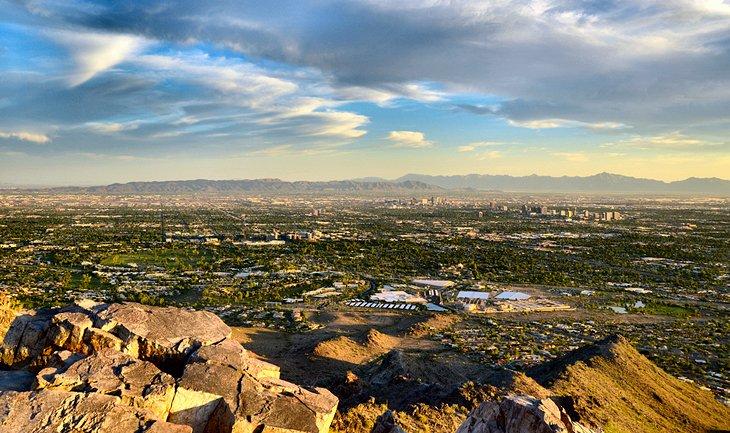 Phoenix
In the heart of the Southwestern US, Phoenix is a huge, sprawling city that attracts large numbers of northerners during the winter months, who come here to escape the cold weather. The city and surroundings, which include Scottsdale, Mesa, and several other townships, are known in particular for their golf resorts and spa retreats.
Phoenix is a great destination for golfing, shopping, relaxing, and hanging out by a pool. Natural areas that showcase the desert landscape can be found within the city and nearby, providing easy access for hiking or mountain biking. Summer temperatures can be extremely high, but October to April is very pleasant, especially if you want to spend time outdoors.
15. Savannah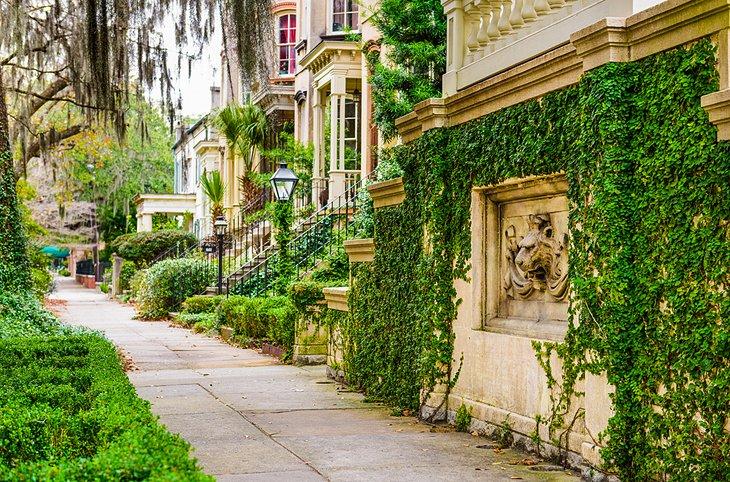 Savannah
Savannah is the quintessential small southern city, with huge moss-covered trees in the beautiful parks, old southern mansions, and a lovely waterfront area with candy stores and other unique shops in historic buildings. The pace is slow, and the people are friendly.
It's easy to see that Savannah is a city where people live and enjoy life, rather than an area simply developed for tourism. The city center is small enough that you can walk everywhere. This is a city you can see in a day, but the kind of place where you will want to linger.
Nearby are some beautiful beaches at Tybee Island and Hilton Head Island, both of which can be reached by car in well under an hour.
16. Boston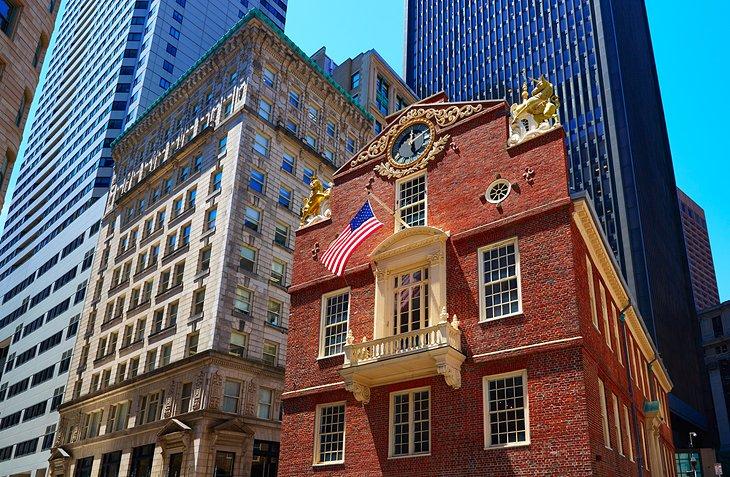 Boston
Located along the Eastern Seaboard, Boston is a city of history. The famous Freedom Trail leads past some of the city's most famous and historic sites, making sightseeing and navigating through the city extremely easy.
Picturesquely situated along the oceanfront, with ferries connecting the outer suburbs, Boston has a unique charm. Modern skyscrapers stand next to centuries-old buildings, and open public spaces, like Boston Common, give the city a quaint, small-town feel. The city also has a strong arts and cultural scene, and is home to the famous Boston Pops Orchestra.
17. Yosemite National Park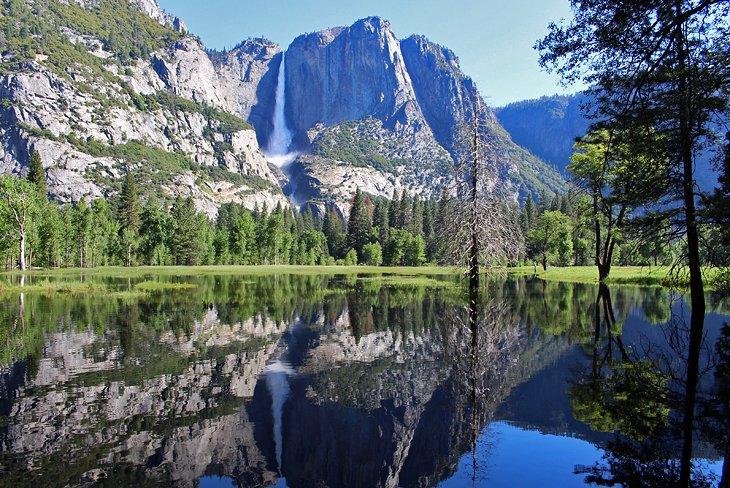 Yosemite National Park | Photo Copyright: Lana Law
While the Grand Canyon is on most international travelers' itineraries, Yosemite is a national treasure that should not be missed. Yosemite Valley is home to some of America's most famous landscapes and iconic natural attractions, from the dramatic waterfalls to the soaring cliff walls of El Capitan and Half Dome.
The captivating photographs of Ansel Adams, the climbing community that has flocked here for decades, and the generations of families who have been coming to the park to camp, hike, and soak up the scenery have all contributed to the park's history. But long before this, the Miwok people inhabited the area. You can learn more about this at the Yosemite Museum and Indian Village of the Ahwahnee in the park.
18. Colorado's Rocky Mountains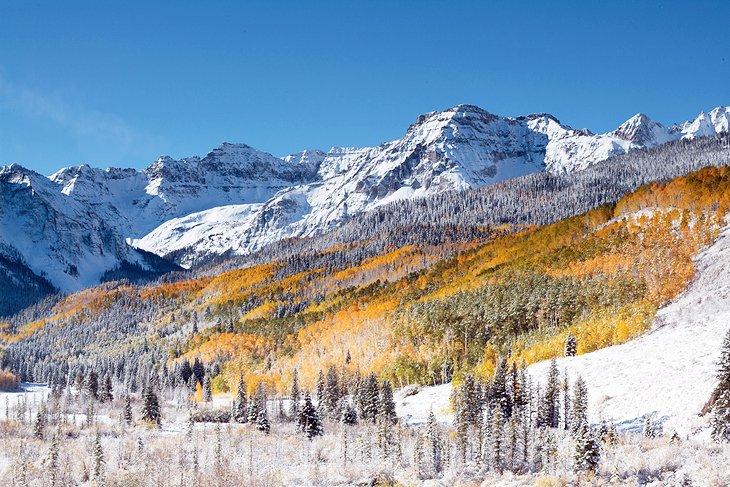 Rocky Mountains in Colorado
The dramatic peaks of the Rocky Mountains can be appreciated in many areas of North America, but in Colorado, the climate and small mountain towns make this one of the best places to visit the Rockies. Waterfalls and snow-capped peaks, more than 50 of which reach a height of 14,000 feet or more, make this a beautiful area for sightseeing and appreciating mountain life.
In summer, hiking, mountain biking, and rafting are popular pastimes. Inn winter, the mountains become a playground for skiers and boarders. The ski resorts in Colorado are some of the best in North America.
Some of the best places to visit are the towns of Vail, Aspen, Telluride, and Durango. Scenic drives, like the San Juan Scenic Byway and the Million Dollar Highway, which leaves from Durango, will take you through breathtaking mountain scenery and old mining towns like Silverton and Ouray. Or, hop on the Silverton & Durango Narrow Gauge Railroad for a relaxing day trip through the Rockies.
On the edge of the Rocky Mountains in the southwest corner of Colorado, a little over an hour from Durango, is Mesa Verde National Park. This fantastic park is home to incredible Native American cliff dwellings, and is a UNESCO World Heritage Site.
19. Seattle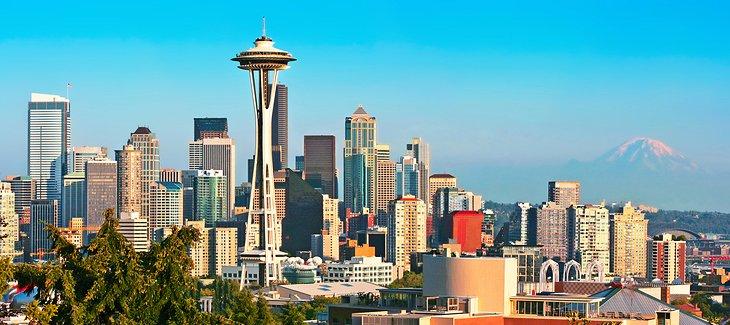 Seattle
In the northwest corner of the US is the lovely coastal city of Seattle. Surrounded by water and snow-capped mountains, the city is reminiscent of Vancouver, Canada, with an active, outdoor oriented population and countless things to see and do.

Key sights in the city include the impossible-to-miss Space Needle, the lively Pike Place Market, and the waterfront. Within easy day-tripping distance of the city are beautiful beaches, the Hoh Rain Forest, and mountain landscapes, all waiting to be explored.
Although the winter months see more rain than summer, the city has a mild climate and is a nice place to visit at any time of year.
Like us on Facebook for more stories like this: