Who needs Paris when New York can be just as romantic? Spend a perfectly planned romantic day in New York. We've planned a day out for couples in New York so you can spend quality time together without the stress of planning.

Romantic Places in New York:
Blue Box Cafe.
Central Park.
EATALY Flatiron & Nutella Cafe.
Empire State Building.
230 Fifth Rooftop Bar.
In the Morning
Your romantic day in New York starts with breakfast in the famous Blue Box Café at Tiffany & Co. It's probably every woman's dream: Breakfast at Tiffany's! By the way, the café is located southeast of Central Park.
READ: The Ride in New York – The Ideal Bus Tour for Insiders: Interactive City Tour of Superlatives
Blue Box Café
In order to secure a table, you need to use a few tricks. Reservations are released 30 days before the desired date and always at 9:00 am New York time. Then you should strike right away because the tables are quickly booked up. Here you can make a reservation.
READ: Entry to Dubai for Vaccinated Tourists Without PCR Test: If You are Completely Vaccinated Then No PCR Test is More Necessary for Entering Dubai
New York LOVE sculpture
After breakfast, we continue for a walk in the nearby Central Park. You will also pass the New York LOVE sculpture (corner of W 55th St & 6th Ave). Time for a great souvenir photo. There is a lot to see and discover in Central Park. In any case, the walk should go in the direction of Bow Bridge and Central Park Mall. We think these parts of the park are one of the prettiest.
If you're in New York during the winter months, the two of you could also do a lap on the Wollman Ice Rink and then walk back into town from there. The city's best ice rinks, including the Wollman Ice Rink, are a magnet for locals and visitors alike during the winter months. In summer, for example, you can rent a bike at Unlimited Biking and take another lap through the park.
READ: From New York Airport to New Jersey: Tips For Travelling
In the Afternoon
After ice skating or a bike ride through the park, are you probably ready for lunch? The closest subway is the Q Train, which will take you directly to 23rd Street and our next stop.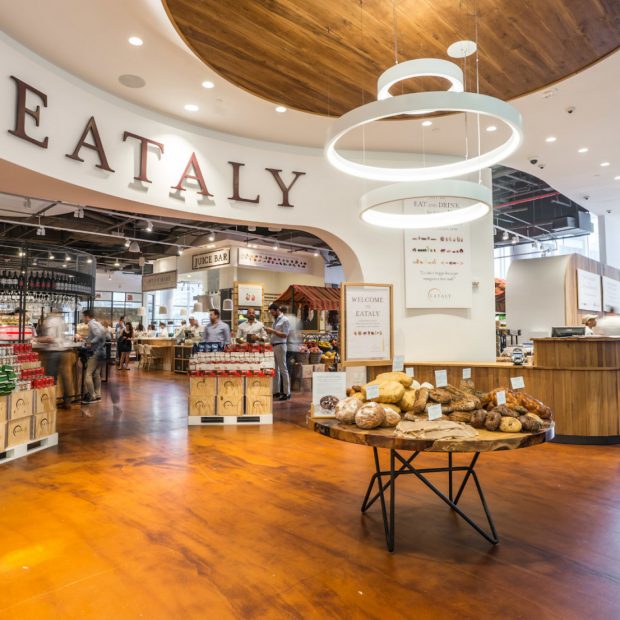 Eataly in New York

Fancy a little culinary trip to Italy? EATALY at the Flatiron Building in New York is an Italian food market that really has everything an Italian heart desires. After a round through the food market full of Italian delicacies, we continue to the newly opened Nutella Café. The café is about 10 minutes away and here you can look forward to delicious desserts with lots of Nutella. It is well known that love goes through the stomach, right?
Empire State Building
It's almost time for the sun to go down. You can best enjoy this on the Empire State Building or the Top of the Rock. An experience you won't soon forget.
In the Evening
Now it's cheers, or cheers to a wonderful, romantic day in New York. But this is far from over. Your evening can end in one of the many rooftop bars in New York. In the 230 Fifth Ave Rooftop, which is only a stone's throw from the Empire State Building, you have the opportunity to drink a good wine or cocktail with a view of the city (admission from 21 y.o.).
Like us on Facebook for more stories like this: