As you know, we love the culinary variety in New York and are always happy to test the latest restaurants and food trends in the Big Apple for you. This time we feasted extensively through the Brooklyn district and nowhere are the best restaurants in Brooklyn for us.

Stroll from Manhattan over the Brooklyn Bridge and a real gourmet paradise await you on the other side of the East River. From the best restaurants in Brooklyn's hip Dumbo district to trendy spots in hip Williamsburg that almost only locals know, we've selected our favorites for you. Because if you want to eat out in Brooklyn, you are really spoiled for choice. We already wish you a bon appetit.
Fat Pig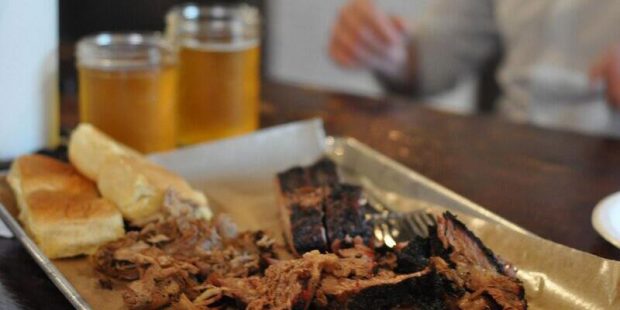 BBQ Restaurant in Williamsburg
If you want to meet an extravagant, cool audience and experience first-class BBQ at the same time, the Fetten Sau is the right place for you. The concept is different: you order personally from the butcher – you have a large selection of different types of meat – the next stop is the counter with the side dishes. There is also something for everyone here. The calculation and payment are based on weight.
READ: The 6 Best Food on Foot Tours in New York: Free Entry with the New York Pass
Peter Luger Steak Restaurant
Steak-Restaurant in Williamsburg
THE steak and meat temple par excellence is the "Peter Luger" in Brooklyn. The steakhouse has been around since 1887. Since it was founded, only the very finest USDA prime beef has been on the grill here. The atmosphere is what you would expect from a steakhouse – rustic and honest. But be careful: bring cash because no credit cards are accepted. You should expect around $ 100 per person.
Casa Publica
Mexican restaurant in Williamsburg
Anyone who loves authentic Mexican cuisine will feel very comfortable at Casa Publica in Williamsburg. The furnishings, the ambiance, the food, and the team make the feel-good factor perfect. It combines hip Williamsburg with the typical Mexican lifestyle. This was deliberately chosen because the owners have roots in Mexico and Brooklyn.
READ: Bushwick in New York: the USA's Brewing Center
The open windows are especially pleasant in New York during the warm months. This is what makes the gastronomy scene in Williamsburg so special, it is very relaxing and informal. The large bar in the middle of the restaurant serves the best margaritas in Brooklyn.
Roberta's
Italian restaurant in Williamsburg

If you're looking for the best pizza in New York, you're in the right place in Brooklyn. Several beloved pizzerias are waiting for you here. One of them is Roberta's, where you can get really sensational pizza. When you're out and about in Williamsburg, it's almost a must-do.
Juliana's Pizza
Italian restaurant in Dumbo
When you're out and about in Brooklyn Heights and Dumbo, you can hardly get past Juliana's pizza. Red awnings, rustic furnishings, and white and red checked cloth napkins – the Italian ambiance is unmistakable. The pizzas come fresh from the stone oven and taste incredibly good. If you are traveling in larger groups, you should definitely plan to wait, because in front of Juliana's there are even barrier tapes for those waiting.
The story goes that this shop on Old Fulton Street is said to be the actual place where Patsy and Carol Grimaldi first opened their famous pizzeria. The Grimaldi's Pizzeria is located very close to Juliana's and between us – it tastes great in both restaurants.
Pilot Brooklyn
Sea Food Restaurant in Dumbo
As you know, we love the two-master "Grand Banks" at Pier 25. The same operators now have a counterpart with the ship "Pilot Brooklyn" at Pier 6 in Brooklyn Bridge Park. Enjoy a sensational view of Manhattan with a drink in hand – or enjoy smaller seafood dishes!
Mile End Delicatessen
Restaurant in Dumbo
Mile End is a deli that offers Jewish delicacies. Old traditions and dishes should be breathed new life into. And it works very well. The sandwiches are just awesome. Good portions with a particularly tasty smoky barbecue aroma and quite hot mustard. In addition to the sandwiches, there are also proper evening menus, such as veal tongue and minced liver on homemade spaetzle.
Bogota Latin Bistro
Restaurant in Park Slope
The relaxed and happy atmosphere in the Bogota Latin Bistro is exactly what you would expect when you walk into a Colombian restaurant. The cozy restaurant is shrill, colorful, and bright so that the eyes do not even know where to look first.
READ: Yas Waterworld: You Can Find It in Abu Dhabi

It is not uncommon for locals to come here to dance salsa and watch live bands. If you just want to stop by for a margarita, you can sit down at the bar. Make sure to add this restaurant to your list when you're in the area.
Rose's
Bar in Park Slope
The ROSE'S bar in Brooklyn's Park Slope district is an absolute insider tip. You're definitely among the locals here, which is always a good sign. Small, cozy, authentic – that's the best way to describe the bar! The food here is not only extremely tasty but is also prepared with great attention to detail. We can particularly recommend the burger and the Fried Soft Shell Crab Po'Boy.
Like us on Facebook for more stories like this: