Though technically part of Manhattan, Roosevelt Island has long felt lost, under the shadow of the Erector-Set Queensboro Bridge in New York's East River. It was once Blackwell Island, then Welfare Island, and has been home to insane asylums and prisons, then hospital outpatients and UN workers. The slightly drab, uniform housing (well, for the most part – there are new condos that glimmer slightly more) feels like an improved version of a Stalinist housing block.
But things are changing. Roosevelt Island has always offered nice riverside walks without crowds and unobstructed views to Manhattan's Upper East Side. But the new ferry stop (part of the Astoria route) and the recently opened Cornell Tech campus have injected the island with a newfound energy.

Here are nine of the best things to see and do while you're there.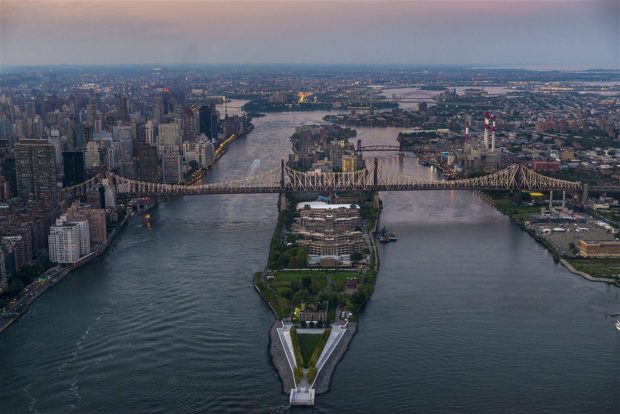 1. The tram
Obviously. For a swipe of the subway MetroCard you can glide over Upper East Side avenues and the East River and reach the island on one of the city's most memorable commutes. Watch this 60-second videowith one of the drivers who's worked for it since it opened in the '70s.
2. Four Freedoms Park
When architect Louis Kahn died in 1974 so did, soon enough, plans to build his only New York project, a memorial to Franklin D. Roosevelt on the south tip of what was then called Welfare Island. Fortunately, the project was revived and finally opened as Four Freedoms Park in 2012. Comprising an open-topped deck lined with tall granite blocks, the park is certainly a sight to behold. Its event season runs from May to October and includes yoga, book readings, kite flying, public talks and music performances. (If you're willing to get there obscenely early to snag a spot, it's also a great vantage point to take in the Fourth of July fireworks.)
3. Smallpox Hospital
Just before you reach Four Freedoms Park, you'll walk past the ruins of the weed-covered Smallpox Hospital, which, when it opened in 1856, was the first hospital in the country dedicated to the treatment of the infectious disease. Though you aren't allowed to wander through the ruins (in the interest of safety), you can still get a good glimpse of the ageing structure from behind the fence.
4. North Point Lighthouse
It's worth hitting both points of the island. From the south to north point, it's the equivalent of 35 city blocks north, perhaps a 20-minute pleasant walk from the tram (or a five-minute walk from the terminus of the island bus system, which you can ride for free). Once there you'll reach a lonely Gothic-revival lighthouse, built in 1872 by the city to help light a nearby insane asylum. The asylum's gone, but there are some shaded lawns and sitting spots by the lighthouse that look north towards Randall's Island.
5. Octagon
A block south of the lighthouse, this mid 19th-century remnant was built as an island retreat, impressed a young Charles Dickens and then became a hospital before falling into years of neglect. In 2006 it was refashioned as high-end housing. You can visit the 'flying staircase' up its winding entry, and there's an adjoining gallery.
45 free things to do in New York City
6. Blackwell House
The sixth oldest house in New York City, this clapboard farmhouse built in 1796 dates back to when the island was a private residence (then known as Blackwell island, after its owners). There are currently plans to renovate the house's interior so that it can be used as a community center.
7. Art

A couple of blocks north of the subway station is RIVAA, a main street gallery that keeps some unusual hours (6-9pm Wed & Fri, 11am-5pm Sat & Sun). Works by RIVAA artists are also exhibited in the OCTAGON Gallery in the Octagon Building. Offshore, near the island's north end on the Manhattan-facing side, you can see sculptures by Tom Otterness called 'The Marriage of Money & Real Estate.'
8. Roosevelt Island Historical Society
The Roosevelt Island Historical Society runs a small visitor's center in a historic, relocated streetcar entrance kiosk, just next to the tram terminal. The merch is great, and includes a heart-breakingly cute, hand-drawn RI map.
9. Cornell Tech
The island is set to get a whole lot busier with the recent opening of a Cornell Tech campus, which is also home to world's first residential high-rise built to Passive House standards. In addition to its striking architecture, the campus also includes two acres of open public space and a hotel is scheduled to open in 2019. (You can also drop into the cafe at the campus's Bloomberg Center to pick up some Big Red Cheddar Cheese Curds, a product of Cornell's Department of Food Science.)
Like us on Facebook for more stories like this: