From our first visit, we were amazed by the many different types of locally produced beer that we had drunk in the bars.

We were made aware of many of the bars by locals when we started talking to them – which is not difficult. The Brooklyn Brewery's Brooklyn Lager in particular was our first highlight, which now has good competition from the Bronx Lager and the like. All over New York, there are micro-breweries where master brewers experiment with hops, malt, and the like. In this way, beer can be brewed to perfectly match the food – sometimes with thyme, sometimes with orange peel, or with coriander. There are no limits to fantasy!
READ: Wowfulls: Waffles & Ice Cream
Brooklyn Brewery in Williamsburg
She is, so to speak, the pioneer in New York when it comes to craft beer and also craft beer or brewery tours in New York. It's right next to The Whiskey Brooklyn bar and the Wythe Hotel, which also has a great rooftop bar. We've also had the pleasure of visiting the Brooklyn Brewery in Brooklyn – where you can take a tour of the hallowed halls and see how the beer is made. The best part is always the end because then you can taste different craft beers.
Address: North 11th Street corner Wythe Ave.
In addition to the Brooklyn Brewery in Williamsburg / Brooklyn, the Randolph Beer bar will soon have its own brewery called Randolph Beer DUMBO.
The Other Half in Cobble Hill
The Other Half is a brewery that also serves beer in Cobble Hill – you'll find them at the south end of Brooklyn Bridge Park. We have a soft spot for Indian Pale Ale, which is why The Other Half is on our leaderboard – they've put a lot of emphasis on this type of craft beer.
READ: Top Bars Lower East Side: The 5 Best Bars to Go Out on the Lower East Side
Address: 195 Center St
Sixpoint Brewery in Red Hook, Brooklyn
Often featured on East Village bar menus and boards, Sixpoint Brewery specializes in ales and lagers. Beer has been brewed here since 2004 and you should definitely try it if you find it somewhere!
Address: 40 Van Dyke St
Finback Brewery in Queens
The Borough Queens has also been represented by a real New York brewery since 2014: the Finback Brewery keeps inventing new variants, which sometimes contain grapefruit or ginger. In their own tasting room, you can taste 12 types of beer and have a good time.

Address: 7801 77th Ave
Bronx Brewery in Port Morris / Bronx
The Bronx Brewery first caught our eye at Shake Shack because they usually only have Brooklyn lagers there. As you can see from the pictures, this is a sensational combination. The American Pale Ale in particular is delicious – you can discover it at over 250 locations in New York. If you want to visit the Bronx Brewery, you can too – they have their own beer garden in the backyard.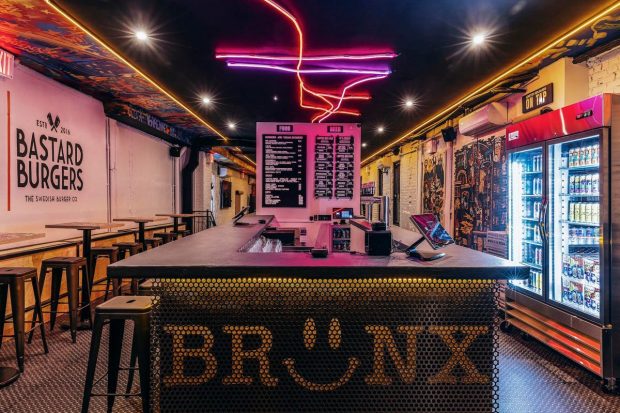 Address: East 136th St. between Willow and Walnut Ave.
Three's Brewery in Brooklyn
As the name suggests, there are three founders behind this brewery, who funnily enough find their number in the address: 333 Douglass Street. The location also consists of a café, the bar itself, and a restaurant. Particularly beautiful and still a real insider tip is the beautiful beer garden, where you are guaranteed to be among real New Yorkers.
Address: 333 Douglass St
Chelsea Craft Brewing Company in the Bronx
Yes, you read that right. Their newest location is in the Bronx because the Chelsea Piers has probably become too expensive. Now you can not only taste their creations in their taproom but also take a brewery tour. Every Saturday you can here from 1 p.m. – 6 p.m. do a guided tour.
READ: Can You Drink the Tap Water in Dubai: The Tap Water in Dubai Can Also Be Drunk Without any Problems
Address: East 173rd St. between Washington and Park Ave.
Flagship Brewing Co. on Staten Island
Since 2013, the borough of Staten Island has also had its own craft beer brewery. If you're watching a New York Mets baseball game at Citi Field, one of the places you can try is there. There are two guided tours every Saturday.
Address: 40 Minthorne St
ACBC – Alphabet City Beer Company in the East Village
We only recently found out about ACBC and it's on our to-do list for our next trip to New York. Not only do they have their own beer, but they also sell all sorts of craft beer rarities in their store.

Address: Avenue C, between 6th and 7th St.
New York Brewery Tour
We also found a great tour that introduces you to craft beer in New York. We can only recommend them, not only because a real local also leads through 4 exciting spots.
Like us on Facebook for more stories like this: