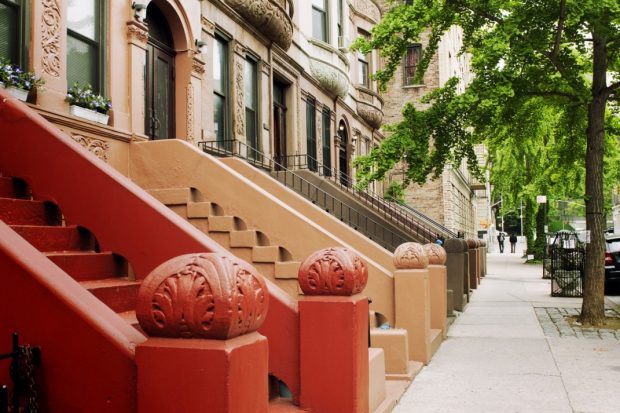 There are so many cool neighborhoods in New York that you don't even know where to start! To make your choice a little easier, I've summarized our favorite hotspots in the Big Apple – you should definitely visit these parts of the city.

New York is known for its many lively neighborhoods that you should definitely see. Shopping in SoHo, delicious food in Chinatown, going for a walk in the West Village – this city has many facets. Depending on where you are, there is a very special atmosphere and you keep discovering new corners! We have summarized the coolest neighborhoods in the Big Apple for you and tell you what there is to see there.
West Village: Live Like Stars
One of my favorite neighborhoods in all of New York in the West Village. What's so special about it? Well, here you feel just like in the numerous films and series that were shot in New York. Cute townhouses with stairs in front of them, quiet tree-lined streets, and lots of nice shops – West Village has a very special charm. The stars also appreciate this, because numerous celebrities have their residence in this quarter. So you shouldn't be surprised if you run into one or the other Hollywood star! Another plus point is the immediate location on the Hudson River, so you can take a nice walk along the water and just relax.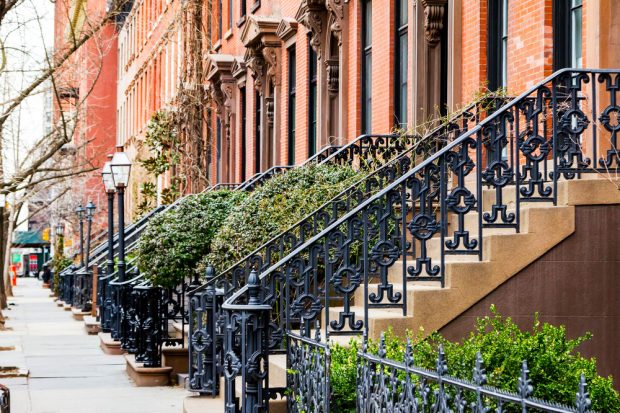 There are many luxury town villas in the West Village.
If you are strolling through the West Village, you should definitely make a detour to the Meatpacking District, which is located in the northern part of the district. The hip district is known for its numerous chic restaurants such as Fig & Olive and Bagatelle. If you want to enjoy dinner in a special atmosphere, you've come to the right place! Then you can move on to a bar and plunge into the city's exciting nightlife. For culture lovers, a visit to the Whitney Museum of American Art, which is also located in the Meatpacking District, is a must.
Chelsea: Best Food Markets
Chelsea is one of the hippest neighborhoods in New York and many of you should be familiar with it. The district between Seventh Avenue and Hudson River offers many cool art galleries, classy boutiques, and even finer restaurants, which mainly attract a young crowd. Chelsea is particularly popular with writers, painters, and actors.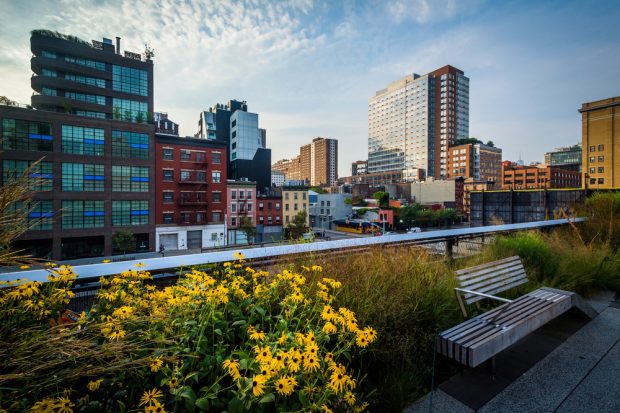 The High Line Park is the perfect oasis of calm.
The highlight is of course the famous Chelsea Market, which is located in a huge factory building. Here you can spend the whole day and feast your way through the various stands. From steak to fish, fruit, and baked goods, Chelsea Market has everything your heart desires. A visit to the High Line, a disused elevated railway that has been converted into a park, is also a must. The High Line Park was completed in 2014 and offers a lot of green space that invites you to linger. From here you also have a great view of the Manhattan skyline.
READ: Christmas Shopping in New York: The Big Apple at Christmas Time
SoHo: Shop till You Drop
If Fifth Avenue is just too expensive for you to shop, we have a great alternative for you: SoHo! The name is an abbreviation for South of Houston because the neighborhood is south of Houston Street. SoHo is one of the safest neighborhoods in New York and has quite a few highlights. When you walk through the lively streets and see the houses with the fire escapes, you feel like a real New Yorker! If you decide to discover this area, it is best to take a whole day.
SoHo is a real shopping paradise.

There are so many shops, restaurants and cafes here that you don't even know where to go first. Real fashion fans will find what they are looking for in Cobblestone Street, but you can also get a hold of unique pieces in Prince Street. After a strenuous shopping marathon, of course, you also need refreshment and there, too, you are spoiled for choice. Burgers, Mexican, pizza – the range is huge. A special tip is the Mercer Hotel, which, according to many locals, serves the best burger in town! You can check that out when you're there.
READ:NYPD: New York Police Apparatus
Williamsburg: Brooklyn's Hipster Neighborhood
It doesn't always have to be Manhattan – there are also some cool neighborhoods to discover in Brooklyn, New York. One of them is Williamsburg, which should be known especially to fans of the Gossip Girl series. The hip neighborhood is home to many interesting art galleries and street markets. You can also buy really extraordinary things here that have nothing to do with the usual tourist stuff.
Williamsburg is known for its many flea markets.
READ: AquaFun: The Largest Inflatable Water Park in the World
Vinyl records, Marilyn Monroe dolls, or unique vintage clothing – Williamsburg presents the alternative side of New York and it is quite refreshing. In addition to small shops, you will also find many nice cafes and cozy bars where you can try local beers. Our highlight is the Smorgasburg Food Flea Market, which takes place every Sunday. Here, individual retailers present their own creations – from unusual donut varieties to vegan cake pops and smaller snacks, you will find a lot to try out.
Like us on Facebook for more stories like this: