February 14th is Valentine's Day – the day of lovers. For your perfect Valentine's Day in New York, we've selected the most romantic events, restaurants, photo spots, and special activities for couples in New York. Love is in the air!

In this Valentine's Day guide you will find everything you need to prepare for a wonderful Valentine's Day in NYC. From romantic activities and great ideas on how to best spend Valentine's Day in New York, to a guide for your perfect marriage proposal in New York. Of course, we haven't forgotten the most beautiful romantic restaurants and rooftop bars in New York either.
What to do in New York on Valentine's Day
Valentine's Day is undoubtedly one of the most important days in New York in February. Many of you are probably wondering what to do in New York on this special day. This is exactly why we have created a list of the best for you. Many of these things to do are only available on Valentine's Day, while others are great ideas for a romantic New York date anytime.
READ: Peter Bogdanovich: The Legend that Was Born in New York
Visit the Empire State Building
Empire State Building View
Nothing beats a visit to the observation deck of New York's most famous skyscraper: the Empire State Building. There you can admire the view over the roofs of the city together. Attention girls: quite a few marriage proposals have already been made there!
If you are even one step further, you have the chance to get married or to renew your vows at the Empire State Building! Every year 14 couples can realize their dream as part of the annual Valentine's Day Wedding Contest. Maybe you will be one of them next time! To enter the competition, you must submit your love story to the Empire State Building's official Facebook page. Much luck!
READ: The 10 Most Popular Places for Couples in NYC: New York City for Romantics
Candlelight Dinner in New York
The View
In our opinion, this should not be missing on any list on Valentine's Day in New York: a romantic meal in a chic restaurant. You are definitely in the right place in New York because there are plenty of them here. If you want something very, very special: try the restaurant THE VIEW, which offers a 360 ° view over New York. As the? Because the whole floor turns very slowly! Alternatively, we can recommend Tribeca Grill.
Private Helicopter Flight over Manhattan
New York view
This is a highlight for every visit to New York: a helicopter flight over Manhattan. And if you just want to do this as a couple – and Valentine's Day is ideal for this – there is also a special flight for that. You can book a private helicopter flight!
Romantic Boat Tour with Dinner

Boat Tours in New York
This tour is also very popular among romantics: a romantic boat trip with dinner! You sit together relaxed and can experience New York from a very special perspective! The tour lasts around 3 hours that fly by. Since you are out in the evening, you can see the glittering skyline on the water.
Romantic Evening over the Roofs of New York
In the Serra Alpina Rooftop Restaurant
Our beloved rooftop bars are also a great idea for your Valentine's Day in New York. Yes, there are great rooftop bars in New York even in winter! These are mostly locations that are a combination of lounge, semi-open, and heated areas and also – if you catch a mild day – are completely open!
Romantic Stroll in Central Park
Central Park in winter
What could be more romantic than a walk in Central Park – ideally when it is snowing? Especially on Valentine's Day, lovers romp in Manhattan's green lungs. Here, too, the question of all questions is being asked more and more often. You should definitely stroll past the Bow Bridge and, if you like, go ice skating too!
Musical on Broadway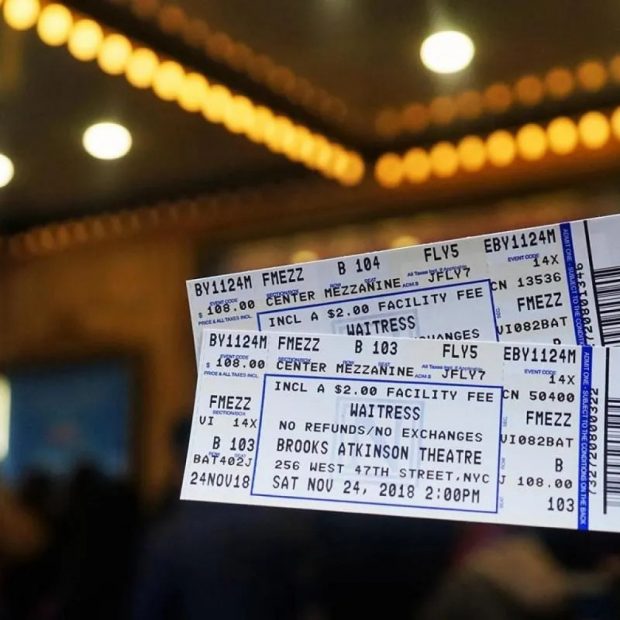 Broadway tickets
Broadway in New York is very popular and the shows are really incredibly worthwhile. A great idea for Valentine's Day in New York is to visit one of the many Broadway shows in New York and surprise your partner with it. The selection is huge – it will definitely be unforgettable.
Romance Under the Stars
American Museum of Natural History
The name says it all! Every year on Valentine's Day, you can enjoy 'Romance under the Stars' at the American Museum of Natural History. What does that mean for you? A superlative date night! Starting with an open bar, to hors d'oeuvres with champagne, chocolate, and live jazz music, it finally takes you to the Hayden Planetarium, where you can marvel at the night sky while an astronomer reads you the most romantic love stories.

The tickets for Romance under the Stars are limited and therefore always sell out very quickly. So you should grab it as early as possible!
READ: Movenpick Hotel Jumeirah Beach: The Movenpick Hotel Jumeirah Beach is Located Near the Beach
Love in Times Square
Times Square
The Valentine Heart Design competition is held in New York every year. Many New York artists design sculptures for this that correspond to the motto "love". The piece of the winner of that competition will be exhibited in Father Duffy Square (in front of the red stairs) in February and will be admired and photographed by millions of visitors.
Ice Skating on Valentine's Day
The Wollman Rink in Central Park
Ice skating in New York is one of our favorite cold-weather activities. It can be really romantic, especially on Valentine's Day. Maybe you are lucky and it even snows a little. There are some great ice rinks in New York. One of them is even on a rooftop.
Like us on Facebook for more stories like this: