The American actress Claudette Colbert was one of the first great stars of the talkie era. She shaped the self-confident type of woman in screwball comedy. Her hallmarks were comic talent and dialogical timing. She died 25 years ago on the Caribbean island of Barbados.

At a gala event organized by the American Film Institute in 1982, Claudette Colbert gave a speech in honor of director Frank Capra. The seventy-nine-year-old lady wears a red glittering dress, and her first sentences exude the mixture of boldness and glamor that is typical for her:
"On the flight from Barbados, I thought the whole time: Oh, if only Clark could stand here with me. And then this morning I was hit by a wave of nostalgia and thought: Who knows, maybe he's here."
READ  One perfect day: 24 hours in New York City
Claudette Colbert played together with Clark Gable in 1934 in Frank Capra's comedy "It Happened One Night". It was the film that catapulted Colbert into Hollywood Olympus, the thirty-one-year-old woman who became the superstar of the thirties and forties.
Under Contract with Paramount
Claudette Colbert was born in 1903 as Émilie Claudette Chauchoin in Saint-Mandé, France, her family emigrated to New York in 1906. Her career began on Broadway, where she enjoyed her first successes in her early twenties. But the age of the silent film was drawing to a close, and the cinema needed actresses with speaking experience – and Colbert had a pleasantly rich, velvety voice.
Paramount signed her, she shot one of the very first screwball comedies with Lubitsch, Cecil B. DeMille, and finally with Frank Capra.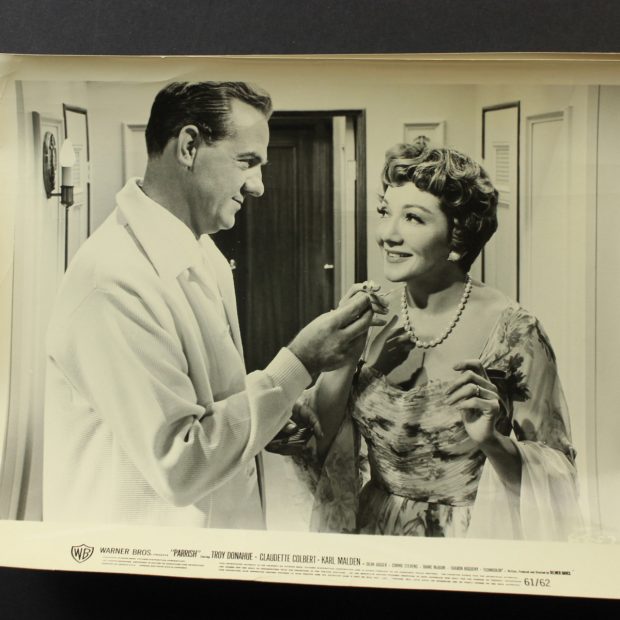 Claudette Colbert and Karl Malden
Claudette Colbert shaped the self-confident type of woman in this genre of witty gender struggles. Her characters are self-deprecating, aggressive, and full of chutzpah. "It Happened One Night" is about the love story between a millionaire heiress and an unemployed newspaper reporter.
In the road movie, the two make their way from Florida to New York with almost no money. Colbert gives the figure of the spoiled but curious about life Ellen Andrews a brat-like boldness. At the same time, Ellen becomes aware of her own sensuality. She knows what she wants. And above all, what she doesn't want.
See also  Six of the Best Small Towns in New York
Hollywood's Highest-Paid Female Movie Star of the 30s
On the journey by bus and hitchhiking through the USA during the Great Depression, Claudette Colbert's character gets a feeling for the worries and hardships of her compatriots. The scene in which they spend the night in a hotel room is legendary. He gallantly hangs a blanket in front of her bed as a partition. Which doesn't stop them from arguing and flirting until they fall asleep.

"It Happened One Night" was a box office success and an Oscar triumph with five awards in the most important categories. Colbert and Gable each won the Acting Awards – sixty years later, Colbert remembered on French television that this collaboration was by no means obvious.
"I was the third choice for Capra. At the time, I was floating between two films. And when he offered me the role, I agreed. It was the only chance for me to shoot with Glark Gable. I was with Paramount, he was with MGM, and these words didn't really touch, you stayed with your studio. "
In the mid-1930s, Colbert was Hollywood's highest-paid female movie star; their films were advertised with the "Colbert touch" – for example, Ernst Lubitsch's screwball comedy "Bluebeard's Eighth Wife". In the role of a French woman, Colbert, tipsy, defends himself against the advances of a womanizer, played by Gary Cooper.
At the beginning of the 1960s, Colbert ended her career in front of the camera; after that, she had only worked as a television and theater actress. She still played occasionally in various theaters and in 1987, after a quarter of a century break, appeared in front of the camera for the last time in the two-part television film The Two Mrs. Grenvilles opposite Ann-Margret. For her performance, she received a Golden Globe for Best Supporting Actress and an Emmy nomination in the same category.
READ: Exclusive Desert Tours in the Emirate of Dubai: Try Something New
Claudette Colbert, who died on July 30, 1996, at the age of ninety-three in her adopted home, the Caribbean island of Barbados, dominated the pitches of cinema. Among her, more than sixty films were psychological thrillers, patriotic dramas, war films – but she made cinema history with her – sometimes quite literally – quick-witted comedy heroines.
Like us on Facebook for more stories like this: