For New Yorkers, two things are practically inseparable from the weekend: brunch and flea markets. So if you want to feel like a real local on your next trip to New York, start your Sunday in one of our favorite brunch restaurants in New York and then stroll on to one of the best flea markets in New York.

Flea markets in New York are very different from what we know. The selection of products is huge, the vendors are very hip and there is unusual and delicious food. Here you will definitely find special New York souvenirs for your loved ones (or for yourself) We'll tell you where the best flea markets are in New York and why a visit to a flea market is part of your vacation.
Brooklyn Flea in Dumbo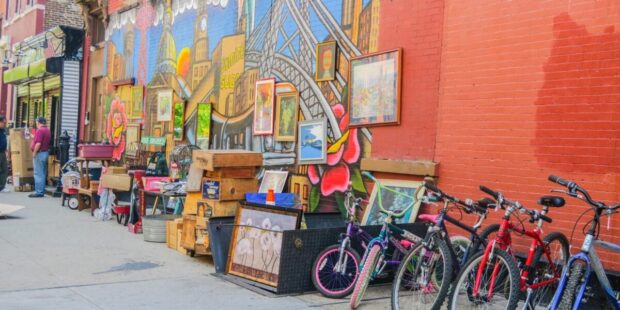 Address: Manhattan Bridge Archway Plaza between Anchorage Pl and Pearl St in Brooklyn
Opening times: from April to October every Sunday between 10 a.m. and 6 p.m.
For almost 10 years, both tourists and locals have made the pilgrimage to Brooklyn to one of the most famous flea markets in New York. Antique housewares, vintage furniture and vintage clothing, jewelry, and all sorts of other knickknacks are sold by the 60 vendors at Brooklyn Flea Market. Of course, there is also something to eat at Brooklyn Flea! From Hong Kong pork buns to waffles, everything is available here. Our tip: Take a few minutes and just chat with the sellers. They often tell their very own stories, how they put their ideas into practice or why they love New York. You meet a lot of great, creative people at the flea markets in New York!
Good to know: The flea market is outside from April to October, so pack an umbrella or sun hat and don't forget to bring cash with you. Brooklyn Flea is also available in SoHo in an indoor location all year round (100 Avenue of the Americas).
Grand Bazaar on the Upper West Side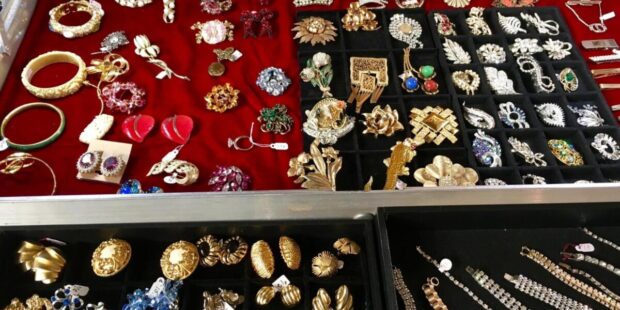 Address: 100 West 77th Street, New York
Opening times: Every Sunday from 10 a.m. to 5:30 p.m
All year round you can go shopping on Sundays at one of the oldest and largest flea markets in New York – the Grand Bazaar – on the Upper West Side. Everything vintage and antique heart desires are available here. More than 100 local vendors sell jewelry, furniture, and great New York photography. There are also a number of great events happening at the Grand Bazaar on the Upper West Side. Once you're in Upper Manhattan, don't forget to take a typical picture – as you know it from Gossip Girl – on the steps of the great brownstone houses!
Winter Flea and Smorgasburg
Address: 1 Hanson Pl, Brooklyn

Opening times: November to March, Sundays from 10 a.m. to 6 p.m.
We've already told you a lot about Smorgasburg (an open-air food market). But what actually happens to Brooklyn's most popular food market when it gets cold in New York? On Saturdays and Sundays, there is the popular Winter Flea Market also in a warm location on Flatbush Avenue. Of course, some of the most popular Smorgasburg providers are also represented on site. So you can also go to this great flea market in New York in winter and feast and shop there.
Artists & Fleas at Chelsea Market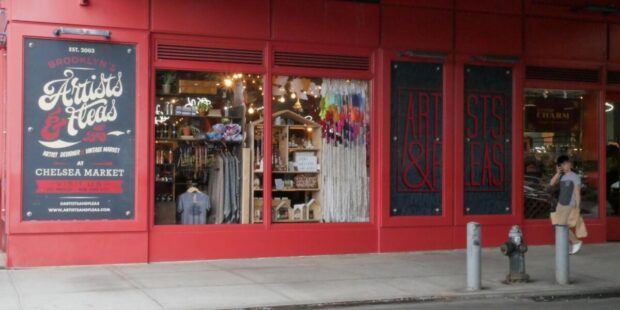 Address: 75 9th Avenue (Between 15th and 16 Street)
Opening times: Monday to Saturday: 7 a.m. – 10 p.m., and Sunday 8 a.m. – 8 p.m.
Hardly any other city in the world has as much to offer culinary as New York City. Known as the melting pot of various cuisines around the globe, everyone will find something they like here. The first address for the gourmets among you is the Chelsea Market.
In addition to culinary delicacies, the Chelsea Market also offers one of the best flea markets in New York! We were on-site at Artists & Fleas and are enthusiastic about the huge selection of goods, from art and design to fashion and vintage. Since 2003 Artist & Fleas has been delighting with more than 30 retailers, all of whom offer their unique creations. Shop at this flea market in a very special atmosphere of the Chelsea Market in the Meatpacking District. PS: Artists & Fleas has other cool locations in New York but this one is definitely our favorite.
Hell's Kitchen Flea Market
Address: 39th St. Between. Ninth & Tenth Aves, Manhattan, NY 10018
Opening times: Every Saturday and Sunday from 9 a.m. to 5 p.m.
There are also countless treasures to discover at this flea market in Hell's Kitchen. A bit of digging is always part of it – but that's a lot of fun here because over 100 vendors create a great place to browse and negotiate at the Hells Kitchen Flea Market. All year round you can find art objects, retro decorative items, furniture, vintage clothes, and jewelry on weekends that you definitely wouldn't find for the same price at Macy's a few streets away.
Vintage
Some works of art just end up on sale over and over again. This is due to the American peculiarity of the antique business. While Germans do not want to part with purchased antiques, Americans have a consumer mentality: you buy a thing, and when everyone admires it after a few years and the enthusiasm fades away, you replace it with something else.

This makes the antique business much more attractive here than in other countries. The 74-year-old merchant is happy to pick up his wares. It gives previous owners the purchase price they once paid minus a 30 percent commission. Everything he can get from the sale belongs to him.
Beach Bookstore
This bookstore has been popular far beyond the city limits since 1927 because the "Strand" has brand new, old, and extremely rare books. Of course, it is not at all easy to find the right one from 2.5 million volumes on an ad hoc basis. You can check online in advance whether the books you long for are in the store.
Vintage Thrift
Here you can browse for hours: from 1940s tea sets to lounge furniture from the 1970s, you can find pretty much everything in this shop. Old typewriters, toys, and loads of Vogue magazines are piled up in the corners. By the way, you do good shopping: The proceeds from the sales go to the United Jewish Council, which supports seniors in the East Side.
Guvnor's Vintage Thrift
A second-hand paradise for nostalgics: you want to spend whole days in this American version of grandpa's attic and then stroll out of the store wearing the breathtaking 1920s cocktail dress made of silk or the frilled blouse with white polka dots. For a catch like this, you can pay between 20 and 50 dollars, most of which are in top condition.
Like us on Facebook for more stories like this: