Atlas Obscura is the most unusual travel book that ever existed because the Atlas Obscura leads us to the strangest and most wonderful places that there are to discover on our planet. The unique collection of pictures, maps, and reports on natural wonders of the world, spectacular buildings, and curious events should arouse enthusiasm and travel bug in every reader.

The compendium of curiosities and wonders of the world includes:
– 700 obscure places.
– More than 600 color photographs.
– Maps for all regions on all continents.
– Surprising facts about extraordinary places and events.
Every contribution in the Atlas Obscura leaves us amazed anew what strange or wonderful places and events there are in our world. For example, have you heard of the baobab tree? The baobab tree is in South Africa and is so big that there is room for a pub. Or from strange events, such as a festival in Spain where men disguised as devils jump over screaming babies. But there is also space for man-made curiosities in the Atlas Obscura. Such as. an elven school in Iceland, the whistling island of La Gomera, or a deadly garden full of poisonous plants in England. You too will be amazed what a wonder our earth is!
The Atlas Obscura looks like a guidebook only at first glance. Above all, this is a book worth reading and dreaming about – a cabinet of curiosities full of unexpected, whimsical, and mysterious places that evoke both a passion for miracles and a passion for travel. Each page of this unusual book expands our horizons and shows us how beautiful and strange the world really is. Fascinating texts, hundreds of fantastic photos, amazing facts, and maps for every region of the globe make it nearly impossible not to go to the next page and keep browsing! An amazing declaration of love to the world in which we live.
Atlas Obscura – a project to collect the most wonderful places in the world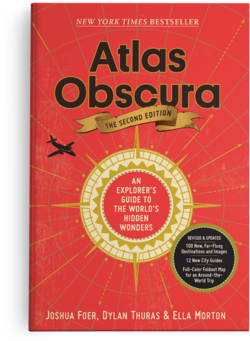 Joshua Foer and Dylan Thuras, the founders of Atlas Obscura, had the idea eight years ago to create a directory that records all the places, people, and things that astonish us. Since many strange places could not be found without the help of locals, the authors called for help with their project. Thousands of people around the world responded to the call and ultimately helped bring together the entries for this particular book.
Joshua Foer is the co-founder and editor-in-chief of Atlas Obscura. He works as a freelance journalist for the New York Times, The New Yorker, and National Geographic. Dylan Thuras is co-founder and creative director and Ella Morton is an editor for AtlasObscura.com, the online community of extraordinary things and places that fascinates millions of people.

The Atlas Obscura is a unique illustrated book about the special places on earth and a wonderful travel guide at the same time and therefore recommendable for everyone who wants to discover the admirable destinations on our planet or to give away to friends and relatives.
It is interesting!
Many people enjoy traveling. Although we mostly rarely travel around the world, we still enjoy visiting new places, countries, and cultures. And at some point, we want to go further and find out more. And this book will definitely be used in travel planning.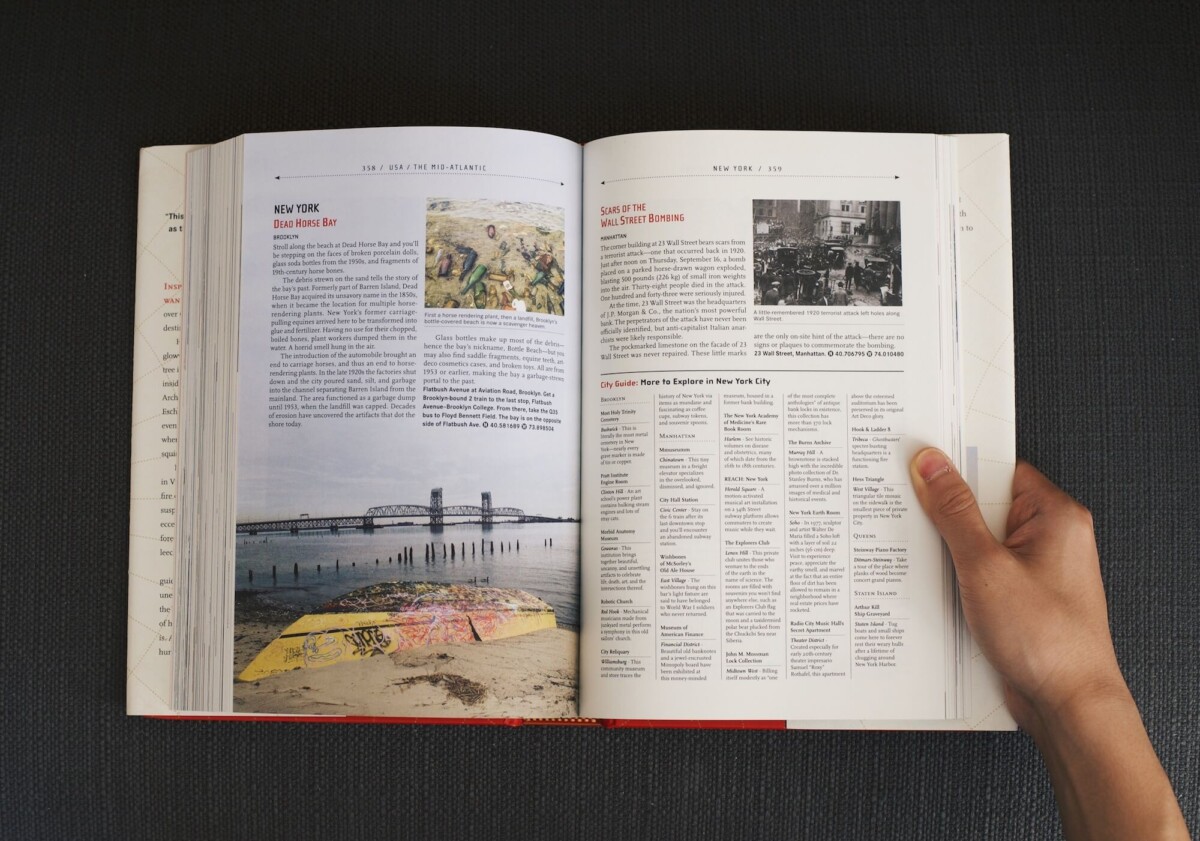 As the name suggests, Atlas Obscura does not show the usual landmarks that most people already know or that are first found on the Internet. No, this book introduces us to some rather unusual and strange places. But one thing is predicted: this is not a real guide. There are places that cannot be seen by ordinary tourists, because without tools it is impossible to get in, etc. To visit other places you need permits, and other natural spectacles do not happen every day. For this reason, the book is also of interest to people who would like to learn more about the world around them, without even visiting these places.
Everyone undoubtedly flipped through the book many times and plunged into it. Here you can experience foreign cultures that are so different from yours. And it was wonderful. The book is also useful in that, for example, in the section "Australia" are some poisonous animals and plants that you should beware of. Some of the content is awesome, others are fun too. Everyone will find something for themselves.
The book is not dry. Thanks to the many pictures and funny sounds, reading is simply fun. And of course, entertainment adds quirky things to you. We did not find the Eiffel Tower, which already shows that this is no ordinary guidebook. The reader quickly realizes that the world is not monotonous, but always reveals new surprises.
The book makes you realize how much you don't know about the world and how much you probably will never see. But at least we know about it thanks to the book. You read about places in the world that you would never have known about otherwise. Be sure to use this book!
The Atlas is divided into continents and then into individual countries. On the back of the book, you can still search for topics (e.g. body parts without bodies, creepy museums, pyramids) or use the alphabetical index (European Asparagus Museum, Happy Cemetery, Mechanical Duck). This makes searching much easier.
Conclusion
The book will appeal to those who love to travel. Those who love the unusual will love Atlas Obscura. When you read this book, you will see the world from a different angle. It is also a great gift for people who love to travel and explore the world! But the book is also great for traveling on the couch and learning more about the wonderful as well as crazy things that exist in the world.
Like us on Facebook for more stories like this: