Behind every computer game are graphic artists, programmers, copywriters, etc. Meanwhile, voice actors from film and television, entire orchestras for the game music, and professional authors for the background story are also hired.

Putting this business on a professional footing and pushing the story to the fore has paid off for the company. Worldwide, the games industry has a turnover of more than 100 billion US dollars every year. We have put together for you the top 10 companies in the game industry, measured by their income.
GungHo Online Entertainment (2015 revenue: € 1.26 billion)
GungHo is relatively unknown in the European market. The company looks after the servers for the popular role-playing game "Ragnarok Online" in Japan. The Japanese game manufacturer is currently concentrating on the mobile game market with its flagship "Puzzle & Dragon", which accounts for over 90% of the company's turnover.
Ubisoft Entertainment (€ 1.46 billion)
Worldwide game manufacturer, whose projects are known to millions of users
The French company Ubisoft Entertainment was founded in Rennes in 1986 and now has offices in 20 countries. With "Zombi", Ubisoft first published a computer game based on George A. Romero's novel "Dawn of the Dead" and thus on a zombie apocalypse. Since then, the company has launched the strategy game "The Settlers" or the first-person shooter "Far Cry" as computer games.
King Digital Entertainment (€ 1.7 billion)
Candy Crush' maker gives Activision a route to mobile gaming
The English game maker King.com is also a relatively unknown brand but also a beneficiary of free online and mobile games. The company's most successful game can be found on many smartphones and for a long time led the bestseller statistics in the App Store: "Candy Crush Saga". The company now has a market value of around € 5 billion.
Namco Bandai (€ 2.05 billion)
Bandai Namco launches new company Bandai Namco Mobile
As a Japanese company, Namco Bandai is one of the oldest on the market (founded in the 1950s). However, it was not until 2006 that the two companies Namco and Bandai merged. With video game hits from the beat'em up genre such as "Tekken", Namco Bandai secured its place in the world of console games.
Electronic Arts (€ 3.25 billion)
Electronic Arts Logo

Electronic Arts is best known for its sports simulations on computers and all consoles. The "FIFA" series, "Madden NFL", "Tiger Woods PGA Tour", or "NBA Live", all of which originate from the EA Sports subsidiary, celebrate great successes every year. There are various national and international leagues with professional competitive character and tournaments with high cash prizes, especially for FIFA.
Activision-Blizzard (€ 3.32 billion)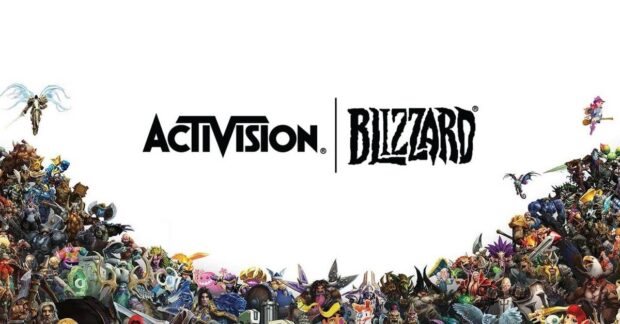 Since the development of "Diablo", Blizzard has stood for dark strategy and hack & slay games. In addition to the "Diablo" series, "Starcraft", which is very popular in Korea, also belongs to the portfolio.
In the first-person shooter area, the game "Quake" shaped a whole generation, and with "Call of Duty" one of the most successful shooter game series was developed. Activision-Blizzard takes a leading role with World of Warcraft, especially in the field of online role-playing games.
Nintendo (€ 3.92 billion)
Anyone who hears Nintendo usually thinks directly of the Gameboy, "Tetris" and "Super Mario".
The development of the Japanese market leader really hit with the development of the NES in the early 1980s. Games like "Zelda" or "Super Mario" still bring back memories of hours of video game evenings today. Any company that manufactures its own console and develops games for it undisputedly has a safe place with high sales figures. Nintendo is currently fighting for a competitive place among game consoles next to Sony's Playstation and Microsoft's X-Box.
Microsoft (€ 7.25 billion)
A company with a worldwide reputation
Under the label of Microsoft Game Studios, Microsoft publishes and markets a large number of games from all possible industries, including the first-person shooter "Halo", the strategy game "Age of Empires" or the "Flight Simulator" known from earlier times. Microsoft is also creating its own sales market for console games with its own console, the X-BOX. Here, too, Microsoft is positioning itself broadly for various console and PC games.
Tencent (€ 7.73 billion)
A Chinese company that continues to grow and develop
Tencent should only be known to connoisseurs. The Chinese game manufacturer and largest Internet company in China is also active in the areas of instant messaging, online advertising, and e-commerce. The online games market is the main reason for Tencent's high position in this ranking, as Chinese online players spend more money on games and the market there is still growing very quickly.
Sony Computer Entertainment (€ 9.89 billion)
Similar to Nintendo, Sony also focuses on the business of a game console (Playstation) with associated games.

The Playstation breaks all sales records with each new release (currently Playstation IV). The console's performance and graphical properties have now become benchmarks against which other manufacturers measure themselves. Sony unites a lot of development studios under its umbrella brand, which are responsible for the games "Gran Turismo", "Uncharted" or the "Final Fantasy" series.
Pokémon GO is still generating buzz in the gaming industry with staggering sales. It goes without saying that one or the other is jealous and thinks about how to secure a piece of cake to himself. As Sony CEO Kaz Hirai recently stated in a media interview, he was extremely impressed with the success of Pokémon GO and describes this development as groundbreaking for the industry. Therefore, he plans to aggressively push Sony into the mobile games market. The company wants to move away from a pure console business, and therefore, since March 2016, it has been investing in the development of full-fledged mobile games based on PlayStation games and characters.
It remains unclear if Sony is increasingly relying on augmented reality gaming. Hirai did not reveal the exact strategy for getting into the smartphone gadget business. The mobile games market is not new territory for a proven handheld company. The company has already released several companion apps for PlayStation games and small mobile games. In this context, analysts told a business magazine that Sony has hardly used the mobile market to make money from it. Rather, they wanted to stimulate the sale of console app products. This should change with the coming wave of smartphone gaming. What gamers are actually waiting for remains to be seen.
Like us on Facebook for more stories like this: