Many couples get married in New York because it enables a different type of wedding – without the usual pressure and stress. New York is the ideal city to experience this very special day: It is crazy, fast, and colorful at the same time, but also incredibly romantic. We believe a wedding should be relaxed and fun in the style of New York.

Weddings organized by our partners, the wedding planners of Echt New York, remain essentially simple – although a few extras can be used here and there. Thus, in contrast to traditional weddings, you have a lot of time for each other on the wedding day. Everything is within a very manageable framework, including costs. Real New York has been based in Manhattan since 2005. 
READ: Garbage Situation: 30 Million Tons a Year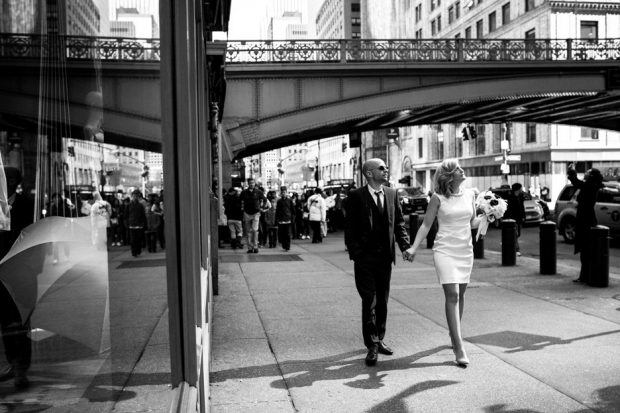 Photo – Kirra Cheers
Real New York takes care of everything you need on this special day. So you only have one contact person, so everything stays simple and stress-free. From the location, photographer, justice of the peace, stylist, transport, and whatever else you want for your wedding in New York, Real New York is at your side.
Your Wedding
Photo – Fotovolida
One of the wonderful places to get married in New York is Central Park. Weddings usually take place at two pretty pavilions, both of which are located on Central Park Lake. Or you can get married high above the rooftops of New York – on the most beautiful viewing platform in all of New York, the Top of the Rock. But the Brooklyn Bridge with the Manhattan skyline in the background is also fantastic. Some couples also get married in the New York registry office, in the City Clerk. They also offer church weddings. However, getting married in church is more complex and expensive. If you are interested, they will be happy to send you more information.
Photo Bethany Jones
When a stylist has been booked, the day starts with her coming to the hotel and doing the hair and make-up. From the hotel, you can drive in a yellow cab, in a long stretch limousine, or in a vintage convertible (or in a closed vintage car) to Central Park or any other desired location.
READ: 15 Central Park West: The Place Where Life is Good
The Officiant – a justice of the peace who has the authority granted by the State of New York to conduct weddings outside the registry office – the photographer, if booked, and someone from the Real New York team is waiting there. The justice of the peace with whom they work are warm, personable people who carry out their weddings with warmth, wisdom, and a pinch of humor.
During the ceremony, he addressed a few words to you. For example, he talks about the life and importance of marriage without slipping into sentimental, kitschy, or lengthy speeches. The wedding ceremony is not related to a specific religion but is carried out in a way that is equally suitable for all people and that is relaxed and personal.

If a photographer has been booked, you usually go on a photo tour of several beautiful New York locations after the wedding ceremony.
As the couples often tell us, this tour is one of the fondest memories of getting married in New York. It's exciting and great fun to "zoom" around parts of New York and take great photos. Particularly popular motifs are Central Park, Times Square, Grand Central Station, the Flatiron Building, and the Brooklyn Bridge.
Photo – Fotovolida
In the 2 hours set for the photo tour, 2-3 stops are possible in addition to the wedding location. The team consists of people whom they have worked with many times. They are professionals who are not only technically competent, but also personable, and with whom you will also feel comfortable on a human level on this very special day.
They are also happy to help with evening arrangements. There are some fantastic restaurants with stunning views of the skyline, but also "trendy" or elegant. Another option is a dinner cruise around Manhattan. It all depends on your preferences. They would be happy to email you a few interesting addresses.
READ: These are the Best Hotels in Dubai Marina: For Tourists, We Present the Best Hotels in the Dubai Marina
After the wedding, the Officiant hands over the license to the registry office. After about 14 days (over 40,000 couples get married in Manhattan every year!) They can pick up the certificate – a special version that can be made internationally suitable.
Like us on Facebook for more stories like this: