As a hotspot for foodies, New York offers endless possibilities for delicious food. Low-budget restaurants in New York are a dime a dozen, it's just important to know which ones are really worthwhile.

The selection is overwhelming and the prices can sometimes knock you off your feet. Many tourists in New York forget that taxes (8.875%) and tips (15-20%) have to be added to the price on the menu so that the bill is usually a lot higher than expected.
So that you don't have to miss out on the huge selection of international cuisine, we have compiled our list of the best low-budget restaurants in New York. So you can test your way through all the kitchens and still eat cheaply in New York. Bon Appetit!
Shake Shack: The Best Burger in Town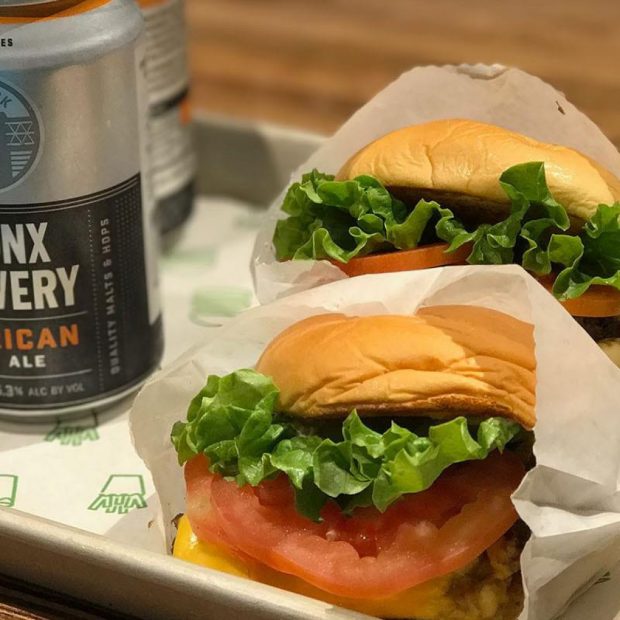 Shake Shack in New York is no longer an insider tip. The well-known restaurant chain grows and grows and more and more new Shake Shack is opened in New York. The good thing: at Shake Shack, you can definitely eat cheaply in New York.
One of the most popular shake shacks in New York is in the Flatiron District in Madison Square Park. The rather inconspicuous booth leaves a lasting impression, as the queue is always incredibly long. You should avoid the location near Times Square on 8th Avenue. 
READ: Best Restaurants in Brooklyn: Food Guide
We recommend the location in Dumbo, where you can visit after a stroll over the Brooklyn Bridge, or after sightseeing in Grand Central Station, you can also have the burger.
Price for a burger, fries, and a drink: around $ 12
Pret a Manger: Healthy, Fresh Food
Pret a Manger is a well-known "healthy fast food" chain and a very popular place for Americans to get lunch.
You have a huge selection of sandwiches, salads, flatbreads, wraps, soups, and even mac and cheese! There is also a small bakery with delicious bread and muffins, and there is fresh fruit, coffee, and tea.
Pret a Manger is particularly characterized by the high quality of the ingredients and prepares all dishes fresh the previous night. You get really good food here.

Lunch price: $ 13
Chipotle: Low Budget Burritos and Tacos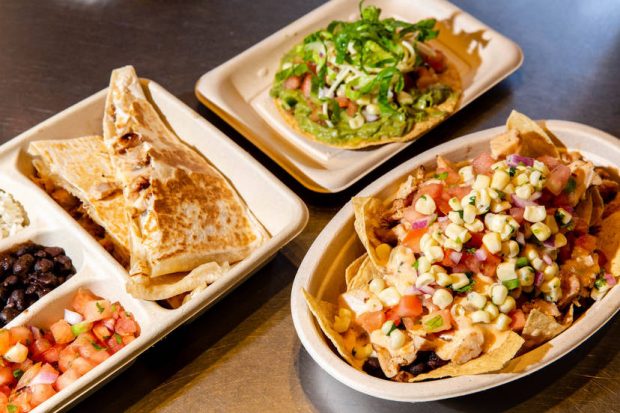 Chipotle is a world-famous chain that brought Mexican food to the United States. While there are so many Mexican dining options in the Big Apple, we consider it one of the top low-budget restaurants in New York.
READ: The 6 Best Food on Foot Tours in New York: Free Entry with the New York Pass
On the menu, there are either tacos, burritos, burrito bowls, or salad bowls and you then have the choice between different types of rice, salad, meat, and the toppings vary from sour cream, cheese, guacamole, corn, and much more. Of course, there are delicious tortilla chips as a side dish! For a quick lunch in between, Chipotle is just the thing and the burritos are huge! You can find the Mexican restaurant on every corner in the city.
Price for a burrito, chips, and drink: around $ 14
Dos Torros Taqueria: Delicious Quesadillas
Food in the East Village is well known and endless. If you are hungry in between, have a relaxed lunch, or just take a short break from the sightseeing marathon, we recommend the Dos Toros restaurant in the East Village.
There is a large selection of Mexican delicacies in the Dos Toros restaurant. There are – of course: tacos, burritos, quesadillas, and salads. The portions are generous, so you'll definitely get full! The Dos Toros is now available at many locations in the city – guaranteed to be near you too.
Price for a large salad and drink: around $ 11
Mighty Quinn's BBQ: Pulled Pork and Spicy Chicken Wings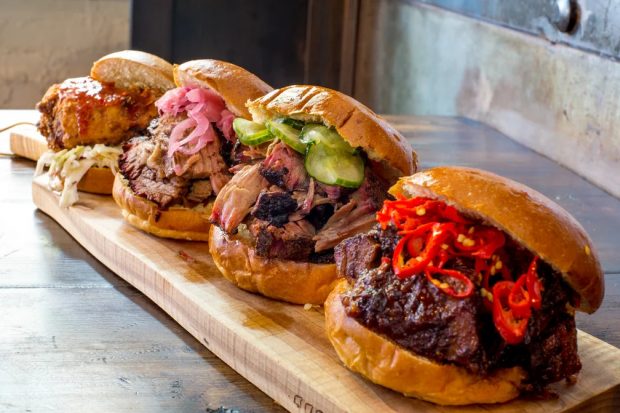 If you are looking for a good and cheap BBQ restaurant in New York, you will find it at Mighty Quinn's.
Our favorite location is in the East Village, always full and a lot of young people, but above all the BBQ is really delicious. But not only in the East Village, but you will also find a branch of Mighty Quinns BBQ – you can still find them in Manhattan, Brooklyn, and New Jersey.
Price for a serving of meat of your choice, a side dish, and a beer: around $ 19
Black Seed Bagels from Montreal, New York

Black Seed Bagels has delicious home-baked bagels and homemade cream cheese options at low prices.
You can also have fresh sandwiches made for you, whether classic or unusual, with all the ingredients of your choice. Tasty classics at Black Seed Bagel are definitely the Smoked Salmon and Cream Cheese, Smoked Turkey, or Tuna Melt. You can also choose Egg and Cheese, i.e.
You have a bagel with egg and various cheeses and avocado and there are even pizza bagels. Black Seed Bagel is a great place with lots of character and good food for bargain hunters in New York. You can find our favorite location in Nolita.
Price for a bagel: around $ 8
Eating Out in New York
You can get a lot of delicacies at reasonable prices in the all-rounder restaurant "Essen". At Essen in New York, you can find a counter with already prepared food.
READ: Burj Khalifa Light Show: Free for Tourists
You can get everything from fresh salads to salmon. For under $ 15 you can certainly get a large portion here and save a lot of money. Many of the food locations in New York also have a kind of deli in the restaurant, where you can buy sandwiches, wraps, or bagels. Essen sells freshly squeezed juices, sweets, all kinds of drinks, and cakes.
Lunch price: max $ 15
Like us on Facebook for more stories like this: