The architecture of New York City is a mosaic made of various elements that are always fascinating and surprising. It is impossible to explore and know our city completely. There is always something unknown, wonderful, and beautiful. Architecture is no exception.
Residential Сomplex on Spruce Street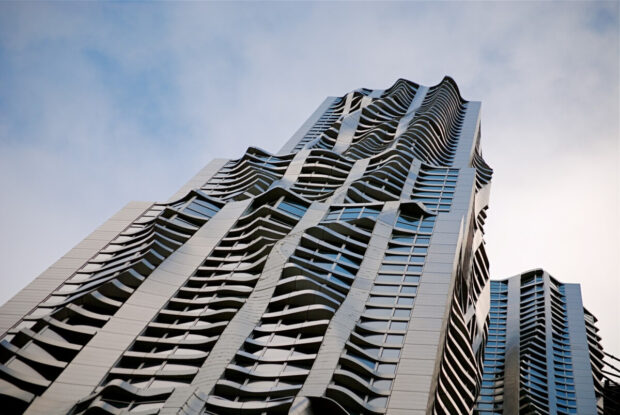 The main feature of the most discussed new building in 2011 was its «living design», or «lively mood».
When you walk past this building or look at it from different angles, you will surely notice the optical illusion of the motion of waves. The building, created by one of the most talented architects in America of our time, by Frank Gehry, represents the very essence of New York: movement is life. The creation of this unusual form was inspired by Baroque architecture and sculpture. In this large building, which has seen the light of day thanks to Forest City Ratner you will find both a school, a restaurant, and many other things. The natural center of the universe.
Bank of America Tower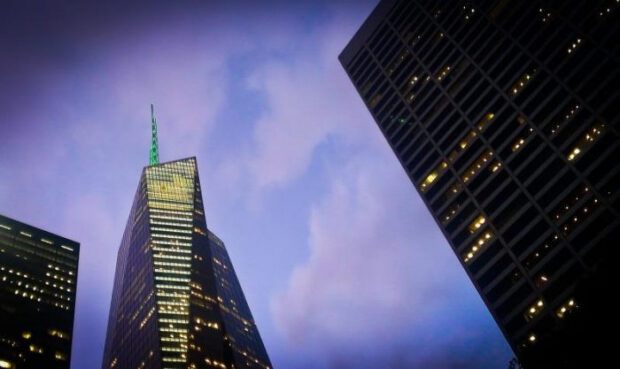 The building, which is 366 meters high, is located in downtown Manhattan.
It is the third-tallest building in New York City and the fifth-tallest in America. The architecture of this city is so diverse that amazing and different buildings can easily fit in. This skyscraper was built in 2009. In the process of construction of this building, special glazing packs were used, partially absorbing solar radiation and providing maximum natural lighting. The Bank of America Tower is considered to be a masterpiece of modern high-tech architecture. Efficiency and sustainability always attract interest and respect.
READ: Most Famous Artists from New York and Their Masterpieces
Barclays Center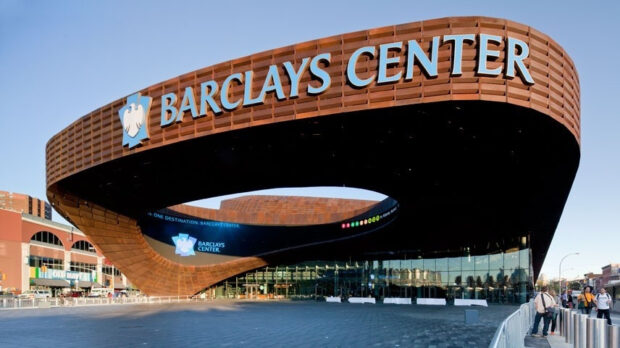 The spectacular, technical, and vibrant sports arena opened its doors for the first time in 2012.
This stadium is the traditional venue of the team's matches «Brooklyn Nets» and very soon hockey competitions will start there. With its stunning design and original architectural solutions, this stadium attracts not only fans of sports and athletes, but also popular stars. Be sure to visit the match and you will certainly not regret it. Besides sporting events, there are many cultural events, concerts, and performances. So this building is a real multifunctional center.
READ: 10 Gems in New York Architecture
Best Architecture and Design Agencies in New York
Behind the noise and fuss, promises, and opportunities of Manhattan, the city's architecture is a stable backdrop that undergoes various changes, from insignificant to significant, driven by the collective pulse of city residents, places, and events.
New York City, a mega-city with numerous places of worship, is replete with well-deserved architectural and design agencies whose contemporary work recognizes the high standards set by their predecessors. In the current landscape of Manhattan, here are five of the best architects and designers to name very few.
Architects Baxt Ingui
Architects Baxt Ingui, stylized as BAXT INGUI, has served clients in New York since 1977. The Architecture and Interior Design Agency was ranked in 2017 by Expertise as one of the top 20 firms in the New York industry, selected from 1,705. The criteria for the selection of experts included reputation, reliability, experience, accessibility, and professionalism. BAXT INGUI has extensive experience in residential, institutional, and commercial projects and is an active public partner for non-commercial purposes.
Gensler

Gensler, a world-renowned firm with over 3,500 active customers worldwide, has offices in New York City and is currently working on the renovation of Citigroup's Greenwich Street headquarters in Tribeca, according to a Commercial Observer article. In 2014, Gensler was named by the American Institute of Architects (AIA) New York State Firm of the Year due to the quality of his designs, his achievements in setting new standards for corporate social responsibility and civic engagement, and in creating and revitalizing the Architecture Center "according to the press release, most of Gensler's New York projects are internal jobs.
LTO Steven Harris Architects LLP
Steven Harris Architects LLP is an award-winning company based in Tribeca, which has been operating on both public and private orders since 1985. The firm won several AIA and Interior Design Best of Year awards and was also awarded the Architectural Digest's AD 100, the A-List by Elle Décor. and the Interior Design Hall of Fame according to Expertise.
Architects Selldorf
Architects SelldorfVere, headed by director Annabel Selldorf, an architectural designer who works at 65, has been working in the New York area since 1988. The company carries out extensive work with educational and cultural institutions. Selldorf herself is a member of AIA and is on the board of the Architectural League of New York, the Chinati Foundation, and the Bard College Curatorial Research Center. Selldorf was elected to the American Academy of Arts and Letters in 2017. In 2016, she received the AIA Medal of Honor in New York City.
READ: 10 Interesting Places to Visit in New York
Architect Robert A.M.
According to several sources, no list of leading architectural and design firms would be complete without Architect Robert A.M., whose founder and senior partner Robert Stern directs the design for each of the firm's projects, according to the blog for BuildDirect. Stern is a published author and was dean of the Yale School of Architecture from 1998 to 2016. In 2017, Stern received the medallion "Topaz", awarded jointly by AIA and the Association of University Architectural Schools for outstanding services in the field of architectural education.
Of course, no list is exhaustive and unquestionable, especially when it comes to generous and evolving architecture and design in New York. Other well-known firms serving the Manhattan Area and deserving scrutiny include Ted Moudis Associates, Studio Architecture, FXFOWLE, Stephen Wang + Partners Architect Toshiko Mori, among many others.
Like us on Facebook for more stories like this: