Ukrainian volunteer musicians raise funds for victims in Ukraine.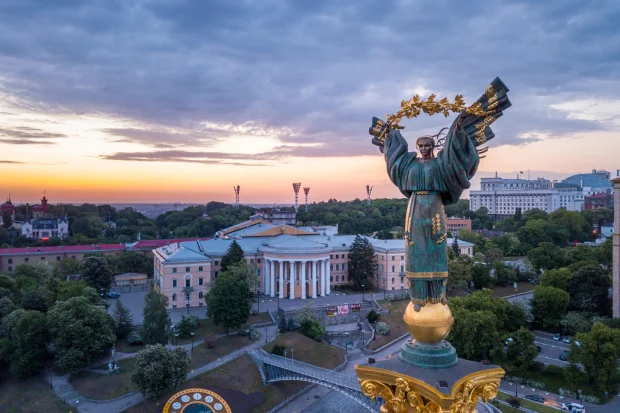 On February 24, 2022, the active phase of russia's military aggression against the independent sovereign state of Ukraine has began. Since then, russian troops have continued to launch heavy missile and artillery strikes on Ukrainian cities, hitting not only military facilities but also peaceful residential areas, apartments and houses, schools, kindergartens, hospitals and cultural institutions.
Explosions are heard in many Ukrainian cities – Kyiv, Dnipro, Mykolayiv, Odesa, the city of Kharkiv, which is shelled by the russian army every day and where more than a thousand civic buildings has been destroyed. In fact, Mariupol and Izyum, Trostyanets and Sumy were wiped off the face of the earth, and many settlements were destroyed. The whole world saw horrific photos of brutal massacres of civilians in Bucha, Kyiv region. As of May 7, 223 children were killed and more than 410 were injured in Russia's armed aggression in Ukraine. More than 4.5 million Ukrainians became refugees due to the war with Russia.
Fighting continues in eastern Ukraine. The Ukrainian army and territorial defense forces are resisting the enemy and will definitely win. The russian aggressor is suffering unprecedented losses of military force and equipment in Ukraine.
During this difficult time, many Ukrainians who were successful and happy before the war have now volunteered or continued to volunteer and help refugees andresidents of areas of Ukraine where active hostilities are taking place.
One of such organization is the "Veronika Lemishenko Charitable Foundation", an association of Ukrainian musicians in Kharkiv. Prior to the russian military aggression of 2022, the "Veronika Lemishenko Charitable Foundation" aimed to promote harp art in Ukraine by supporting talented Ukrainian harpists and composers.
The foundation is also collaborating with the "Glowing Harp" – an international harp project, which includes a competition, festival, master-classes, recitals and other musical events.
Harp events have been held since 2006, when the first Open harp competition took place in Kharkiv. Since then competitions, festivals, workshops and other harp events were held in Kharkiv constantly and from 2014 became united under the patronage of the "Glowing Harp" festival and competition. During the Covid-19 pandemic all the "Glowing Harp" events has been adapted to the online format. The "Glowing Harp Online Marathon" has been held on 10 April 2020.
Harpists from Hong Kong, Australia, Japan, the UAE, Turkey, England, Scotland, Wales, Italy, Spain, France, Germany, Austria, Sweden, Portugal, Malta, Switzerland, Ukraine, Poland, Lithuania, Hungary, Serbia, Venezuela, Bogota, Philippines, Mexico, Argentina, Colombia, Chile, USA,Canada, Hawaii joined – over 36 countries participated in 10-hours "Glowing Harp Online Marathon".
In 2019, the "Glowing Harp" competition joined the European Union of Music Competitions for Youth (EMCY). In addition, the high level of professionalism and extensive work in Ukraine was honored – Veronika Lemishenko, founder of the foundation, was invited to the Board of Directors of the World Harp Congress. It is a global event that brings together the harp community representers from more than 50 countries and Veronika for now is the first and only harpist from Ukraine at the Board.

After the war has started the "Veronika Lemishenko Charitable Foundation" focused on helping residents of Kharkiv, Kyiv, Mariupol and other Ukrainian cities affected by russian military aggression in Ukraine.
The "Veronika Lemishenko Charitable Foundation", registered in Kharkiv, accepts international donations and provides financial assistance to volunteer organizations, medical institutions, animal shelters in Kharkiv and other Ukrainian cities, as well as targeted assistance to Ukrainian victims of the war.
In peaceful times the foundation hosted various international harp events such as concerts, lectures,workshops in Kharkiv and other cities in Ukraine and Europe. Young talented Ukrainian musicians received scholarships as support and encouragement for their further achievements.
Now the "Veronika Lemishenko Charitable Foundation" appeals to the organization and individuals from all over the world asking for a solidarity and help:
"Let's support Ukraine together! Ukraine and Glowing Harp are calling for harpists and non harpists all over the world!
If you wish to donate to help the Ukraine, you can do it via our Charitable Foundation. We will pass the funds on in full to the Ukrainian aid centres. We invite everyone who sincerely supports Ukraine to join our action and make a charitable contribution. It could be funds from your performance, master-class or any other event. We guarantee that money collected via Charitable Orgazation
"Veronika Lemishenko Charity Foundation" will go strictly to purposeful use.
Music is our force! Stand with Ukraine!"
In special cases the funds could be provided for an individual assistance or personal goals.
The activities of the fund and the reports can be found here: https://glowingharp-ukraine.com/pro-nas/blagod-fond-vl/

Statement from Veronika Lemishenko:
Bank account details in EU
Company Name
БФ ВЕРОНIКИ ЛЕМIШЕНКО БО
IBAN Code
UA173515330000026002052102326
Name of the bank
JSC CB "PRIVATBANK", 1D HRUSHEVSKOHO STR., KYIV, 01001, UKRAINE
SWIFT code банку/Bank SWIFT Code
PBANUA2X

Company address
UA 61002 Харкiвська м. Харкiв вул. Свободи б.27 кв.26
Correspondent banks
Account in the correspondent bank
400886700401
SWIFT Code банку-кореспондента/SWIFT Code of the correspondent bank
COBADEFF
Correspondent bank
Commerzbank AG, Frankfurt am Main, Germany
Account in the correspondent bank

6231605145
SWIFT Code банку-кореспондента/SWIFT Code of the correspondent bank
CHASDEFX
Correspondent bank
J.P.MORGAN AG, FRANKFURT AM MAIN, GERMANY
Bank account details in USD:
Company details
Сompany
Name БФ ВЕРОНIКИ ЛЕМIШЕНКО БО
BF VERONIKI LEMISHENKO BO

The bank account of the company 26006052101419
Name of the bank HRUSHEVSKOHO STR., KYIV, 01001, UKRAINE
SWIFT Code банку/Bank SWIFT Code PBANUA2X
Адреса компанії/
Company address UA 61000 Харкiвська м. Харкiв, вул. Свободи б.27 кв.26
IBAN Code UA763515330000026006052101419
Сorrespondent banks
Account in the correspondent bank 0011000080
SWIFT Code банку-корреспондента/

SWIFT-code of the correspondent bank CHASUS33
Сorrespondent bank JP Morgan Chase Bank,New York ,USA
Account in the correspondent bank 8900085754
SWIFT Code банку-корреспондента
SWIFT-code of the correspondent bank IRVT US 3N
Сorrespondent bank The Bank of New York Mellon, New York, USA
Like us on Facebook for more stories like this: