You can never go to New York in your whole life, but you can't help feeling the influence of New York culture. Everyone's heard a lot about that "New York Bohemian" he's famous for. Independent musicians, avant-garde artists, unemployed actors, radical writers, unthinkable freaks, and other New York City underground dwellers.

And it turns out that all of these audiences, which is very typical of New York, live quite locally and periodically move from one area to another. Over time, the relentless rise in housing prices has almost definitively driven these people out of Manhattan. And for the last few years, the center of an alternative New York City is, without a doubt, Brooklyn, and specifically, its neighborhood of Williamsburg.
READ  The City Under the Earth: The History of the New York Subway
Williamsburg is considered one of the most creative neighborhoods in Brooklyn. After the opening of the Williamsburg Bridge, the area was mostly populated by immigrants from Eastern Europe and Italy. Most moved here from the crowded Lower East Side. In 1960, a second immigration wave took place in Williamsburg, this time by immigrants from Latin America interested in working in factories. In 1970, the quarter attracted artists and musicians, as it was very profitable to rent a studio or apartment. Since then, many have fallen in love with Williamsburg.
Shopping in Williamsburg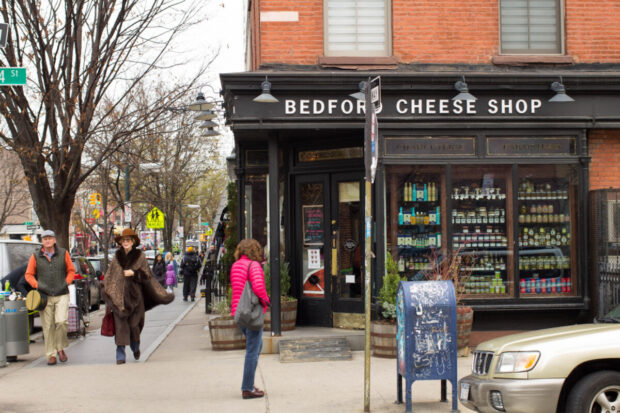 Do not expect to see Gap or H&M here, one of Williamsburg's features is small shops and boutiques.
In Popfuzz you will find a selection of articles, recordings, and DVDs related to pop culture, selling comic books and movies featuring the legendary Marilyn Monroe. Music lovers must go to Earwax. Here is a wide selection of vinyl records and other musical instruments. For toddlers, go to the Mini Jake store, which presents modern brand clothes for children and infants. In addition to clothing, there is an interesting selection of books, organic playdough, strollers, and many other things. After you finish shopping, enjoy a bar of delicious chocolate at Mast Brothers Chocolate, which unfortunately is only open on Saturdays.
READ  Governors Island: Escape From Hustle To History
Restaurants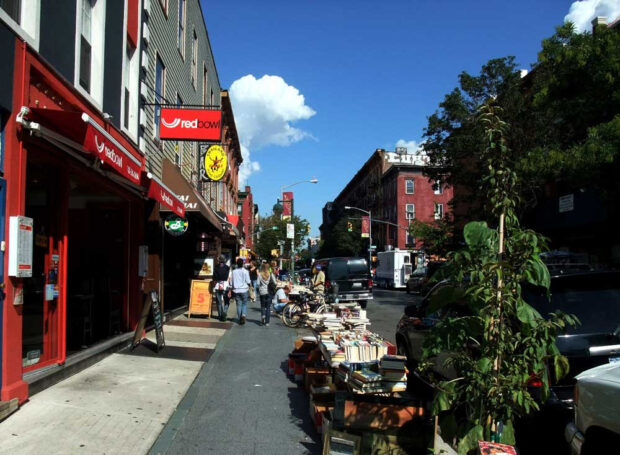 Williamsburg is home to many immigrants from different countries, so the choice of cuisine is very varied.
For delicious vegetarian dishes, go to the Wild Ginger Pan-Asian Vegan Café. If you are a meat lover you should definitely visit the barbecue restaurant Mable's Smokehouse & Banquet Hall. The Mesa Cayoacan restaurant is a restaurant for fans of traditional Mexican cuisine. For those wishing to try dishes from different countries, go to the wonderful market of Smorgasburg.
Bars
Each corner of Williamsburg has a pleasant bar. If you are looking for a nice bar where you can enjoy your evenings, go to George & Jack's. Bedford Ave has a small Soft Spot bar. It has a cozy atmosphere and affordable prices. If you prefer cocktails, they make a delicious pomegranate Margarita. Call your friends and spend the evening bowling at the Brooklyn Bowl. You can eat cheap and delicious meals, and sometimes live concerts. If you are planning to spend an evening in a movie theater, go to Nitehawk Cinema, during the viewing period you can order dinner or just have a snack. The Music Hall of Williamsburg is open for local performances.
If you're interested in learning more about breweries in Brooklyn, and try different types of beer, go on a tasting tour – Brewery & Beer. The tour includes a visit to local breweries, beer tasting, a stroll around the area, a visit to a historical church, a pizza restaurant, and some beer at the local bar.
About the Hasids
The world of Orthodox Jewry is also very diverse.

 For people far from Judaism, perhaps most mysterious are those who wear long paces and beards, a coat and tucked-in pants in stockings (and on Saturdays and holidays a wide fur cap), and communicate with each other in Yiddish, which is often better owned, than English. People unfamiliar with Judaism call them ultra-Orthodox. 
READ  Mom wins $5 million after given wrong lottery ticket in New York
We prefer to use a more respectful and used name – Hasidic. This name unites the followers of the doctrine of the slave Israel Baal Shem Tova, who lived in Ukraine in the 18th century. However, the Hasidic movement is also subdivided into subgroups (so-called courtyards). Each court is headed by a rabbi, that is, a spiritual guide. Hasidic courtyards generally bear the geographical names of the localities from which they originated.
Unlike Mea Shearim, the Hasidic areas of New York have virtually no confrontation between "their" and "strangers". This may be due, first, to the fact that Hasidic people do not constitute 100 percent of the population in any of these areas. Second, Jews in America (and in any other country outside Israel) do not seek to impose their order on a non-Jewish majority, as this is unacceptable from the standpoint of Judaism itself.
Williamsburg is famous for being inhabited by members of the Satmar Hasidic Court. Satmar Hasids are more isolated than others. I'll explain how and why. Hasidic neighborhoods look special during the Jewish holiday season. But even on the most ordinary days of the year, visiting these areas will be interesting for those of you who have never been to such places.
Like us on Facebook for more stories like this: