New York has a huge number of interesting establishments, including themed restaurants. You can see both classic and rather quirky establishments in this amazing metropolis. We will tell you about the most unusual establishments in New York that will captivate you at first sight. These are not only restaurants and cafes but also unusual concert halls. In such places, you will have fun and will not see hundreds of tourists.
Ellen's Stardust Diner

If you have a desire to visit an unusual place, go to Ellen's Stardust Diner. The highlight of this establishment is that all the staff are artists who entertain visitors with pop performances throughout the day. Besides, most of the staff are aspiring Broadway performers who are waiting for their big break, so the quality of the performances is always on top.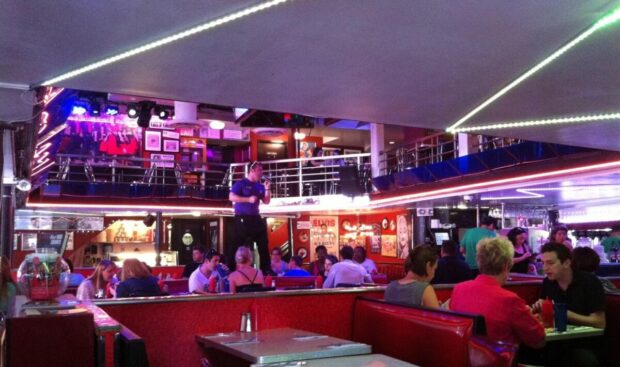 Ellan's Stardust Diner is a very popular place and you can queue for two hours in the evening. If you want to avoid the crowds, head there for breakfast around 08:00.
Bubba Gump
Bubba Gump restaurant is dedicated to the famous film 'Forrest Gump'. If you've watched this movie, then you probably remember a character named Bubba, who dreamed of opening a shrimp restaurant all his life.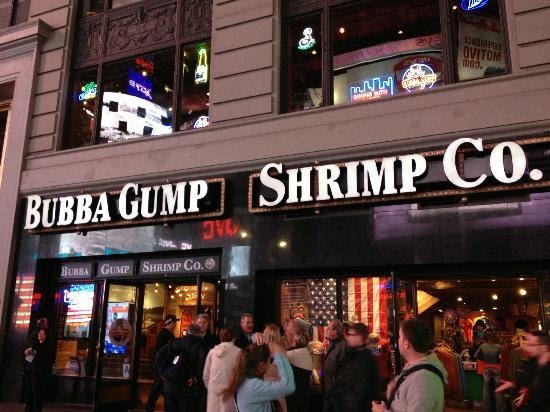 Most of the time, all tables in the restaurant are occupied. The waiters are very fast, so you don't have to wait long. Be sure to visit this place if you love shrimp — the chef prepares them masterpiece!
Apotheke Bar
The townspeople come to this place for original cocktails, in a secret bar, where no tourist can get. Even taxi drivers do not know the location of this bar, so you can only get here if you know the exact address.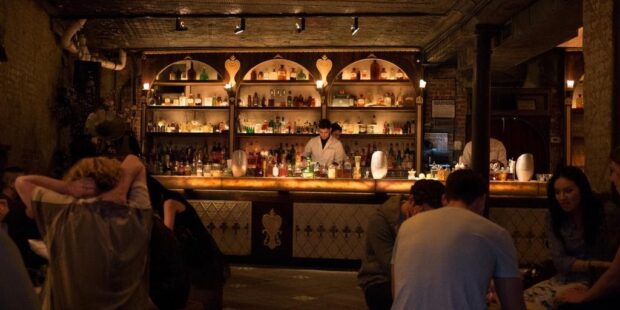 At the time of the dawn of the Chinese mafia, many murders were committed on this street, it was easy for criminals to hide around the corner, on the sharply turning street, and trap their victims there. As a result, this place received the nickname "bloody" and people tried to bypass it.

In the 1920s, during the prohibition period, there was a pharmacy here – which sold not only medicines. An ideal location considering its notoriety in the city. Today at this place there is a bar, which is called "Pharmacy". Here bartenders in pharmacists' robes prepare cocktails from natural herbs and liqueurs. All ingredients are "organic" sourced from farmers' markets or grown in the bar's own rooftop garden. They are stored in jars and pharmacy flasks, just like in real pharmacy. Each cocktail, like medicine, has its own properties – relaxing, stress-relieving, pain relievers, and so on. So everyone can choose their own "medicine" depending on the goal and personal preferences. The townspeople love to drink in unusual places and in this sense the Apotheke Bar is ideal. Perhaps this is one of the most interesting and atmospheric bars in the city, where only the local public goes.
Concerts and performances at the Juilliard School
Many New Yorkers are in a constant state of the hunt for great ticket prices for a show that has room for everything – songs, dances, vocals, and experimenting with talented performers. Unfortunately, Broadway does not often please us with such a pricing policy. For such adventure and concert hunters, the Juilliard School can be a real gem.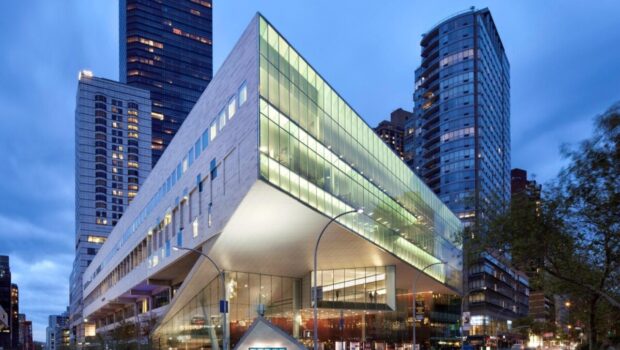 One of the most prestigious art schools in the world, Juilliard is constantly bringing amazingly talented people onto the stage. Graduates of this amazing institution have already received hundreds of Grammy, TONY, and OSCAR statuettes. Juilliard's graduation concerts can be an amazing discovery for all music lovers of the city. Tickets for events rarely exceed $ 20.
Hard Rock Café

A visit to the Hard Rock Café in New York is like going to a rock music museum. Hard Rock Café in New York with 708 seats is one of the largest restaurants of this chain worldwide. The restaurant is filled with a collection of items from rock legends such as The Beatles, Nirvana, The Ramones, and many more. The uniqueness of the Hard Rock Café in New York is that all the items and groups are partly related to New York, such as John Lennon. Once or twice a day, all of the restaurant staff gather to dance to the Y. M.C. A Village People and invite everyone in the restaurant to dance with them.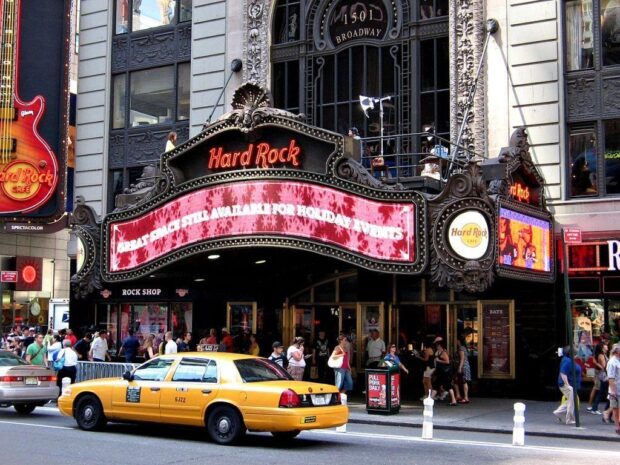 Tip: Don't leave the restaurant without trying one of the typically American desserts— apple pie. You will not regret it!
You can also order a 2 or 3-course dinner with different themes such as bluegrass, hip hop, or blues. All menus include one soft drink and one dessert. There is a Lil Rocker menu for kids.
Joe's Pizza
New York is hard to imagine without pizza. Despite its Italian origin, locals consider pizza to be almost their national food. It is much more popular than hamburgers and hot dogs. And every self-respecting New Yorker knows a lot about pizza. Therefore, most of them bypass famous pizzerias, rightly believing that they are not waiting for them, but tourists. The small pizzeria Joe's Pizza does not attract tourists for several reasons – firstly, it is not located in the tourist area of ​​Greenwich Village. Which for some reason most guests of the city do not include in their itinerary, and secondly, its appearance scares off, there are only 3 tables, on which napkins are always scattered and spices are placed chaotically.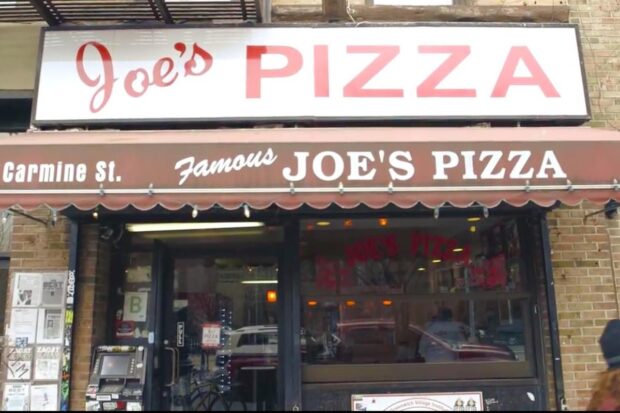 In New York, there is a golden rule — the more unattractive a restaurant looks, the tastier the food is. The pizza here, according to local ratings, is the best in town. It is hard to imagine New York without this tiny restaurant. Therefore, Joe's Pizza is often shown in films and TV shows – Monica and Chandler from the immortal TV series "Friends" ate here, Peter Parker – aka Spider-Man worked here as a pizza delivery man. And it's not about advertising, it just would be strange if a different location was chosen for the cinema because Joe's Pizza is the favorite for the locals and personifies the real New York pizza and food culture.
Planet Hollywood
In this restaurant, you will find yourself in the huge world of cinema! Inside, everything is covered in quotes and items from your favorite movies. This restaurant, which, by the way, belongs to Arnold Schwarzenegger, will undoubtedly interest you.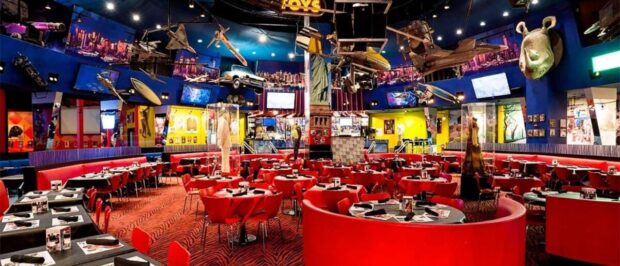 This place will be interesting for both children and adults. The menu is quite varied, so it's easy to find something tasty for every taste. Don't be intimidated by the queue and wait, it's worth it.
Ninja new york
Ninja New York is more than a restaurant; it's almost a mini trip to Japan! An underground tunnel system looks like a Japanese village with streets, houses, and bridges.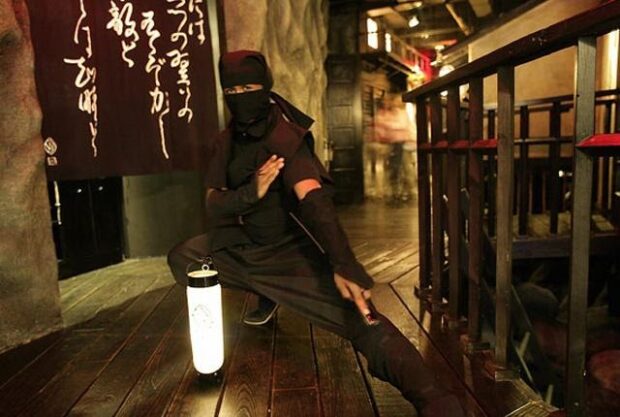 A restaurant worker disguised as a Ninja will sometimes scare you. The restaurant is not cheap, but the food at Ninja is of good quality. Meals at this restaurant are only available upon prior reservation.
Like us on Facebook for more stories like this: