The list of stores in New York is huge. Whether you're coming to New York for the first time or not, shopping is probably one of the reasons you're going to America and New York.

In fact, shopping here is happiness. Huge choice, prices lower than in other countries, any size, variety of brands.
Where to Shop in New York
Herald Square and 34th Street:
Victoria's Secret.
New York's largest H&M.
Zara and Zara Homme.
Macy's.
Banana Republic.
Uniqlo.
Foot Locker.
AEO&Aerie.
Fossil.
Vince Camuto.
Timberland.
Levi's.
Steve Madden.
Also nearby is Manhattan Mall, with JC Penney, Aeropostale, Express, Toys'R'Us, and several other stores.
If you continue on West 34th Street, you will find the world's largest electronics store, B&H. It is located on 34th Street and 9th Avenue. In B&H always a very good choice and excellent prices: Apple, Samsung, and really hundreds of other brands. The complete list is on the B&H site. Remember that this store does not work on Saturdays. Look at their website the day before to get a sense of prices and the range of equipment.
SoHo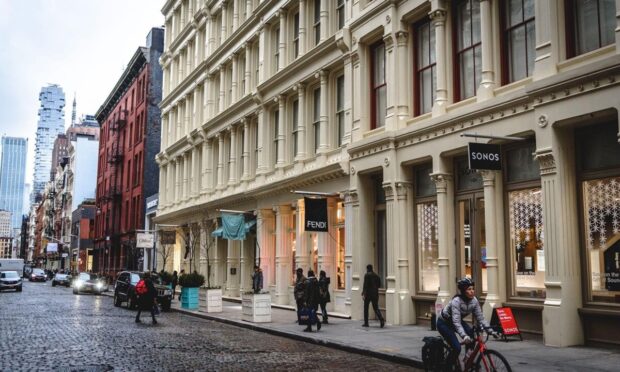 As for the diversity of brands, for those who limit themselves to a standard set of large department stores or malls, I would like to say at the outset that the choice is good, but if you want something "that no one has" and you don't want to spend a fortune on shopping, You may wish to use the recommendations below.
If you have no desire to go to a mall outside of New York City (for example, Woodbury), if you have already been too big department stores and it's not exactly what you were looking for if you've searched the sides and sides of New York stores in midtown and also want to buy in New YorkYork clothes, shoes, accessories that can hardly be found anywhere else, go to Soho.
The name of SoHo in New York is an abbreviation from South of Houston Street. There is also NoHo North of Houston street.
READ Flea Markets and Antiques: Where to Find Pieces of History in New York
Stores in Soho are hundreds. Big, small, and very small. Famous designers and brands, and aspiring designers. The official boundaries of SoHo are from Houston street to Canal street.
Soho is much more peaceful, with fewer people and less fuss than Times Square or Fifth Avenue closer to Central Park, and to be in Soho, I must say, more pleasant. New York is different there. Even if you're not planning on doing a lot of shopping, go to Soho just for a walk.

You need the following streets: Crosby Street, Broadway, Mercer Street, Greene Street, Wooster Street, West Broadway, Thompson Street, Sullivan Street, as well as Prince Street, Spring Street, Broome Street, and Grand Street.
The nearest subway stops are Prince Street, Spring Street, Broadway-Lafayette, Canal Street.
What's important to know is that the main shopping street is SoHo Broadway, but you'll find the big brand stores there. If you go from Broadway to the neighboring streets, there will be a variety of small shops, both renowned and beginning designers, with very interesting things, shoes, and accessories.
If you really want something that no one else has, look at the little shops on the streets listed above.
Fifth Avenue
Stores on Fifth Avenue are different. Segments are different. Prices are different. Each one chooses what is closest to him:
From 49th Street to 60th Street, closer to Central Park expensive stores of world-famous brands. Periodically they are "diluted" by shops such as Gap or H&M, but most of the shops are flagship stores Louis Vuitton, Gucci, Prada, Tiffany, Bottega Veneta, Giorgio Armani, Fendi, Versace, Cartier, Omega, Harry Winston, etc.
READ The Best Jewelry Shops in New York
A good choice of clothing for everyday famous brands such as Zara, H&M, Urban Outfitters, Guess, found between 42nd and 49th Streets. The main advantages in this part of the world (not even New York) you will find the most innovative solutions and the latest collections. The Other Stories on Fifth Avenue and 42nd Street, opposite Zara, for example. Prices are very humane, and things are good quality made and very "fresh" if you can say so about clothes and accessories.
When you get to the library, the New York Public Library (between 40th and 42nd Streets), and if you're in the mood, you can do some interesting things and take your mind off shopping for an hour or two. First, you can go to the library it's free of charge (and yes, there are still clean toilets). Go to the main hall and/or the map room.
Heading south, down the street, 38th Street, and Fifth Avenue, you will find Lord&Taylor an interesting department store. At first, it might seem like it's just granny buyers, but not really. Pay particular attention to the last floors, which are allocated to modern brands, and do not spare time on the ground floor, in the accessories department.
If you want to make another stop, check out 230 Fifth, a rooftop bar with great views of New York and especially the Empire State Building. Or go to Eataly, 200 Fifth Avenue. It's better not to be at lunch hours when people come from offices to Eataly it's a huge crowd.

We're heading further down the street, south. The stores are centered between 21st and 14th. Madewell, Anthropologie, Victoria's Secret, J. Crew, Free People, and others.
READ 8 Wonderful Things to Do and See in New York's Chinatown for Everyone
On 14th Street you can turn left and head towards Union Square. There is a large shoe shop DSW (14th Street and University Place). After that, you can go to one of the many restaurants in the Union Square area. Alternatively, continue shopping in Soho by heading down Broadway towards the smaller streets and see the recommendations above for shopping in Soho.
Like us on Facebook for more stories like this: