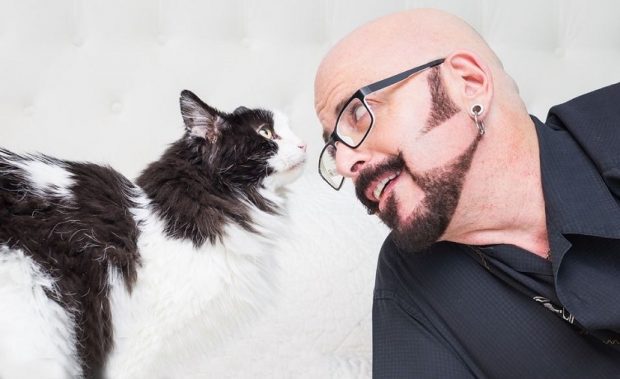 It's hard not to pay attention to Jackson Galaxy: this is a shaved, bearded middle-aged man with numerous tattoos, who drives through the streets in a bright pink convertible. Despite his shocking image, he is not an actor or a rock star, although he dreamed of a musical career.

Galaxy is an internationally renowned specialist in the psychology of cats, on his account, there are thousands of rescued animals that they wanted to put to sleep because of their violent disposition. However, the cats saved him in due time: they gave meaning to the life of a poor drug-addicted shelter worker.
Rock and Baguettes
The future feline psychologist was born in New York in 1966, then his name was Richard Kirchner. Like many of his peers, as a boy, he dreamed of becoming a rock musician and learned to play the guitar. Kirchner went to concerts and admired the brutal guys who defied conventional wisdom with their songs about free thought and independence.
Dreaming of becoming like them, after school he entered the University of Iowa at the theater department, after graduating from which he was able to devote himself entirely to music. Then he decided to change his unremarkable name to a sonorous one, changed his documents, and officially became Jackson Galaxy.
Although Galaxy managed to make his dream come true and began writing songs for his rock band, there was no sold-out at the performances, and there was no money. I had to look for a part-time job. So that in the evening there was enough time to compose songs, he got a job as a bread delivery man in a bakery. Carrying baguettes around town early in the morning in an old cold van was not a pleasant experience, especially in winter, so he soon became a salesman at a pawnshop and then a barista at a coffee shop.
See also  Best Manhattan Museums: The Cultural Face of the City
Once he got a job in an elite restaurant, where, while working in the kitchen, he injured his finger. Galaxy put a patch on the wound, which somehow got into the food ordered by the boss. On that day, he decided to leave the service industry.
Unsuccessful Interview
The next week, while flipping through the newspapers, Galaxy discovered an interesting vacancy. The Society for the Protection of Animals was looking for an employee whose duties included the socialization of the animal shelter. Having received bitter experience while working with people, he decided that it was time to try to help animals.
The first step was to interview the manager of the shelter, Audrey. Galaxy went to the meeting full of enthusiasm and self-confidence, because, having settled in the previous places, he passed interviews quite successfully, despite the extravagant appearance: multi-colored dreadlocks on his head, huge earrings in his ears, and tattoos on his arms.
Explaining the essence of the work, Audrey did not disassemble and directly stated that the applicant would have to deal with extremely aggressive animals, wash dirty cages all the time, but the most unpleasant thing was to put the animals to sleep and clean the crematorium.
As someone who had never worked in an orphanage and had not faced the cruelty reigning in it, Galaxy was intimidated but tried to hide his excitement from Audrey. He made up a story that he had already worked in a similar place in New York to get a job.

Saying goodbye to the manager, the musician had almost no doubt that he would receive it. However, he was in for a blow: Audrey called and said that he was not taken. The main reason for the refusal was his unusual appearance. Before hanging up, Audrey added, "Sorry, Jackson. I hope you dare to try again."
The refusal caused an aggravation of depression in Galaxy: for several weeks he went into a binge, using drugs and alcohol every day. Soon he saw a new ad from the orphanage in the newspaper.
Feeling how melancholy covered him with his head, he jumped out with a guitar on the balcony and began to sing songs at the top of his lungs. The boy and girl sunbathing on the balcony next door did not like this, and they demanded that the emotional musician retires to his apartment.
Jackson Galaxy performing at Cat Camp in New York
But the troublemaker, not controlling himself, began to cut off his dreadlocks and throw them into a sweet couple. They left the battlefield and Galaxy went to the bathroom and shaved his head. After that, he immediately went to the shelter, where he finally received a positive answer.
See also  The Most Unusual New York Places Must-See
Benny
Once a cat was brought to the shelter, hit by a car. He had a broken pelvis, one hind leg was completely atrophied. The young hostess, a student, admitted that she simply does not like the pet and is not ready to spend money and energy on its long rehabilitation.
Galaxy was struck by such a betrayal and wanted to take the poor man to him for a while, despite the fact that four cats already lived in his house. Initially, the cat's name was Omni, but the zoopsychologist decided to call him Benny, believing that the new name would suit him better.
Galaxy doubted that the paw of the new ward could be saved and signed the cat to the veterinarian for amputation, but his friend Kate persuaded him to give the cat a chance and was actively involved in his treatment.
A few months later, Benny began to walk and run on four legs. Kate was glad that she helped the cat, but after rehabilitation, she planned to send him back to an orphanage and put him in a good family. But Galaxy did not want to part with the cat, who survived the betrayal of the past owner.
Jackson Galaxy on Stephen Colbert TV Show

It was a really difficult animal – it had problems not only with health but also with its psyche. After breaking up with Kate one evening, Galaxy invited an acquaintance to his place, and they had a fight. Sensing the tense atmosphere, Benny attacked the guest and scratched her face. This incident made Jackson think about how to maintain a favorable psychological microclimate at home so that the cat was calm.
Over time, the owner learned to feel the mood of the cat and to prevent various incidents in time. However, Galaxy admits that he could not wean this cat from doing dirty tricks.
They Saved Each Other
Over time, Galaxy realized that he helps cats, and they help him. Constant work with animals has improved his spiritual and emotional state. He gradually gave up drug use and his depression subsided.
At the same time, he continued to work actively in the orphanage. Once there was an outbreak of infection: the cats were affected by the upper respiratory tract, the animals refused to eat because they could not sniff food. The exhausted animals were treated by Dr. Jen Hoff, the medicine she invented saved dozens of cats from a painful death. She produced a line of herbal extracts, the effectiveness of which was refused to be recognized by official medicine.
READ: Ajman Fish Market: The Best Place To Create A Culinary Wonder
Jen and Galaxy have been drawn together by their unique approach to cats, and in 2002 the two embarked on private practice, forming the Little Big Cat organization. They set a goal to reduce the number of animals entering the shelter due to inappropriate behavior. Jen knew more about the physical condition of pets, and Jackson – about the psychological. Together, they helped cat owners to solve the most difficult conflicts associated with problem behavior.
Jackson Galaxy meeting with fans
A few years later, in 2007, Jackson Galaxy moved to Los Angeles and started working alone. When he visited clients and their cats at home, he did everything to mend the relationship between the almost desperate owners and their unpredictable animals. He soon began collaborating with the local Society for the Protection of Animals and animal rescue organizations.
Like us on Facebook for more stories like this: