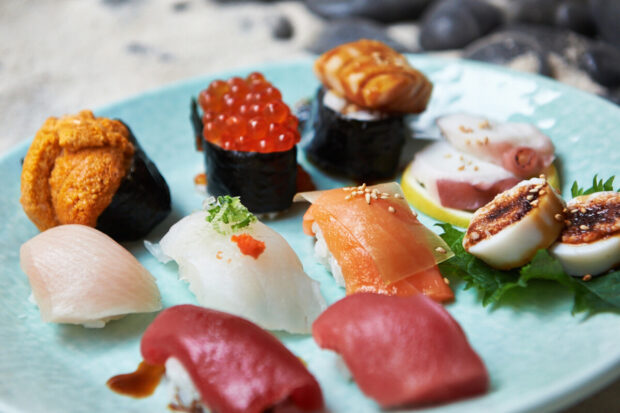 Are you looking for the best sushi in New York? Then you feel like us, because we love sushi – and, unfortunately, we were disappointed several times in New York. To prevent this from happening to you, here are our recommendations for good Japanese restaurants in New York.
DOMODOMO NYC

Japanese restaurant in East Village
DOMODOMO is very minimalist, modern, and chic in its furnishings. Lots of wood, large, wide windows for a lot of daylight, which makes everything look very natural and cozy. At DOMODOMO, who would have thought, Asian cuisine is cooked. However, with strong Japanese influences, the owner revealed it to us during our visit. We found the sushi bar particularly appealing. From there, you have a clear view of the kitchen and the cooks who freshly prepare the sushi.
See also  TOP 20 Best Films Set in New York
Typical sushi as you know it, i.e. small pieces cut from the sushi roll, can only be found in a small selection on the menu. This surprised us at first, but there are typically Japanese dishes from the grill, "handrolls", oysters, salads, and soups. Selected Asian beers, wines, and other drinks are also on the menu.
Harajuku Sushi & Crêpe
Japanese restaurant in Financial District
There is delicious sushi on the one hand and fresh crêpes on the other. The crepes are filled with avocados, shrimp, pork, eggs, and much more, among other things. The ingredients are always fresh and you can taste that too. In addition to savory crêpes, there are also sweet ones. These are filled with chocolate, ice cream, fresh berries, and/or homemade matcha chocolate truffles, for example.
Hudson Eats
Japanese restaurant in Battery Park City
The Hudson Eats has great views of the Hudson River and the Statue of Liberty. The restaurants are more upscale, so not really low-budget, but there are a few alternatives to save a little money. You can find the Blue Ribbon Sushi Bar, Umami Burger, and Dos Toros Taqueria here, for example. The architecture inside is also very impressive. A visit to the Hudson Eats is not only worthwhile in terms of cuisine.
See also  Books and Films: What to Watch and Read Before a Trip to New York City
Kenka NYC
Japanese restaurant in East Village
The Kenka NYC has its very special charm and a great ambiance. Decorated with old slot machines, vintage movie posters from Japan, and toilets sprayed with graffiti. The glazed inner courtyard, which has its own decoration, should not be ignored. But take a look yourself. In Kenka NYC you feel like you're in a Tarentino movie scene. You have to like it: Japan in the middle of Manhattan. Something like that only exists in New York City.

In addition to the extraordinary decoration, the food at Kenka NYC is also sensational. The special thing about it: the price is really reasonable if you compare it with restaurants in the immediate vicinity. But this is also part of the concept. The Kenka offers a main course for around $ 6.50, a beer for $ 1.50, pitchers for $ 8.50, and dessert for $ 3. Sushi is not offered at Kenka NYC. The kitchen is similar to that of a typical Japanese pub.
Momofuku Ssäm Bar
Japanese restaurant in Two Bridges
The gastronomy in Greenwich Village and West Village is well known and endless. There are countless beautiful, small restaurants, cute cafes – lots of great bars that are worth sitting in for hours, so it is incredibly difficult to make a choice. For the real meat lovers among you, however, it's pretty easy: you absolutely must and the Momofuku Ssäm Bar in the East Village.
The owner doesn't really want to commit himself. It is said that the menu is constantly evolving and you just want to refer to the fact that fresh ingredients are always served from farms in the area. When it comes to spices and techniques, you get inspiration from all over the world, but don't forget your New York roots.
But if you take a look at the menu. There is one thing above all: meat! From dry-aged rib-eye steak to pork buns and spicy buns to rotisserie duck. You will definitely get your money's worth here.
Momoya
Japanese restaurant in Chelsea
Momoya is a Japanese restaurant and for me one of the best sushi spots in New York. We love sushi and here you get a huge selection of sashimi, sushi, and different rolls of really good quality.
READ: 25 Top-Rated Tourist Attractions & Things to Do in Dubai
Nobu
Japanese restaurant in Financial District
Opened in 1994, the Nobu restaurant in Tribeca is considered one of the pioneers of Japanese cuisine in New York. Nobu Matsuhisa set himself the task of developing a new trend in Japanese cuisine around 20 years ago – and he succeeds! Especially likely because it has been all over the world and has been inspired by different traditions.
If you have the chance to eat sushi at the Tokyo Fish Market – go there. In all other cases, please go to Nobu. First-class sushi, extremely courteous service, and a stylish and exclusive atmosphere. Incidentally, the aim of the interior design is to represent the beauty of the Japanese landscapes – successfully. Birch trees in the middle of the room, a beautiful wooden floor, and unique decorative elements on the walls. All in all very stylish and yet traditional.
Like us on Facebook for more stories like this: