Millionaires and murderers are buried here: Brooklyn's historic Greenwood Cemetery is rich in monuments and bizarre anecdotes. But now the gravesite is running out. And the money. Now the director wants to reinvent the resting place – as a tourist destination.

It's a low bench, little more than a marble stone. It stands on a green hill in Brooklyn, flanked by two rhododendron bushes and two box trees. From here the view goes over the East River, beyond the skyline of Lower Manhattan sparkles, to the left the wide harbor bay stretches out, the Statue of Liberty shimmers in the haze. Birds warble.
The idyll is deceptive. The bank marks a grave. "Amber", it says chiseled on it. If you take a closer look, you will find three flat gravestones hidden in the grass. Shirley Anne Bernstein. Felicia Montealegre Amber. Leonard Bernstein.
New York's most famous composer and conductor ("West Side Story") died in 1990 of pneumonia. He found his final resting place on this hill in Brooklyn, where his wife Felicia was already lying and his sister Shirley was later buried.
Visitors placed pebbles and coins on his tombstone, a Jewish tradition. In its unpretentious simplicity, the site is rather the exception here in the bombastic Greenwood Cemetery. In one of the oldest, largest cemeteries in America, the rich and not-so-rich New Yorkers try to outdo each other even in death, with monumental mausoleums and elaborate statues, almost all of which have a distant view.
This will soon come to an end: Greenwood, which opened in 1838 based on the model of the Parisian celebrity cemetery Père Lachaise and currently has around 600,000 graves, is running out of space. The earthy cubic meters can no longer keep up with the death rate of New Yorkers: "In principle we are full," sighs Richard Moylan, director of the cemetery, who bears the title of "President". "Another year or two and that's the end of it, honestly."
Of course, all cemeteries share this fate. With Greenwood, of course, whose annual budget of $ 13 million is financed from grave sales and the returns from a stock foundation, this poses a problem. In contrast to German cemeteries, for example, they do not have any "statutory rest periods" after which graves are recycled and re-sold. Once you lie in Greenwood, you stay where you are, and one day this source of revenue dries up.
At 193 hectares, Greenwood is also four times the size of Père Lachaise – one of the last massive park areas in the city. And that requires around-the-clock maintenance. Especially since Greenwood was declared a national monument in 2006: Generals and major bankers, millionaires and murderers, inventors and entertainers – history "six feet under".
Their rotten monuments need to be looked after every day, the meadows mowed, the paths raked. But who should pay for that from now on?
So Moylan, a friend of the fine arts, came up with something. He wants to turn Greenwood into a tourist attraction. Even more: to an excursion destination and a recreation park for the spoiled New Yorkers. Exhibitions, events, historical tours, even the occasional movie night are supposed to lure people into this romantic park in Brooklyn, under which the dead are now stacked three times.

"I'm looking forward to it," beams Moylan over this literal dancing on the graves. "We want to be relevant in the future too."
That sounds macabre and yet it is completely understandable. Because Greenwood is not only a cultural and historical treasure but a rare insider tip – an oasis of peace in New York. Once you get used to the idea of ​​walking among the dead, you will come back with the picnic basket.
Carriage Ride to the Graves
It's not new. In the decades after its opening, the area with its paths, ponds, and groves, majestically situated above New York Bay, was a popular meeting place for day-trippers. There were carriage rides, people viewed the graves like sights. Only Niagara Falls attracted more visitors.
"Death," says Moylan, "was celebrated back then as an appreciation of life." But then the manners changed. Dying became a taboo and the cemetery a place of horror.
"Don't cry" is written on the 32 meters high, neo-Gothic entrance gates. Every time a funeral procession passes, a bell rings. This still happens around 1,400 times a year, much less than before, when Greenwood saw almost 20 funerals a day. Most of the "lots" have long been taken out on a long-term basis. Last year only 232 graves were sold, 8,000 to 20,000 dollars, 2.7 meters long, 1.2 meters wide, floor space for three.
A map, which is available at the entrance, shows behind (and under) which graves, catacombs, mausoleums, and sculptures the greatest stories are hidden. The rough index lists 225 noteworthy graves, sorted by categories: "Murders", "Scandals", "Celebrities", "Disasters", "Dogs".
For example, a Victorian monument made of terracotta, sandstone, and granite not far from the chapel, a kind of cathedral spire, twelve meters high, with gargoyles and a marble sarcophagus. Here lies a saint of a different kind – John Matthews, the inventor of the fountain. Matthews designed his tomb himself, the marble he got from the sculptors who chiseled on St. Patrick's Cathedral.
See also 15 Top Biotech Companies in New York
At the opposite end of Greenwoods, there is a real pillar temple, a mausoleum guarded by an angel. This mighty monument is dedicated to Charles Feltman from Hanover, who emigrated to the USA at the age of 14. The butcher "invented" the hot dog and turned Coney Island into a center of entertainment.
A marble obelisk surrounded by tombstones commemorates Thomas Freeborn, a pilot who helped steer the ship "John Minturn" through a snowstorm to port in 1846. The ship broke apart and 42 people drowned. Freeborn, so wrote the historian Jeannette Rattray, gave his coat to the captain's wife, "then he froze to death". The statue on top of the obelisk is called "Hope".
Every corner holds new names, new anecdotes. Toy Baron F.A.O. Black, also of German descent. Charles Tiffany jeweler. Morse code inventor Samuel Morse. William Poole ("Bill the Butcher"), the gang leader played by Daniel Day-Lewis in the Martin Scorses epic "Gangs of New York". Mafioso Joey Gallo, immortalized by Bob Dylan in "Joey". Lola Montez, dancer and lover of Ludwig I.
The Morbid Setting for Family Outings

In between, there are many less-known people whose fates were no less dramatic. The pianist Louis Moreau Gottschalk, who died on the stage in 1869 after writing an opus called "Morte !!" had made heard. The officer's daughter Charlotte Canda, who fell out of a carriage on her 17th birthday in 1845, whereupon her fiancé took her own life, the two are now lying next to each other. Danny Ortiz, a gravedigger on Greenwood, died in a motorcycle accident in 1995 after digging his own grave without knowing it.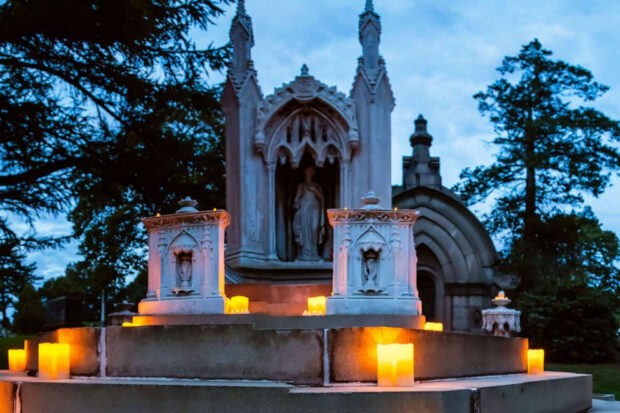 All of this should now be the morbid backdrop for family outings. There are already guided tours, trolley tours, historical "theme tours", for example on the occasion of the "Battle of Brooklyn", the first and largest battle of the Revolutionary War, whose soldiers lie here – and even a cinema, like the other day when they were in the chapel, showed a couple of civil war films.
READ:The Secret of Success Dubai: How Economic Growth Affected Living Standards
Cemetery chief Moylan – who started out as a gardener in Greenwood in 1972 – has also begun buying works by artists buried here. There are now 30 paintings and sculptures, auctioned and "no more than $ 8,000," assures Moylan, who is provisionally exhibiting them in the administration wing, where he rules Greenwood in a huge office crammed with books and piles of files. His collection also includes one of John Matthews' soda machines.
READ: Ground Zero in New York: Where the History Lives
One day, Moylan hopes, they will build their own gallery wing – "a cemetery with a museum", which could eventually become a "museum with a cemetery", a worldwide first. "This," he says, looking through the window over the graves, "will give them real immortality."
Like us on Facebook for more stories like this: