New York is so big and so diverse a place that you could live here four lifetimes and not experience all the amazing things the city has to offer. Even figuring out where to start your NYC trip is a daunting task. But we want to help you cut down the impossibly long list of ways to spend your day. Whether you're a local realizing you've yet to fully explore the city's parks and history or an out-of-towner who doesn't know the Met from the Met Breuer, these quintessential stops will help you catch a glimpse of the city's beating heart.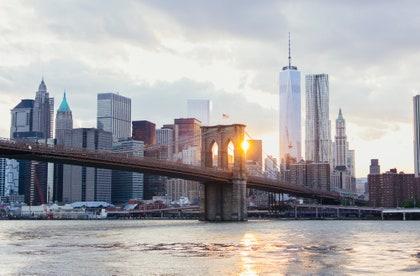 Brooklyn Bridge

When the Brooklyn Bridge was constructed in 1883—extending 1,595 feet across the East River, connecting lower Manhattan to Brooklyn Heights—it was the longest suspension bridge in the world. Now, it's a historic staple of the New York City skyline, transporting commuter car traffic underneath and touristic foot traffic above. Standing before arches and rectangles with city skyscrapers rising in the distance, will at once inspire a sense of grandiosity and slightness.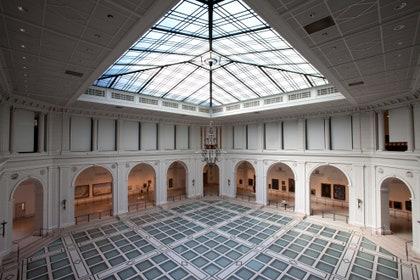 Courtesy Brooklyn Museum
Brooklyn Museum
At 560,000 square feet, Brooklyn Museum is the third largest museum in New York City, and one of the its great institutions. Housed in a Beaux-Arts building from 1897, it sits on the edge of Prospect Park, inviting for spontaneous walk-ins. With 1.5 million works as part of the collection, just about every form of art is represented here. Particular standouts include its selection of paintings by Dennis Hopper and Norman Rockwell, and a top-notch Egyptian artifacts gallery.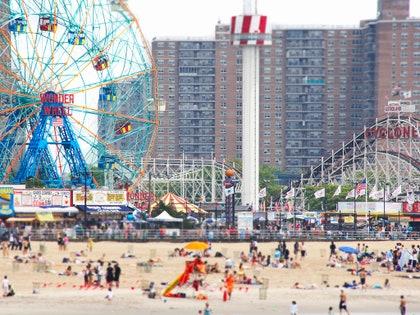 Getty Images
Coney Island
Coney Island has a reputation as a circus-worthy tourist trap, which is exactly what it is. But you may be surprised by the old-timey charms of this beachfront American town. You'll definitely be impressed by the food and drinks—Totonno's Pizza, Gargiulo's and Coney Island Brewery in particular. Locals and tourists hang out on the beach, eat ice cream cones on the promenade, and stand in line for the famed Cyclone roller coaster. The beach and boardwalk along with spots like Nathan's are open year-round. The amusement park itself is seasonal.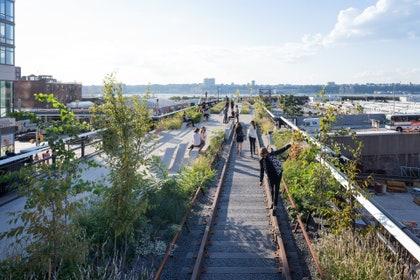 Iwan Baan
The High Line
The High Line is a perfect example of what New York City does best: cleverly rehabs old spaces into exactly what you want them to be. When a 1.45-mile-long abandoned freight rail on Manhattan's West End was transformed into an elevated, mixed-use public park in 2009, New Yorkers came running. Towering 30 feet above buzzing 11th Avenue, the High Line is a masterful feat of landscape architecture that melds walkways, benches, and chaise lounges with grass, perennials, trees, and bushes in perfect unkempt-kempt harmony.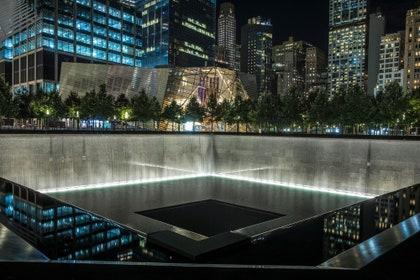 Jin Lee
9/11 Memorial and Museum
Every American should visit the 9/11 Memorial and Museum at least once. As you enter the museum, you descend from the street to bedrock level—the foundation of the former Twin Towers—and are placed in a meditative mindset, forced to recall where you were on that fateful day. The museum itself is a masterful balance: It's grand in scale, contemplative in its construction, and personal in its execution. It pays homage to the enormity of the loss, both physical and spiritual.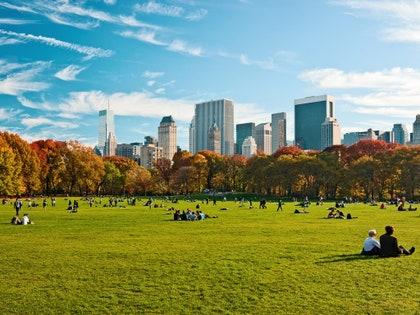 Courtesy
Central Park
Step off the crowded sidewalks of 59th Street into Central Park and you'll hardly realize what lies before you: 693 acres of man-made gardens, meadows, forests, and rolling hillsides. If you ambled down every one of Central Park's pathways, you would walk 58 miles. Along the way, you pass fountains, monuments, sculptures, bridges, and arches. Plus 21 playgrounds, a winter ice-skating rink, a zoo, and even a castle. But you'd hardly notice the four major crosstown thoroughfares, which cleverly disappear into foliage-covered tunnels.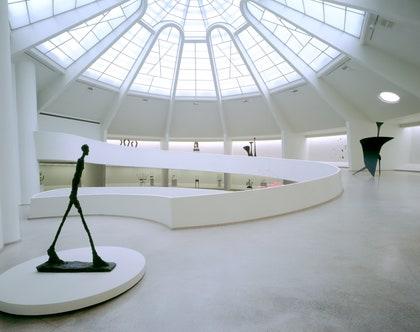 David Heald
Solomon R. Guggenheim Museum
The Guggenheim is a radical departure from the typical museum layout—and from every other building in New York, for that matter. The circular concrete structure stands in stark contrast to the rectangular steel-and-glass buildings that surround it. Inside, a central ramp—which spirals upward and outward from one exhibition floor to the next—creates an open interior space, flooded with daylight that pours in through a glass dome. Frank Lloyd Wright designed the iconic building that houses Solomon R. Guggenheim's modern art collection, which includes paintings by Kandinsky, plus works by Picasso, Klee, Miró, and more. If you have time for a meal, head to The Wright, a James Beard Award-winning American bistro on site.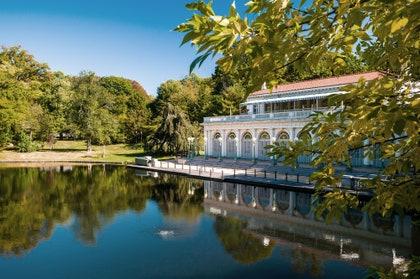 Getty
Prospect Park
Prospect Park is the Central Park of Brooklyn; in fact, it was designed shortly after by the same team of architects, Frederick Law Olmsted and Calvert Vaux, and has many of the same features: sprawling meadows made for picnicking, walking trails that snake through dense forests, and a picturesque lake. There's also a carousel, playgrounds, a zoo, basketball and tennis courts, and a 3.35-mile loop road that's popular with runners and bikers.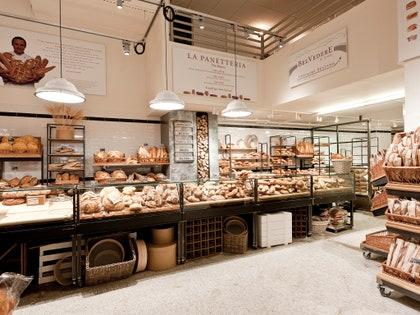 Photo by Evan Sung
Eataly NYC
From the double-height ceilings to the distinct dining areas (organized by food group—meat, fish, vegetables, pasta and pizza) and the breadth and depth of its specialty curation, you'll want to move into this gourmet Italian market and food hall within minutes. It's hard not to be impressed by all that Eataly has to offer. There are hard-to-find Italian specialties—single-estate extra virgin olive oil, white truffle sauce, mushroom risotto, Ligurian pesto. There's an on-site cooking school, and the 14th-floor rooftop restaurant, Birreria.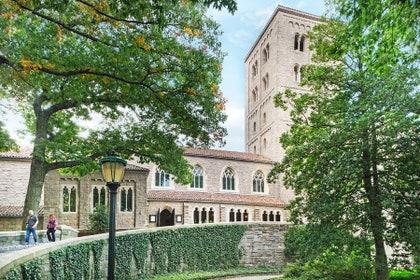 Photo by Brett Beyer
The Cloisters
Located on four acres in northern Manhattan's Fort Tryon Park, the Met Cloisters is a branch of the Metropolitan Museum of Art and is America's only museum dedicated exclusively to the art and architecture of the Middle Ages. The building overlooks the Hudson River and actually incorporates five medieval-inspired cloisters into a modern museum structure, creating a historic, contextualized backdrop in which to view the art.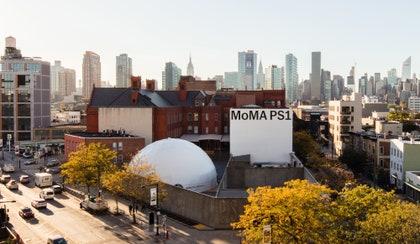 Pablo Enriquez
MoMA PS1
This is no ordinary art museum. Located in a striking Renaissance Revival former public school building in Long Island City, Queens, MoMA PS1's setting is just as interesting as its collection. All manner of cutting-edge contemporary art is shown here, with a collection over 200,000 pieces strong, from the likes of James Turrell and Ai Weiwei. The people-watching can be just as good as the art, as creative types from around the city come here to find inspiration.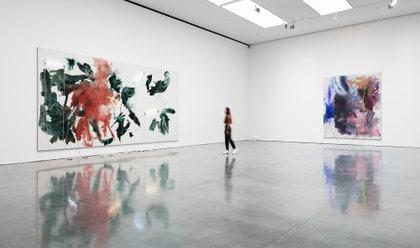 Fredrik Nilsen
Gagosian Gallery
Gagosian is one of a handful of so-called blue-chip galleries, high-end spots that showcase the work of artists whose work is already high (and often increasing) in value. It's art as commodity, sure, but it's also free and open to the public, with exhibitions that are often as exciting and thoughtfully curated as some of the world's best museums. The shows tend to toggle between hot young things (Jonas Wood, Sterling Ruby), shiny, expensive stuff (Takashi Murakami, Jeff Koons), and meditative museum-quality pieces by Cy Twombly or Picasso. Just don't ask for a price list unless you're willing to spend as much on a work of art as most people do on a house.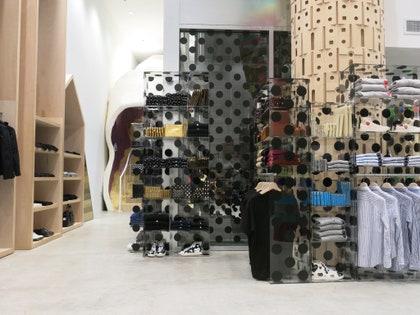 Courtesy Dover Street Market New York
Dover Street Market New York
When London shopping mecca Dover Street Market debuted its New York outpost in December 2013, throngs of accessorized fashionistas camped out for days outside its Lexington Avenue entrance. Dover Street is more than just a luxury department store; it's a fashion-meets-art exhibition space. Featured designers configure their own display areas, allowing the shopper to interact with the clothes in a holistic manner that takes you inside the designer's world—as opposed to just picking through dresses hanging on a metal rack. Also don't miss the ground-floor café, Rose Bakery.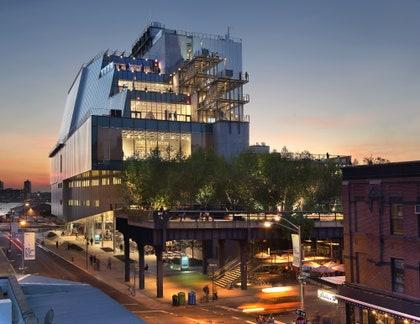 Courtesy The Whitney
ACTIVITY
Whitney Museum of American Art
The Whitney got a major upgrade when it relocated from the Upper East Side to its new, vastly-expanded Meatpacking headquarters in 2015. It houses 50,000 square feet of indoor galleries with works by Jean Michel Basquiat, Richard Avedon and Alexander Calder, four outdoor exhibition spaces and terraces, and a ground-floor restaurant and a top-floor bar, both by Danny Meyer, one of the town's best-known restaurateurs.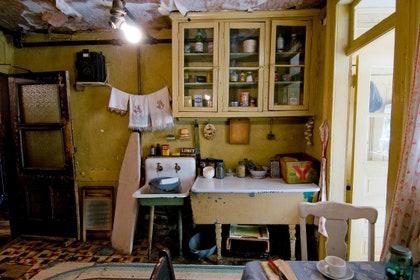 Photo by Keiko Niwa
Tenement Museum

The Lower East Side Tenement Museum is, as the name implies, a historic tenement house (two, if you want to get technical). On a tour of the tenements, you'll hear personal histories of the working-class individuals who lived there and see how they made do with cramped quarters to build new lives in America. On a neighborhood walking tour—the other way to visit the museum—you'll learn about the evolution of the Lower East Side and how its thriving immigrant population made it the most densely populated area in the country during the 1900s.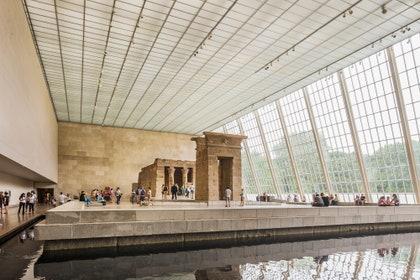 Getty
The Metropolitan Museum of Art
For nearly a century and a half, the Met has remained the cultural epicenter of New York City, thanks to forward-thinking exhibits and an extensive permanent collection. With its Gothic-Revival-style building, iconic tiered steps, and Central Park location, the building is a sight to be seen. But step inside its Great Hall—as a ceaseless parade of museumgoers move to-and-fro—and you'll feel the overwhelming sense of possibility and discovery that lays beyond. If you've got limited time or compatriots with limited attention spans, start with the Temple of Dendur, a 2,000-year-old soaring Egyptian temple (the only complete one in the Western Hemisphere)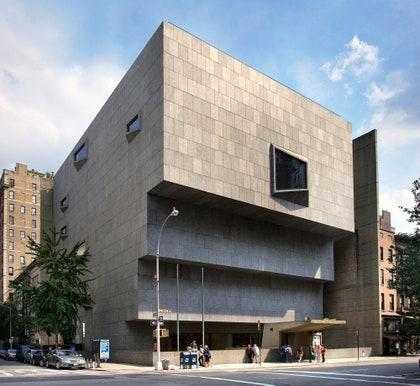 Ed Lederman
The Met Breuer
When the Whitney Museum of American Art relocated to its jazzy new downtown headquarters in 2016, it wasn't long before the Metropolitan Museum of Art swooped in on Marcel Breuer's Brutalist-style building for its latest extension. The new annex, dubbed the Met Breuer (BROY-er), showcases modern and contemporary works that are as thought-provoking as the landmark space in which they reside. In terms of museum manageability, it's the Goldilocks of the Met family: Enough art that you won't feel underwhelmed, but you can see everything within a few hours.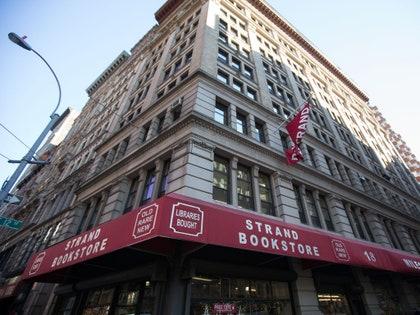 Photo by Ben Hider
The Strand Book Store
With its towering stacks, filled with more than 2.5 million titles, this 93-year-old bookstore is less neighborhood haunt, more globally recognized institution. You could call the Strand's employees tour guides, considering their deft ability to find the exact title you're looking for and recommend a book you may not have otherwise plucked from the shelves. The Strand will make you question why you don't read more; and chances are you won't leave empty-handed.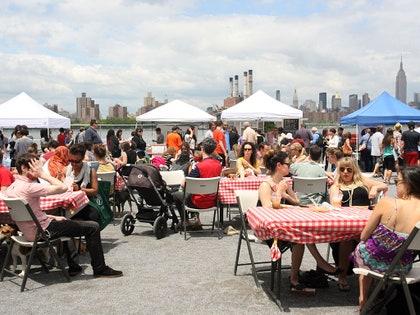 Courtesy the Brooklyn Flea
Smorgasburg Williamsburg
Smorgasburg is an artisanal food market with some 100 local vendors that attracts tens of thousands of people every weekend. It's open at its outdoor locations from April through October (Saturdays in Williamsburg, Sundays in Prospect Park). Its indoor location has bounced around a little, most recently it's been at the Atlantic Center. Admission is gratis, but expect to pay up as you make your way from stall to stall. Locals love it because it allows you to discover new chefs, restaurants, and producers.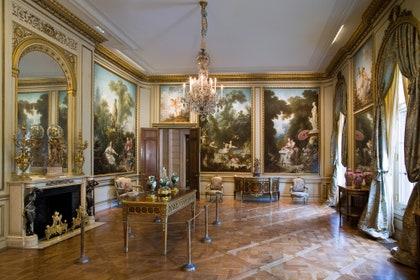 Photo by Michael Bodycomb
The Frick Collection

The Henry Clay Frick House, er, mansion, spans an entire city block along Fifth Avenue—and nearly every inch is filled with the art enthusiast's collection of old master paintings and fine furniture. As if it wasn't already impressive enough, the Frick Collection recently announced a forthcoming upgrade and expansion of the institution's facilities by renowned architect Annabelle Selldorf. The Frick is like a New York City museum highlight reel: It's exactly the right scale, everything in the collection is worth seeing, and can be viewed in an hour or less.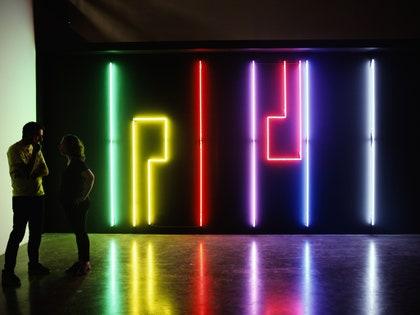 Courtesy Pioneer Works
Pioneer Works
This non-profit contemporary arts center, founded by artist Dustin Yellin, is like a mini PS1. It's set in a converted 19th-century warehouse in Red Hook, Brooklyn. The ground-floor gallery seamlessly blends with the outdoor garden, creating one of the largest exhibition spaces in New York City that's used for public arts programs, artists residencies, live music performances, special chef dinners, and private events.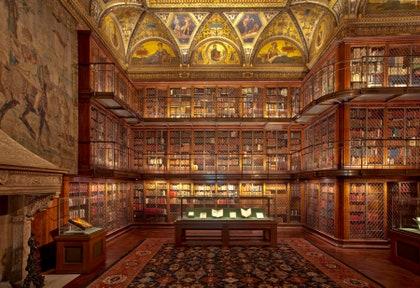 Photo by Graham Haber
The Morgan Library & Museum
The Morgan is like a multi-hyphenate millennial—only instead of actress/model/influencer/whatever leads to early retirement, it's museum/library/landmark/historic site/music venue. Inside the multimillionaire's personal library, expanded into a must-see museum and cultural space, you'll find rare artifacts, paintings, and books, some dating back to 4000 B.C., that are worth more than your house. In particular the museum is home to one of 23 copies of the original Declaration of Independence; Mozart's handwritten score of the Haffner Symphony; the collected works of Phillis Wheatley, the first known African-American poet; the only extant manuscript of Milton's Paradise Lost; and Charles Dickens's manuscript of A Christmas Carol. Swoon.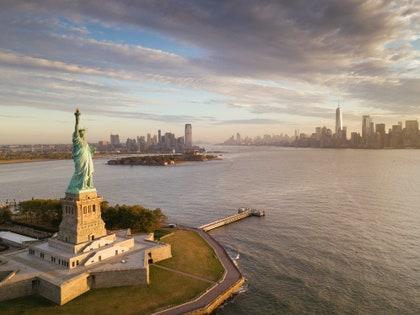 Getty
Statue of Liberty
Last year, a record 4.4 million tourists visited Liberty Island, the 14-acre swath of land one mile south of lower Manhattan upon which the Statue of Liberty rests. While there is no fee to visit Liberty Island, you do have to pay for a round-trip ferry ride via Statue Cruises. The ferry also stops on Ellis Island, part of the national park, which houses the Ellis Island National Museum of Immigration, where visitors can search ship manifests for the records of their relatives. If you plan to visit the Statue's pedestal or crown, plan ahead: There are a limited number of tickets available each day and they sell out weeks, if not months, in advance. And also plan on spending the day: It can six hours to properly visit the statue and Ellis Island.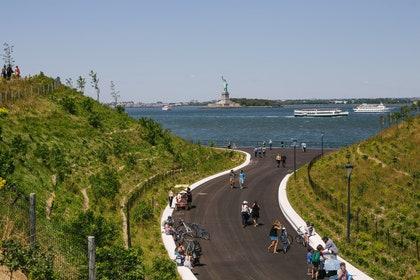 Photo by Timothy Schenck
Governors Island
For almost two centuries, this 172-acre isle in the heart of New York Harbor was closed to the public, operating as a military base. Now, anyone can visit Governors Island's monuments, parks, and exhibitions during summer (May through October, seven days a week). To get there, all you need is a round-trip ferry ticket, and New York residents just have to show a valid state license to ride free. Governors Island has immediate escapist appeal, but most people go for a memorable event: music festivals, pop-up dinners, art exhibits, dance performances—the list goes on.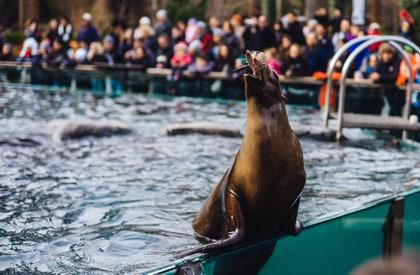 Getty
Central Park Zoo

Central Park's small namesake zoo is one of midtown Manhattan's most popular family attractions. Don't expect to be overwhelmed by the number of wildlife—the Central Park Zoo is just 6.5 acres (compared to big sister Bronx Zoo's 265 acres). But intimacy and accessibility are the appeal for Manhattanites, who take their kids here to see a rare snow leopard, ruffled lemurs, grizzly bears, penguins, sea lions, and more.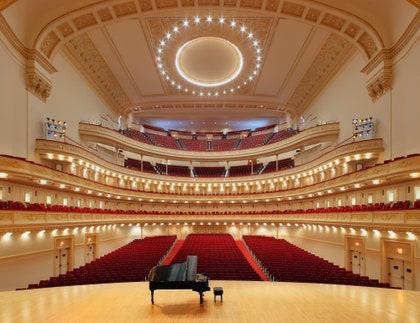 Jeff Goldberg/Esto
Carnegie Hall
This world-class performance hall seems from another era. It's known for its namesake industrialist founder, as well as its Renaissance Revival architecture, outstanding acoustics, and the list of famous musicians who've graced its stages. Performances are typically for adults, but Carnegie Hall hosts a few "family days" throughout the year, during which kids can listen to live performances, build handmade instruments, and sing and dance with professional musicians. Tickets can start as low as $30 to $40 for balcony seats in the Stern Auditorium and you can also sign up for a free performance or inquire about same-day $10 rush tickets for select concerts (check out the website for more deals).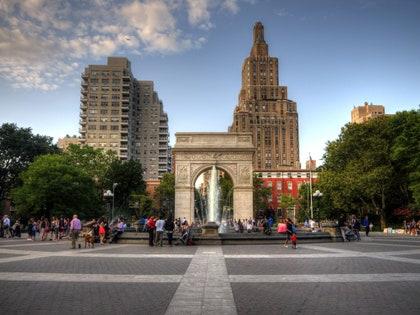 Getty
Washington Square Park
If people-watching is your sport, Washington Square Park is your place. Entertainment is a given in this intimate, not-quite 10-acre space, filled with career chess players, musicians, performers, students, sunbathers, strollers, and general throngs of Greenwich Villagers, desperate for a bit of fresh air. Take your time as you go through: Pause beneath Washington Arch, honoring our country's first president (for whom the Park is named), and observe the laurel wreaths and intricate motifs that extend from the base to the keystones, atop which twin eagles perch like constant watchmen. Washington Square Park is the beating heart of this vibrant New York neighborhood.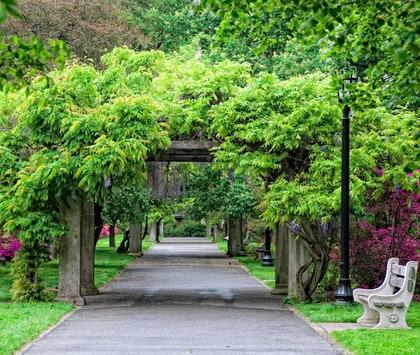 Courtesy Brooklyn Botanical Gardens
Brooklyn Botanic Garden
The Brooklyn Botanic Garden is really a series of gardens, pavilions, and conservatories connected by a looping path. Greenhouses house bonsais, rare orchids, and desert plants, while outdoor spaces range from a lush Shakespeare garden to a Japanese-style lily pond traversed by a romantic bridge. Depending on the season, you might spot hot-pink tree peonies, cherry blossoms shedding their confetti-like petals, or stately rose bushes heavy with lush flowers.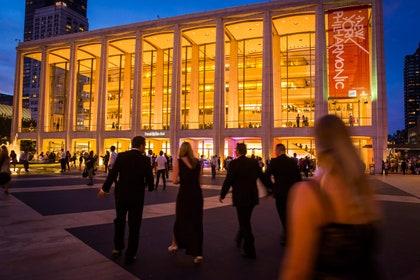 Photo by Chris Lee
New York Philharmonic
New York City's preeminent symphony orchestra primarily performs at the world-renowned David Geffen Hall, within the Upper West Side Lincoln Center for the Performing Arts. The Max Abramovitz-designed auditorium seats 2,738 people in a grand, imposing room that adds to the drama of the classical music performances. This experience is for everyone: You don't have to understand the history of the symphony or concerto being played in order to appreciate the profundity of the experience.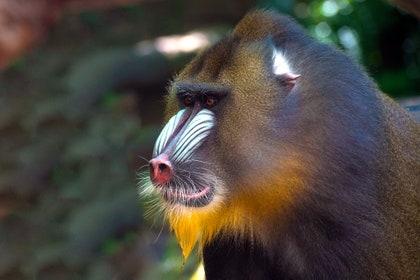 Julie Larsen Maher
Bronx Zoo

With more than 700 different animal species spread across 265 acres of parkland thoughtfully designed to mimic natural habitats, the Bronx Zoo is a great place to escape from Manhattan for the day, especially if you're traveling with kids. Don't miss the giraffe building, the Congo gorilla forest, the house of reptiles, and the flamingos in the sea bird aviary. And the sea lions always make for an exciting show. For lack of a better metaphor, this place is a zoo. If you're looking for a quiet and meditative way to spend a few hours, skip it. But if you want to blow the minds of a bunch of kids, you can do no better.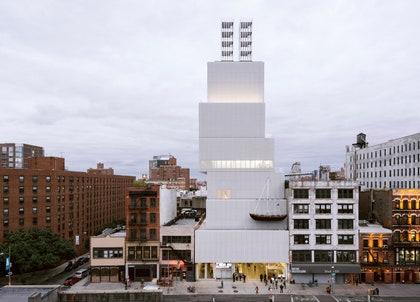 Dean Kaufman
New Museum
Although the New Museum was founded in 1977, it gained renewed attention in 2007 with the opening of its Bowery location—a seven-story building that looks like blocks stacked on top of each other. The museum contains all things contemporary and modern, in all mediums, and tends to champion lesser known artists (recent shows have included Australian painter Helen Johnson, L.A.-based filmmaker Kahlil Joseph, and Philadelphia installation artist Alex Da Corte). Exhibits can be hit or miss, and enjoyment of them tends to be wildly subjective but that's part of what makes the museum such a vibrant, exciting and diverse space.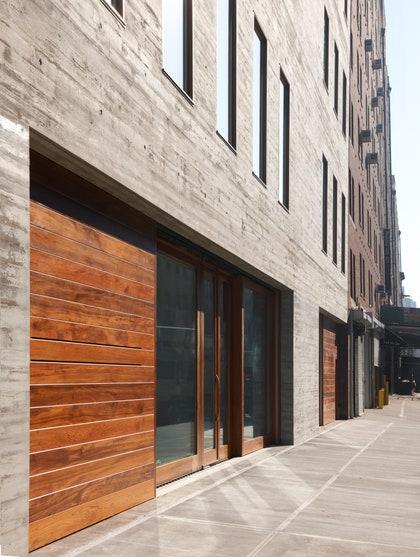 Courtesy David Zwirner Gallery
David Zwirner
David Zwirner is a blue-chip contemporary art gallery with three locations in New York City (where it started) and satellites in London and Hong Kong. In comparison to some of the other ultra-high-end galleries of its ilk, it has a bit more of an academic, family-business feel to it. Shows tend to be a little quieter and more thoughtful, but the roster is all high-value stuff—muted paintings by Luc Tuymans, Alice Neel, and Giorgio Morandi; Dan Flavin neons; and watercolors by Chris Ofili and Raymond Pettibon. There's also an in-house book arm, and the gallery even produces its own podcast.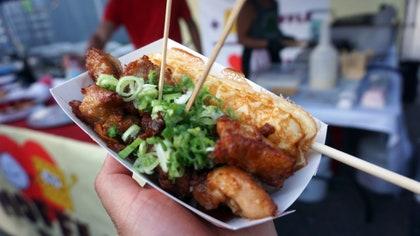 Sharon Medina-Chavez
Queens Night Market
The Queens Night Market, a chaotic melting pot of a market, feels like the opposite of Smorgasburg, the Brooklyn market known for its artisanal, often Instagram-friendly food. Inspired by the night markets of Southeast Asia, it brings together vendors from as many different cultures as there are in the borough itself—well, almost. Vendors rotate on a yearly basis, but you can expect a veritable United Nations of dishes, from Peruvian Quinoa Chaufa to Taiwanese popcorn chicken to Moldovan waffle rolls. Most dishes cost $10 or less, so you can have yourself a little international food tour without spending too much.
Like us on Facebook for more stories like this: