The streets of New York's Chinatown are teeming with bakeries, restaurants, boutiques, food stores, herbal pharmacies, temples, bars, and nightclubs, all of which preserve the flair of Shanghai and make visitors feel like they are one foot in a foreign land on the Other Side of the country to have set globe. For history buffs, the community's beautiful galleries, informative museums, and landmarks capture the Sino-American experience and tell the story, growth, and successes of immigrants in our nation.

Of course, the dragon dancers are something very special here and the lion dancers delight all visitors to the New Year's parade. For the art and culture lover, a stroll through Chinatown can pass some of New York's most beautiful sights. Many visitors appreciate the Bialystok Synagogue as a motive for beautiful vacation photos, but the Eastern States Buddhist Temple can also be one of the interesting sights in Manhattan. A nice highlight is the Mariners Temple and the neo-Gothic Sea and Land Church can also be very worth seeing. Chinatown can also offer many impressive buildings, the Edward Mooney House being part of Chinatown since 1785 and the oldest building in New York City.
In the 19th century, the Engine Company 31 Firehouse and the Former New York Life Insurance Company Building were built, both of which are historic buildings and are among the metropolis's beautiful sights. The Odd Fellows Hall was built as early as the 18th century, and due to its special architectural style, it repeatedly attracts the attention of tourists and is very popular as a beautiful photo motif. In the impressive Renaissance style, the Gouverneur Hospital on Water Street delights the viewer and with its Victorian architectural style, the Alfred E. Smith House on Oliver Street can also inspire architecture fans.
Chinatown New York is one of those boroughs not to be missed on a sightseeing tour of New York. The Stephen van Rensselaer House stands on Mulberry Street, which is now a listed building and was built in the early 19th century. Also on Mulberry Street is the Museum of Chinese in the Americas, where you can learn about the interesting history of Chinese immigrants to the United States and the early history of Chinatown. Here the visitor can look at many exhibits that go back to the early years of the USA and illustrate how the Chinese were able to find a new home in Chinatown New York. When traveling to New York, people like to visit Doyers Street, which can offer many great motifs for a vacation photo.
The nature lover is drawn to Columbus Park, wherein the early morning hours he can admire many residents of Chinatown New York doing daily Tai Chi training. If you have traveled to Chinatown New York with your children, then a visit to the Children's Museum of the Arts can be a lot of fun, because in this small arts center educational material can be taught in a very child-friendly manner. On a trip to New York, you should make a detour to Manhattan and Chinatown, because this colorful, Asian-themed district has many wonderful sights to offer.
Chinese Museum in America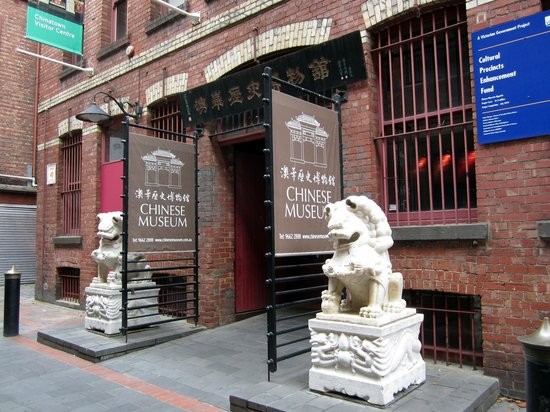 Entrance in Cohen Place Chinatown
Founded in 1980, the Museum of Chinese in America is dedicated to preserving and displaying the history, heritage, and culture of Chinese immigrants in the United States. The museum has earned its place as a national archive for the narratives of various Sino-American communities. The permanent exhibition space is entirely designed to share the difficulties Chinese-Americans have faced in our nation, starting with the Chinese Exclusion Law of 1882, and to demonstrate the growth and success that the Chinese people have contributed to our nation today Has. The range of exhibits at the museum varies throughout the year and includes floating projections, breathtaking photographs, and interactive scenarios that make visitors feel like they are being questioned by the immigration authorities.
Mahayana Temple Buddhist Association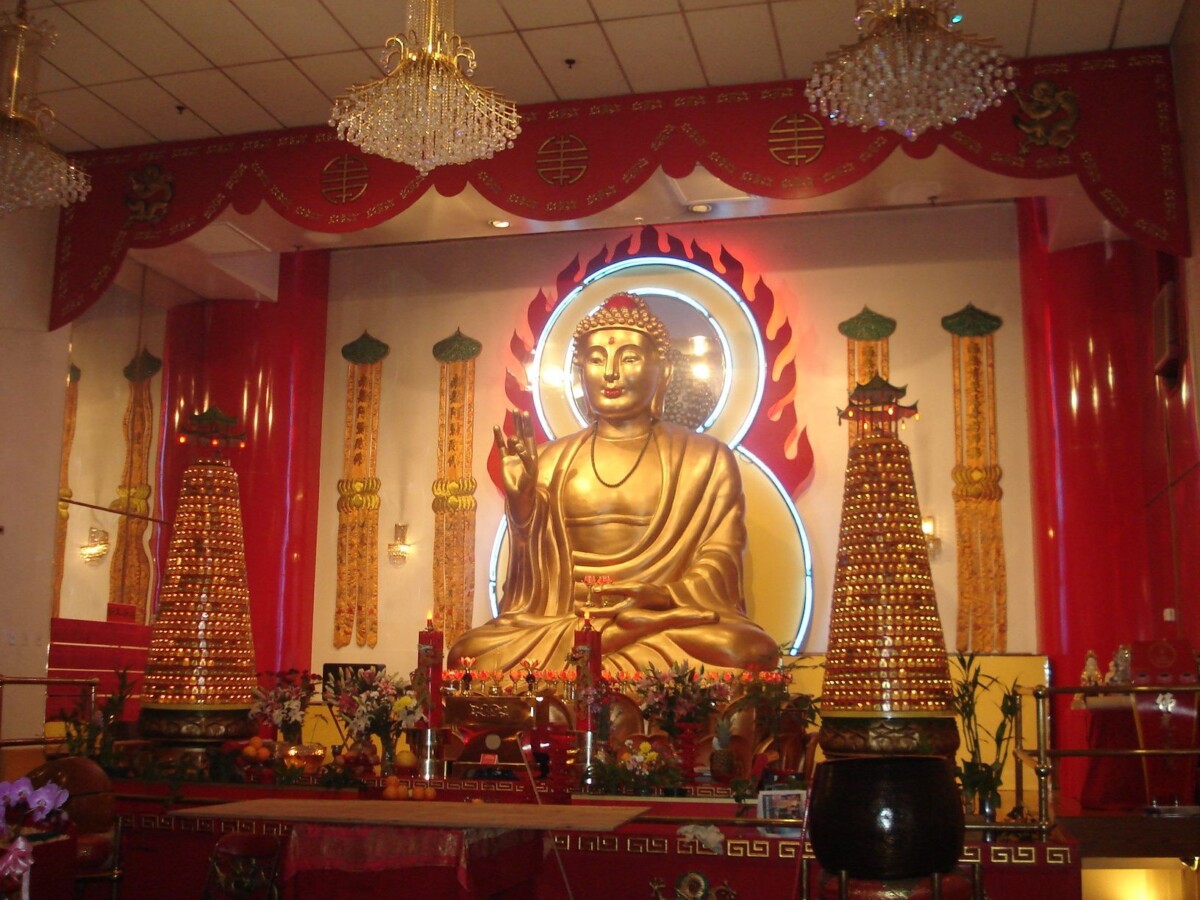 Mahayana Buddhist Temple
The towering, colorful Mahayana Buddhist Temple near the famous Manhattan Bridge in New York's largest Buddhist temple. The interior of the sacred institution, guarded at the entrance by two majestic golden lions, features a 16 foot tall Buddha statue on a lotus flower, photos on the walls depicting his various key life events, and a large urn filled with aromatic incense floats through the room. A special area with tables is also available to families and friends of deceased relatives to offer their prayers and feelings. The temple offers a number of other services, such as B. Solemn ceremonies on the weekends and fortune-telling, which are offered at a low price.
Aji Ichiban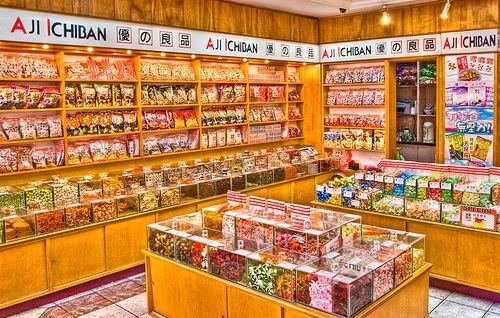 Aji Ichiban candy store
Aji Ichiban, an Eastern-influenced pastry shop with origins in Hong Kong, acts as an Asian snack paradise for New Yorkers who want to satisfy their sweet tooth with foreign delicacies. The shop sells a wide variety of dried goods, including fruits, nuts, ginger, and dried meat, as well as wasabi peas, Japanese rice crackers, crushed squid, and squid. More exotic, hard-to-find savory treats include lychee milk candies, sweet pickled plums, flan-filled marshmallows, haw-flavored candies, loquat candies, and kumquat pellets, and nostalgic Western candies like Pop Rocks. Luckily for customers, Aji Ichiban is very liberal when it comes to chewing and tasting in-store, and sets out bowls of snacks throughout the store so that visitors leave the warehouse with their all-time favorite goodies. In addition, products are sold individually rather than in packages, so visitors can mix and match a wide variety of their favorite snacks instead of having to choose from many.
Canal street
New York City is an oasis for fashion and style lovers and offers a seemingly endless selection of chic boutiques and trendy clothing. For those who think they have seen it all, Chinatown's Canal Street offers an exciting new shopping experience with an open-air bazaar feeling, vendors bargaining and haggling, and an incredibly wide range of goods for sale. This overwhelmingly long strip of stalls and shops is known for its gray market vendors who sell designer purses (they have everything: Louis Vuitton, Prada, Coach, Gucci, Chanel, Michael Kors, and more!) Items in addition to bootleg DVDs and unique jewelry at ridiculously low prices. New Kam Man, a two-story marketplace on the Strip, sells knick-knacks, kitchenware, beauty products, home decor, cheap New York souvenirs specially displayed for tourists, and cuisine from around the world.
Pharmacy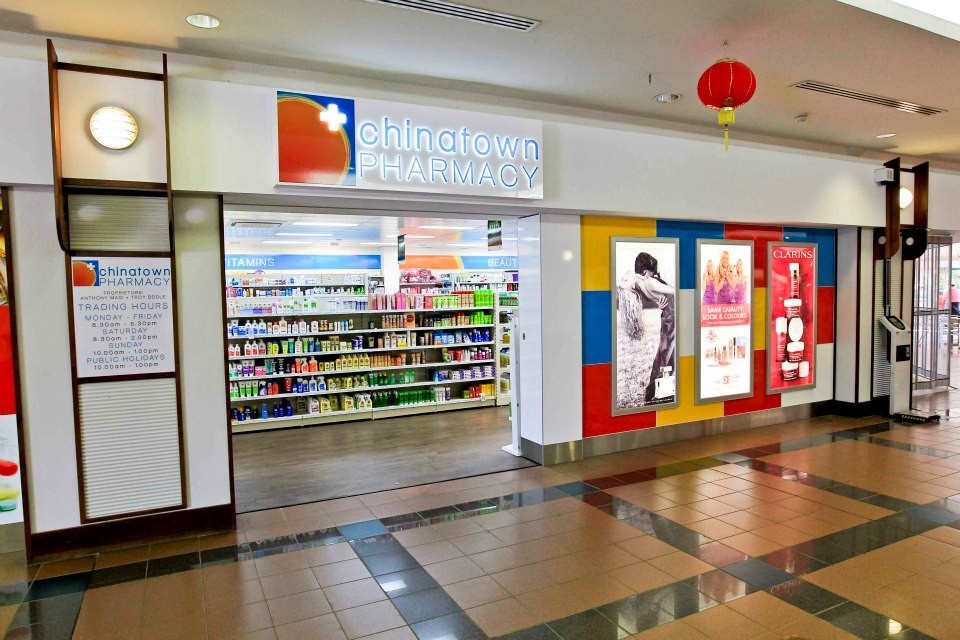 Entire of Pharmacy
Inspired by the history and art of the apothecary tradition that originated in Europe, Apothéke is a far cry from your average New York bar experience. The bar resembles a theater chemistry laboratory with old vials inside and over 250 cocktails known as "recipes" broken down into categories like health and beauty, pain relievers, stimulants, and aphrodisiacs. Bartenders disguised as mad scientists in white lab coats mix margaritas with Himalayan salt and light flames on Apothéke's signature drink, the pyromaniac absinthe. The interior, made of imported Carrara marble, features a hand-carved back bar as well as medical jars and bottles collected from foreign countries.
The Original Chinatown Ice Cream Factory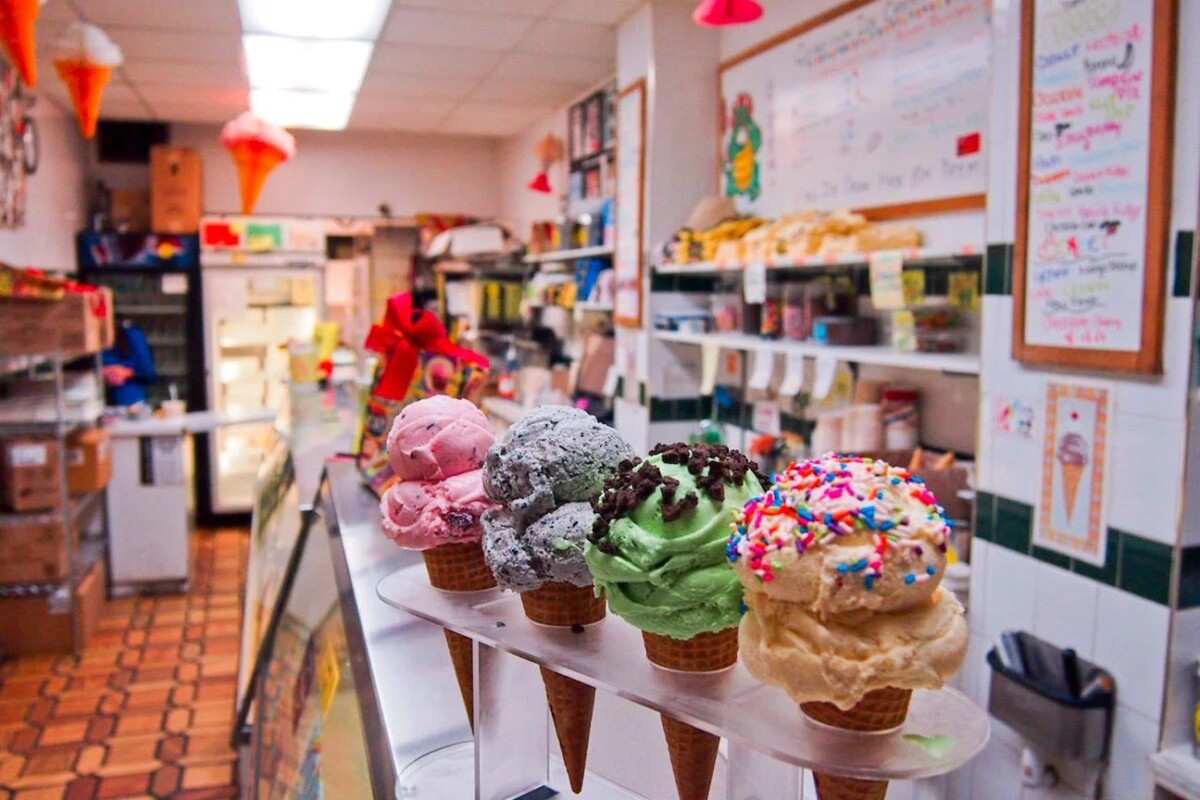 Double Scoop, Please!

The Original Chinatown Ice Cream Factory (CICF) is a family business that brings a unique twist to one of America's most popular desserts by introducing new flavors influenced by China. CICF has been around for over three decades, satisfying customers' sweet teeth and tastes for foreign goodies. It combines typical flavors with unique options to create an irresistible menu that will appeal to any dessert lover.
Almond biscuit, made from Chinese almond biscuits from the Fung Wong Bakery, soaked and mixed with delicious ice cream, black sesame, coconut, ginger, green tea, durian, coconut fondant, taro, and zen butter (peanut butter rice with roasted sesame seeds) are some of the crowd's favorites. The Chinatown Ice Cream Factory also makes bespoke ice cream cakes within a day, alongside the Neapolitan and typical Chinese ice cream cakes, both of which contain three layers of premium homemade ice cream.
Columbus Park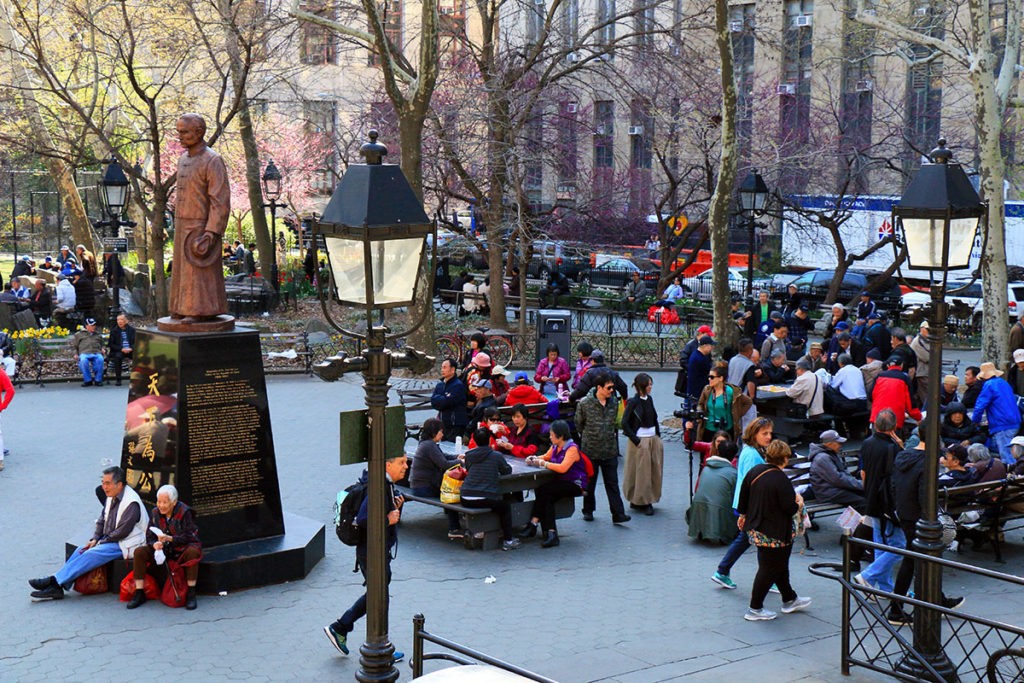 An Homage to Chinatown's Columbus Park
This historically significant park in the heart of Chinatown is ideal evidence of the rich diversity of the district and the mixture of residents from different origins and walks of life. The north side of Columbus Park is reserved for Asian card players and masters of mah-jongg, while amateur troops from Chinese opera artists can be found throughout the park, and Tai Chi and Kung Fu practitioners perform some movements on the lawns. The park's three-acre sports facility includes an artificial turf field for soccer, volleyball, and impromptu baseball, as well as a basketball court and a well-equipped playground with sprinklers and a paddling pool to sit on while the parents relax and unwind.
Jing Fong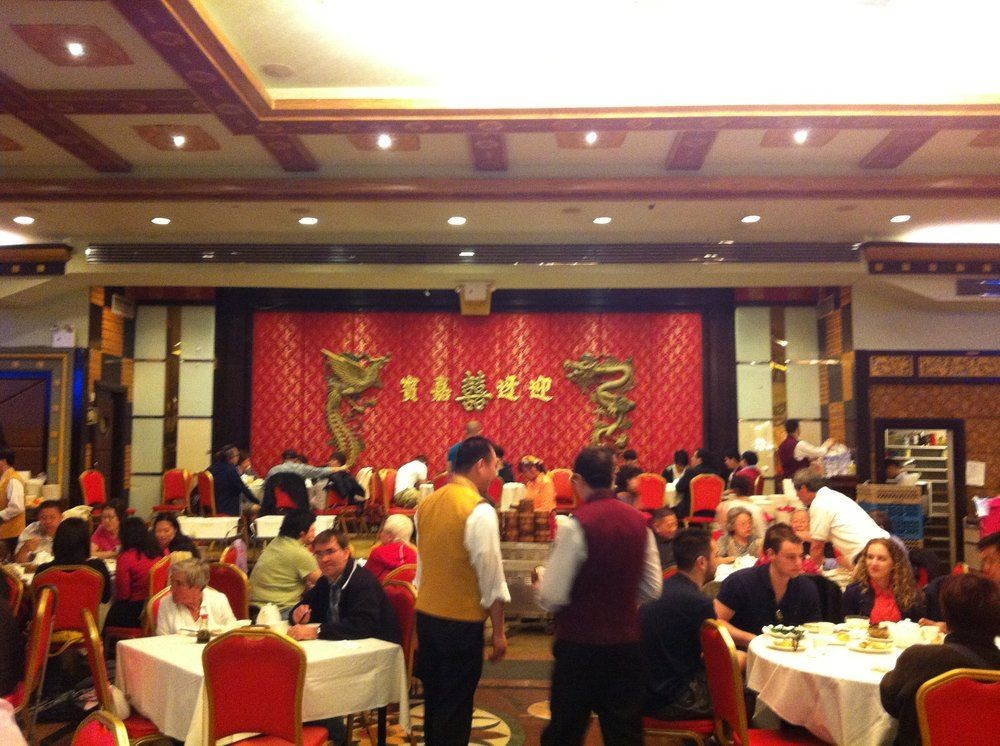 Jing Fong Restaurant
Jing Fong is New York's first dim sum and traditional Cantonese restaurant and banquet room with over 120 large round tables and a long escalator that takes guests to the massive dining room on the second floor. It is especially difficult to get a table during the restaurant's rush hour around noon as Jing Fong's delicious cuisine and extensive 100-item menu draws a large crowd looking for a taste of Asia. From hearty rice noodle rolls to large sheets of steamed rice noodles filled with dried shrimp, pork, or beef and dipped in sweet soy sauce to fried sticky rice with Chinese sausage, mushrooms, and peanuts – Jing Fong's delicious Cantonese cuisine will delight guests with the water in the Let your mouth converge and the taste buds will be delighted.
This neighborhood darling has served Chinese delicacies since 1968 and is famous for its unbeatable roast pork buns, which customers line up for at any time of the day. Mei Li Wah Bakery's delicious selection of rolls, pastries, and sweets has earned the bakery an excellent reputation over the years. The locals in the neighborhood sit comfortably in the small cabins and counter stools and nibble on egg yolk rolls, baked yam with cheese, tofu pudding, salty pancakes, rice porridge with grated calamari, cocktail rolls, beef rice noodle rolls, and stuffed fried donut tea, wonton sipped noodle soups or Tarago.
Like us on Facebook for more stories like this: