Central Park is beautiful in summer. The entire park shines in a strong, lush green, the plants bloom in all sorts of colors and there is a lot of life in the park. From morning to evening you can experience a lot there and there are many special events such as the free concerts. So here are our best tips for summer in Central Park.

In the warm season, Central Park is so beautiful that many New Yorkers like to hang out there until sunset. If you travel to New York in spring or summer, you should definitely check out Central Park and experience a few real highlights. From gondola rides, swimming lakes, and the best picnic spots to free concerts, I've put together the most beautiful summer activities in Central Park for you.
Boating on Central Park Lake
Rowboats on Central Park Lake
At the Loeb boathouse, you can rent boats and take them to cruise around Central Park Lake. The boats cost $ 15 an hour. You also have to leave a deposit of $ 20. The boat can accommodate up to four people. If you like, feel free to ask for a life jacket. When the sun is blazing, be sure to take something to drink with you, and most importantly: sunscreen.
READ: Jackson Galaxy: The Story of a Failed Musician Who Got Working at a Shelter, Saved Thousands of Cats, and Became Famous
Another highlight is the classic Venetian gondola ride. This tour is especially romantic for couples. A gondola tour costs 45 dollars per half hour. There is space for up to six people in the gondola.
Swimming in the Lasker Pool
In summer you can swim for free in the Lasker Pool
The famous Lasker Rink ice rink is transformed into a Lasker Pool in summer. So you have a small outdoor pool right in Central Park and admission is free! However, some safety instructions must be observed here: Bags are not allowed, only a towel, water, shoes, and a book.
Sunbathing on Sheep Meadow
Sheep Meadow is a popular meeting place in Central Park
In summer it is just wonderful to let the sunshine on your face. In principle, you will find numerous lawns in Central Park where you can sunbathe. As one of many, we would particularly like to recommend the Sheep Meadow to you.
Here you can rest and really relax together with many other people. The green area is spacious, flat, and especially well attended in summer, but you can always find a place – even in the shade. The skyscrapers on the edge of the meadow protruding above the trees are particularly impressive.
See also  Best Manhattan Museums: The Cultural Face of the City

Many New Yorkers also come to this place in the summer to sunbathe and picnic. So pack something tasty to eat and linger on the Sheep Meadow for a while.
Picnic in Central Park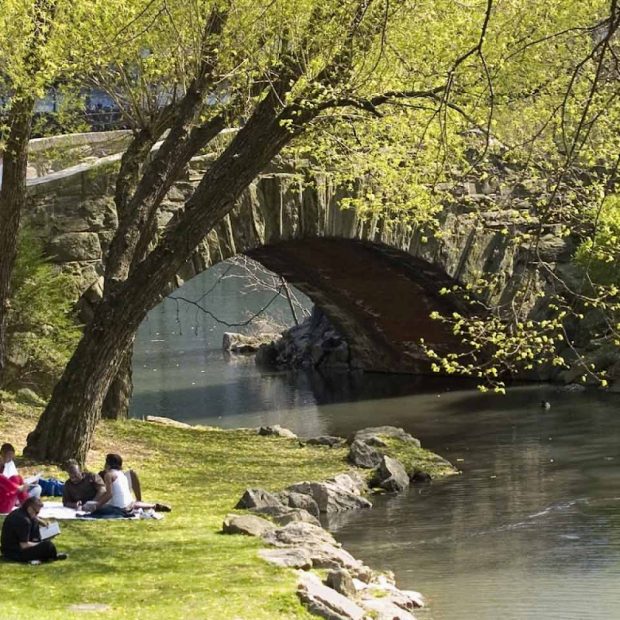 Romantic picnic spot in Central Park
Picnicking in Central Park is a must in summer. There are countless large and small lawns that invite you to linger. So there are quite a few spots in the park for picnicking, not just the popular Sheep Meadow.
The largest lawn in Central Park is the Great Lawn, where the legendary Central Park concerts take place. The bright green meadow is a wonderful spot to relax in the park after a long walk and have a picnic. For the athletes among you, there are even some baseball pitches on the oval green area.
Another option for a picnic in East Green. Here you can relax on a blanket you brought with you between the trees and enjoy your meal. East Green is located on 5th Avenue between 69th and 72nd Streets.
The most romantic picnic spot in Central Park is definitely Cherry Hill by Bow Bridge. It has already been the setting for many Hollywood films such as "You've Got Mail". Make yourself comfortable on a small slope and enjoy the wonderful view of the lake and the bridge.
Ride a Bike in Central Park
Central Park is a popular place for athletes
Central Park is a popular place for walks, but also a meeting point for many cyclists and sports groups. Reason: There is a great bike path that leads through the whole park.
You can, for example, rent bicycles directly at Columbus Circle at the entrance on the southwest section of the park. The price includes a bike, a helmet, and a lock. If you want to make sure that enough bikes are available when you arrive, you can simply reserve them in advance.
Jog around the Jacqueline Kennedy Onassis Reservoir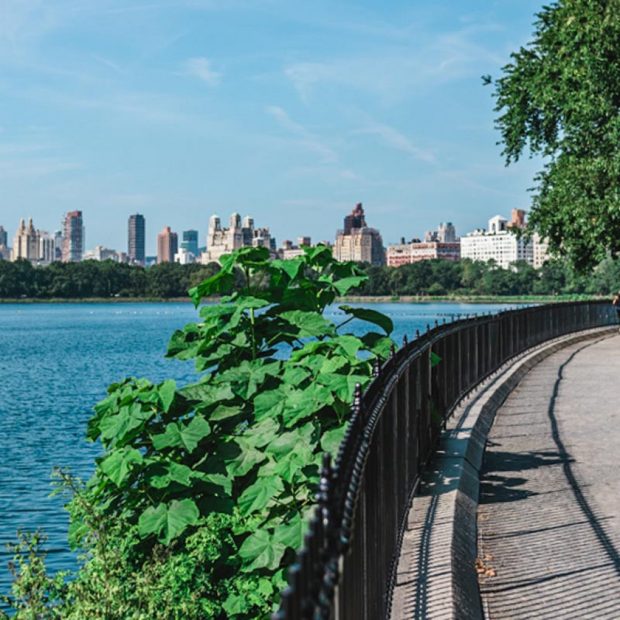 Jacqueline Kennedy jogged here in Central Park

There is probably no better place to jog in New York than Central Park. There are many great running routes here. The big round is approx. 10 km long and very demanding due to the many hills. It's best to start walking north on East 90th Street (East Drive). You will pass the Lasker Rink on your route. Continue at the north end of the park to W 102nd Street. Then head south on West Drive to 72nd Street.
The circuit around the Jacqueline Kennedy Onassis Reservoir is also very nice. The approximately 2.5 km long jogging route leads around the large water reservoir and was Jacqueline Kennedy's favorite jogging route for a reason. The route is so popular that you can only walk in one direction.
Central Park Photo Tour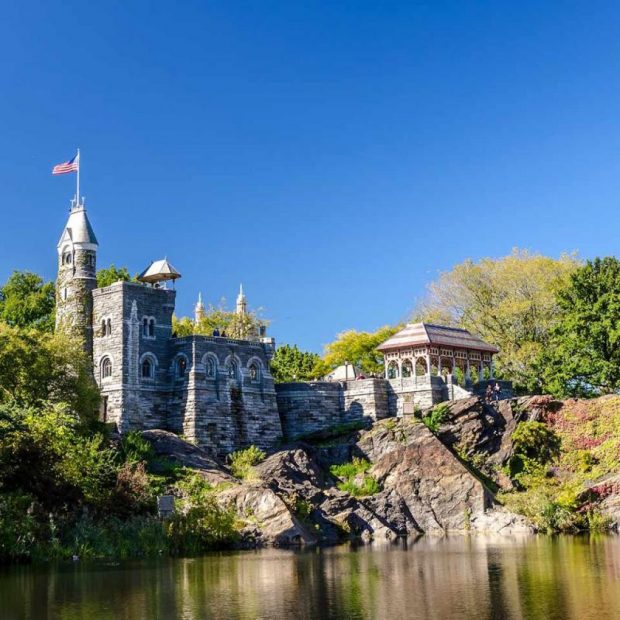 Belvedere Castle in Central Park is a popular photo motif
The photo tour through Central Park is particularly popular with photographers and photo enthusiasts of all levels. In addition to the many photogenic bridges, you will also take you to the best photo opportunities in the park that you probably do not know yet.
READ: Hope Reaches Mars: United Arab Emirates Spacecraft
The tour guide is a professional photographer himself and knows the park and its summer highlights like no other.
Like us on Facebook for more stories like this: