Central Park is one of the best-known parks in the world located in the US. A piece of nature consists of 51 long streets surrounded with trees, grass, skyscrapers became not just a simple place for a picnic, but a famous attraction of New York.

Central Park just physically can't be observed for one day. It is a giant park for recreation which has plenty of sightseeing, ponds, benches and beautiful memories. More than 250 Hollywood movies were shot in Central Park.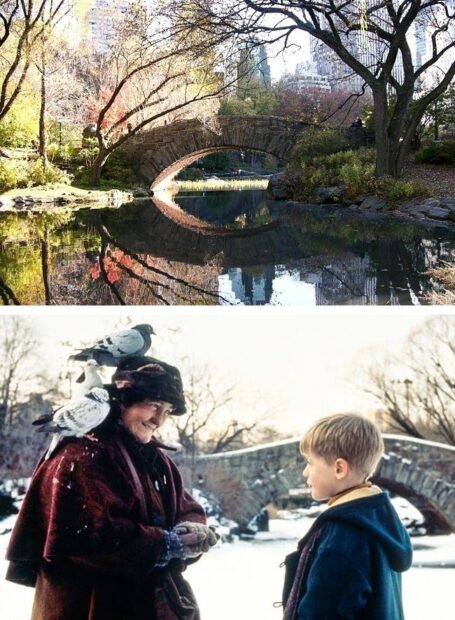 Every year around 40 million tourists visit the green place that makes the Central park more popular.
Central Park settles in a prosperous region named Manhattan where many celebrities live.
Some of them usually jog or walk with the children in the park, so it is twice as beneficial to travel there.
History
First dawnings of Central part appeared in the 19th century when New York was a gathering of immigrants who aspired to get a better life in the United States.
Though people from Asia came to progressive America to find work, the living conditions both for Americans and newcomers were frankly low.
New York was polluted. The environment was a reason for ill and poor people.
For this reason, the government decided to provide the nation with a small area of trees.
Some centuries ago the Central Park didn't even look at 20% of how it is today.

Calvert Vaux and Frederic Olmsted constructed trails without any special equipment. Though they built the park by hand, it became a real and professional masterpiece.
Central Park in the 19th century
The green territory which had similar features to tropical forests attracted birds. There was not any worthy place like Central Park. Step by step New York transformed into a bright and clean city thanks to the two architectures.
The only bad part was in separation. According to the statement of 1858, the Central Park had to be free for everyone, but in fact, only the local aristocrats were walking, riding horses, enjoying flowers and statues of Beethoven, Shakespeare and other distinguished persons.
Shakespeare's statue in the 19th and 21st century
In 1895 after Calvert Vaux's death the Central park was full of mess, banditry, danger and prostitution.
In 1934 the Central park became a peaceful place for children. Merry-go-rounds and ice cream trays were under policemen's control.
The global changes took place in 1975 when a New York ruler organised a nature protection committee and made the Central park available for everyone.
What to visit in Central park?
As we could see, Central Park isn't just an alley but a wide range of vacations. There are many different things to watch for every taste.
Green Lawn is a traditional zone for playing basketball, volleyball, skateboarding, reading and meeting new people. Both in Green Lawn and Bethesda Terrace live-concerts are sometimes organized.

Shakespeare's garden locates just in some steps. It was named in honour of a great writer who grew a mulberry in 1602 here. In Delacorte Theater the analogical performances are often offered.
Jacqueline Kennedy Onassis Reservoir is a famous water cistern which was considered to be a Sheep Meadow before 1934.
New York's dwellers prefer to do sport exercises near Reservoir, however, when winter comes, people run to Wollman and Lasker Rinks.
These attractions function from October to March and allow not only skating but also watching hockey and professional figure-skating. In summer workers establish a big swimming pool instead of ice rinks.
Wollman Rink is available at night and supplied with lighting
In public places, it is common to have cafes around and Central Park isn't an exception.
Tavern on Green located near Sheep Meadow once was a shepherd residence.
Now it is a cosy restaurant with the classic menu for a romantic dinner. John Lennon liked the atmosphere so much that celebrated his birthday in Tavern.
John Lennon with his wife and artist Yoko Ono in Tavern, 1978
Another restaurant is Loeb Boathouse which offers not only cuisine but also boat renting and the lake observing.

It would be right to mention Central Zoo which became very popular after Madagascar cartoon.
An interesting fact is that in 2005 when the cartoon was recording, there were no lion, zebra, giraffe and hippopotamus in Central Zoo.
New Yorkers like donating money to the Zoo and care about animals. In winter Zoo works from 1 p.m. to 4 p.m. but in summer from 10 a.m. to 5 p.m.
Which celebrities prefer or live near Central Park?
New York is a core of well-known sportsmen, actors, singers, models and tiptop in general.
90% of all the cinema and stage stars live in New York. Celebrities are usually caught by paparazzi, but it doesn't interrupt them from strolling and enjoying a sunny day in Central Park. Some just walk, others live in the next street.
The Hollywood actor Antonio Banderas used to live very close to Central Park. He was able to see the area from a window. Some years ago Banderas thought about selling his apartment and moving to another place, but the decision wasn't confirmed.
Katty Perry, Naomi Watts, Jake Gyllenhaal and Irina Shayk prefer to make some sport.
Katty Perry and Russel Brand in Central Park
The first two ladies ride bikes, Jake and Irina jog for keeping fit. The Russian model once said that running wasn't her favourite part. Before giving birth to a baby in 2017, Irina trained a lot in Central Park but nowadays prefers to visit the Central Zoo.
Irina Shayk with her daughter in Central Zoo. October 15, 2020

Jessica Alba, Miranda Kerr, Katie Holmes, Olivia Wilde, sisters Kardashian usually come to Central Park with children.
Anne Hathaway and Michael Jackson's daughter Paris were noticed to have a picnic in Green Lawn and a dinner in Tavern on Green.
Paris Jackson in Central Park. April, 2017
Once Sarah Jessica Parker and Kelly Ripa were in a hurry to work. They had no taxi or security guards around. Ripa was listening to music and Parker was running with an umbrella in cloudy weather.
Central Park is a safe and nice place both for sporting, playing with kids, having supper and shorting the way.
Some celebrities come to Central Park on foot or by taxi.
John Lennon's ex-wife Yoko Ono, Maury Povich, Jonathan Marc Sherman live in 3 minutes walking to the Central Park.
Irina Shayk, Leonardo DiCaprio, Jon Bon Jovi, Tyra Banks need around 30 minutes on foot to achieve Central Park.
Justin Timberlake, Harry Styles, Jessica Bill, Emily Blunt will get to Central Park in 17 minutes by a taxi.
Distance doesn't mean anything to the stars. Central Park is a spacious and worthy zone. It is really easy to stay unwitnessed from fans and annoying paparazzi while spending time in Central Park.
Some extra interesting facts

1. There is a monument Strawberry Field Memorial which was opened in 1985 in the Central Park. It was built in honour of John Lennon 5 years after this death. The name relates to "Strawberry Field Forever" song which was written by Lennon in 1967.
The monument looks like a circle with the word "Imagine" inside. Fans often memorize Lennon's section with roses.
2. Today Central Park is a paradise for kids and visitors, but two centuries ago it wasn't so innocent. In 1848 its territory belonged to All Angels Church and cemetery. In 1857 the lands were taken for reconstruction. The Central Park was built "on bones" as it is said. In 1871 a gardener found a grave of a 16 years old pupil of the church. Decades later several coffins were also discovered.
3. New York is full of beggars. Some of them constantly live in Central Park. It may sound doubtful because the area is always clean and without canopies, however many people name Central Park as their permanent address without mentioning any street.
4. Central Park has so-called natural forest squares and ponds, but in fact, everything was made by skilled designers. All the trees, castles, meadows, stones were grown and constructed by people. Nothing appeared itself so that Central Park is an artificial complex.
5. Central Park is bigger than Monaco. Though it is long enough, it is almost impossible to lose the way. Navigators and boards are everywhere. Also, there is a clock which shows time and moves its dial without using an indicator.
Like us on Facebook for more stories like this: