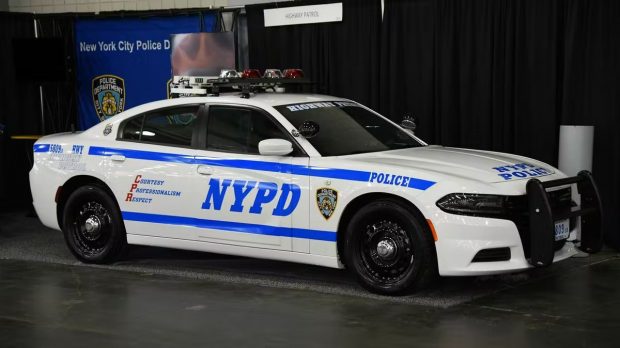 Crime never sleeps. Especially not in Manhattan, the famous peninsula of the US metropolis of New York City. It's true that NYC has become safer over the past 30 years. But only because the police show more presence.

The New York City Police Department is the largest police agency in the United States. Your catchment area is the boroughs of Manhattan, Bronx, Brooklyn, Queens, and Staten Island. The NYPD even divides it into eight districts because of the size of individual districts.
Source: Fabian Hoberg
The New York Police Department has 250 Smart Fortwos in their fleet
Around 36,000 police officers work in shifts to ensure law and order and investigate crimes. A further 18,000 civilian employees work in the authority. While 731 robberies were reported in Central Park in 1981, there were only 17 in 2011. In 1992, the average homicide rate per 100,000 people in New York City was 27.5 deaths, but it was 3.4 in 2017.
READ: What About Money: Best Banks in New York in 2022
Having the right vehicle is extremely helpful when fighting crime. There are around 150 different models in the police fleet. The fleet includes a total of 10,500 vehicles, including 7,000 cars used by the police officers on patrol. The fleet manager: Robert S. Martinez, Deputy Commissioner of the NYPD. Together with his approximately 450 employees, he takes care of the vehicles.
Smart Fortwo and Hybrid-Cars
Each car has different maintenance schedules and spare parts. The vehicles are sorted out and replaced with new ones according to a certain rhythm. A fairly complex process.
READ: The 9 Best Craft Beer Breweries in New York: The Craft Beer Guide for New York
The police primarily use normal limousines, SUVs, or compact and small cars. In the meantime, also those with alternative drives. About 2,000 hybrid vehicles and 30 electric cars are constantly on patrol, plus about 250 smart fortwos and 50 horses for parades and patrols in Manhattan. For two years now, the two-seater Smart has been replacing the three-wheelers from the US manufacturer Westward Industries, which have neither air conditioning nor airbags. With their roof, they are also more practical, safer, cheaper, and ideal for patrol services around schools and for checking illegal parkers.
The officers drive between six and eight hours per shift, depending on which of the five boroughs of New York they are in. In most vehicles, the engine does not get cold, they run around the clock. On average, the cars are in service for 42 months. For SUVs like the Ford Explorer, it's 60 months: 24 hours a day, seven days a week. The vehicles only take a break when they are regularly serviced every 4,000 miles in one of the company's 13 police service workshops.
Long-Distance on Duty
Source: Fabian Hoberg

Around 1,600 vehicles are taken out of service and replaced every year
So a lot comes together: the police cars cover at least 40,000 miles, the equivalent of 65,000 kilometers, a year. After 3.5 years, it's almost 230,000 kilometers. Of course, the cars get dirty during the shift. Partly by not entirely voluntary passengers, but also by the police officers themselves. They are therefore required to keep their vehicle clean themselves.
READ: Dubai Hotel or Dubai Apartment: Choose Something That Suits You
Only when the cars are too old or beyond salvage are they discarded. This does not include vehicles with sheet metal or minor damage – around 4,000 a year that roll back onto the road after repairs.
As soon as repairs are no longer worthwhile or the vehicles are no longer safe, they are dismantled, scrapped, or sold under the hammer, depending on their condition. The authority on Long Island has discarded vehicles auctioned off via Propertyroom.com. So they fetch a few hundred dollars per wreck or spare part. This brings in a good two million dollars a year – which is only a fraction of the 42 million US dollars that the agency has at its disposal each year. An average of US$ 26,250 is left over for replacing the 1,600 vehicles a year.
The new Ford Explorer Hybrid at 5.05 meters in length gives the officers enough space, the 3.3-liter V6 turbo delivers a total of 320 hp with a combined electric motor. As an official vehicle, the SUV calls itself the Police Interceptor. Suitable for going on a manhunt in New York City. It is a well-known fact that crime never sleeps.
Like us on Facebook for more stories like this: