If you've enjoyed New York City's nightlife extensively, you may feel like some nature.

At the other end of New York State, a sight awaits you that is no less breathtaking than the city that never sleeps: Niagara Falls – a natural phenomenon with a colorful accompanying program of history, culture, and culinary delights. 
READ: New York State: Home of Legendary American Dishes
The massive waterfalls are about 400 miles northwest of New York City between Lake Erie and Lake Ontario. As in the megacity on the Hudson River, cold winters alternate with hot summers. But that doesn't detract from the year-round popularity of this travel destination. From New York City, you can get to Niagara Falls by bus, train, or car. Since buses and trains stop several times along the way, the quickest way to get to your destination is with a rental car. For the drive from New York City, you have to calculate about 6.5 hours by car. The most direct route is through Pennsylvania and the Finger Lakes region, a delightful, glacier-shaped, hilly landscape with over 400 wineries in central New York.
The Niagara Falls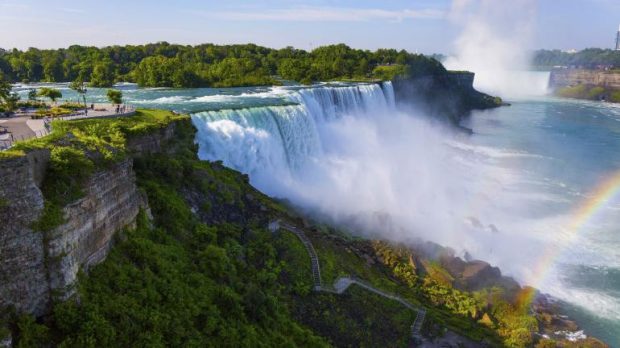 Niagara Falls in Niagara Falls State Park
Niagara Falls is located on the border between the Canadian province of Ontario and the US state of New York and consists of three huge waterfalls: the Horseshoe Falls (almost 51 m high), the American Falls (53.6 m high), and the Bridal Veil Falls (53.6 m high). Every second, 3,160 tons of water plunge into the depths here, producing over 4 million kilowatts of electricity that is shared by the USA and Canada.
To protect and preserve this natural wonder, Niagara Falls State Park was established in 1885, making it the oldest state park in the United States. Although there are footpaths and viewpoints in the park, you should venture out on the water to really experience the thundering and spraying masses of water up close: Since 1846, the Maid of the Mist has brought visitors so close to the huge water curtain that all passengers are waterproof in advance Rain ponchos can be fitted. Stand on a sensational – and wet! – experience.
READ:Saratoga: Historical Sights and Pure Relaxation in the State of New York
Even in winter, when the waterfalls freeze, a fabulous sight awaits you. A visit is also worthwhile after dark because Niagara Falls shines in a colorful kaleidoscope at night all year round. In the summer and on special holidays like American Independence Day on July 4th or Canada's National Day on July 1st, fireworks light up the sky over the falls.
Niagara Jet Adventures
An adrenaline-pumping chase through the rapids of the Niagara River Gorge with Niagara Jet Adventures.
For adventurous water rats, Niagara Jet Adventures offers year-round boat tours of a different kind, where you can hunt in small, air-conditioned boats at breakneck speed over the whitewater rapids of the Niagara River Gorge. If you want to stay on the "wet deck" en route, you should have dry clothes ready to change afterward.
Gastronomy and Shopping
As soon as you've rubbed yourself dry after your adrenaline-pumping boat tour, you can explore the city of Niagara Falls, named after the waterfalls, which has numerous hotels, restaurants, and shops to offer. There are also numerous wineries on the outskirts of the city. The start should be a stroll down the cobblestone Old Falls Street, which stretches from the entrance of Niagara Falls State Park over three blocks to the convention center. The many family attractions include giant chess boards with life-size figures, live music, outdoor cinema events, bike rentals, food and craft stalls, and street festivals.

For lunch or dinner, head to the Niagara Falls Culinary Institute. It is also worth making a detour to Savor, a student-run upscale restaurant, the European-style café La Patisserie, which specializes in baked goods, and the Old Falls Street Deli – the best place for New York-style sandwiches. Most dishes on the menu are Pastrami, corned beef, or salami and are prepared for you as you wish. At Wine on Third, you get unique martinis in flavors such as cheesecake, cucumber, or pumpkin spice.
Excursions to the Wine-Growing Region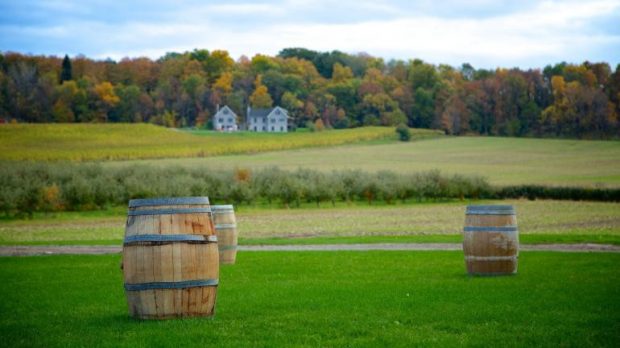 Rural idyll on the Niagara Wine Trail
The Niagara Falls region is known for Riesling, Pinot Gris, and other types of wine. The Niagara Wine Trail begins just outside the center of Niagara Falls and runs east through three counties to Rochester, New York. Various limousine and bus tours are offered on-site; Most visitors pick a few wineries and then set off with their own rental car. Due to the cool climate, the region is ideal for growing grape varieties for Riesling, Chardonnay, and Pinot Gris.
READ: Top 10 Most Expensive Business Jets to Fly to Dubai: July Gringuz, CEO of Novans Jets
Accommodation in Niagara Falls
After you have been sightseeing, eating, and drinking extensively all day long, some relaxation comes in handy. The range of accommodation in Niagara Falls ranges from cheap hotel chains to B & Bs to casino hotels. Several hotels also offer excellent views. So you can z. For example, at the Four Points by Sheraton on Buffalo Avenue, you can admire the magnificent panorama of the waterfalls while you eat.
Like us on Facebook for more stories like this: