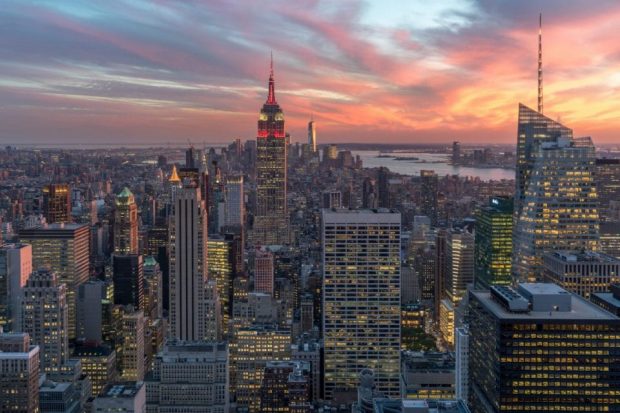 New York is not a cheap travel destination. Accommodation and admissions for crowd pullers are not always cheap. When it comes to eating, it comes down to what you want to eat. Fast food is cheap, "healthy food" is a bit more expensive than ours.

Above all, alcohol and restaurants that are known from TV or food series cost a little more.
The question about the expenditure keeps coming up and we can't answer it across the board. It always depends on which sights and attractions you want to visit and in which part of the city you are staying.
READ: New York Tips: Planning a Trip to New York Has Never Been Easier
Living in the center is expensive, something outside it is cheaper. But you lose time traveling to Manhattan on the metro, where almost all of the sights are located.
How Much Time Should You Plan for New York?
The question "How much time should we plan for a trip to New York?" Is asked very often. If this is your first time traveling to New York, we recommend staying for 5 to 7 days.
If you have more time, you can also visit Boston, Washington D.C., Niagara Falls, and Cape Cod. All great places that we recommend to you.
Book a Flight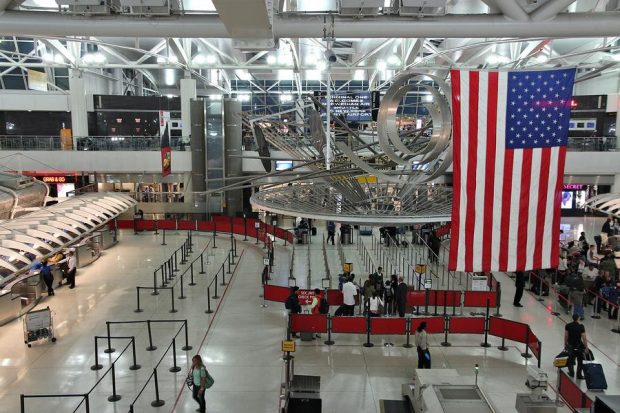 John F. Kennedy International Airport
To travel to New York, you need to know that New York has three airports: John F. Kennedy Airport (JFK, in Queens), La Guardia Airport (LGA, in Queens), and Newark (EWR) in New Jersey.
In theory, it doesn't matter which airport you land at. However, if you have accommodation in Brooklyn, a flight to JFK or La Guardia is much better. The taxi ride is much shorter and cheaper.
Check Your Credit Cards
Many banks have now introduced restrictions to protect against abuse abroad. Check how much money you have set as a limit per day/week/month. Some cards have to be activated before they can be used abroad. Friends have had this experience especially with traditional banks (savings banks and Raiffeisen banks). It is best to call your bank before the trip and inform your contact person about the trip.
How Much Cash Do I Have to Take with Me to New York?

There are many ATMs in New York. You very rarely need cash. On the first trip we had withdrawn about $ 150 in cash. That was enough for a few days. You can really pay with a credit card anywhere.
Only for tips, we will withdraw a small amount of about $ 50-100 directly at the airport in New York upon arrival.
When changing at the bank before the trip, you have to pay fees. In addition, you often get a worse exchange rate. If you have a good travel credit card, you can withdraw money from ATMs without paying any fees.
Arrival and Entry
Entry into New York may or may not be quick. We both have experienced. If you are traveling for the first time with your ESTA visa, you will unfortunately not be able to use the machines during immigration. You have to queue up for the staff and, if necessary, have yourself questioned.
READ:Delicious Food in New York: Best Places for Your Food Guide
That can be annoying. So have the address of your accommodation and your return date ready. Tell them that you are a tourist and that you are on vacation and that everything should work out without any problems.
Tips on Transfer from the Airport to the City Center
New York has three airports. JFK in Queens, La Guadria in Queens, and Newark in New Jersey across the Hudson River. That is why we have written a detailed article on how to get to your accommodation in the fastest and cheapest way from the respective airport.
Hudson River
The best way to get around New York is on foot. You see most of the city when you move above the ground.
Travel with the Subway and MetroCard
For longer distances, it is worth taking the subway. The route network is well developed. You can get anywhere pretty quickly.
This is why it is worth buying the rechargeable Metro Card for New York. You pay a one-time fee of $ 1 for this card.

The MetroCard is valid on all New York subways and buses. MTA Long Island Bus, MTA Staten Island Railway, MTA Bus Company, Westchester Bee Line Buses, Roosevelt Island Tram.
If you're in New York for a week, the 7-Day Unlimited-Ride card is usually worth it for you. The pass is valid from the first use until the 7th day at midnight. The MetroCard costs $ 32.
OMNY
The best thing is that with OMNY (One Metro New York) there is a new payment system for the metro and buses. Everything works via the app! Download the MTA app on your mobile phone and set up an account before you travel. Never before has it been so easy to ride the metro and bus.
UBER, and Lyft
Wave to the driver, give the address, and pay later. You can also pay for taxis with a credit card. However, on our last visit, we had the experience again that taxi drivers simply ask far too much.
READ: Time Between June and September: The Warmest Period in Dubai
Rides with UBER and Lyft are cheaper. The drivers are also friendlier. Checks with both apps before every trip to see where the price is currently cheaper. This depends on the peak times and availability of cars.
Cycle
Would you like to ride a bike over the Brooklyn Bridge or through Central Park? No problem. There are numerous rentals around Central Park. The New York Pass even includes a one-time loan free of charge.
Central Park
Otherwise, it is essential to download the CitiBike app on your mobile phone before the trip. It costs $ 3 for 30 minutes or more. You can, however, buy a day pass for $ 12. It could definitely be worth it. Visit the website for popular New York cycling routes. We can highly recommend the drive through Central Park.
Like us on Facebook for more stories like this: