Getting into a good high school is essential for the child's further education and career. Because it is in high school that children prepare for college, study more advanced material, and also have lifelong friendships, so the right environment is just as important as good teachers.
Lower East Side Preparatory High School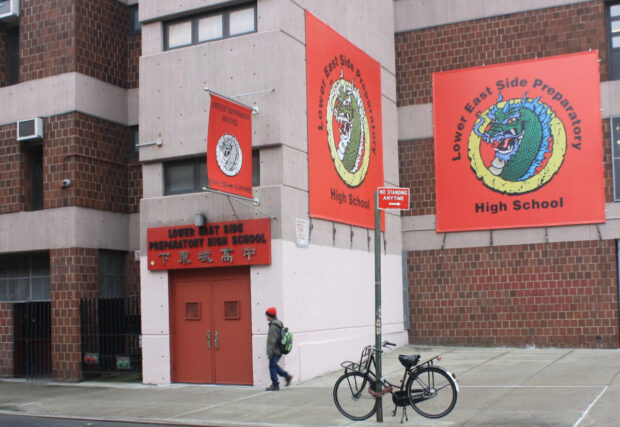 Location: 145 Stanton St, New York, NY 10002
Lower East Side Preparatory High School (LESP) is an excellent choice for immigrant students. There is a bilingual ESL program that facilitates the transition period for newcomers. In addition, the school boasts a supportive and technological environment that motivates all students to succeed. Here you will find a variety of courses, AP, Regents, and advanced day courses, teaching nine classes at the university level. Thanks to all this, LESP sends more than 80% of its graduates to college. The student body of the school represents more than 50 countries. The school has a convenient transfer system. For three consecutive years, LESP has been recognized as one of the best high schools in New York City.
READ: 15 Top Biotech Companies in New York
Bronx High School of Science
Location: 75 W 205th St, The Bronx, NY 10468
The Bronx High School of Science was founded in 1938 and has not lost the leading position since then. There are eight Nobel Prize winners among high school graduates, more than at any other secondary school in the world and more than in most countries. In addition, the graduates received six Pulitzer Prizes for Journalism. Among them are more than 200 academics of Regeneron Science Talent Search (semi-finalists of Intel and Westinghouse). In addition, former United States Secretary of Defense, former editor of The New York Times, President of Columbia University, President of the New York Public Library, and many others attended. Bronx Science offers an extensive knowledge base in English, biology, physics and engineering, mathematics and computer science, social sciences, world languages, art, health, and physical education. To get into the school you have to pass the written exam of the Specialized High School Admissions Test (SHSAT), which is held in the autumn of each year. It is open to all eighth and ninth-grade students. All candidates must be New Yorkers.
High School Math Science and Engineering at CCNY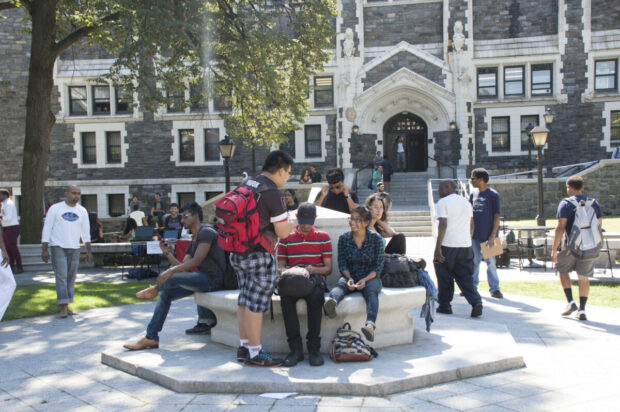 Location: 240 Convent Ave, New York, NY 10031
The Higher School of Mathematics, Science, and Engineering is one of the leading specialized schools in New York City and ranks 4th in the State Rankings. The school is quite young and was founded in the spring of 2002. HSMSE was recognized by The New York Times as the most diverse school in New York City. Students can take a variety of classes in the following fields: mathematics, science, engineering, English, social sciences, German (which is the main foreign language in HSMSE, students have the opportunity to go to summer courses in Germany), Spanish, music, health and physical education. It is one of eight highly selected specialized schools established to meet the needs of gifted students. Only students who receive the highest score in the Specialized Entrance Examination for High School (SHSAT) are eligible. Special schools do not take into account grades, state test results, or attendance records. Admission is based only on the SHSAT score.
READ: New York Libraries: A Bit of History and Big News
Baccalaureate School for Global Education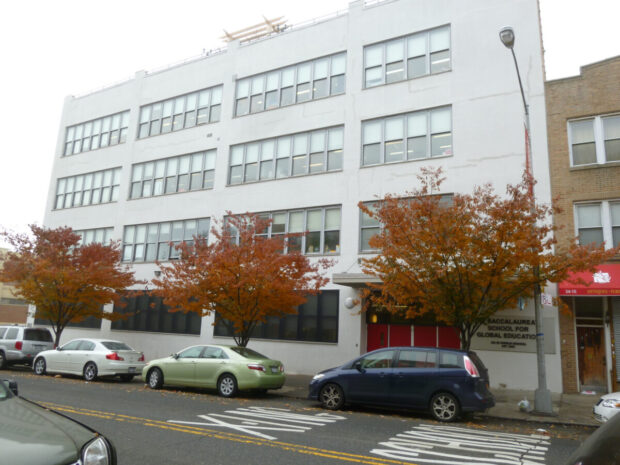 Location: 34-12 36th Ave, Astoria, NY 11106
Founded in September 2002, Baccalaureate School for Global Education (BSGE) provides a world-class educational experience consistent with the principles and standards of the International Baccalaureate Program. The International Baccalaureate Programme is a rigorous preparatory college course that meets the needs of highly motivated high school students. The IB program allows graduates to obtain diplomas that are quoted worldwide. The IB comprises six main fields of study: language and literature, foreign languages, sociology, experimental sciences, mathematics, and art. BSGE has no entrance exams or interviews for admission to high school. All that was needed was information on academic achievement, attendance, and exams for grade 7.
Stuyvesant High School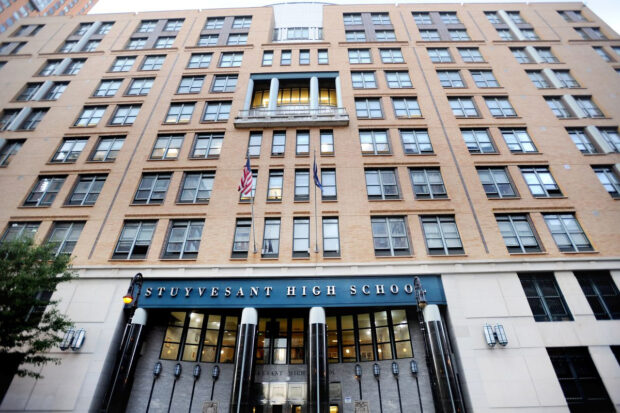 Location: 345 Chambers St, New York, NY 10282

Stuyvesant High School was founded in 1904 as a «boys' school». Girls were admitted to school only from 1969. Today, approximately 43 percent of students are girls. Entrants to Grades 9 and 10 are selected through an examination that is open to all New Yorkers. Stuyvesant is called the "New York City School of Talent for Science, Mathematics, and Technology". In addition, students have access to art, biology, chemistry, computer science, physics, and others. From the beginning, it was a school that served immigrants. Graduates include four Nobel laureates, as well as many leaders in the fields of science, mathematics, public administration, law, art, and music.
READ: 10 Famous Historical Persons of New York
Townsend Harris High School
Location: 149-11 Melbourne Ave, Flushing, NY 11367
Townsend Harris is a young school with a rich past. In 1848, the Board of Education established the New York Free Academy, the first municipal institution to receive free higher education. This was largely due to the efforts of Townsend Harris, then President of the Council. The Free Academy later became New York City College. And the preparatory courses, which provided an «introductory year» before entering the Academy, grew into Townsend Harris High School. The school flourished until 1942 when it was closed by the mayor of La Guardia due to budgetary constraints.
In 1984, Townsend Harris reopened, but with the same spirit and desire as before. The current school has honored its rich tradition, supported by an active alumni group. Graduates organize internships for students, act as advisers and mentors and raise funds for special projects. Besides the standard classes, students here can study photography, take master's classes in theatre, journalism, graphic design, computer, and engineering sciences.
Students from all five boroughs of New York are eligible to apply to Townsend Harris and are selected through a competitive process rather than a single entrance exam. Admission to grade 9 is based on the results of the standard tests for grade 7, final examinations, and attendance.
Like us on Facebook for more stories like this: