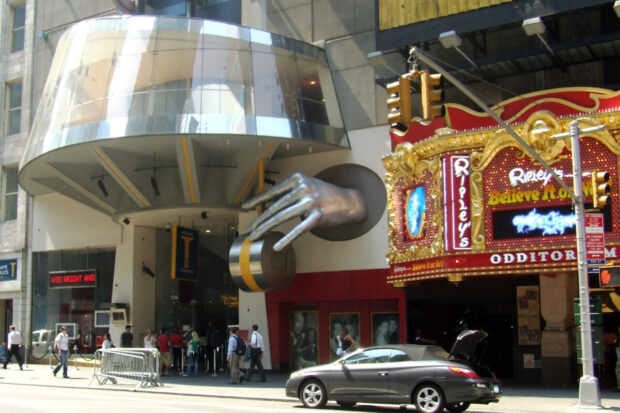 A very popular attraction right on Times Square is Madame Tussauds, New York. Many will recognize it just by walking by because every day other wax celebrities stand in front of the museum. Let them invite you to take funny cult photos.

Some of the Madame Tussauds New York figures look so real that it seems as if the celebrity is actually standing in front of the entrance to the wax museum in New York. Often you see pictures of celebrities who inaugurate their own characters – and then you ask yourself: who is real? Who's made of wax here? Is it worth visiting for the photos with the Madame Tussauds New York Stars? We tell you about our visit.
Madame Tussauds New York: An Icon
Maria Tussauds was a Strasbourg-born French woman who created her very first wax figure of the famous writer and philosopher François-Marie Arouet Voltaire in 1778. In 1802 she moved to England to exhibit her wax figures. After her death, her sons inherited the famous wax figures, which were then exhibited a short time later in London in the world's first Madame Tussauds. There are now wax museums all over the world. The figures are adapted to the needs of the visitors depending on the country and city. 
See also  South Street Seaport: There Was History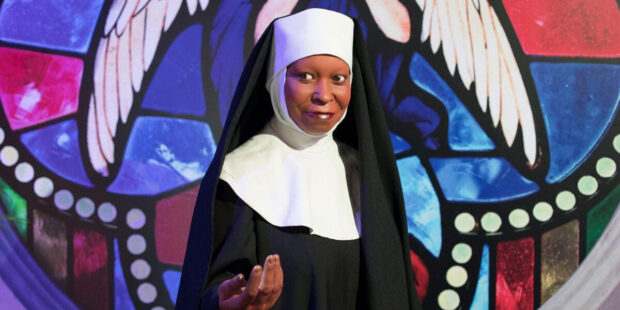 Whoopi Goldberg
Madame Tussauds New York: More than Wax Figures
When Madame Tussauds opened in New York in 2000, it was clear that this museum would be one of the most successful of its series. Over the years the makers of the wax figure cabinet developed new ideas and nowadays the figures can hardly be distinguished from the original.
New York City has a wide selection of Hollywood, the pop industry, hip hop, basketball, and US politicians. So if you like, you are welcome to take a seat at President Obama's table. Visitors travel through the history of time and immerse themselves in the world of fame and power in the United States. Days like September 11th are picked up here too, making it the ultimate celebrity experience in the heart of Times Square, with over 225 lifelike Madame Tussauds New York stars and starlets.
Fashionista and model mom Heidi Klum has recently welcomed you at the entrance.
Special Exhibitions at Madame Tussauds New York
Don't miss the new Marvel Super Heroes 4D Experience with Marvel legendary superheroes and an exciting 4D theater finale. You can find more information about all current special exhibitions here.
See also  Why We Can't Climb the Torch of the Statue of Liberty: the Reasons are Kept in History
Kong: Skull Island
In a partnership with Legendary Pictures and Warner Brothers Pictures, Madame Tussauds New York is showing the exhibition Kong: Skull Island. Here you go on a great adventure through the tropical King Kong Island and have to cut your way through huge spiders to get past the wax figure of Captain James Conrad to the monster King Kong.
Ghostbusters Experience
Go hunting with the Ghostbusters? Since the new film from 2016, many have been very excited about it again. This dream can come true because at Madame Tussauds New York you can visit many locations from the film and catch ghosts.
Marvel 4D Experience

The beloved superheroes like Hulk and Spiderman can be admired here in 4D animation. The Marvel Superheroes are in full action and trying to protect the universe against evil – you can watch it live.
Did you take a great selfie with your favorite star? Then share your great photos from Madame Tussauds New York with the hashtag #MTNYSELFIE!
Tickets for Madame Tussauds New York cost quite a bit: you pay $ 34 for the wax museum. However, at Madame Tussauds New York you can experience the spirit of the city: Amidst familiar faces, you feel like a star next to celebrities from all over the world.
From Lady Gaga and Morgen Freeman to Spiderman and Hulk, you can get close to every wax figure star here. On 5 floors, Madame Tussauds New York offers various special exhibitions that change regularly. Themed worlds and interactive exhibitions make a visit to the exciting wax museum an experience for the whole family.
READ: 10 Amazing Facts You Need to Know
Especially on a rainy day, this special museum brings color back to your vacation. We liked Madame Tussauds New York, but it may not be the best wax museum in the world. If you have a sightseeing pass, you shouldn't miss Madame Tussauds, New York, because it is included free of charge.
Like us on Facebook for more stories like this: