New York is known to be the biggest and most inhabited city in the United States. Frequently enough humans just call it "the city that never sleeps" because of non-stop activity. New York is a mix of a huge collection of attractions, amazing architecture, and art, culture, and history, numerous museums and shops to visit. And that explains why exactly this city is adored so much by tourists. Today we're going to have a look at 20 thrilling sights each traveler must-see. Let's get started.
The Empire State Building

A symbol and the highest building of New York City ― The Empire State Building (in the middle).

The Empire State Building is one of the most distinguished and remarkable landmark buildings in New York. A 102-story high-rise building, located in Midtown Manhattan in New York City, annually attracts millions of sightseers. There are two viewing platforms on the 86th and 102nd floor from where people can enjoy the fabulous cityscape. When the sky is clear, you can even see the neighboring states such as New Jersey, Connecticut, Pennsylvania, and Massachusetts.
An interesting fact to know: The Empire State Building was built in just 410 days with only 3,400 workers. Remember that the total height of the skyscraper is 443 meters (1,454 feet).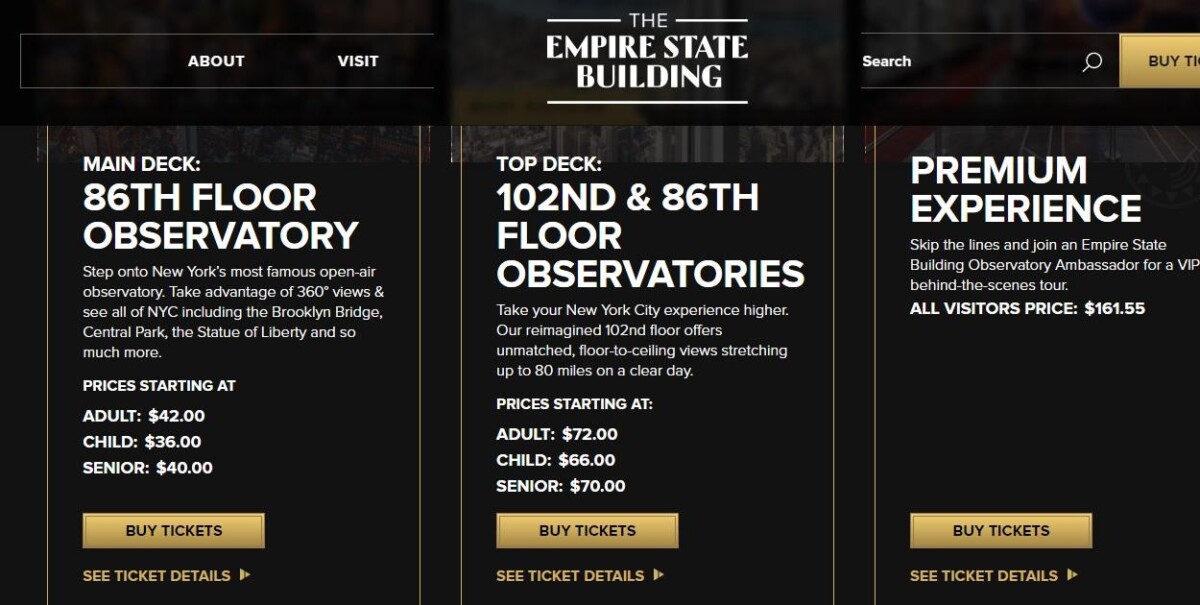 You can buy tickets before entering the building or reserve it in advance. The price depends on what kind of a ticket you'd like to purchase.
Brooklyn Bridge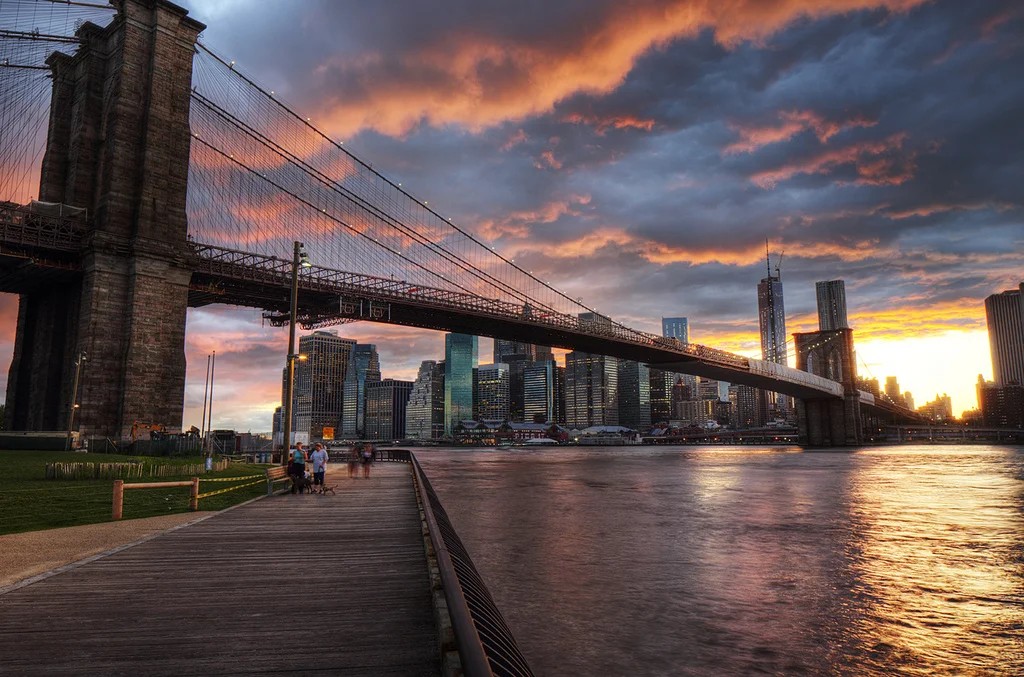 The Brooklyn Bridge was the first steel suspension bridge. After more than 130 years passed it still amazes people.
Brooklyn Bridge, the longest suspension bridge in the USA, is one of the most recognizable bridges which has inspired many poets, painters, and songwriters to create their masterpieces. The best way to explore the beautiful skyline and experience this icon is to take an hour-walk across the bridge. It spans 5,989 feet which allows getting to see the views of Manhattan, the East River, and the Statue of Liberty.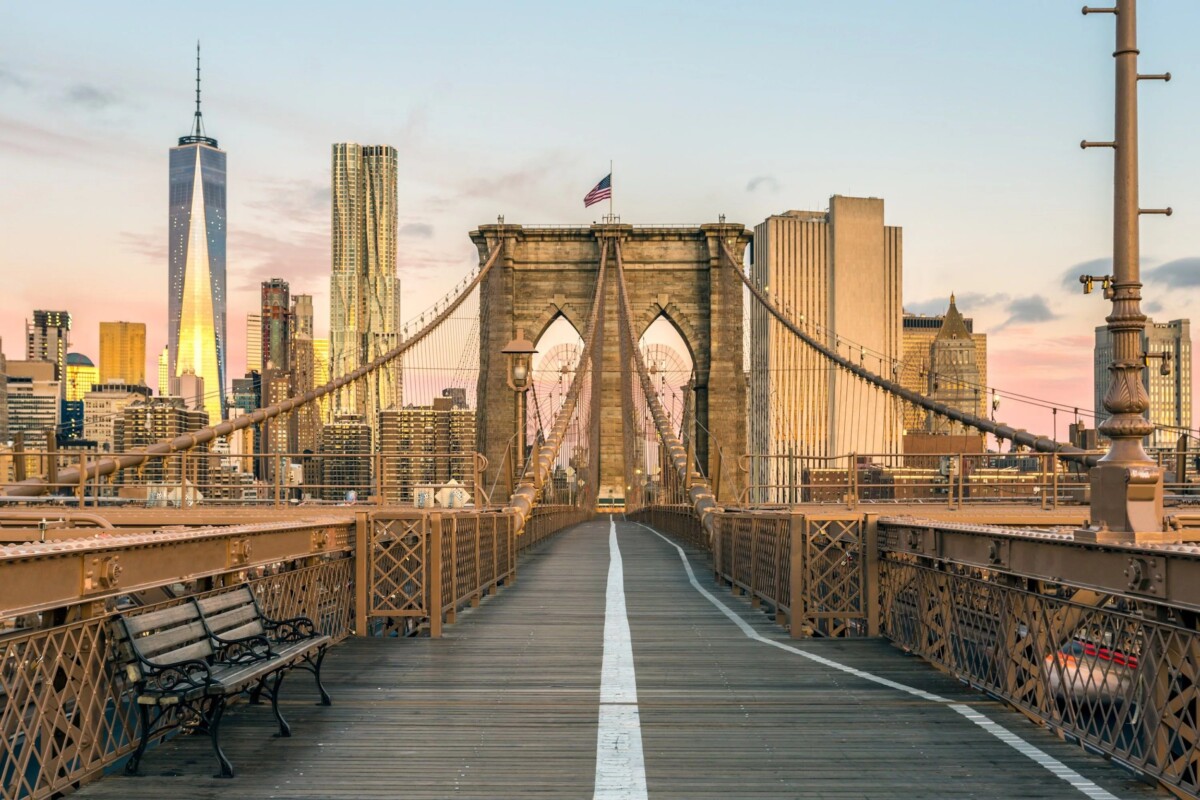 The Brooklyn Bridge was the longest in the world for 20 years until the Williamsburg Bridge was built.
The Statue of Liberty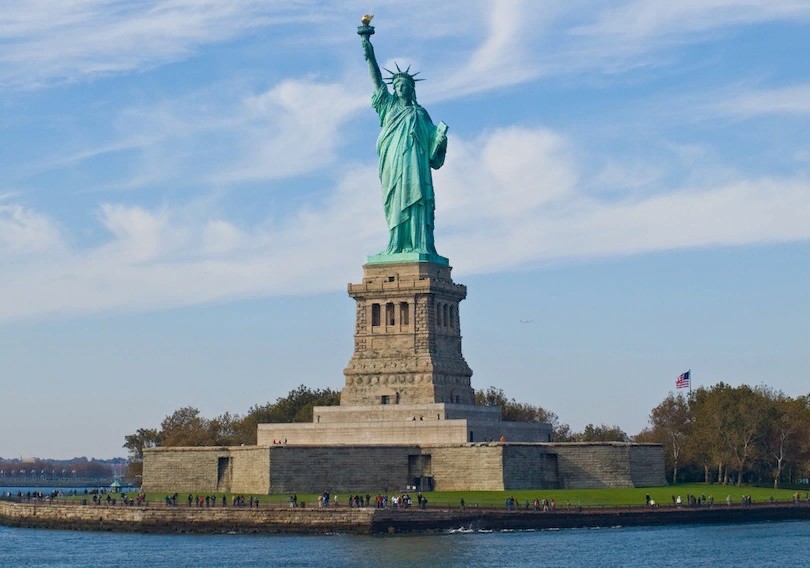 The Statue of Liberty is known as a universal and unique symbol of freedom and democracy.
The Statue of Liberty is one of the greatest American icons and millions of people who come to America desire to behold "Liberty Enlightening the World". A figure of a Roman liberty goddess Libertas was given to America from the people of France as a gift. The woman holds a torch in her right hand while her left one clenches an engraved tablet with July 4, 1776, on it (the date of the U.S. Declaration of Independence). The total height of the statue is 305 feet 1 inch (93 meters).
You can purchase tickets online on the official website. The price varies depending on the place you'd like to reach: pedestal or crown. There are also tickets for the Hard Hat Tour of Ellis Island which are the most expensive ones (Adult Price: $66.25 and Senior (62+): $61.00).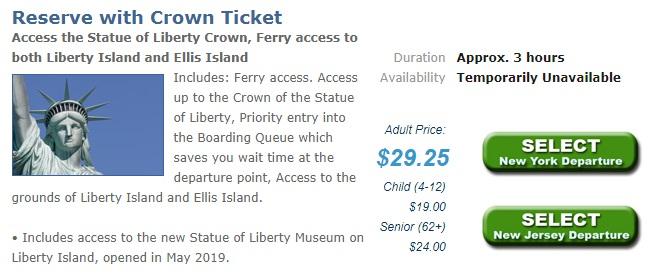 For example, the price for a Crown ticket is $29.26 (Adult Price), $24.00 (Senior), and $19.00 (Child).
Central Park

Central Park receives about 42 million visitors annually and stays open all year.
Central Park is one of the largest and commonly known urban parks in the USA. The park is particularly huge (2.5 miles long or about 4 km) which makes New York a marvelous place for both citizens and travelers.
Central Park is not just a park where you can take a walk and enjoy the landscapes. This place provides a numerous amount of entertainment, and most of them are free: having a picnic or running, watching birds, or taking a boat ride on the lake. Besides, you can do sports there (bicycle riding, horseback riding, swimming, baseball, fishing or ice skating), take yoga and fitness classes, watch concerts in summer, attend different events and holidays, and many more.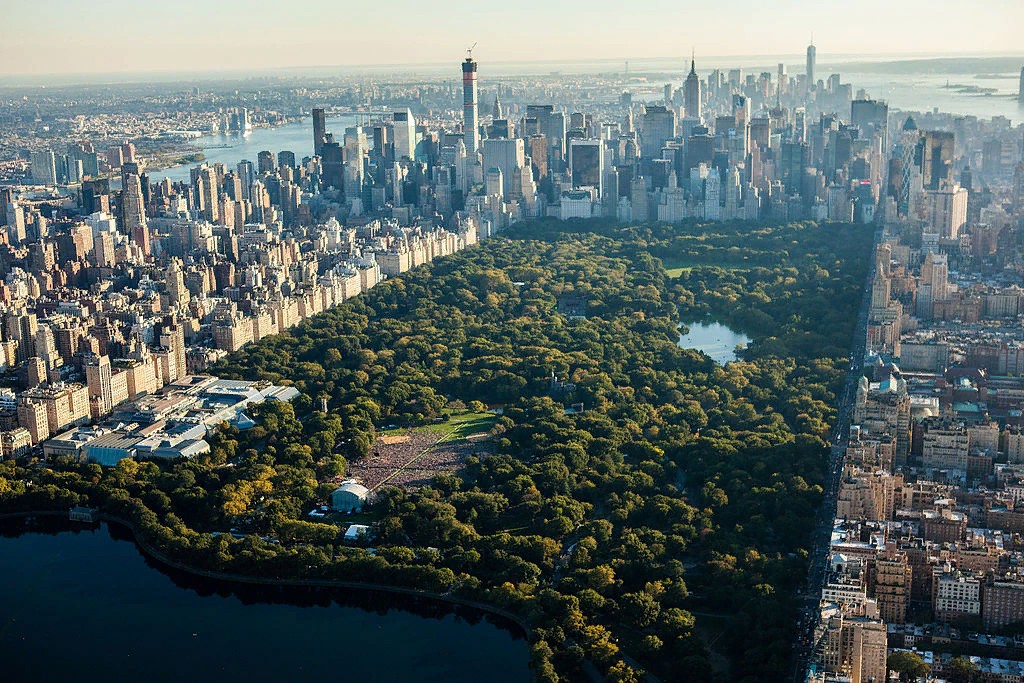 The longest loop you can make without repeating any area is 6.1 miles (9.8 km).
Broadway and Theater District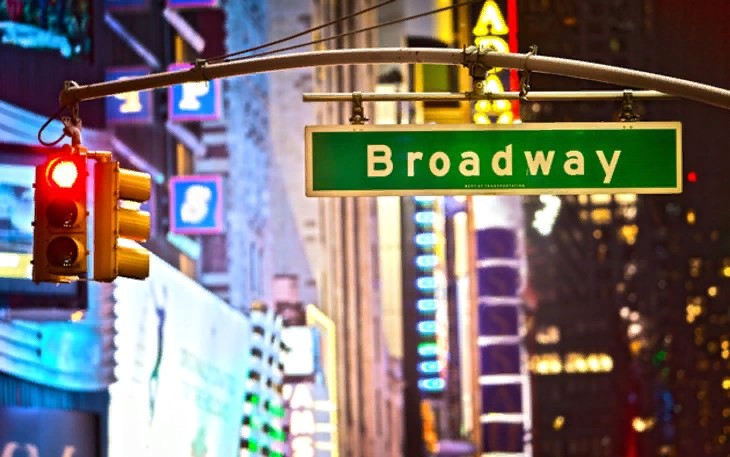 Broadway is the longest route in New York which runs for 33 whole miles.

Broadway Theater, also called Broadway, is one of the most popular tourist attractions in New York. According to The Broadway League's official information, for the 2018–2019 season (which ended May 26, 2019) total participation was 14,768,254 people.
Theatrical performances are generally given in 41 professional theatres located in the Theater District along the road called Broadway, where you can watch the latest shows, eternal classics, various plays, and musicals. If you plan to visit this place, try to purchase tickets ahead because tickets for the most popular performances are likely to be sold out.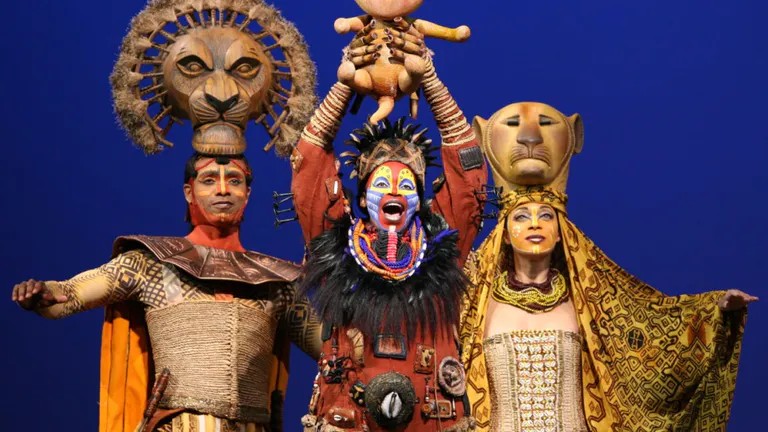 Lion King is the highest-grossing Broadway show: for 20 years of being run on Broadway, it has grossed $1.4 billion.
9/11 Memorial and Museum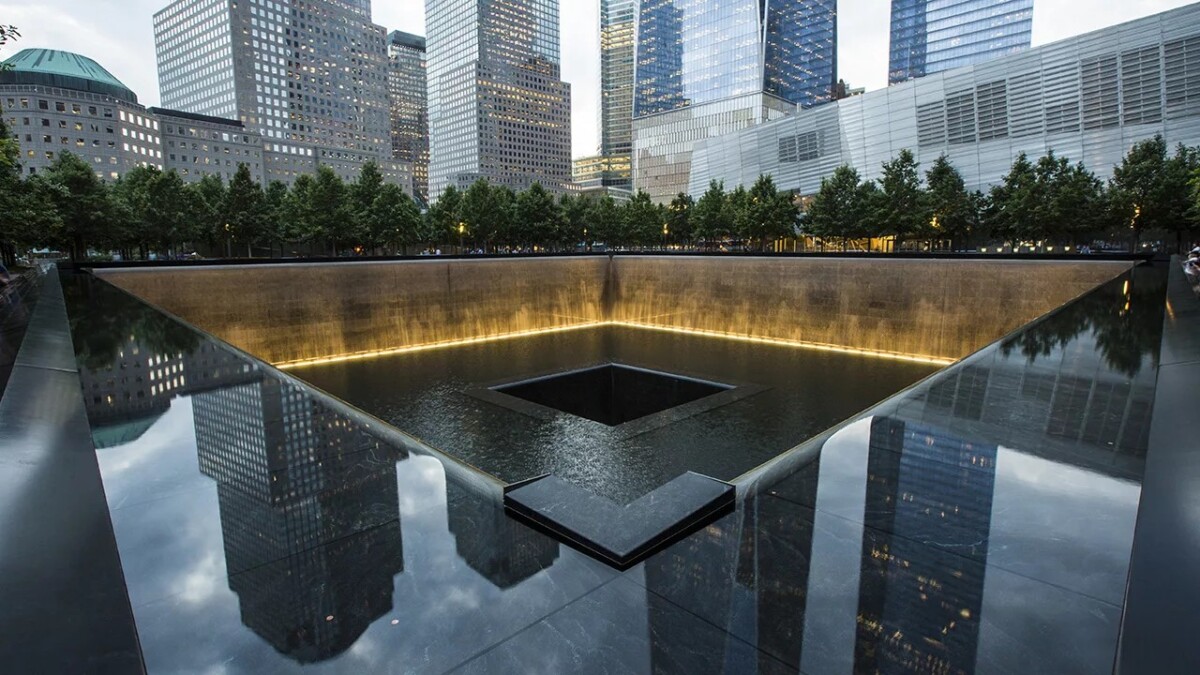 Two big specular square pools with side waterfalls are encircled by the names of the nearly 3,000 victims of the 1993 and 2001 terrorist attacks.
The National September 11 Memorial & Museum was built in honor and memory of the victims who were killed as a result of terrorist attacks on September 11, 2001. The size of both pools is approximately an acre in size and imprints the footprints of the Twin Towers that formerly stood there.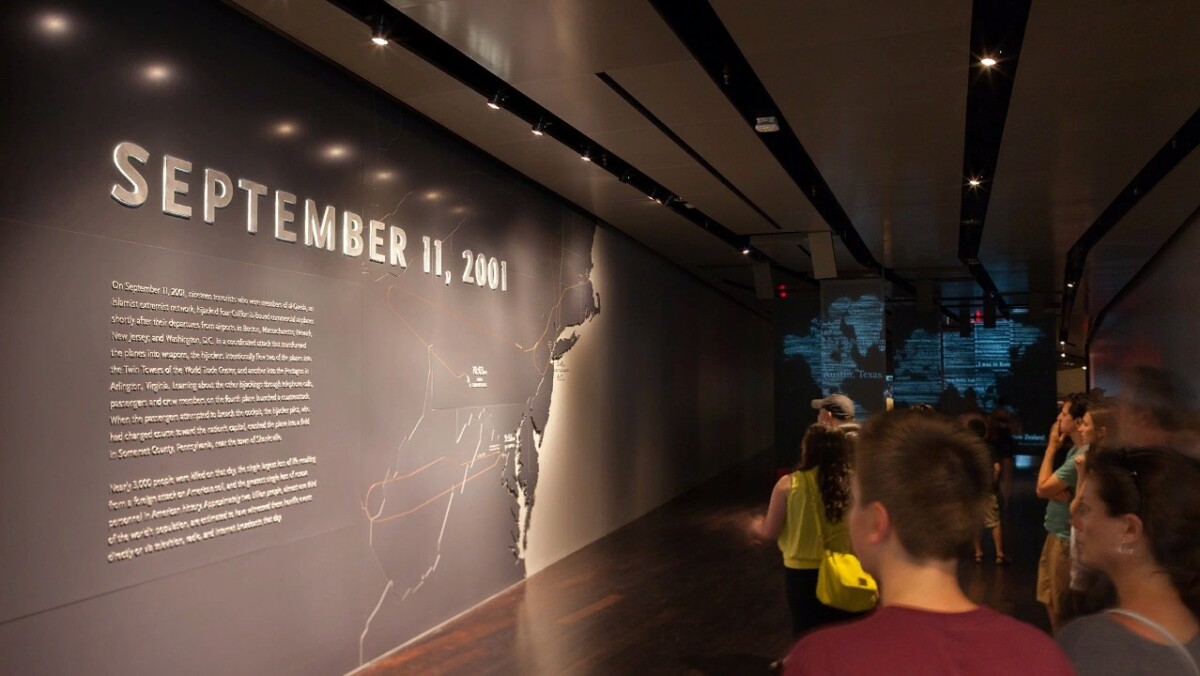 The Museum tells the story of this horrible tragedy through artifacts, imagery, personal stories, and interactive technology.
Times Square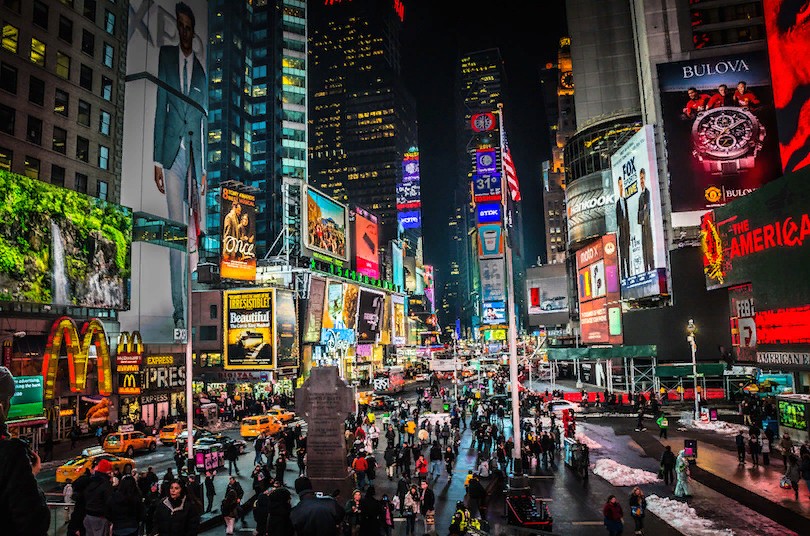 Times Square is a perfect place to go in New York, especially in the evening.
Times Square is a busy and crowded entertainment center in Midtown Manhattan. It is the most-visited tourist attraction in the world. This place has the biggest amount of visitors during New Year's Eve celebration because of the ball drop which signals the start of the upcoming year when the ball descends a specially designed flagpole. Celebrating New Year in such an incredible atmosphere would brighten and make your trip unforgettable.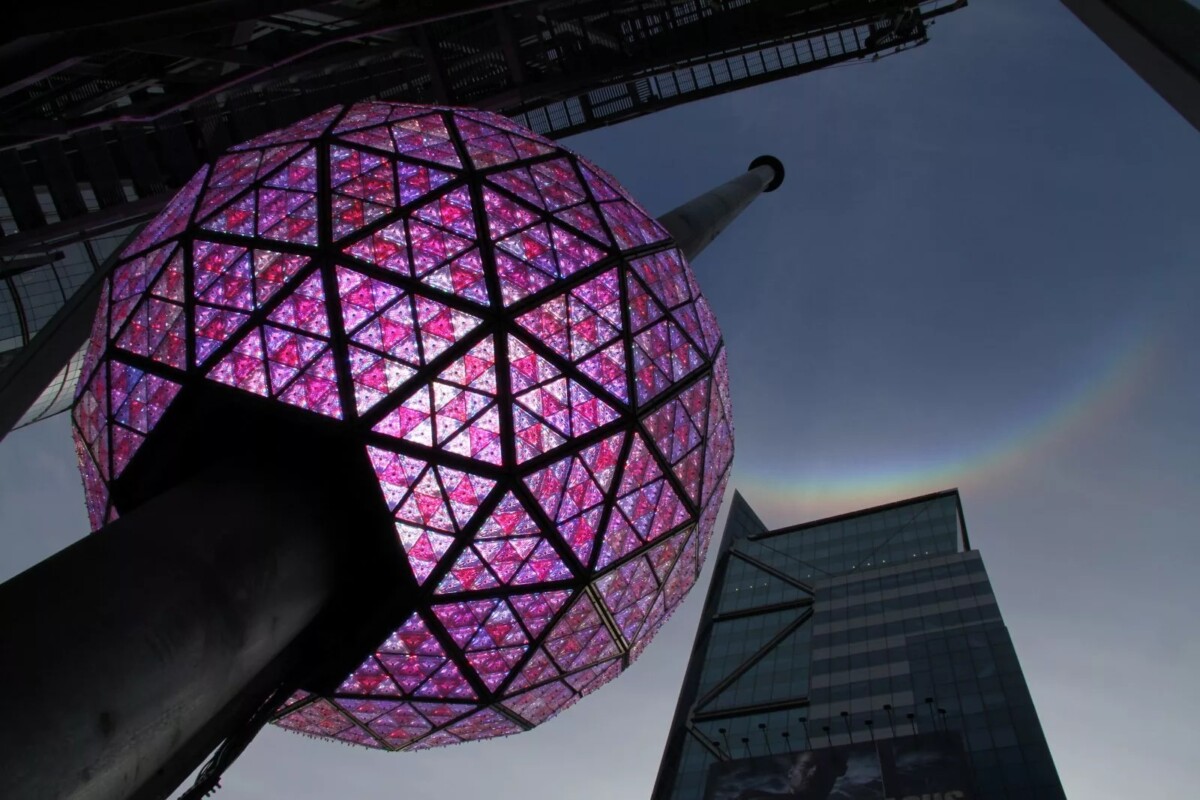 This is what The Times Square Ball looks like. 
Rockefeller Center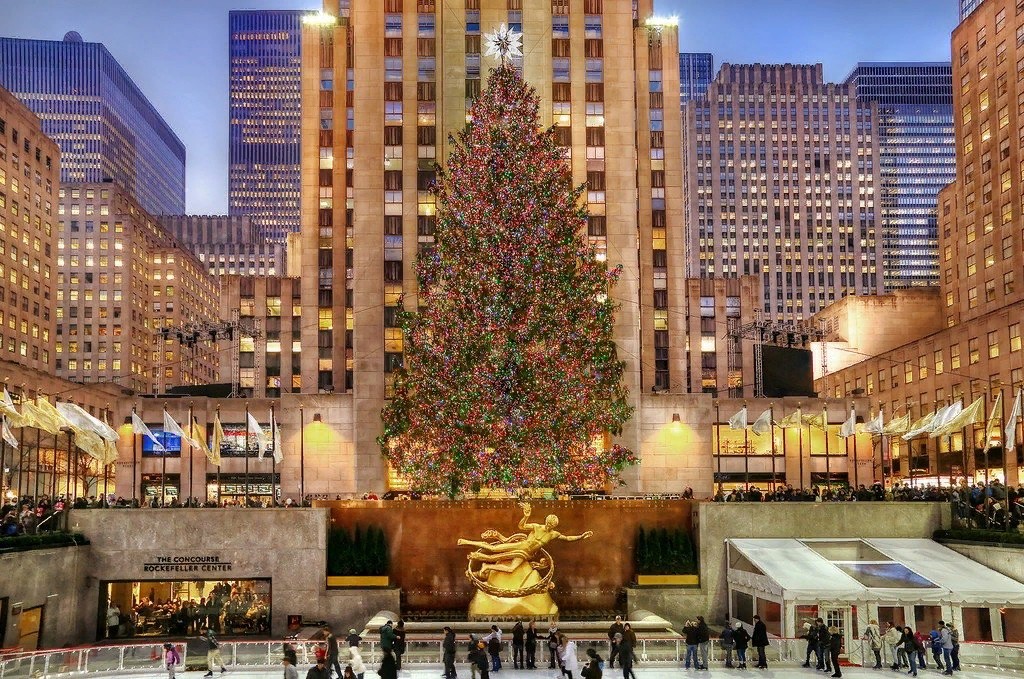 Everybody knows that Rockefeller Center has both: the most gorgeous New York's Christmas tree and a wonderful ice-skating rink.
Rockefeller Center is a complex of 19 buildings which were built by the Rockefeller family. The initiator of this grandiose project was John Rockefeller Jr. who spent on construction unthinkable at that time sum of money ― 125 million dollars. More than 40 thousand builders, designers, and architects, including famous architect Raymond Hood, worked together on the task.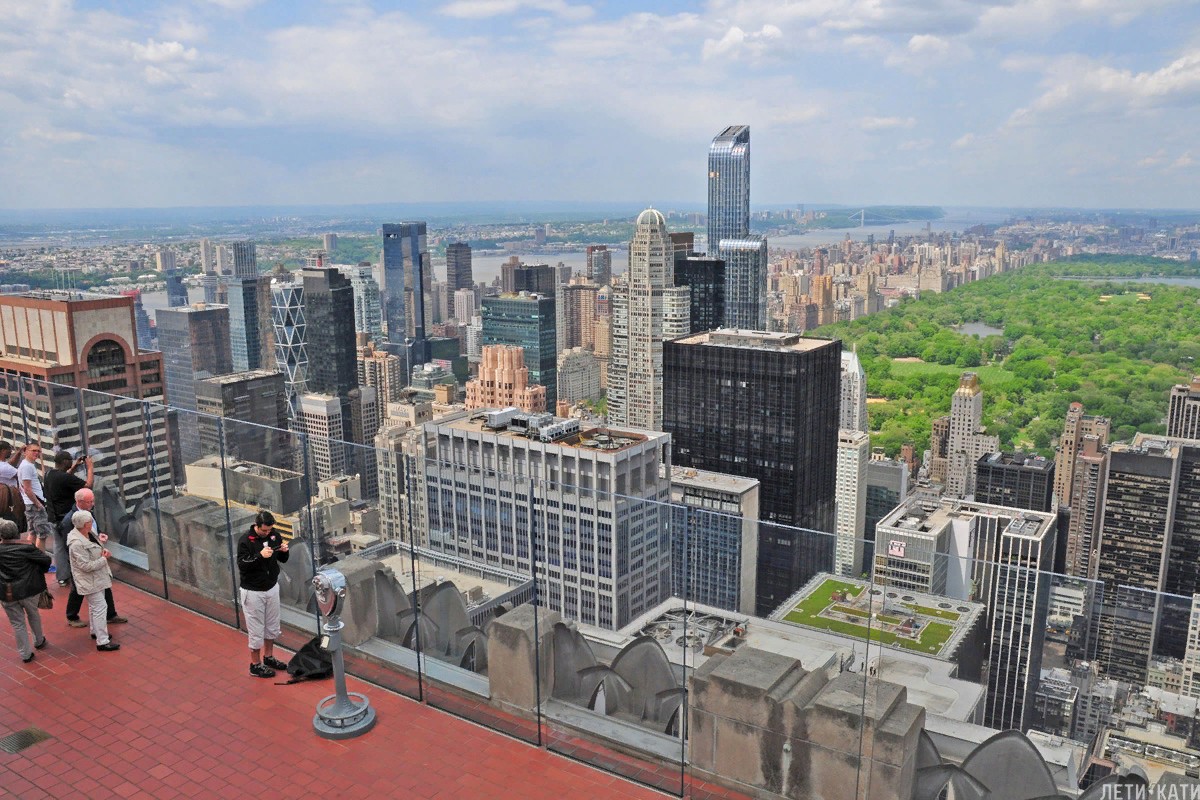 The observation platform in Rockefeller Center is considered to be one of the best spots to look at the city from above. It is located in the main building.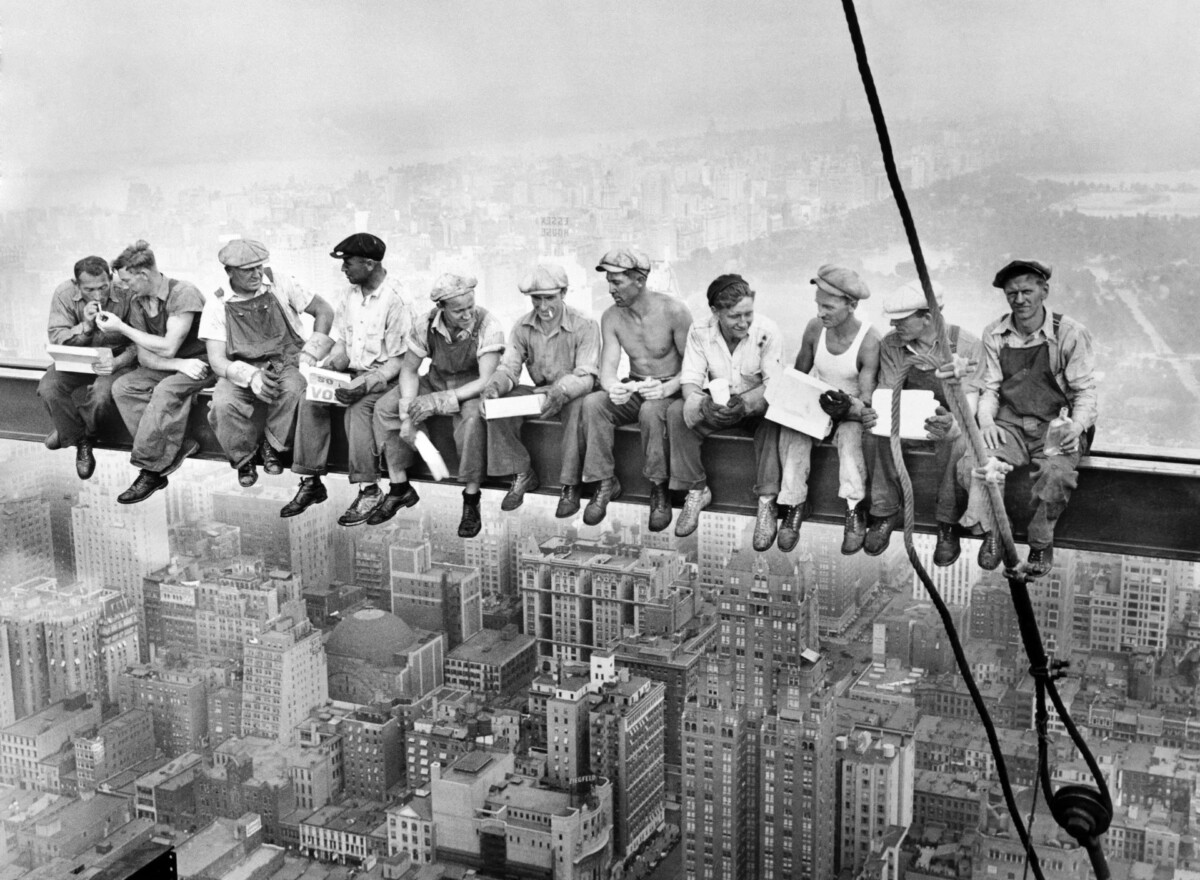 A photograph of 11 men having lunch taken during the construction of the Rockefeller Center. It's also known as "Lunch atop a skyscraper".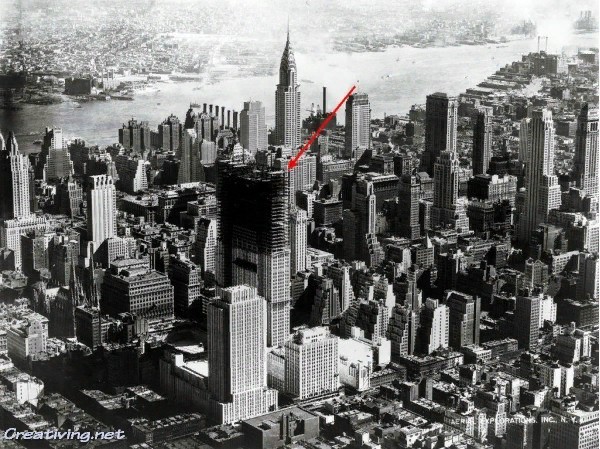 Here you can see the crazy height they were sitting at ― 840 feet (260 meters).
Fifth Avenue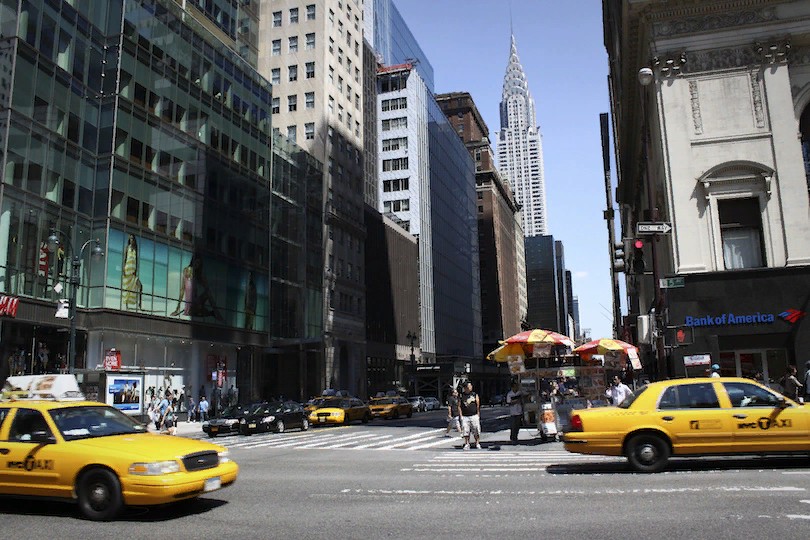 If you are a big fan of shopping and luxury, then you should visit Fifth Avenue. It is one of the most expensive streets in America, where many top designers have their stores: Cartier, Tiffany & Co, Gucci, Prada, Dior, and others. Even non-shoppers can enjoy their time and walk there.
New York Public Library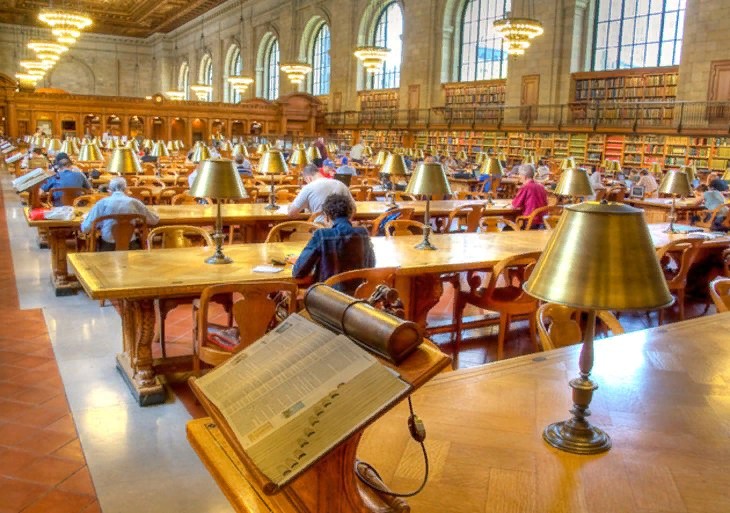 An enormous public library with its huge rooms and a collection of around 53 million items. It is the second-largest library in the United States (the first one is called the Library of Congress which is located in Washington, D.C.). New York Public Library is the main branch, the other branches are situated in the boroughs of Manhattan, the Bronx, Staten Island, and the New York metropolitan area.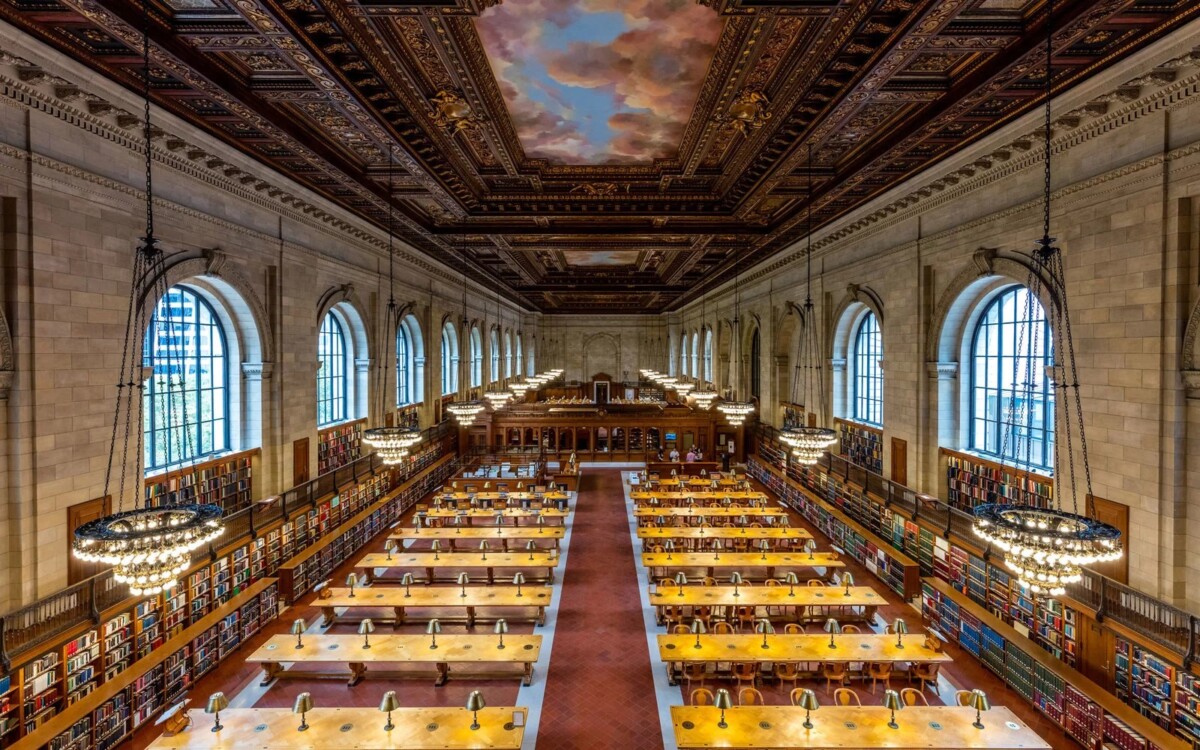 The library is so big that only the Main Reading Room alone stretches two city blocks.
Wall Street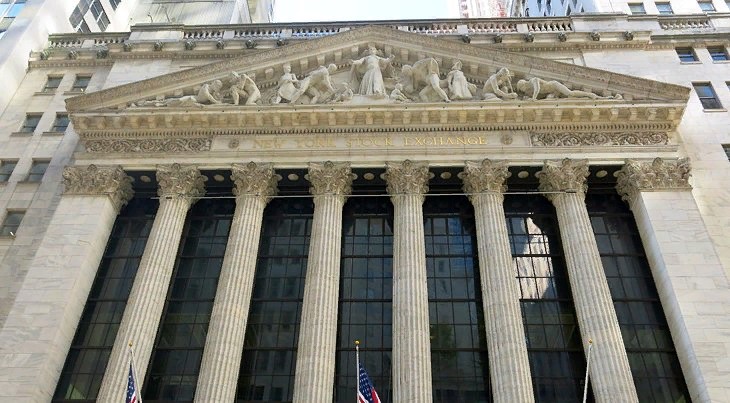 Wall Street is located in the heart of New York City's Financial District.
Wall Street is a small narrow street in Lower Manhattan (or Downtown Manhattan). It runs between Broadway and the East River. Moreover, it's one of the oldest streets in New York. This place has many interesting sights to see which are certainly worth a visit: Trinity Church, Bank of New York, New York Stock Exchange, The Trump Building, Deutsche Bank, and many more. Come here, especially if you're interested or related to finances, economics, or the banking industry.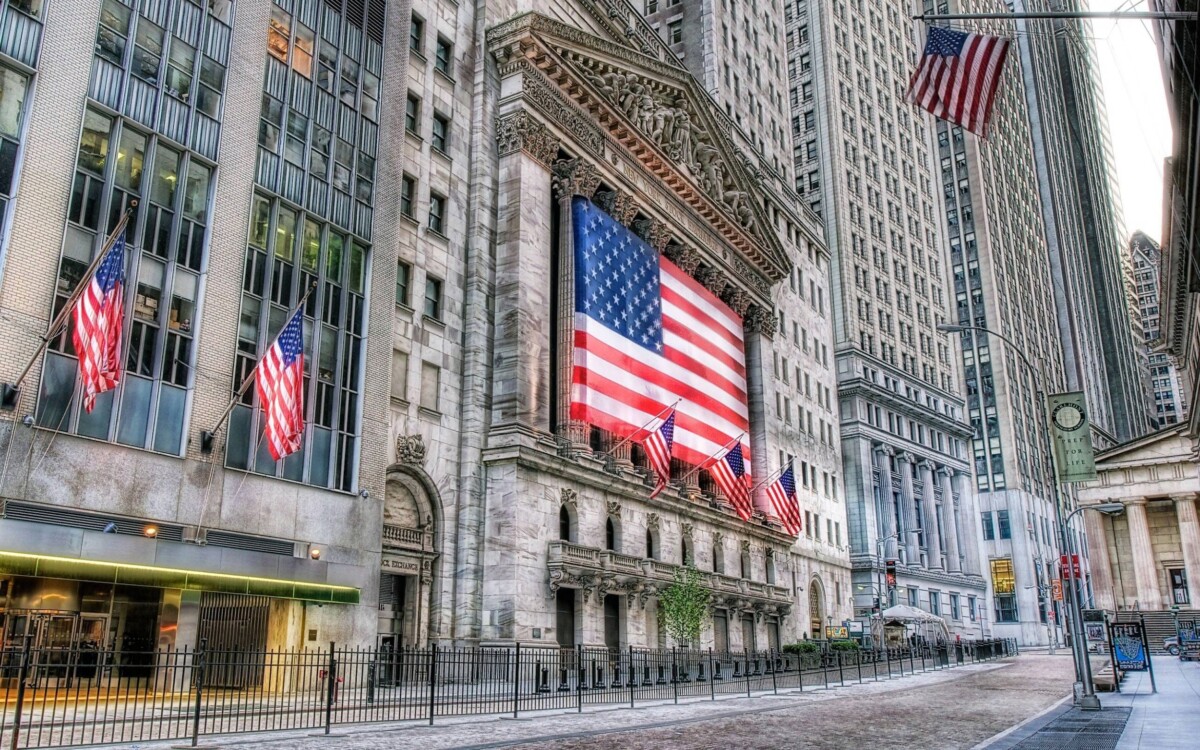 Come here, especially if you're interested in or related to finance, economics or banking industry.
The Metropolitan Museum of Art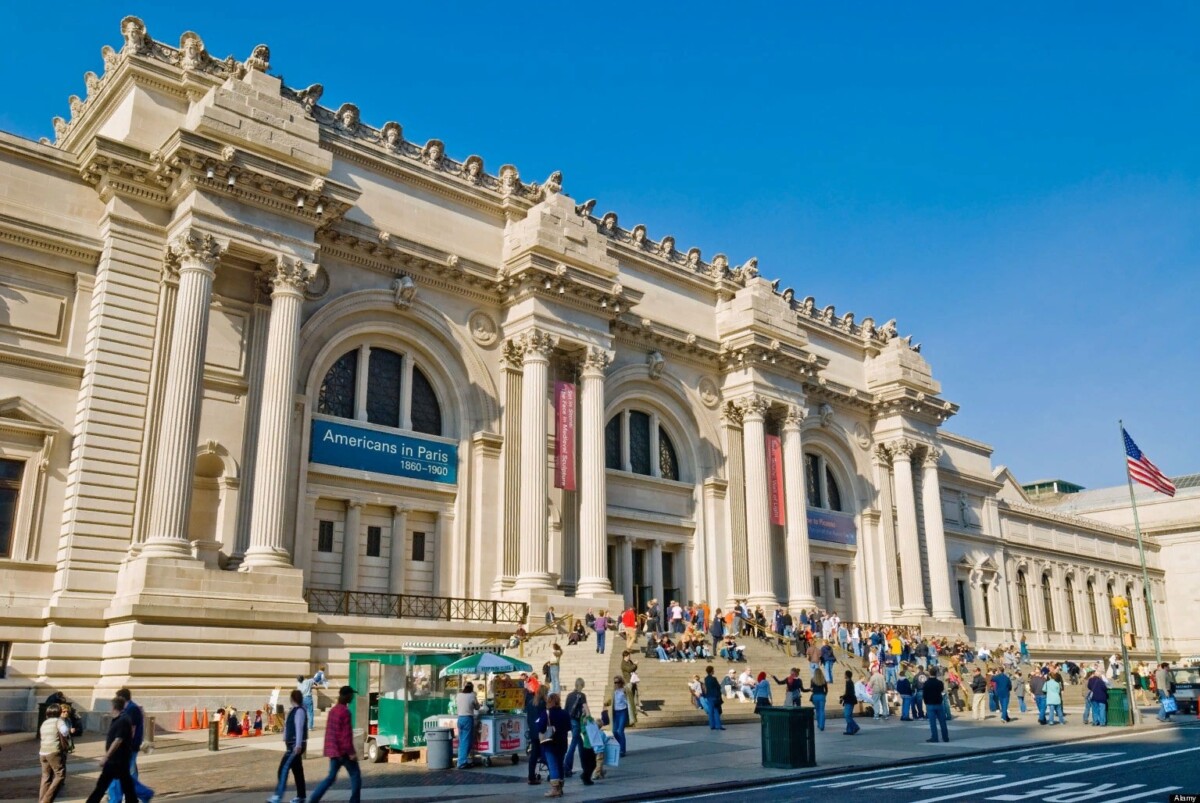 In 2019 "The Met" was the fourth most visited art museum in the world (with 6,479,548 visitors to its three locations).
The Metropolitan Museum of Art (or also called "the Met"), known to be the greatest and most illustrious art museum in America, was founded in 1870. If you want to visit the museum peacefully and without any rush, the best option is to get a VIP Tour. It allows you to see the museum with just 25 people before opening it to the general public. The collection includes Egyptian art, arms and armor, photographs, musical instruments, costumes, and much more world's famous exhibitions.
Radio City Music Hall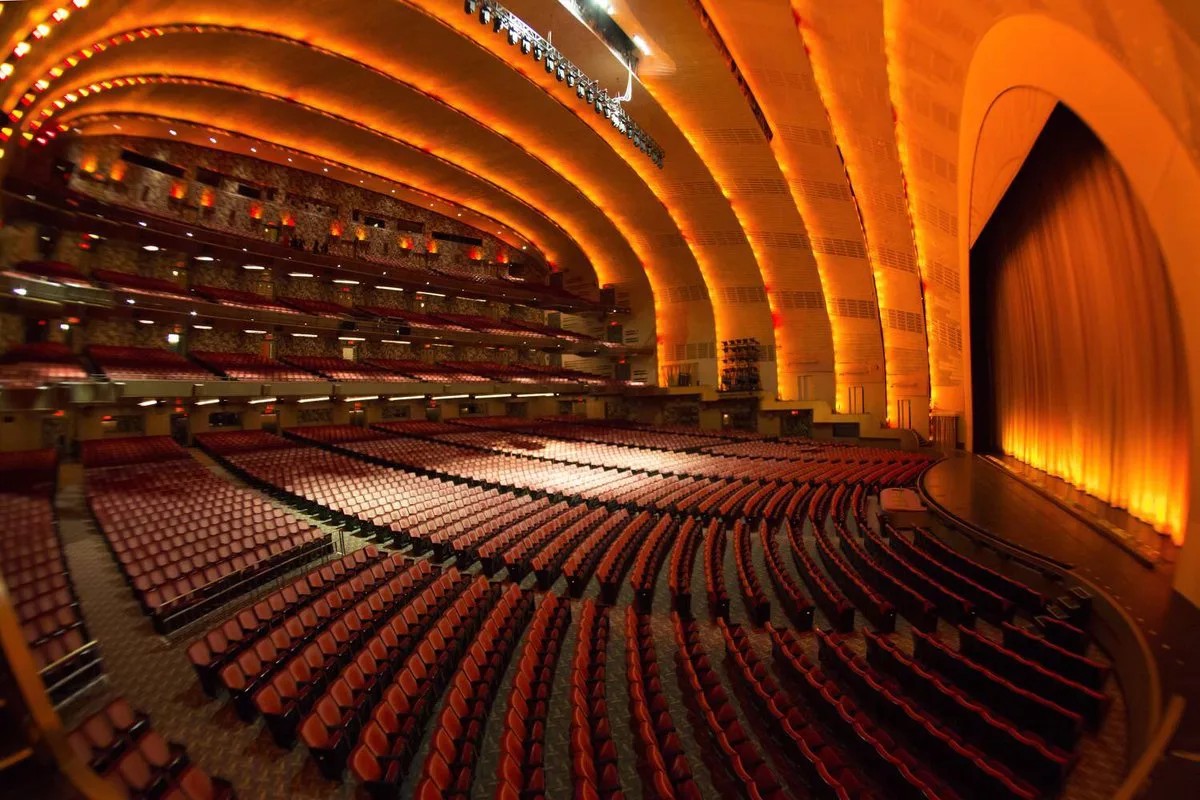 By the way, the gold sparkling stage curtain, which usually covers the Big Stage, is the largest in the world.

Radio City Music Hall is a theater and concert hall within Rockefeller Center. On the stage of this tourist attraction are held many concerts, movie premieres, and theatrical performances such as musicals, ballets, operas, and more. The design is completed in Art Deco style which will be quite a nice sight for you to behold. Just imagine: more than 300 million people have come to this place to enjoy stage shows and have a great time watching concerts, movies, and special events, so you should certainly pay a visit to Radio City Music Hall one day.
Carnegie Hall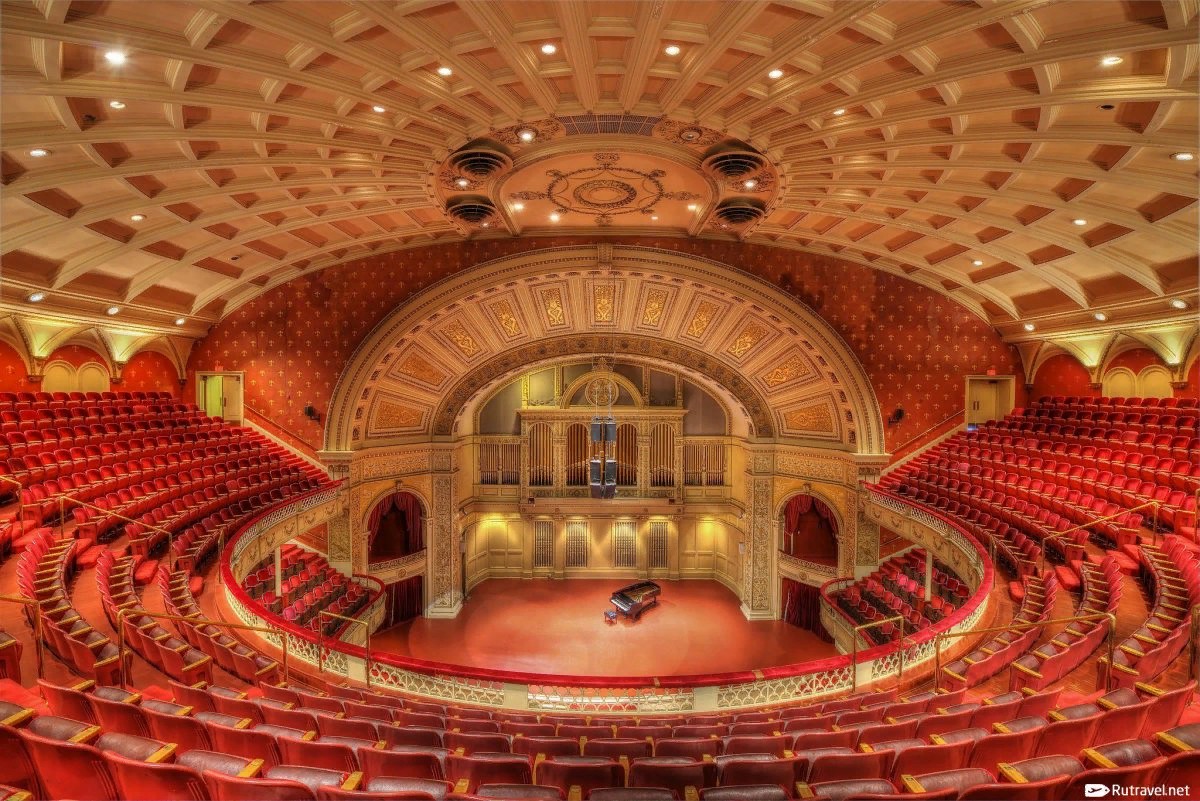 Carnegie Hall has 3,671 seats divided into three auditoriums.
Carnegie Hall, the first great concert hall in New York, was opened in 1891. It was built by philanthropist and businessman Andrew Carnegie who was one of the richest people in the world. Carnegie Hall is one of the most prestigious venues for performing classical music. However, popular music is also performed here. The best way to enjoy the hall is to watch the performance and the best way to learn more about it is to take a guided tour where you'll have a comprehensive and complete look at the building.
Washington Square Park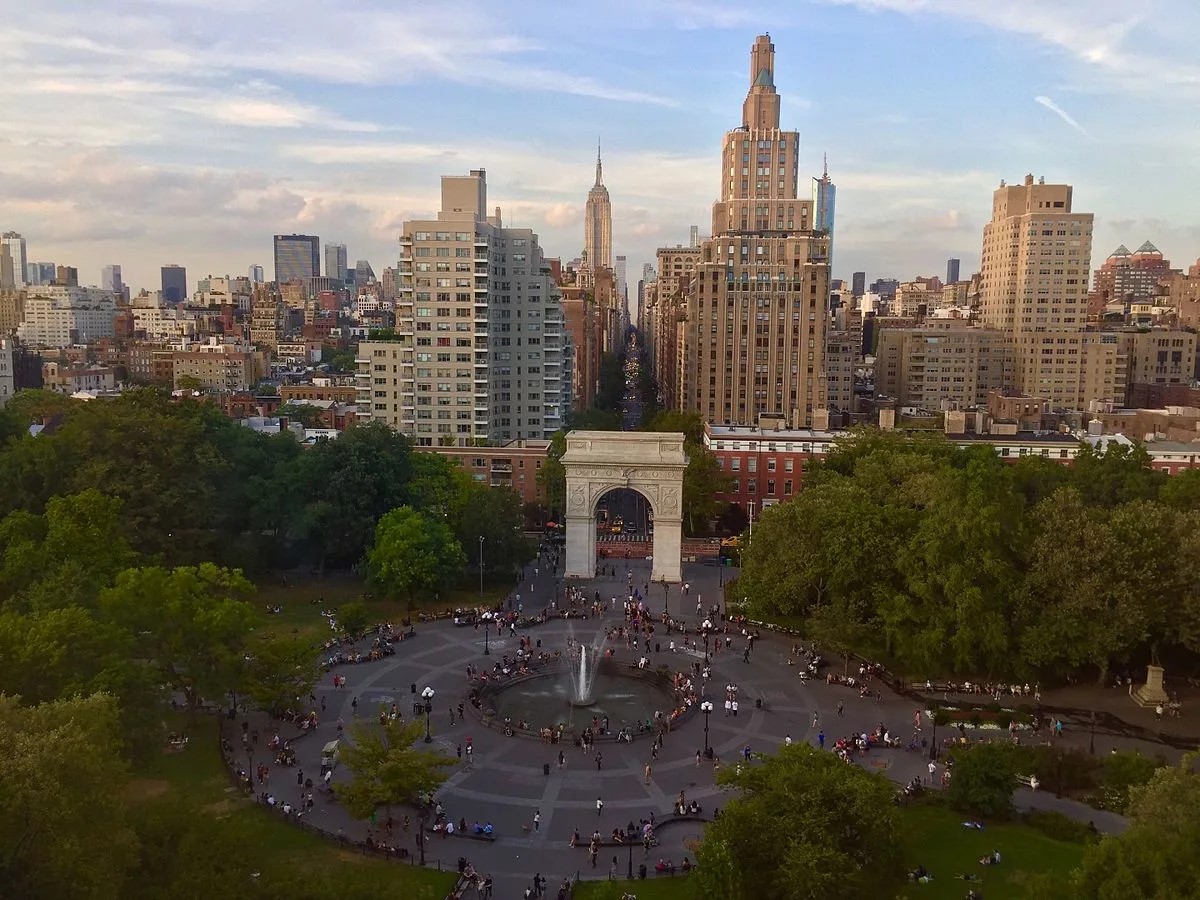 Presently the park is visited by around 12 million people each year.
A public park in Greenwich Village is becoming increasingly popular among both citizens and tourists. In previous years there used to be a swamp on this spot, where the river called Minetta Creek flowed. Also, a Native American village known as Sapokanican or "Tobacco Field" was settled nearby. Locals come here to relax, sit on the benches while drinking coffee or reading a book. If you're traveling with a dog, then you should check out the dog run and if with kids: there are two excellent playgrounds for them.
American Museum of Natural History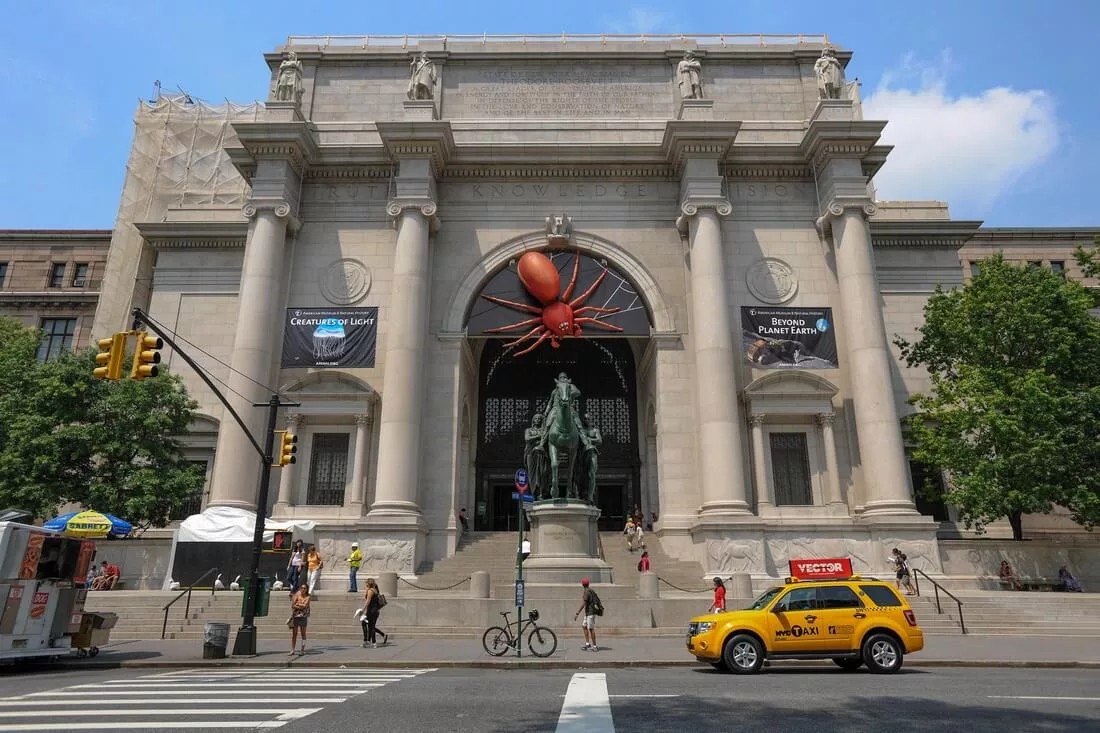 The museum has more than 33 million items in its collection.
American Museum of Natural History is one of the largest natural history museums in the world where you can explore the natural world, get knowledge about human beings, and learn a few things you never knew before. Here you can spend the whole day looking at the animals that hail from North America, Asia, or Africa, study the human species like an anthropologist, or walk in the halls dedicated to different cultures of American Indians.
The Museum of Modern Art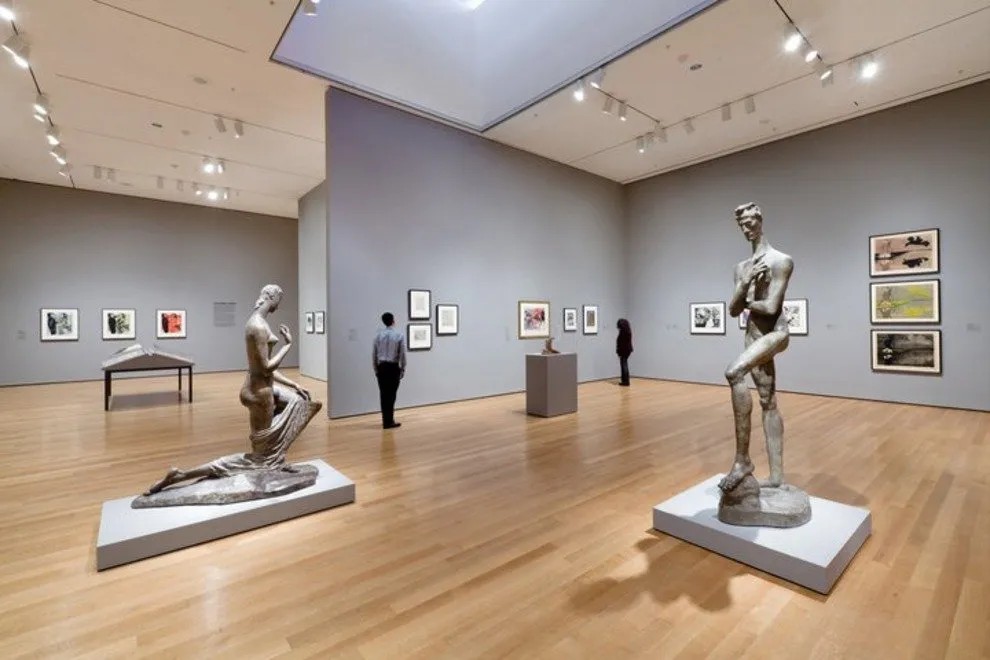 The museum's fine arts collection, perhaps, is the most meaningful and crucial
in the world because it contains an array of masterpieces created by Vincent Van Gogh, Pablo Picasso, Andy Warhol, Francis Bacon, and others.
MoMA (The Museum of Modern Art), a modern art museum situated in Midtown Manhattan, plays a principal role in collecting and conserving modern art masterpieces. It presents a collection of modern and contemporary art, including design, photography, painting, architecture, sculpture, and drawing works.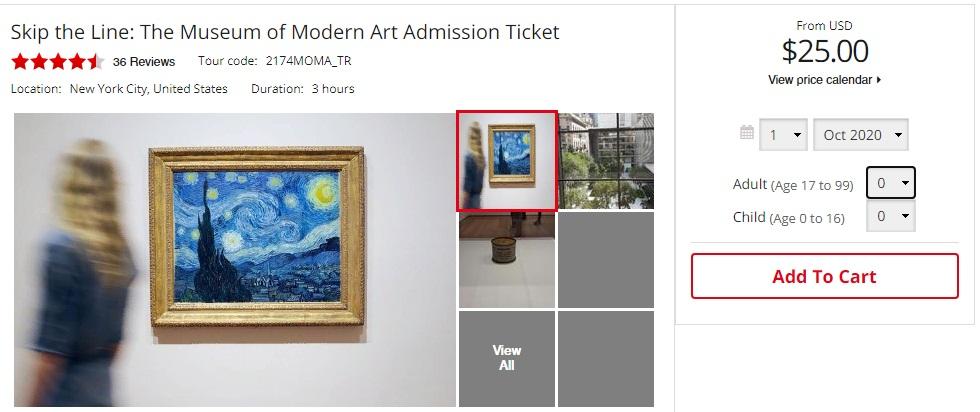 Tickets can be bought online. The price per one is $25.
Grand Central Terminal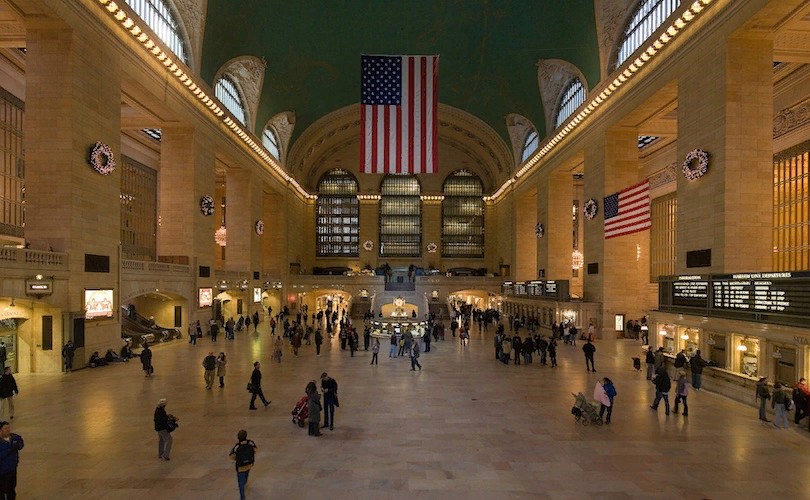 It's not only one of America's known transportation hubs and landmarks, but also a great example of restoration.
Grand Central Terminal is the oldest and most renowned commuter rail terminal. One of the country's great architectural achievements is well-known for being a place of thousands of people meeting each other. This place wasn't always that luxurious and noticeable. Since 1871 it has been just an ordinary railway station where three branches met. However, in 1913 it was completely reconstructed.
Lincoln Center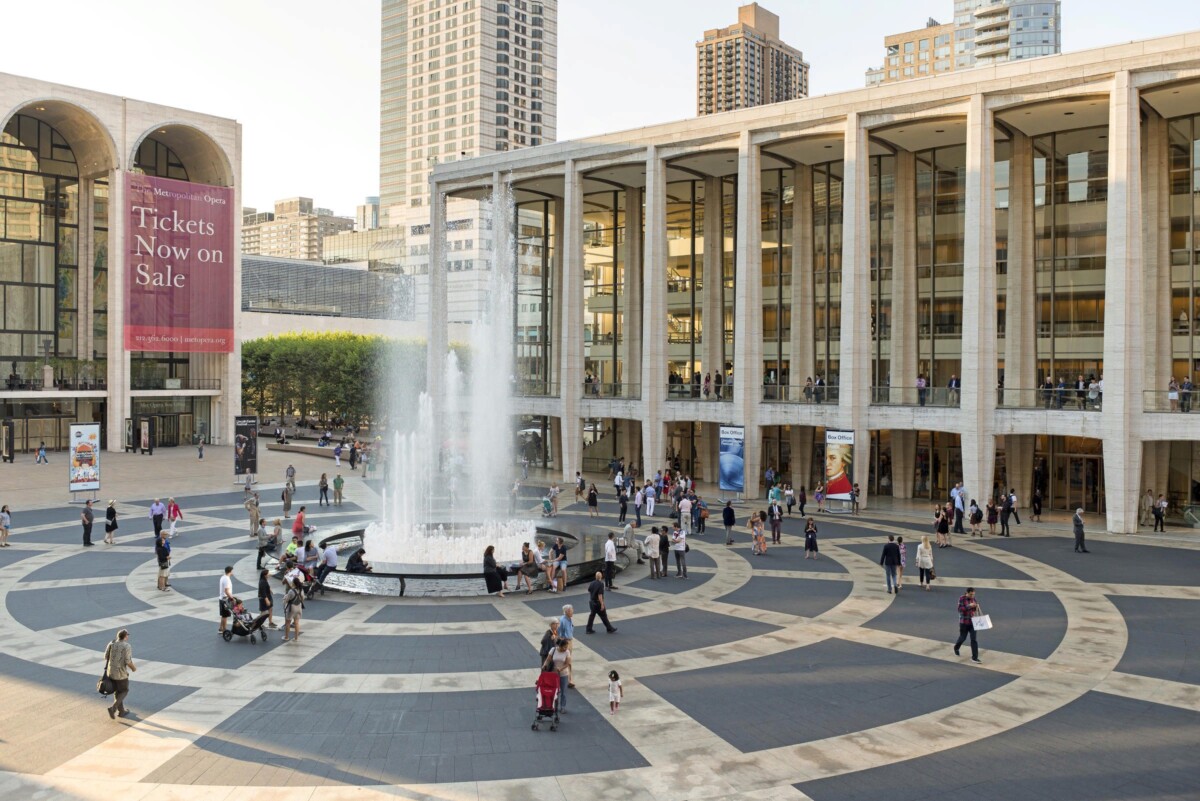 Every summer Lincoln Center holds an inimitable Lincoln Center Festival.
Lincoln Center is the biggest cultural center in the world named after the 16th president of America, Abraham Lincoln. It consists of 12 buildings where a variety of public cultural and educational events are held. Here you can find concert halls, opera and drama theaters, cinema centers, etc.
One World Trade Center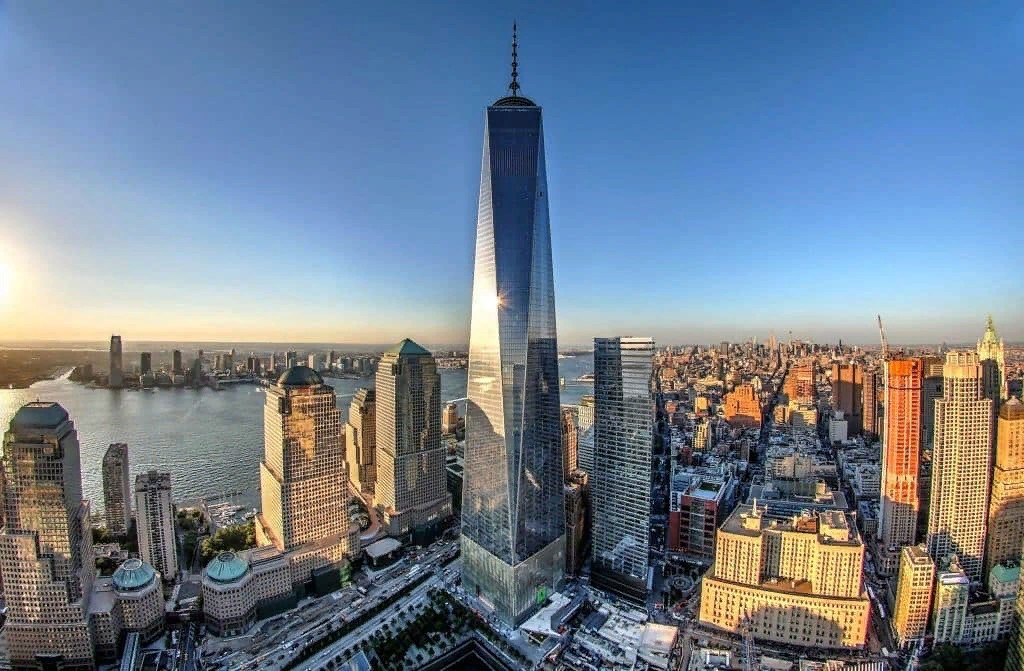 The official height of One World Trade Center is 1776 feet (541 meters).
One World Trade Center (or Freedom Tower) is the tallest skyscraper in New York City. It has the same name as the North Tower which was destroyed on September 11, 2001. It's a nice spot to enjoy sunset cocktails and appreciate the heart-stopping view of the whole city.
Like us on Facebook for more stories like this: