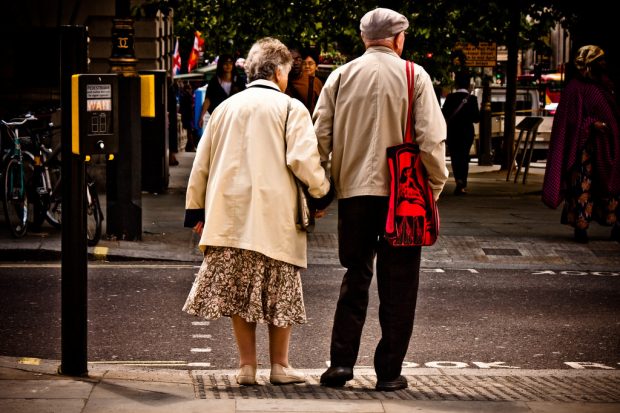 Photo via Flickr cc

Anyone who moves to New York today in order to settle down in this city must be rich. It used to be different. And they still exist, the original New Yorkers, in their charmingly overcrowded apartments.
The Wonderful Life of an Ordinary Person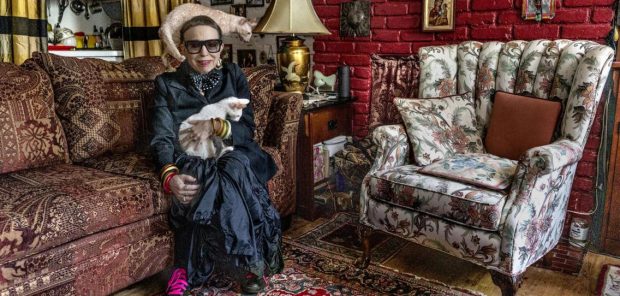 With a blood-red fireplace: X Baszewska in her apartment on First Avenue
Source: © Sally Davies
She came to New York City by train. The all-rounder X Baszewska was six weeks old and was lying in a laundry basket that her mother had converted into a transport cot. About 60 years later, the petite lady with a short monk's haircut, large sunglasses on her nose, and a white cat on her lap sits on her sofa and smiles at the photographer Sally Davies.
A lot has happened in the meantime. Baszewska has worked as a performance artist, art director, and musician and moved into an apartment on First Avenue in 1989, where she has lived ever since.
READ: Valentine's Day in New York 2022: What to do in New York on Valentine's Day
A chair with floral upholstery stands in front of the blood-red brick wall of the fireplace. Framed pictures, photos, a doll's head, and behind a luxuriously shimmering, yellow and black striped curtain: a kitchenette.
It doesn't matter that the apartment looks like a shoebox, as long as it has a front door that opens onto the streets of New York. This is the relationship that the 92 protagonists portrayed by Sally Davies for her photo book "New Yorkers" have to their home. Very few came to put down roots and ended up staying. Often in exactly the apartment, they could afford in the 1980s, when downtown was still "cheap and dangerous".
For Davies, the photo project felt like the end of an era. "My book gives a glimpse into the lives of ordinary, wonderful New Yorkers who are still here," says the 64-year-old. "Unfortunately, people who are still moving to New York today and won't be staying for 40 years. Only the rich can afford that, and eventually, we'll have a city full of rich people. The city with just one type of person is pretty dull."
READ: Peter Bogdanovich: The Legend that Was Born in New York
And as much as they complain – about too much or too little dirt, noise – nobody wants to leave it. This contradiction is part of being a New Yorker. "It's a hard place to live, but is a harder place to leave", says Kate Maxwell on page 90, in 1980 with a One-way ticket came from Australia.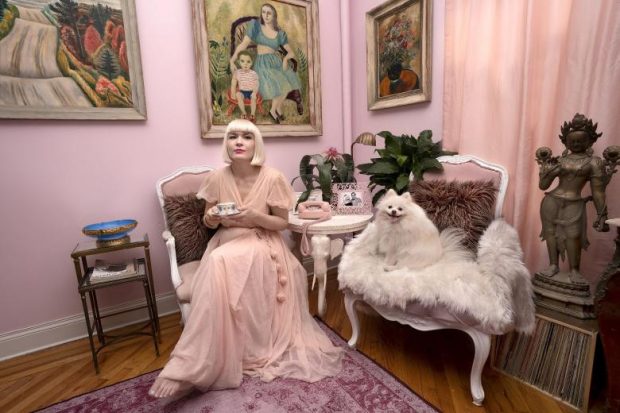 Marina Press Granger, with her dog Odette, has furnished her East Village apartment like a nostalgic powder compact.
Source: ©March 2019 Sally Davies NYC All rights reserved
You Can Love It Or Hate It
Usually, people are marginalized in Sally Davies' photography. She's a street photographer and has been documenting the city since she took a camera when she walked her dog 35 years ago.
The native Canadian finds the night particularly appealing. Then when the colors of the neon lettering and billboards determine the dramaturgy. "You either fall in love with the moonlight on the garbage bag, or you hate it and move on," curator Stuart Horodner quotes her in his foreword.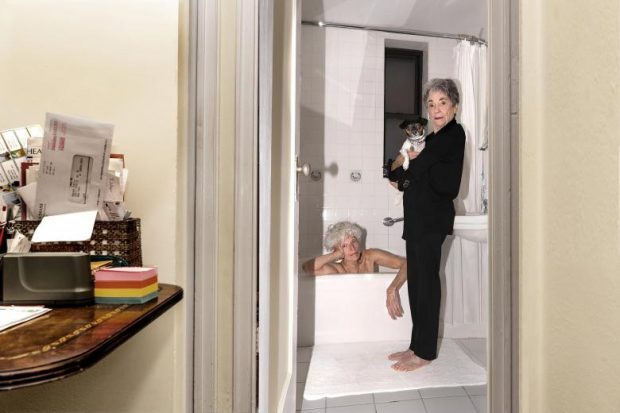 Lois Walden moved in with Margot Harley in her Upper East Side apartment in 1986
Source: ©March 2019 Sally Davies NYC All rights reserved
Davies watched the city change. The shop that she had just photographed was no longer there. The new residents of downtown were wealthy, and with them, even the dog breeds in Tompkins Square Park changed. Two years ago, when some of her paintings were included in the permanent collection of the Museum of the City of New York, things came full circle – the paintings would live on.
She took her Sony A7R 111 with an 18mm lens and spent a year visiting New Yorkers, photographing them, and listening to their stories. Like Lois Walden and Margot Harley, who were born in the same hospital 75 and 85 years, ago and have shared the Upper East Side apartment where Harley has lived.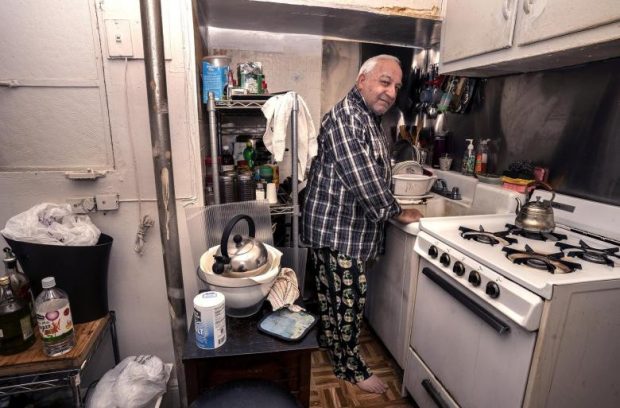 Rachid Alsataf raves about the Chinese and Ukrainian neighbors
Source: ©March 2019 Sally Davies NYC All rights reserved

The Syrian Rachid Alsataf stands barefoot in his pajamas in his kitchen and raves about the tall buildings, the noise, the Chinese, Ukrainian, Greek neighbors: "I love the big city because I come from a small village."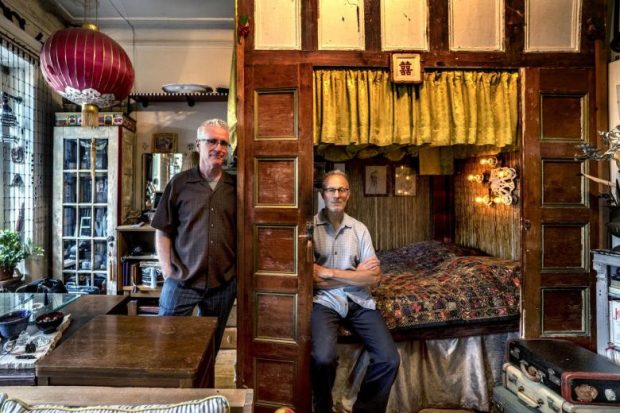 One couple, two apartments: Sam Swope and Jim Tryforos have lived in two studio apartments on top of each other on 90th Street on the Upper West Side since 1994
Source: ©March 2019 Sally Davies NYC All rights reserved
The New York housing market itself shapes forms of relationships. When Sam Swope and Jim Tryforos wanted to move in together in 1994, they found two studio apartments on top of each other on 90th Street on the Upper West Side and have lived separately ever since.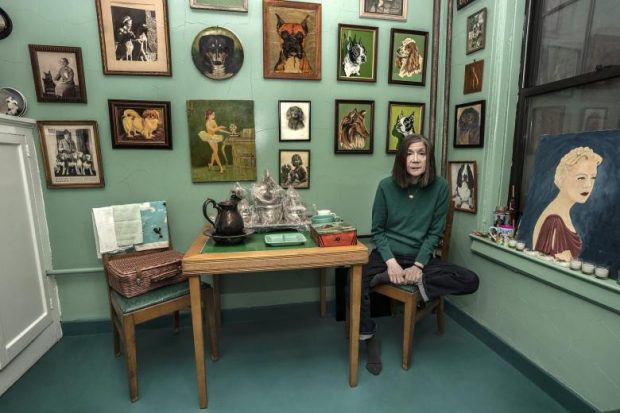 Will only leave her home in a plastic bag: Frances Pilot
Source: ©March 2019 Sally Davies NYC All rights reserved
Most of the artists, taxi drivers, waiters, musicians, or fortune-tellers portrayed by Davies are lucky enough to live in rent-controlled apartments. "Believe me, they're going to carry me out of here in a plastic bag," says Frances Pilot, who moved to New York from Chicago in 1980. The slim woman, who loves dog paintings and the color green, worked as a house painter, gallery assistant, wrote porn, and eventually became a technical writer for medical publications.
Art dealer Gracie Mansion, who takes her name from the mayor's residence, had to vacate her East Village apartment after 39 years when water damage literally dropped the ceiling on her head in 2019. Finding something affordable downtown was impossible, so she moved to the Upper West Side. "Gracie was one of the founders of the East Village art scene. It broke my heart when she was pushed out of the neighborhood," says her friend Davies.
Shortly after the last photo was taken in January 2020, the pandemic closed the doors – until today. "The End of an Era" suddenly took on a new dimension and the visitor's intimate gaze, something precious. Sally Davies does not know anyone in her circle of friends who have left town because of Covid. "Some of us lived through the AIDS crisis and then 9/11. And we are still here."
READ: Al Thuraya Astronomy Center: Interesting World of Science
The City of Immigrants
There are many areas in New York for the compact residence of immigrants from certain countries. Sometimes these areas look like small towns. New York has the largest number of Greeks outside of Greece, the largest number of Chinese outside of China, and probably the largest Russian-speaking community in America. Poles, Indians, Pakistanis… And everyone has their own little world. And everyone has their own habits, their own shops, restaurants, etc.

Sometimes such areas grow and expand for decades, sometimes they die. This is clearly seen in the Poles because when they entered the European Union, their Polish region began to disappear. There was no longer a need for people to leave for the United States because Europe had become open. Poles living in New York began to slowly assimilate. And children born in such areas, as a rule, already become Americans and leave the national areas.
Like us on Facebook for more stories like this: