With the wheelchair in New York City: How barrier-free is New York really? We tested it, the city's sights have expired, and found out if a trip to New York with the wheelchair is feasible.

A city like New York looks at first glance as a great adventure for a wheelchair user. Uneven sidewalks, crowds, staircases, much traffic – but we talked to some wheelchair drivers and we told me several times: "With the wheelchair in New York? Oh that is feasible".
Helpfulness and Understanding
Traveling with handicaps in a city like New York is an experience – our feeling during our previous time in New York is that people who are traveling in wheelchairs in New York are received with a lot of helpfulness and warmth. Apparently insurmountable hurdles, together with the help of the New Yorker and long waiting for sights is often not necessary, as a staff is often pushing an eye.
Even when shopping is accessible by ramps accessible by stairs by ramps for wheelchair users. New York City is very well organized for people with disabilities, the staff on situations with wheelchair users who need help, and the New Yorkers show throughout the understanding.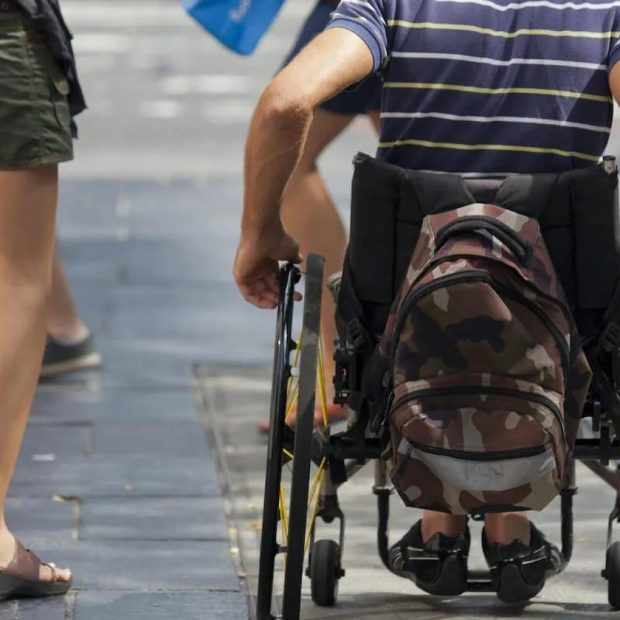 Of course, there will also be wheelchair users who have rather had negative experiences. For this our reader Michael found very apt words on Facebook: "Each of us should be clear that there are restrictions if one is restricted by its disability and additionally needed help. But this must be no reason to do without travel. It's a little luck, what you should enjoy."
The Flight to New York
READ: New York With Children: Tips for Parents
New York travelers who come to New York with a wheelchair should definitely consult the airline in advance because the major airlines offer barrier-free flights. airberlin, for example, offers its passengers with restricted mobility various additional services to make their flight as pleasant as possible. Assistance is also offered at the airport itself so that long waiting times for immigration at the airport in New York are avoided. The airlines ask for information when booking, but no later than 48 hours before departure.
With the Wheelchair to the Hotel
The long flight is over, now it's finally time to go to the hotel. But what is the best way to use a wheelchair in New York? The most relaxed way to travel there is by taxi, the so-called "wheelchair cabs" are also available at the airport. The taxi queue at the airport is managed by staff, just let them know that you need a wheelchair-accessible taxi there. If you have booked a package tour, the tour operator will also help you with this, because the transfer to the hotel is usually included.
The Barrier-Free Hotel Room
When booking a hotel, you should always contact the hotel personally. Many New York travelers in wheelchairs reported that the hotel had not booked a barrier-free room during the booking process and that complications then arose on arrival. Therefore: a short e-mail or a call to the hotel to have the barrier-free room confirmed again is a must.
READ: Truths and Myths About New York: Breaking Down Movie Stereotypes
With a Wheelchair Through New York: Public Transport
We have heard mixed opinions on this subject, many and a clear majority said that getting from A to B in a wheelchair in New York is not a problem – however, some also told me that there could be problems. The important thing is simply to know how it is most uncomplicated.
Here are the tips to make your day in New York with a wheelchair go smoothly:
1. Through the City By Bus

Bus in New York
The MTA buses in New York have retractable ramps that the driver can roll in and out of at any bus stop in the city. Many wheelchair users described this form of public transport as the most uncomplicated. A bus ride often takes a little longer than a subway ride – but there's more to see here, isn't there?
2. Taking a Taxi With a Wheelchair?
Taxi with a wheelchair
This alternative is also frequently used. However, a normal taxi is not suitable for this – New York has created the "Accessible Dispatch" for this. These accessible Yellow Cabs operate exclusively for wheelchair users in New York: there is a 24-hour hotline (646-599-9999) that must be called so that an available accessible taxi can be dispatched to the wheelchair user's location. It is also possible to order a taxi online. You can see how this works here.
However, it is not a sensible idea to move to the side of the road and hail a taxi from there – as is usually the case in New York.
3. The Subway and the Wheelchair: A Problem?
Subway in New York
Driving the subway with a wheelchair is a difficult undertaking. Although many subway stations have elevators, changing trains at the stations often becomes an obstacle, as the platforms are usually only connected by stairs. This also applies if a wheelchair is marked on the plan.
READ: Museum Of The Future: A Glimpse Into the Future is Possible at the Museum Of The Future in Dubai
Hence our recommendation: Only take the subway if you know for sure that you only want to travel from one barrier-free station to the other – you should avoid changing trains. Furthermore, it can get very crowded on the subways, especially at peak times, which is why rush hour (7:00-9:00 a.m. & 3:00-7:00 p.m.) should be avoided. Here is a detailed map of which stations are "wheelchair accessible".
New York in the Evening as a Wheelchair User
Especially in the evenings, it gets really exciting in New York. Broadway shows the greatest musicals every evening, such as The Lion King or Aladdin – the rooftop bars on the roofs of the city invite you to great parties and the city's restaurants should not be missed either.
All currently running Broadway shows have reserved seating for wheelchair users in the lower part of the theater, very far forward, or at the back. When booking, please make sure you select the correct seats.

Rooftop bars opened after 1992 are required by New York law to be wheelchair accessible. A tip from me is 230 Fifth Avenue – it is the most popular, largest, and probably the one with the best view of the Empire State Building – and is also barrier-free. If you are not sure whether a bar is suitable for "wheelchairs", it is best to check the website or give us a quick call – this way you do not risk disappointment about, for example, insurmountable stairs.
The restaurants in New York are excellent, the choice limitless. However, are they also barrier-free? The same applies here as with the rooftop bars – if you are unsure, check the website or call the restaurant beforehand. Table reservations are an advantage in New York anyway.
Wheelchair and Sightseeing Passes
Up to 80 attractions and tours are included with New York sightseeing passes. Almost all of them are barrier-free and can also be used by New York travelers with a handicap without any problems. You can find more about this here:
Unfortunately, most pass providers do not offer special discounts for wheelchair users or people with walking disabilities. This is because the passes already come with a big discount. However, if you are interested in Sightseeing Pass NYC, contact customer service and describe your case. Sightseeing Pass NYC makes decisions about discounts individually. So there is a chance!
Like us on Facebook for more stories like this: