Those who would like to go out New York-style can't avoid the Lower East Side and the countless bars in the area. The hippest spots are lined up next door and you can find everything from chic cocktail bars to casual karaoke bars and underground clubs where people dance to electronic music. As always, we were on the road for you and have put together our top Lower East Side bars where you can go out like a real New Yorker.

The special thing about Lower East Side nightlife is that almost all bars have a dance floor. The top bars of the Lower East Side offer a cool mix of live music, concerts, DJ performances, and "clubbing". The Lower East Side stands for an unconventional nightlife and is, therefore, a paradise for "barhoppers" and a real insider tip, because you will also meet many locals in the district.
READ: Grimaldi's Pizza in Brooklyn New York: The Best Pizza in New York City?
Pianos
158 Ludlow St., New York, NY 10002
This bar actually got its name because it used to sell pianos there. Today, Pianos is primarily a popular venue for live music and concerts under $10. The bar offers something for every musical taste as there are two floors with different events every day. Great for drinks with friends during the week or a great concert to discover new music!
No Fun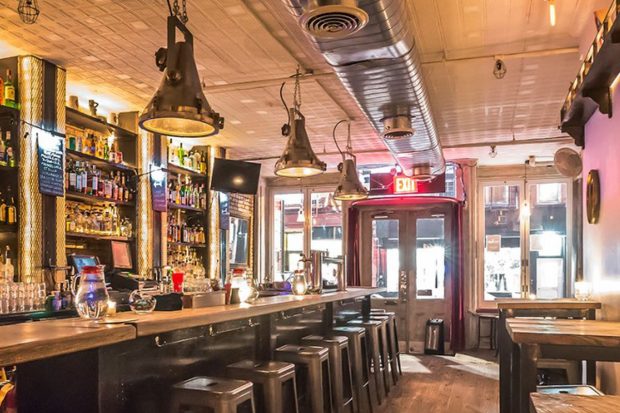 161 Ludlow St, New York, NY 10002
Contrary to the name of the bar, this is probably where we had the most fun while we were out in New York on a Saturday night. No Fun offers everything your heart desires, whether classic cocktails or crazy drinks, the best Mexican dishes on the Lower East Side, and a relaxed atmosphere. The dance floor at the back of the bar is always packed and the music never slows down. Perfect for going out at the weekend!
READ: The 10 Most Beautiful Bars in New York: Really Cool and Great Bars from Manhattan to Queens
Sons of Essex
133 Essex St New York, NY 10002
You can come to this bar for brunch, dinner, or cocktails – but no matter what time it is, the party atmosphere is always there. DJs mainly play old-school hip hop here and Sons of Essex reflects the multicultural side of the Lower East Side bars in particular for us.
Los Feliz
109 Ludlow St., New York, NY 10002
Also in this bar, you can find Mexican cuisine and exclusive drinks; among other things, Los Feliz is particularly popular because it offers over 100 different tequilas! At the weekend, however, the bar offers a very special flair, as you can really party in the "Basement Grotto", which is an underground dance floor, so to speak. Under chandeliers and surrounded by graffiti walls and leather sofas, this is a great night out with a margarita or two!
READ: More About Transport: The Tram in Dubai
Hotel Chantelle

92 Ludlow St, New York, NY 10002
Hotel Chantelle is a real insider tip: behind an inconspicuous facade is a restaurant, lounge, and location for special events, with rooftop views of the Williamsburg Bridge, as well as a garden and an underground dance floor – all under one roof! Sound crazy? It is, but we had an unforgettable time.
Our Tips
You have to be 21+ and they will definitely check everywhere before you are allowed into the bar. No exceptions will be made, so you won't be able to get in if you're accompanied by a 21-year-old. The Lower East Side is very flexible when it comes to dressing codes, meaning you'll see people in sneakers or heels, so wear whatever you feel most comfortable in. Another tip: almost every bar has a happy hour. To find out beforehand to save on drinks! If partying on the Lower East Side is too "lowkey" for you – as they would say in New York – you should definitely take a look at our club recommendations. For these locations, you can put on your chicest outfit and pop the champagne corks. Have fun!
Like us on Facebook for more stories like this: