We love New York for its bar scene: the spectrum ranges from small, inconspicuous bars to design highlights, so there is something for everyone! You can find out here which bars, in our opinion, are the most beautiful in the whole city – they are spread across Manhattan, Brooklyn, and Queens.

But what they all have in common: they are real highlights, beautiful and firmly in the hands of the New Yorkers. We hope you enjoy reading and especially trying it out!
Westlight NYC
Address: 111 N 12th St 22nd Floor, Brooklyn | show me more | Neighborhood: Williamsburg
The Westlight in Williamsburg is one of our newest discoveries and just brilliant: the atmosphere, the harmonious style, and the easygoing people here make it one of the nicest bars in New York for us!
READ: New York City Fire Museum: The Fire Department Museum in New York
Barely Disfigured
Address: 257 Smith St, Brooklyn | Neighborhood: Brooklyn
The Barely Disfigured cocktail bar is one of those insider spots that you'd walk past because it's totally unassuming from the outside. But once you step inside, you'll see why it's on our list of the best bars in New York. Sensational decor, a relaxed atmosphere, and wonderful drinks. Also great for a romantic evening.
Oscar Wilde NYC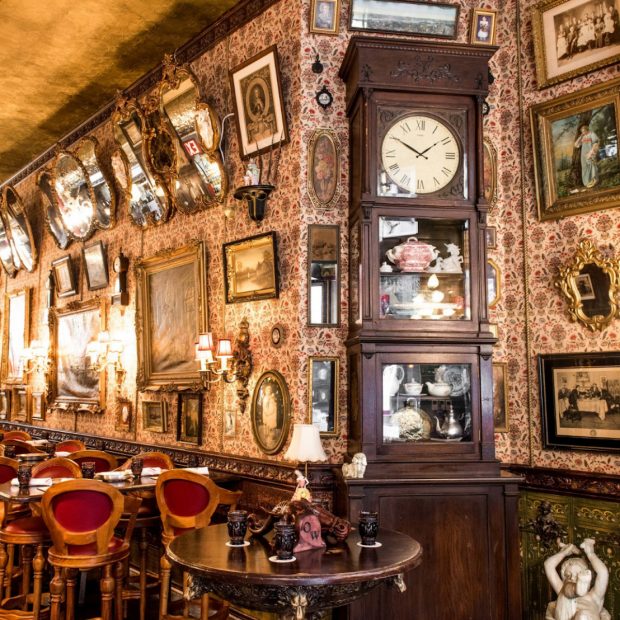 Address: 45 W 27th St | Neighborhood: Flatiron District
Even if we prefer a clear and clean design, the Oscar Wilde MUST be on the list because it is really coherent and beautiful! There is a bar area as well as a restaurant area, both are very good and super popular. Even if we felt overstimulated after 2 hours: the bar is very nice and you should definitely visit it once!
READ: The 6 Best Tattoo Studios in New York: Where to Get a Tattoo in New York
Dear Irving on Hudson
Address: 310 W 40th St. at the Aliz Hotel in Times Square | Neighborhood: Hell's Kitchen
The bar Dear Irving on Hudson is a real insider tip. Located very close to Times Square, you can look out over Manhattan's urban canyons from here and be relatively undisturbed. Because the bar is small and cozy and not yet as crowded as many others in the vicinity. The cocktail menu is not that big, but the cocktails are extremely good. And if you want a very special drink that is not on the menu? No problem either: just ask the bartenders!
McSorley's Old Ale House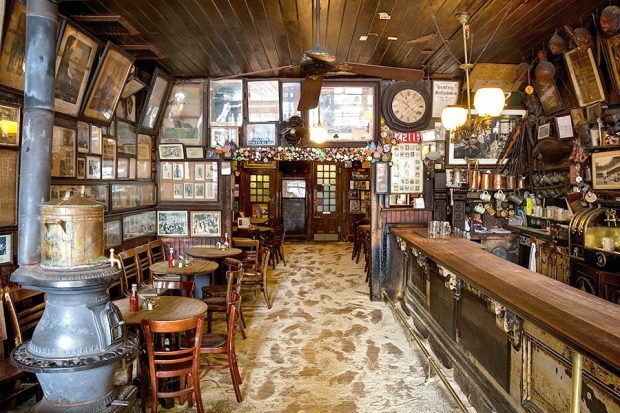 Address: 15 E 7th St | show me more | Neighborhood: East Village
McSorley's Old Ale House is a true legend. The pub is the oldest in town (opened in 1854) and best of all, not much has changed since then. Old wooden floorboards covered in sawdust, old newspaper articles, and a Hollywood-style bartender makes McSorley's a very relaxed place.
The Press Lounge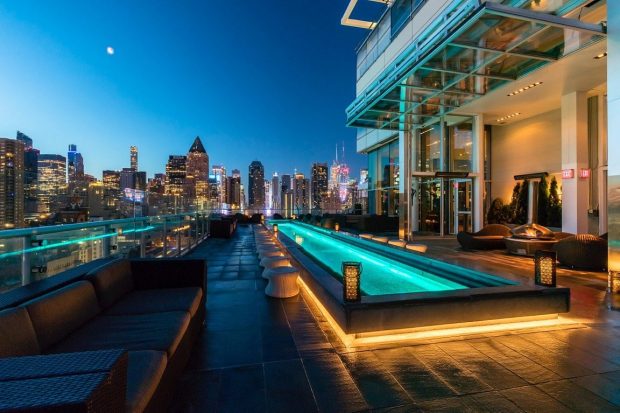 Address: 653 11th Ave | show me more | Neighborhood: Chelsea
The Press Lounge is one of the freshest choices when it comes to New York's best rooftop bars. It is built on the Hotel Ink48 and offers you a great view over Manhattan and the Hudson River. The rooftop bar The Press Lounge has received multiple awards, including "Top New Rooftop Bar" from New York Magazine.
Pharmacy
Address: 9 Doyers St between Bowery & Pell St | Neighborhood: Chinatown
The Pharmacy is a speakeasy bar that also makes its own liqueurs. A really great shop and not at all what you would expect from a bar in Chinatown: there are hairdressers and shops to the right and left, the herbs for the drinks are grown on the roof and everything else is "hand-picked". Each cocktail has its own glass, everything is freshly prepared and, above all, in-house – all with the aim of making the best possible drinks. They also have it all: both in terms of quality and their willingness to experiment. 
READ: Queen Elizabeth 2: A Great Hotel Ship in Dubai is Queen Elizabeth 2 Where You Can Stay as a Tourist
The Back Room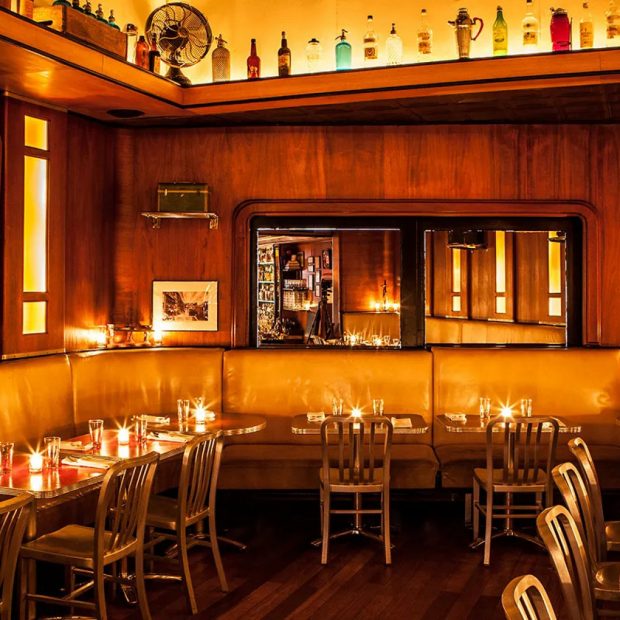 Address: 102 Norfolk St | Neighborhood: Lower East Side
The Back Room Bar is truly one-of-a-kind and what you would call a 1920s speakeasy bar (it's one of only two Prohibition-era speakeasy bars). It opens every day from 6:30 pm – we went for live jazz on a Monday and were asked for a password to get INSIDE the bar. A little tip: it's on their Facebook page! On all other days, you can enjoy old New York City without a password.
Proletariat in the East Village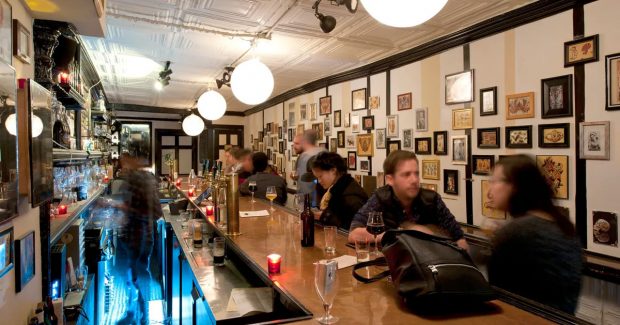 Address: 102 St Marks Pl | show me more | Neighborhood: East Village
Bar Proletariat is our favorite East Village bar because, on the one hand, it is so unassuming and on the other hand, it convinces the people, the atmosphere, and the small but fine selection of locally produced beers. Here you can spend a relaxed evening among real New Yorkers because a tourist will certainly not get lost in the proletariat.
The Campbell Apartment in Grand Central Terminal

Address: 15 Vanderbilt Ave | Neighborhood: Midtown
The Campbell Apartment Bar is located in Grand Central Terminal. It has recently been completely renovated and is really beautiful. Incidentally, the spot was a private office of jazz musician John W. Campbell in the 1920s – hence the name. Try the Old Fashioned Cocktail here, it's fantastic!
Like us on Facebook for more stories like this: