A lot of our favorite movies and series were filmed in the Big Apple and we wanted to follow in the footsteps of our favorite actors, at least for a little while. Here's our list of places we've visited and, as a bonus, some tips to help you get the most out of your tour.
1. Wollman Rink, "Home Alone 2: Lost in New York" (1992)

We are most likely to come up with great ideas in a creative environment. Do you feel the same? Then what better way to plan your next move than a round of ice skating? It worked for Marv and Harry too. Better bring your own scarf this time though.
Address: 830 5th Ave, Central Park, New York
Insider tip: The ice rink currently costs $40 to enter and is usually quite busy (especially when it comes to Christmas). If you're settling for something similar at half price, you'll find the ice rink at Bryant Park about a 20-minute walk south.
2. Coffee and Diamonds, "Breakfast at Tiffany's" (1961)
You really can't watch Breakfast at Tiffany's without getting a little jealous, and the film still has what is arguably the most elegant opening scene in Hollywood history. When you step into Tiffany's store in New York, you can imagine what it must have been like to be Holly Golightly.
READ: Like in the Phone Book: Manhattan from A-Z
Address: Tiffany's, 727 5th Ave, New York
Insider Tip: If you want a photo that makes you look like Audrey, you have to do it just like her: the scene was shot early Sunday morning. And don't forget the coffee mug and yeast bun!
3. Night Talks, "Manhattan" (1979)
"Stunning. It's a great city no matter what people say." This classic scene comes after hours of witty conversation in the film when Diane Keaton's character asks Woody Allen if he wants to take a walk along the river. The whole thing culminates in the famous scene on the bridge.
Address: Sutton Place Park near the Queensboro Bridge, New York.
Insider Tip: The bridge scene was shot between four and five in the morning. But if you don't want to freeze, you should wait until next summer to have those late-night entertainments.
4. The Pastrami Sandwich, "Harry and Sally" (1989)

"I want exactly what she had." Who could do Meg Ryan's legendary performance with the pastrami sandwich at the Katz Diner? As vegetarians, we skipped the sandwich, but for all meat-eaters, this is a must, along with a visit to the delis.
READ: Architecture: The Bauhaus Ideas Lived in the USA
Address: Katz's Delicatessen, 205 E Houston Street, New York.
Insider tip: The table where the actors sat is easy to find, the one above it now has a sign that reads: "Where Harry met Sally… Hope you're having what she had! enjoy."
5. Frozen Hot Chocolate, "Serendipity" (2001)
Two complete strangers meet by chance at Bloomingdale's and because they both think this meeting is an extremely fortunate coincidence or even fate, they go to the café together and share the house specialty, a frozen hot chocolate. If you want to see the table the actors sat at, all you have to do is ask for the "startable".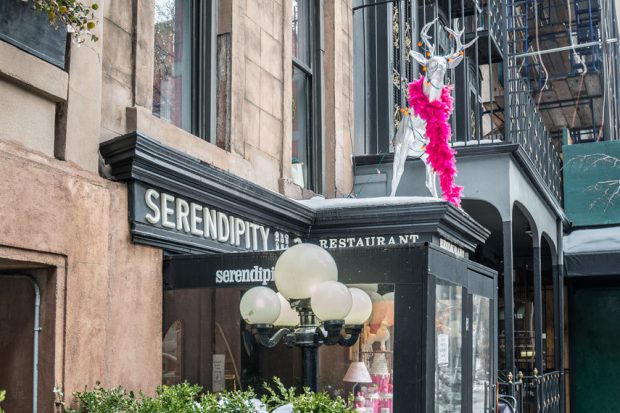 Address: Serendipity 3, 225 E 60th Street, New York
Insider tip: The shop opens at 11 a.m., but to avoid queuing and to get the perfect photo from the outside, you should be there a little earlier.
6. The Apartment Building, FRIENDS (1994 – 2004)
Still the best sitcom of them all. Although it was all filmed in the studio, the exterior of the apartment building where Monica and the others lived is actually from a real building in New York. If you also grew up with the series, the corner is definitely worth a visit!
Address: 90 Bedford Street, New York.
Insider tip: For a photo of the building, it is best to stand on the other side of Grove Street, next to the lamppost.
7. Bane vs. Batman, "The Dark Knight Rises" (2012)
We love this movie, mostly because Bane makes such a great villain. Of all the fight scenes he and Batman have – all of which are pretty epic – we think the one that takes place on Wall Street is the best. The two are surrounded by Bane's gang and the Gotham police.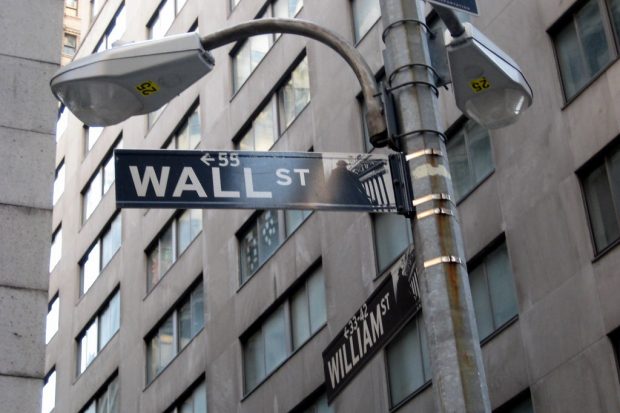 Address: Wall Street and William Street, Manhattan, New York
Insider Tip: The pillared building where the Batman and Bane confrontation takes place is actually in Pittsburgh, Pennsylvania, but the scene was filmed in the third-floor foyer of the Mellon Institute (Gotham City City Hall in the film).
8. Kathleen Kelly's Apartment, "Email for You" (1999)
We were a huge fan of Meg Ryan as Kathleen Kelly, which may be because I'd like to have a library or bookstore too, but maybe it's because we actually love Meg Ryan in every one of her films. Regardless, the exterior of Kathleen's apartment is also a must-visit on our list.
Address: 328 West 89th Street and Riverside Drive, New York
Insider tip: If you also want to see Joe's apartment, the film will lead you down the wrong path. The building he lives in is at 210 Riverside Drive.
9. The Stairs to the Met, "Gossip Girl" (2007 – 2012)
"What we saw on the stairs to the Met: a power struggle between S. and B." Touring New York and missing out on Gossip Girl filming locations would be truly unforgivable. The best way to avoid this mistake is to start with the infamous steps leading up to the Met. Just make sure you don't sit any higher than Blair and her followers, or your social life will be history in no time. Love, XOXO, Gossip Girl.
Address: The Metropolitan Museum, 1000 5th Ave, and 82nd Street, New York
Insider Tip: Get your coffee at Dean & Deluca on 85th Street & Madison Avenue to feel like the real Queen B.
10. The Big Stage
Whether you're a Godfather fan or more of a Carrie, Samantha, Charlotte, or Miranda; Whether you know Woody Allen's movies, love Audrey Hepburn, or are fascinated by Wall Street, you have to go to New York because there you will find the scenery in which your favorite films and series were shot. There are so many good stories here!
READ: The Emirates A380 Experience: Emirates A380 Experience in the Dubai Mall
Insider tip: If you can learn one thing from films like "Can a Song Save Your Life" (2013), it's that music has the power to change New York again and again and let it shine in a whole new light. So before you pack your bags, you should update your playlist.
Like us on Facebook for more stories like this: