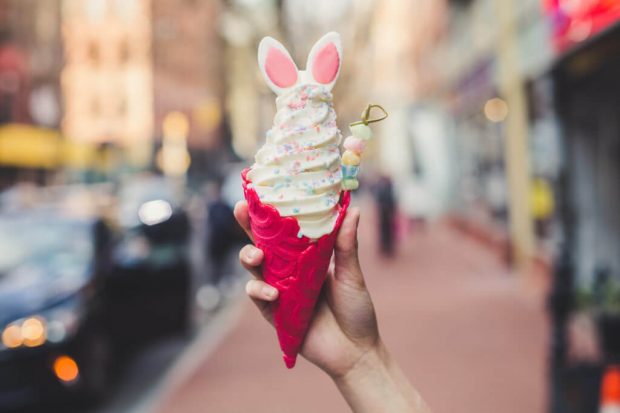 It seems as if there would never be a bad time to eat ice cream. Luckily, there are many ways in New York to pamper your palate with a little cold, creamy, and delicious!
Melt Bakery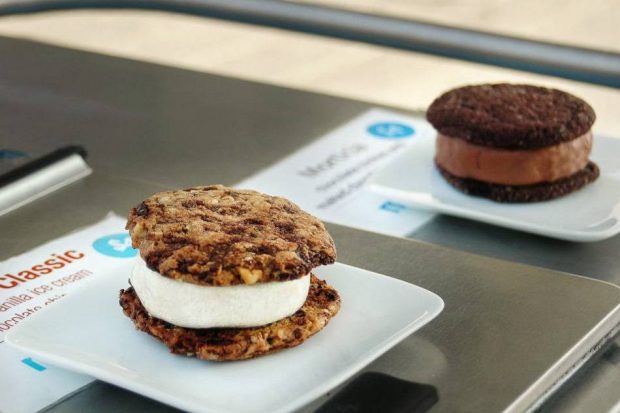 The Melt Bakery specializes in a delicacy consisting of two cookies with ice filling in between and is called "Creamwich".
In the historic Lower East Side, there is a sustainable bakery specialized in unique leaks: the "Creamwich". For the uninitiated: Creamwiches consist of two cookies with ice filling in between.
The co-owner Julian Plyter and Kareem Hamady began with the Melt Bakery at a street festival in 2010 and two years later they opened a branch in Orchard Street. Normal Great Creamwiches get you for $ 5 and the smaller treats cost $ 3. Inside, the shop is quite small and without seating, so you see him as a kind of fast food. Since the signs are easy to overlook, they are careful when they pass at the shops in this part of Orchard Street. The Melt bakers use local ingredients and align their menu after the respective season. That is, there is always a new variety that you can try! Cost the "Classic", a delicious combination of chocolate walnut cookies and vanilla ice cream. Or if you love the Red Velvet Cake, the "Lovelet", a cookie melting in the mouth should meet with a double cream cheese filling, her taste.
READ: 1 Day in Brooklyn: You Should Visit These Places and Attractions
The bakery is located at 123 Orchard Street and is open every day, on Sundays to Thursdays from 12 to 20 o'clock and Fridays and Saturdays from 12 to 22 o'clock. The Melt Bakery is easy to reach by subway: The Delancey-Essex Street station is just a few blocks away and is driven by the lines F and J. If you are already there, then discover the Lower East Side with our practical guide.
Coolhaus
The shaped Creamwiches of the Coolhaus are inspired by architecture and design
Are you a Creamwich fanatic? After being in the Melt Bakery, hold on to a Coolhaus ice truck. Co-owners Natasha Case and Freya Estreller founded the brand in 2008, inspired by the connection between architecture and food. Because of the popularity of Creamwiches, the fleet was extended to eleven ice trucks throughout the country (three of them in New York) and CoolHaus also began to deliver his goods to certain retailers.
The location of the ice truck changes daily. At the Coolhaus Twitter Feeds you will find the current locations. The prices are averaging around $ 6 per snack, but they are worth it as they are designed individually. Customers can choose different combinations of cookies and ice cream. The Coolhaus also relies on sustainability. Organic ingredients and handmade quality are the main ingredients of your craft.
In summer there are many citrus varieties, and in the fall, pumpkin and highly aromatic spice varieties are offered. Also, the specialties offered throughout the year are, as expected, very tempting.
Chinatown Ice Cream Factory
Chinatown Ice Cream pleases guests with its unique ice cream and its cultural identity

Looking for ice with surprise effect? Chinatown Ice Cream Factory, which has been operated by the family for over 30 years, gives the America-beloved creamy balls a Chinese touch. The "normal" varieties include Chinese egg cream, green tea, and pineapple. The "exotic" varieties include chocolate chip, pistachio, and Rocky Road (consisting of chocolate, nuts, and marshmallows) – no ordinary assignment!
Chinatown Ice Cream constantly produces ice creams and their ice cakes are ideal for parties or takeaway. A ball costs about $ 4, but with all these unique flavors, you may want to spend a bit more money for a larger ice cream cone.
READ: Where Magic Happened: You Simply Have to See These 10 Movie Locations in New York
This "factory" is located at 65 Bayard Street, in the heart of Chinatown, is open every day from 11 am to 22 pm, and can be reached via the metro station Canal Street. Note that the queues can be long, the store is too small to sit inside or stand and take cash. Chinatown is a wonderful and culturally rich neighborhood. Our video tour through the Chinese neighborhood will help you discover all its sights.
Sundaes and Cones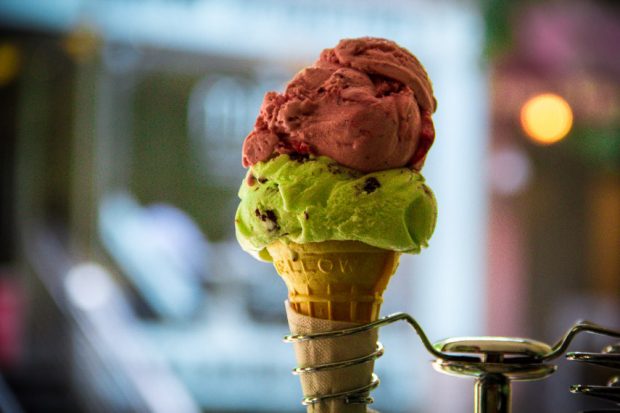 Wasabi, corn, and green tea ice creams at Sundaes and Cones
Another place where you can enjoy ice specialties is Sundaes and Cones in the East Village, which offers a wide selection of ice creams: from the classics (strawberry), through the exotic (pink grapefruit), to straight strange (corn, What indeed tastes like the vegetables) variety. A ball costs about $ 4.50, but if you are worried to spend money on a variety that does not taste you, you are not afraid. The friendly staff will offer you several taste samples before you buy something.
Take lines 4 or 6 to Astor Place and go the pair of blocks to the locally. Sundaes and Cones is open daily from 11 am to 11 pm (Fridays and Saturdays until midnight). There are only a few seats and credit card payments require a minimum order value of $ 5.
Brooklyn Ice Cream Factory
Brooklyn Ice Cream Factory offers spectacular specialties and panoramic views over Manhattan
Do you think that there is the best ice cream in Manhattan? Think again. Brooklyn, the increasingly hottest district of New York, also offers many opportunities for the culinary delusion. The Brooklyn Ice Cream Factory is worth the trip from Manhattan for two reasons: The first is its incomparable view of the original location in Dumbo. The second reason is of course the dessert. Even if the menu of Brooklyn Ice Cream is not as extensive as other ice shops, it is made up for the quality. Ice balls cost between $ 4 and $ 7; Ice cream cups, milkshakes, and banana clites cost something more. As in Chinatown Ice Cream, only cash is accepted here. Inside there are only a few seats, but why should one stay indoors when you can enjoy a panoramic view over Manhattan outside?
READ: The Emirates A380 Experience: Emirates A380 Experience in the Dubai Mall
Drive with the Lines A or C to High Street or with the line F to York Street to get to the store in Dumbo (open daily from 12 to 22 o'clock) and with the Greenpoint Avenue line, if you are in the Greenpoint branches want to go (open on Wednesdays to Sundays 13 to 21 o'clock). If you need some movement, then walk from Lower Manhattan to the Brooklyn Bridge to the Dumbo. The panorama is really remarkable. As far as the "main attraction" concerned: The varieties Vanilla Chocolate Chunk and Chocolate Chocolate Chunk are highly recommended.
Like us on Facebook for more stories like this: