He sits on garbage cans, scares young women, and inspires thousands of people on social media: In New York, a man dresses up as a rat and turns the street into a stage. He has a very simple reason for this.

They belong to New York like yellow cabs and salmon bagels: rats. As a resident of the city, you avoid them or spend the waiting time at the subway stations watching what goes on on the tracks. Most have come to terms with them. There's one rat that's been causing quite a stir since last year, though, and that's Buddy.
Buddy is the size of a man, has a tail as thick as a baguette, and preferably wears brown leather shoes. You can meet him in the subway, in Washington Square Park, in Times Square, in the shopping streets of Williamsburg – and of course on social media, where thousands of people share their videos of Buddy with the public. Last year, a clip of the rat-man crawling went viral in which he roamed subway stations and parks.
READ: Health in the USA: Everything about Insurance
In the meantime, Buddy has over 92,000 followers on Instagram and several media outlets have reported on him from the "New York Post" to local television.
Performance artist "Buddy the Rat" on the New York subway
Now there is very little that makes a hardened New Yorker really nervous. But while you see some people on the videos with Buddy who ignore the giant rat in a cool way, you also regularly observe quite excited reactions.
Some scream, others instinctively run away, but people almost always laugh at this crazy guy who obviously enjoys jumping on garbage cans with a gigantic rat mask on his head or being sniffed by dogs.
READ: Meet New 2022 in Times Square's Virtual World
Career
Under the rat costume is an actor named Jonothon Lyons, who has lived in New York since 2005 and has also appeared in performances on Broadway and at the "Metropolitan Opera".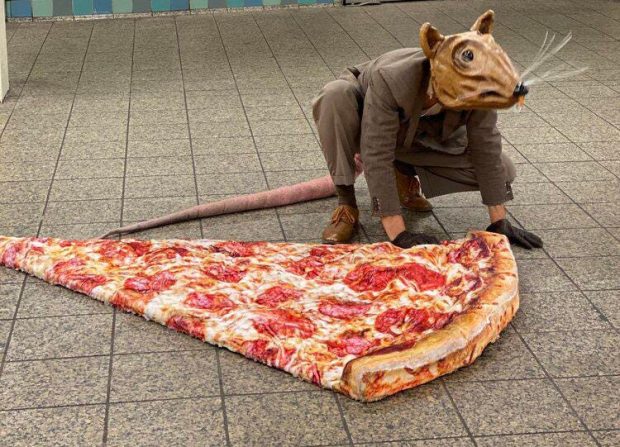 Performance artist "Buddy the Rat" with big "pizza"
Lyons developed his rat character back in 2009 when he constructed the mask for a play. In 2020 he revived the role for the shooting of a short film. Onlookers then shared videos of the shooting on social media and the great popularity on the internet motivated Lyons to regularly take to the streets with his buddy performance.
READ: Fairmont The Palm: A Luxury Hotel in Dubai
Why Is He Doing This?

Simply because it makes people happy, he told the online magazine "Vice". He hopes to remind passers-by that, despite the pandemic, New York is as alive and crazy as ever. "I love New York. That I am now part of it as if a dream had come true." Buddy is not yet as famous as the yellow taxis, but if things continue like this, that may not take much longer.
Like us on Facebook for more stories like this: