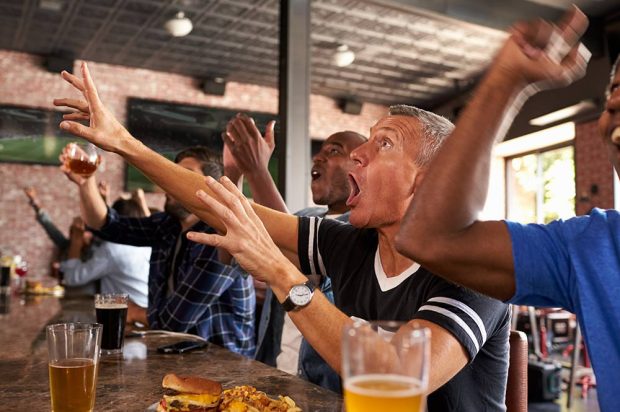 What are the best sports bars and football pubs in New York? Many fear that they have to do without soccer in New York, as everything about baseball, basketball, and American football turns. These sports are clearly a higher priority in the US yet in most sports bars Bundesliga games, UEFA Champions League, as well as games of national teams. In New York, there is really everything the heart of each sports fan beats.

Legends is a sports bar in which everything revolves around sports. It can already happen that you see a well-known footballer: Cafu, Lothar Matthäus, Sir Alex Ferguson and Mario Balotelli were all here. The atmosphere is loose, the food simple, but good. In Legends, an entire floor, The Football Factory, is dedicated to football. One even speaks of football and not usual, as usual in America, from Soccer. On the many screens, Champions League games, Bundesliga games, but also games, for example from the Premier League and Spanish Primera División, are shown. You do not miss a single game here. Legends are on three floors, there are over 50 screens and two huge canvases. In short, they will be great here and all of all centrally opposite the Empire State Building.
READ: It's Interesting: Curious and Worth Knowing Facts about New York
The Black Horse Pub
Black Horse Pub – Restaurant | 568 5th Ave, Brooklyn, NY 11215, USA
The Black Horse Pub is a large and airy English pub with a great atmosphere to see sports. Football fans come early on the weekends early in this sports bar to see the European games. There is a selection of 16 international beers from the barrel, a mix of local favorites (eg Sixpoint Sweet Action and Brooklyn Bearing), and changing Anglo-Irish special beers such as Boddington and Guinness. Happy Hour is from 14:00 to 19:00. Football has always been prioritized the flat-screen TVs. If no football is running, the ten major TV shows are what the people want to see from the district. A great place to see the game, with good beverage specials from time to time and good English cuisine. The friendly staff serves a full English breakfast, sausages with potato porridge, eggs, beans, and french fries as well as Shepherd's Pie.
Smithfield Hall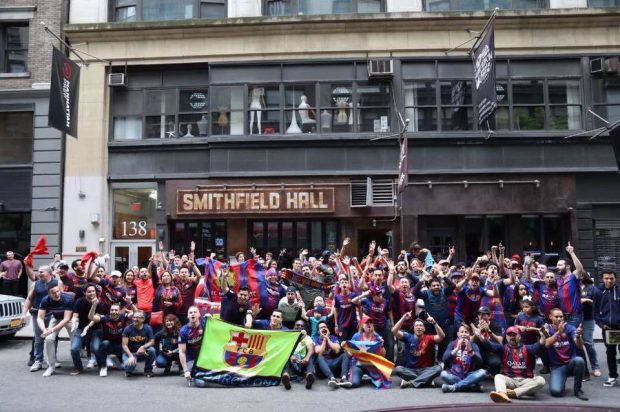 Smithfield Hall | Bar in Chelsea, New York
The Smithfield Hall is just a few blocks from Madison Square Garden. You can pursue football matches from around the world here. If you want to miss a game of Europa League, Champions League, or Bundesliga during your vacation, the Smithfield Hall is the right address! Above all, they meet New Yorkers who watch American football or international football at a beer. In addition to football, games of the NFL, MLB, and NBA are also transferred.
READ: Be Healthy: Jogging in New York
The Churchill
The Churchill bar
The Churchill is a relaxed English pub near park Avenue, a small piece of home abroad. The restaurant is decorated in an old British / English style and has a good ambiance. Rugby and other European sports are shown on the screens at the bar. Get a beer of barrel and order something to eat to pursue the game. Most British or American standard beers cost about $ 7-8. If you ask for recommendations, you should hire yourself to spend $ 8 and more.
Jones Wood Foundry
Jones Wood Foundry is a British pub and is a bit hidden in 76th Street between First Street and York Street. The bartenders are very friendly and open. During the game, you can traditionally order British food and choose from different beers. It is a beautiful and atmospheric pub and a good place to track sports without loud music.
READ: Coca-Cola Arena: Find Regular Events in the Coca-Cola Arena in Dubai
Dalton's Bar & Grill
In Dalton's Bar & Grill, you can see all kinds of sports, from football matches to boxing fighting. This restaurant is well known among the locals and has a great location in Hell's Kitchen! There are over 30 HD screens and a wide selection of beers from the barrel.
Beckett's Bar & Grill

Beckett's Bar & Grill NYC, Bar in NYC
If you are in Downtown Manhattan and looking for a nice bar, I can recommend Beckett's Bar & Grill. In this sports bar, you can not only see sports games, but also comedy evenings are already organized! It is a good starting point if you want to explore more bars on Stone Street.
Like us on Facebook for more stories like this: