Who hasn't always dreamed of spending New Year's Eve in New York? The city that never sleeps is the perfect destination for the night of the night: Times Square, party boat, club, or Central Park – in the city of superlatives you have the choice.
New Year Fireworks

A really spectacular fireworks display is simply part of New Year's Eve – New York is of course no exception. Unlike in Austria, however, you shouldn't rely on being able to set off your own fireworks. That is forbidden here because the risk of the rockets racing in the air flying into the skyscrapers is too high. Hand fireworks such as sparklers are allowed, but rockets and firecrackers are not.
READ: The Coolest Neighborhood in New York: Interesting Places of The Big Apple 
So you don't have to be surprised if you won't see any clusters of people on the streets burning down their own rocket and firecrackers festival, as is customary in Austria. But you can look forward to professional fireworks in New York. I'm going to introduce you to a few places where you can have a good look at one of the spectacles that are being organized for New Year's Eve.
Central Park: Midnight Run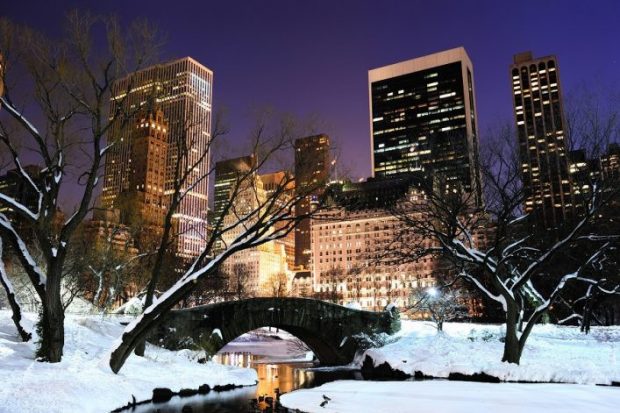 Central Park in winter
Central Park is the green lung of the Big Apple, it will take place here on December 31st. the NYRR Midnight Run takes place regularly, a four-mile (approx. 6.5 km) run, the supporting program of which begins at 10 p.m. with music and dance. The countdown starts at 11:59 p.m. and the run starts at midnight with a view of the fireworks. You can register until 5 p.m. on New Year's Eve. One person per runner is permitted in the festival area, with whom you can go to the start area and the pre-race party. This takes place at Rumsey Field Park.
If you don't feel like the running event so much, then you can see the fireworks in the park without any sporting ambitions, you will probably be checked once at the entrance to the park and can then look for a cozy place on a park bench to do it To watch fireworks.
Battery Park: Spectacle on the Hudson River
Traditionally there is a fireworks display over the Statue of Liberty, which can of course be seen very well from the many river cruise boats. If you don't want to spend money on an opulent dinner cruise, you can grab a bike or hop on the subway and go to Battery Park in the very south of Manhattan in the late evening. There you have a good view of the fireworks. How crowded it is at midnight depends a bit on the weather – when it is relatively warm it is often quite crowded.
There are two restaurants in Battery Park, Battery Gardens and Pier A, but so far there is no up-to-date information as to whether they might even offer an NYE dinner.
That would be the best way to enjoy the fireworks comfortably in the warm and dine like a king. You should definitely check again in the coming weeks whether the restaurants are offering New Year's Eve events as usual.
Brooklyn Heights: Away from Manhattan
Alternatively, you can walk over the Brooklyn Bridge to Brooklyn and watch the fireworks from the Brooklyn Heights Promenade. The district is hip and very varied – if you are already in New York for the second or third time, we can only recommend that you take a closer look here and maybe even forego booking a hotel in Manhattan. There are so many cool corners, shops, people, and parks here that it is worth exploring the neighborhood for several days.
READ: Christmas Shopping in New York: The Big Apple at Christmas Time
Luna Park: NYE on Coney Island

Do you know Coney Island in the south of Brooklyn? The peninsula is a pretty cool place to visit – there is a lot to see here: a long stretch of beach right on the Atlantic coast, a former amusement park, some charming rides in Luna Park, and much more. Here you feel a bit like at a fair. On New Year's Eve, there is actually an event in Luna Park every year – there has not yet been an announcement for the upcoming New Year's Eve party.
You Have the Best View on Party Boats
You get a particularly great view of the fireworks, paired with the Manhattan skyline and the Statue of Liberty, on one of the party boats that cruise the waters around Manhattan on New Year's Eve. First and foremost, among all the boat tours, there is the popular Circle Line Cruise, which circled the entire island from 10 p.m. from Pier 83, so that you can admire the great spectacle from all sides.
It drives past all the major New York sights and offers you the countdown and the ball drop at midnight live as a broadcast on a plasma screen together with a glass of champagne. You can also help yourself during the 3-hour boat tour at the open buffet and at the bar, which awaits you with beer, wine, and soft drinks. The ticket is available for $ 199 including consumption, drinks, and entertainment by a live DJ. Boarding starts at 9 p.m.
The boat tours on an exclusive party boat are really a great way to spend New York's Eve. The view of the island, the skyline of Manhattan, and Ellis Island with the Statue of Liberty is impressive in itself, but on New Year's Eve, with the exploding and sparkling sky as a backdrop, it becomes an absolutely overwhelming sight.
Ball Drop: New Years Eve Celebration in Times Square
We all know the pictures from television showing thousands of people standing tightly packed in the most famous of all places in Manhattan and eagerly anticipating the "ball drop". This "ball" is actually a 3.5-meter ball made up of around 2,500 crystals, which in turn are illuminated with more than 30,000 LED lights.
Only when this five-ton crystal ball has counted the last seconds of the year, reached the end of the pole, and got everyone on the square and in front of the TVs to wish each other a "Happy New Year" and loudly the classic "New York, New York "sing-along, then the ultimate New Year's Eve can start in New York City.
But you should be aware that there will be no spectacle with pyrotechnics in Times Square, instead, it will be celebrated with lights and confetti fireworks. Alcoholic drinks are also generally forbidden on the streets and in winter it can get really cold here. If you wrap up warm and don't let it bother you, you can experience a great party in Times Square in New York.
If you want to see the Ball Drop in Times Square, but want a little more comfort, then it's best to reserve a table in a restaurant nearby. New Year's Eve menus are often expensive, but at least you can enjoy the evening in the warmth and with delicious food. Some of them are even located directly in the hotel, such as the SuperNova Restaurant in the M Social Hotel Times Square New York or The View in the Marriott Marquis. Alternatively, there is an Airbnb in Times Square, but these are also not cheap over New Year's Eve. If you haven't found the right one, then browse a little in the other hotel and Airbnb offers.
READ: AquaFun: The Largest Inflatable Water Park in the World
Do You Need a Ticket for the Ball Drop in Times Square?
This question is asked very often and can be answered clearly with NO. Anyone who wants can secure their place here free of charge, but you hardly have a chance of a place with a good view of the ball if you are not there very early in the morning and then your place against the others throughout the day Visitors defended. In addition, visitors are no longer granted entry as soon as the space is full. Only guests attending an official event within Times Square who can provide evidence of a ticket will be allowed onto the grounds.
Important information for your New Year's Eve in Times Square:
Dress warmly, it can get pretty cold and windy.
Take snacks and drinks with you.
Toilets are rare, keep that in mind when planning your evening.
It is strictly controlled, large bags and umbrellas are forbidden.
It is forbidden to consume alcohol on the streets, nor is it allowed to drink sparkling wine.
Reserve a seat in the restaurant early if you want to watch the spectacle in the warm.
That is what you are offered.

The waiting time until midnight will be shortened with great entertainment and live music acts. It is an indescribably exciting atmosphere to stand in the colorful, shimmering Times Square, which is always hectic for the remaining 364 days of the year – and then to witness how thousands of people hold their breath and the world stands still for a moment before the atmosphere then explodes and everyone bursts into stormy cheers when midnight has finally come.
The Best Parties in the Big Apple
For the New Year's Eve classic in Times Square, there was the coveted "BallDrop Pass", with which you could take part in many parties in and near Times Square from a price of $ 189. In addition, there are often free drinks and snacks or even included buffets. But that's not all. The city, which never sleeps anyway, is more awake than ever on this special night and lets it really bang in every bar! New Year's Eve parties in New York are more numerous than anywhere else.
To find out more about the New York City New Year's Eve parties that have been officially announced so far, visit balldrop.com. It is definitely worth taking a closer look at the website because there are many offers for parties in different locations. Unlike on the street, it is also possible here to toast the New Year with a glass of champagne or another drink.
However, you can also go to dinner in one of the city's chic hotels or in an affordable restaurant and celebrate the last evening of the year there. How about dinner in Greenwich Village, for example, French in the Petite Boucherie or Italian in Olio e Piu? In Midtown Manhattan, the Spice Symphony restaurant offers delicious Asian cuisine on New Year's Eve and the Club A Steakhouse offers juicy American steaks. No matter what you are in the mood for, it is important that you reserve a table in advance because the demand is very high.
Like us on Facebook for more stories like this: