Are you planning a helicopter tour of New York? To experience New York from a bird's eye view was a dream! Fly over Manhattan, Central Park, the newly emerging Hudson Yards district, the Statue of Liberty, Brooklyn Bridge, One World Trade Center, and the Empire State Building.

Our big dream: to finally do a helicopter tour in New York came true! An absolute highlight of our New York trips. We love to see cities and places from a bird's eye view. So we take helicopter flights when they are available and affordable.
The deep canyons of the skyscrapers can be seen from above. And that even at sunset, when the lights of the metropolis slowly come on. An indescribable and unique experience.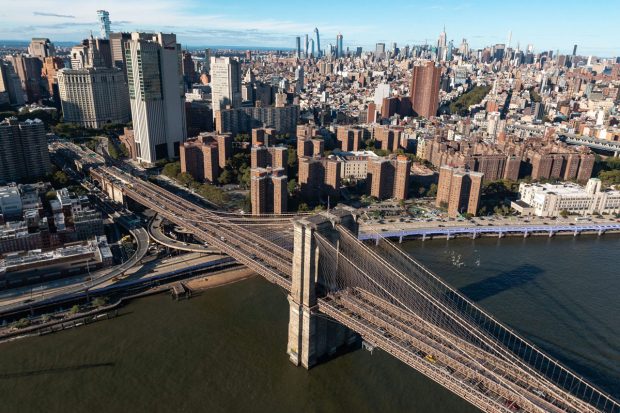 Brooklyn Bridge from above
In general, sightseeing flights by helicopter are very popular and short-term bookings are often not available. Plan and book your flights in good time!
Valid photo ID must be presented to every helicopter provider.
READ: New York Tipps: How to Make Your Vacation Perfect
What Time of the Year Should You Do the Helicopter Tour?
Helicopter flights are especially nice in autumn when Central Park glows in orange tones. The weather is ideal and not too cold. A helicopter flight in April, when everything starts to bloom, is also nice.
If you are now wondering whether it is not too cold in the helicopter in winter, our answer: It depends on which flight you book. If you've booked a flight with doors, it doesn't matter. There are heaters in the helicopter, it's warm. In theory, you can only fly with a sweater.
But if you have booked a flight without doors, we advise you to put on a jacket, scarf, hat, and gloves. Only the co-pilot feels the heating in his calves during a helicopter flight without doors. The others get to feel the full draft and often the ice-cold wind.
Can I Choose My Seat in the Helicopter?
The pilot decides who sits where, based on the weight of the people. That is why everyone is weighed before the flight. At FlyNYON we were able to specify a request, but it could not be taken into account.
Which Companies are there for Helicopter Flights in New York?

In New York, there are four providers for sightseeing flights by helicopter. FlyNYON, New York Helicopter, HeliNY, and Manhattan Helicopter. The latter three start their flights at the Downtown Manhattan Heliport.
How Much Does a Helicopter Flight in New York Cost?
The cheapest flights are around $ 240.
The offers are similar at first glance, but the routes are the deciding factor.
What are the Scenic Routes for Manhattan?
Each provider has different tours in the program. FlyNYON is the only provider that, as far as we know, is allowed to operate flights over Manhattan, Central Park, and the southern tip of Manhattan.
The start is the heliport in New Jersey. After the briefing with the safety briefing, it starts. After the start, you will fly directly towards Central Park.
READ: New York Tips: Planning a Trip to New York Has Never Been Easier
You fly along the park to the top. Then the helicopter turns around and flies past the Rockefeller Center, Empire State Building, and One World Observatory to the Statue of Liberty. You also get perfect views of Brooklyn, the Brooklyn Bridge, and the Manhattan Bridge.
Our tip: Check out FlyNYON from time to time on the Internet or follow them on Facebook. Coupons are currently being offered again and again. So you can save 50%. As soon as you book, you will receive a code. So you don't have to enter a date immediately.
FlyNYON also does not charter third-party pilots with helicopters, but now has its own fleet with hangar and pilots.
The team is very careful that everyone receives safety instructions and life jackets and that they can unbuckle themselves in an emergency.
This is really no art, because on a sightseeing flight without doors you get an additional second belt, as you know it from ziplining.
READ: Is it Worth Buying Electronics in Dubai: There are a Few Things to Consider When Buying Electronics in Dubai

We all felt very safe. Nevertheless, take a look at reviews of all providers to find the best helicopter flight for you.
Our Conclusion On the Helicopter Tour
The route of the helicopter tour was perfect. However, it is also clear to us that you will lose half a day because you first have to drive from Manhattan to New Jersey. Almost an hour to and from the heliport has to be planned.
Like us on Facebook for more stories like this: