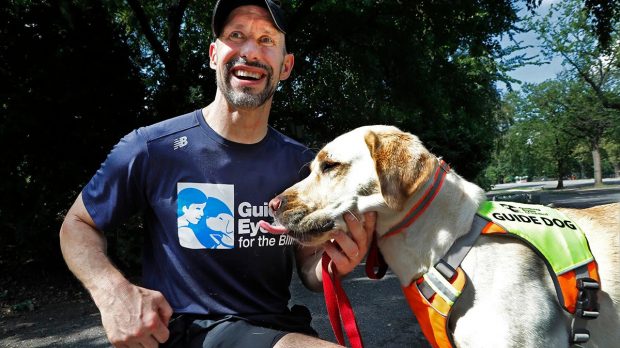 Self-employed without an eye light is difficult enough for most. Thomas Panek now even ran the New York Half Marathon alone – as the first blind runner at all. Although, he was not absolutely alone.

Thomas Panek wrote a little history on Sunday at the New York City Half Marathon. Because while visually impaired runners usually race on the side of human leaders, Panek is now the first one who could finish the race without human help.
He was not all alone. A Labrador Trio – Westley, Waffle, and Gus – has accompanied him; Each of the three for each one-third of the race.
Thomas Panek cuddles with waffle, one of his "Running Guide" leather dogs
Source: Getty Images for Guiding Eyes Fo / Craig Barritt
The unusual team managed almost 22 kilometers in considerable two hours and 21 minutes.
The real marathon but only then began. Tough journalists gathered around Panek and wanted to know his story. And that's it:
At the beginning of 20, today's 42-year-old lost his eyesight and suddenly relied on the support of others. He always appreciated that, but he always missed the sense of independence, he told CNN. Besides, he has always loved running and just did not want to do without it. So he started to train with a blind dog.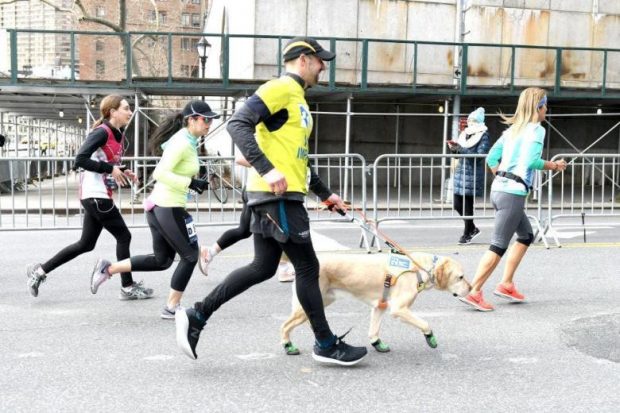 Panek with Gus on the last stage
Source: Getty Images for Guiding Eyes Fo / Craig Barritt

In 2015, Panek founded the first "Running Guides" program at Guiding Eyes for the Blind, one of the few recognized training sites for blind dogs. Meanwhile, Panek is CEO, by the way. 24 dogs have completed the program so far and another twelve are halfway to the conclusion.
READ: Real New Yorkers: How Do They Live?
Running outdoors is a special challenge. The dogs need to adapt to terrain changes, navigate over stairs, bodies, and around hydrants while balancing the distractions and sounds of the city.
"You train with a team, no matter what kind of athlete you are, and you want to spend time together in this training camp," said Panek. Every dog determines his own pace – Westley runs a mile in eight minutes, while his sister Waffle can make the same route in six minutes. Every dog carries special tableware and its own running shoes to protect the paws.
You did that well, Gus!
Source: Getty Images for Guiding Eyes Fo / Craig Barritt
Gus took over the last stage of the race and crossed the finish line with Panek. Gus is otherwise in everyday life with Panek on the way. "In the end, it was very emotional for me because he was with me all the time," Panek said.
READ:Valentine's Day in New York 2022: What to do in New York on Valentine's Day
He told the "Time Magazine" that blind dogs would give visually impaired people who would give freedom to do that "to do what a sightsee is doing, and sometimes even a little faster to run than this".
One More Superhero
Alton Eckel and Cole
For cheerful and popular posts, the six-legged team "Hiking Woman" and "Super Pup" – an ultra skipper and her four-legged companion. Alton Eckel and Cole are always in the partner look – she is open like Wonder Woman and he like Superman, but sometimes as a Christmas tree. The traillon has taken over the Shiba Inu from a friend when the male was a good half year old. Since then he does not deviate her from the side and is not only a faithful trail companion but also a trained therapy dog ​​in her psychotherapy practice.
READ: The ETIHAD Luggage: Rules are Always Dependent on the Tariff
The Super Team shone at the Northeast Ultra 8 Challenge, where in New York, New Hampshire, Maine, and Vermont, the eight toughest walks are covered, and sometimes ranked the rank of an ambitious Powerwanderer. And on her paths in the wilderness, the crazy duo repeatedly challenged passers-by. Children call the dog again and again «a wolf in a cape» – good Superman did not carry a sheep fur.
Like us on Facebook for more stories like this: