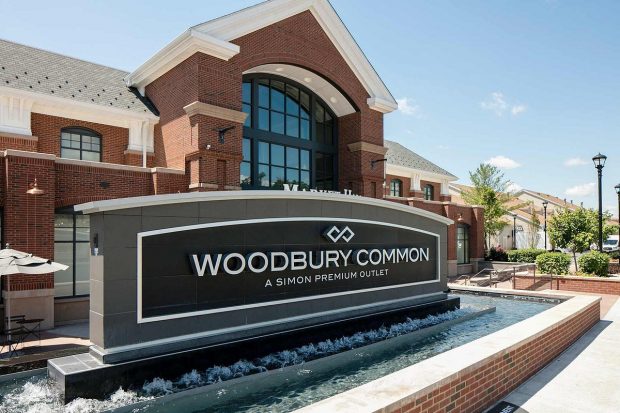 Attention bargain hunters: With this tour to the most popular and by far the best outlet in New York, your shopping heart will beat faster. With over 220 stores, Woodbury Common Premium Outlets in Central Valley New York is one of the most beautiful and largest outlets in the world.
Shopping in New York: The Woodbury Common Outlet

Woodbury is laid out like a small village – one small cottage next to the next and great bargains behind every door. Overall, you often save up to 75% off the regular price at Woodbury Common. On days like Black Friday (the day after Thanksgiving), that's even more.
Designer Goods at Bargain Prices at the Woodbury Common Outlet in New York
In Woodbury Common, every label has a store that has rank & name. Michael Kors sells bags and clothing in a large store – Nike, Adidas, Under Amour and Timberland also sell here at low prices. There is a Ugg Boots store, Gap, Burberry, Gucci, Chanel, Prada, Hunter, True Religion, Dolce & Gabbana Calvin Klein, of course a large Tommy Hilfiger store and a huge range of Polo Ralph Lauren clothing.
READ: 10 Reasons to Love New York: Too Many Reasons To Love This City
Everyone will find something here that makes their shopping heart happy. You can find an overview of all stores in Woodbury Common here. If you get hungry after a long day of shopping, you can satisfy it in one of the 20 restaurants and cafés.
Tour by Coach to Woodbury
The buses arrive every second after an approximately 1.5 hour drive at the Woodbury Common outlet in New York – almost every New York City tourist drives Upstate to really hit the road there. Sometimes they even bring suitcases to store everything there, which by the way is really not a bad idea. Despite the hustle and bustle in Woodbury, a visit is definitely worthwhile. Incidentally, Woodbury is also very scenically situated, you are surrounded by nature and forests and the outlet as such is beautifully constructed and designed – shopping is really fun here.
However, we recommend that you take a close look in advance to see whether the shops meet your expectations and taste. The bus that takes you to Upstate New York departs from the large Port Authority bus station.
Departure times are daily from Port Authority at:
7:15 a.m
8:30 a.m
9:30 a.m

10 a.m
11:30 a.m
12:45 p.m
2:45 p.m
Buses depart Woodbury Common every 60 minutes at the following times:
3:36 p.m
4:10 p.m
4:45 p.m
5:21 p.m
5.45 p.m

6:15 p.m
6:58 p.m
9:26 p.m
Book Tickets for the Bus Journey to Woodbury Now
As soon as you have created your rough New York sightseeing plan, we recommend that you book the tickets for the trip to Outlet Woodbury Common in New York, so that you can also keep your desired date. Definitely plan a whole day for the shopping experience.
READ:The 7 Best New York Apps for the iPhone: Must-Have
Alternative: Luxury Shuttle to Woodbury Commons Outlet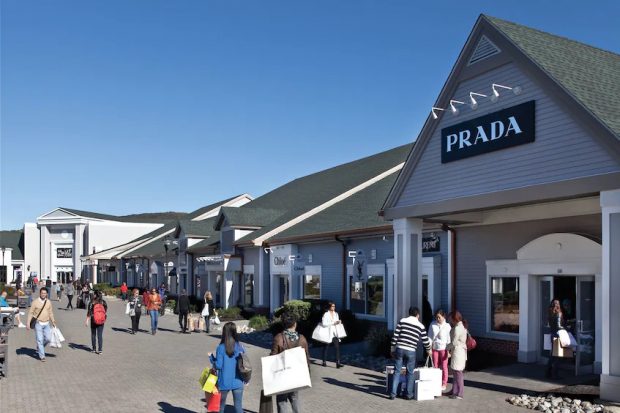 Prada
READ: Lapita Hotel: The Lapita Hotel is Located Within the Grounds of Dubai Parks and Resorts
Would you rather drive comfortably and without the hustle and bustle at the Port Authority to the popular outlet? Then there is a great option that will make your shopping experience that little bit better. Treat yourself to a hassle-free journey with this luxury shuttle from NYC to Woodbury Commons Outlet: You will be picked up from your hotel and driven to the outlet in a fully-equipped mini-van, where you can spend 6 hours shopping! Your driver will then pick you up at an agreed meeting point and drive you back to the hotel. Sounds like the ultimate shopping day, right? Be sure to reserve this luxury shuttle in advance!
Like us on Facebook for more stories like this: