Only since we flew to New York as a family with our children did the topic "How do I get from the airport to my destination safely with children" first came up. And it turned out that it is actually not that easy.

Many airport transfer providers do not offer an additional option for a child seat – here we would like to show you how we did it, which provider has child seats in their program and what other options you have if you are traveling with children from JFK, Newark and LA airports Guardia comes to your destination in Manhattan, Queens, Brooklyn and New Jersey.
If your child doesn't need a child seat, you can check out all the options on how to get from the airport to New York.
1. With the Subway to Your Destination
To the subway with children
From the popular John F. Kennedy Airport (JFK), the cheapest alternative is to combine the AirTrain and then take the subway. The AirTrain connects the various terminals of the airport and takes you to the nearest subway stations and the LIRR station (Long Island Rail Road for train connections).
READ: Luggage Storage in New York City: It's Easy
You have two subway stations to choose from: Jamaica Station (continue with the E Train) and Howard Beach (continue with the A Train).
Jamaica Station is ideal if your destination is in Midtown and northern Manhattan, Queens or the Bronx. Howard Beach is the best station for you if you want to go to southern Manhattan (Financial District, Tribeca, East Village, Greenwich Village, Chinatown, Little Italy or SoHo) or Brooklyn. The journey from both stations takes just under an hour. The ticket for the AirTrain costs $5 and can be bought directly at the ticket machine. The MetroCard is available at every subway station. A single ride costs $3. All in all, you can get your accommodation in New York for less than $10 per person!
Advantages:
No child seat needed.
Fast.
Disadvantage:
Often impractical because you have a lot of luggage with you, especially with children.
Change with child & luggage.
READ: Shopping Tour to Woodbury Common Outlet in New York
2. Transfer by Private Transfer from the Airports to New York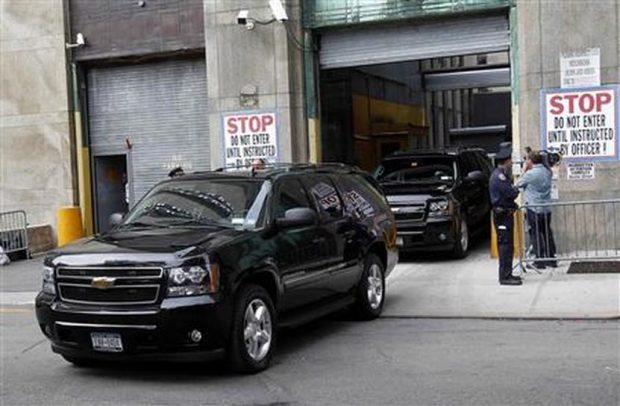 SUV is super comfortable

Having a child seat was important to us, so the option of going to Manhattan "just like that" wasn't even on our list. On our first visit to New York we booked a private transfer including child seats. Surprisingly, there are only a few who offer this.
If you're traveling with average luggage, a regular car will suffice – we had to book a large SUV (was super comfortable!) because we had a lot of luggage for our road trips. Both of them will greet you at the airport with a name tag and take you to the car.
Here you can order the private transfer and here you can book the transfer by SUV. When booking, simply indicate that you need a child seat.
Advantages:
Child seats can also be booked.
Reception with name sign at the airport.
Just get in and go.
Disadvantage:
If there is a traffic jam, you unfortunately have to sit it out.
SUV is expensive (but safe).
3. Transfer Via Yellow Cab if You Already Have US-Approved Child Seats
Yellow taxi
That was also an option for us that we had checked – for many it is certainly not relevant, unless you are traveling in the USA for a long time like us and want to use it for your rental car or camper. Since the child seats in the USA differ from the approved EU child seats, you cannot simply take your seats to New York. From us on you see offers on eBay or eBay classifieds – then you should strike and then have the opportunity to simply come to Manhattan with the Yellow Cab and the flat rate of $60 (plus toll and tip).
READ: Dubai Сruise: Cruising from Dubai is an Experience in the Winter Months
4. Buy Child Seats from Amazon and Send Them to the Hotel
Of course, that also works, but it doesn't save you the transfer from the airport. That would be possible with the private transfer from 2. or the subway (option 1).
5. Buy Locally at Walmart
Yes, this sounds a little cumbersome, but can be an option. One parent takes an UBER or taxi to Walmart and buys the right child seat there (you can do this online in advance and have it reserved). The Walmart Supercenter (address: 77 Green Acres Rd S, Valley Stream, NY 11581) is only 15 minutes from John F. Kennedy Airport (JFK).
Like us on Facebook for more stories like this: