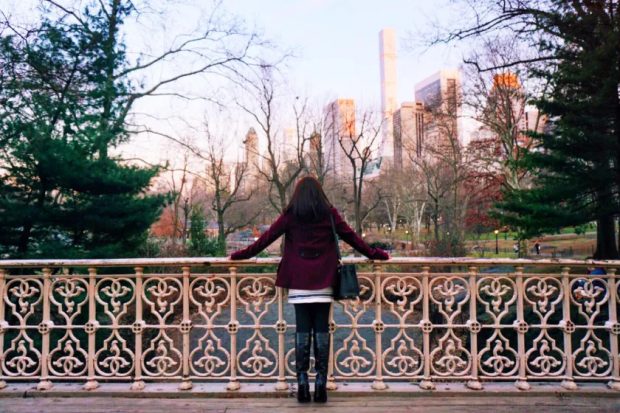 Many of your readers' questions are aimed specifically at the question: "I'm in New York with my best friend, it's her birthday. can I surprise her in New York?". "My husband is celebrating his milestone birthday in New York: What could I give him in New York?"

Of course, New York has a lot to offer and the selection of special surprises is very large. Nevertheless, we always recommend the same activities and tours in New York. You can find out what these are in this article about the top 5 gift ideas in New York.
1. The Helicopter Flight Over New York
See the best view
Flying over New York in a helicopter is an indescribable experience! Discovering New York from the air is incredibly fun. Of course, make sure in advance that the recipient is not afraid of flying and then nothing will stand in the way of the helicopter flight over New York. We've done it several times and for me it's just the perfect surprise that will definitely not be forgotten. You can book the tour here with us online in advance, because it can often happen that the desired tour is no longer available on site, since a helicopter flight in New York is very popular among tourists.
READ: Luggage Storage in New York City: It's Easy
2. Tickets for a Sporting Event
You can find a ticket for any budget
From basketball, to baseball, ice hockey, football – you can even watch football in New York. That's why a ticket for one of the many sporting events in New York is the ideal gift idea for sports enthusiasts. The same applies here: The early bird catches the worm – book online in advance and secure yourself a guaranteed gift with good seats for your loved one.
3. A Dinner Cruise
Romantic cruise is the best choice
A dinner cruise with the Bateaux Dinner Cruise is ideal for milestone birthdays, wedding anniversaries and other very special days. The food is absolutely delicious, the music is great, and the views from the ship (the glass roof is second to none) are amazing. The atmosphere is elegant and appropriate to the occasion, which is exactly why we only recommend this dinner cruise in New York at this point.
READ: Shopping Tour to Woodbury Common Outlet in New York
4. A Concert in New York
There's always something going on in New York and quite apart from the fact that Billy Joel alone gives two concerts a month, there are always stars in the city who pop into the door at Madison Square Garden or the Barclays Center in Brooklyn Shake hands. New York is always a highlight, even for the really big pop stars – hardly any other audience celebrates like here. That's why a ticket for one of the many concerts in New York is always a great idea. Luckily everything is open in New York, from jazz to hip hop.
READ: Dubai Сruise: Cruising from Dubai is an Experience in the Winter Months
5. A Musical Ticket
Aladdin
Wow, a musical on Broadway – an absolute dream for many! Rightly so, we think, because we were lucky enough to be able to see some of them. The Lion King is great. Aladdin is something for young and old and classics like the Phantom of the Opera are simply breathtakingly beautiful. You can't go wrong with a ticket to a musical in New York. The same applies here: "Those who have the choice are spoiled for choice".
Like us on Facebook for more stories like this: