New York is famous for its sights, skyscrapers, and jaw-dropping landscapes. However, when it comes to natural beauty, you should go to the countryside and breathe fresh air, nature and, of course, the main reason for heading out to the countryside is watching astonishing waterfalls with your own eyes.

Besides, going to the countryside will let you forget a little bit about your daily routine, your job, and crowded streets. So, let's have a look at the most popular and must-see waterfalls in New York.
New Croton Dam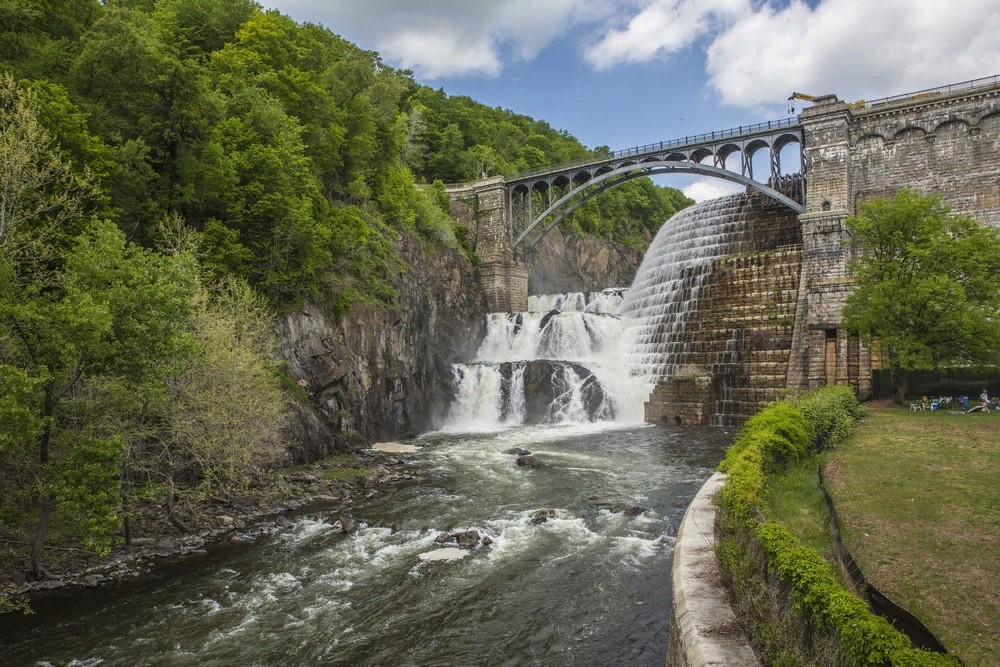 It's a dam that forms the New Croton Reservoir and stretches across the Croton River near Croton-on-Hudson for about 22 miles (35 km).
New Croton Dam is an engineering world wonder created by human hands at the turn of the 19th and 20th centuries, the view and scale of which is breathtaking. The water supply system, which radically changed life in the city, helped to get rid of dirt on the streets, stop numerous fires and epidemics, and significantly improved the quality of life of its citizens. The dam's height is 91 meters (from the base to the crest). The total length with the spillway is 667 meters. This place is worth learning about because of the impressive and huge history behind it, and with no doubts should be visited by you during your trip to New York.
How to get there:
If you're taking a car, you'll have an hour-long drive up I-87. The other option is to get on the Metro-North Hudson Line, then wait for four stops until you reach Croton-Harmon and then take a taxi for 3.5 miles to the park from there. This route will take you less than an hour.
Buttermilk Falls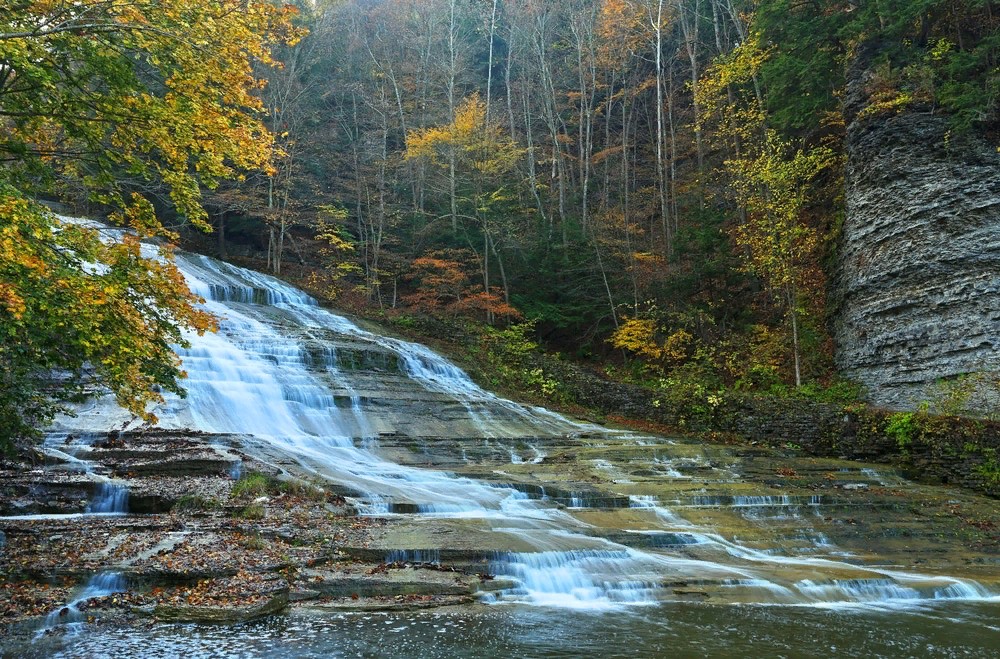 Buttermilk Falls was named after its churning waters with a mass of frothy foam.
Buttermilk Falls is located in a state park in Ithaca named Buttermilk Falls State Park. There are 10 waterfalls in total, but Buttermilk Falls is the main attraction. Besides, there are a few hiking options for you: it depends on whether you're a fan of hiking or not.
How to get there:
To get there by car you'll have about a 4-hour drive from the city. The other option is to take the Amtrak to Syracuse, then the Ithaca Airline Limousine to Ithaca if you have little money, or just rent a car there.
Indian Brook Falls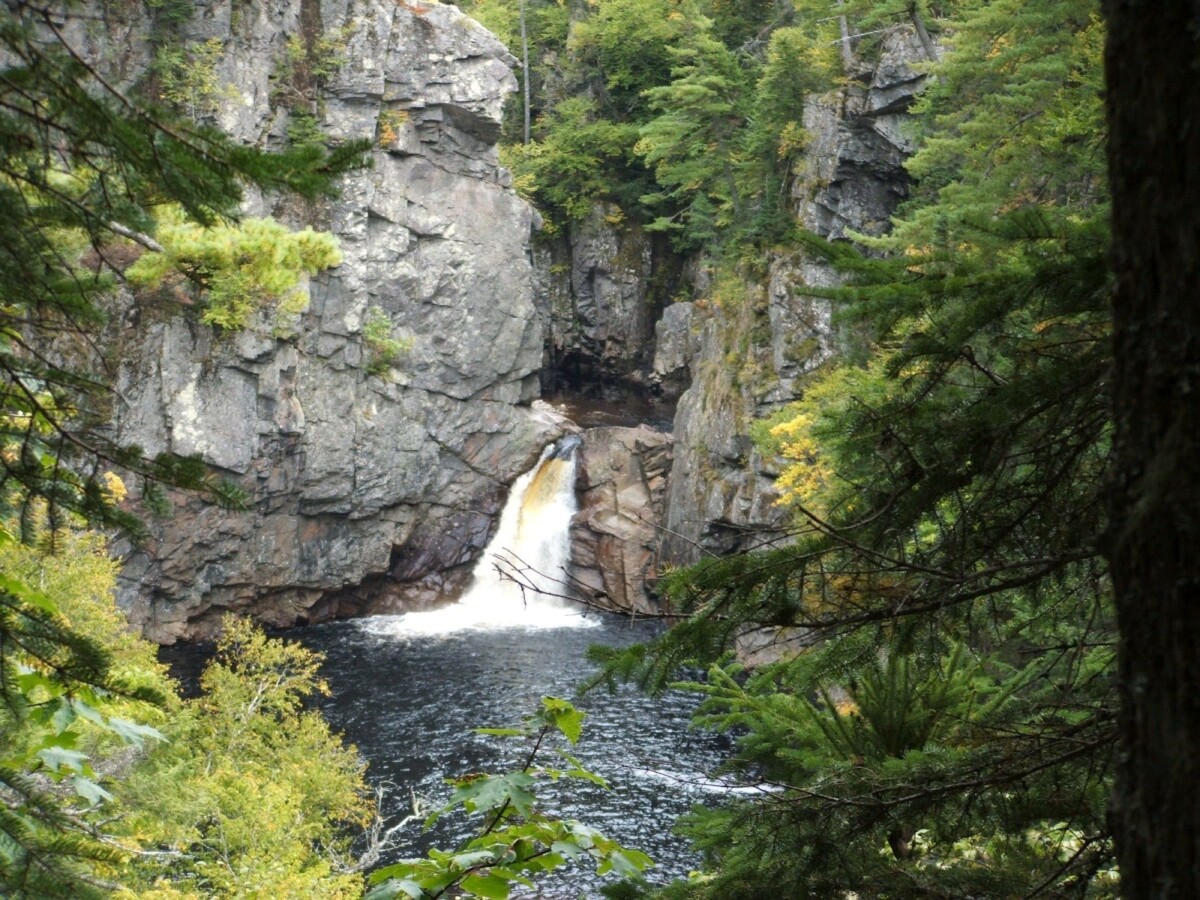 If you're not into hiking but wish to see a waterfall with your own eyes and take pictures of it, then visit Indian Brook Falls, which has not just a waterfall to see but also a trail where you can walk, breathe fresh air, watch birds, and just relax.
Not many people have heard of Indian Brook Falls located in a small town called Philipstown which population, according to the official data of the 2010 census, at least at that time was 9,662 people. It's not a big place, as you can see. Rightly said, it's a moderate place with some spots with wet or loose rocks. If you're planning to come here, mind the fact that swimming is not allowed.
How to get there:
Once you're at the intersection of Routes 301 and 9D in Cold Spring, the next thing you need to do is to head south on 9D for 1.3 miles. Then turn a little bit to the right onto Indian Brook Road and go for 4 miles. The preserve sign and parking area for Constitution Marsh will be where the road curves left. The other option is to take the Metro-North Hudson Line until you reach Cold Spring and then go by taxi to the Marsh Audubon Center and Sanctuary.
Rainbow Falls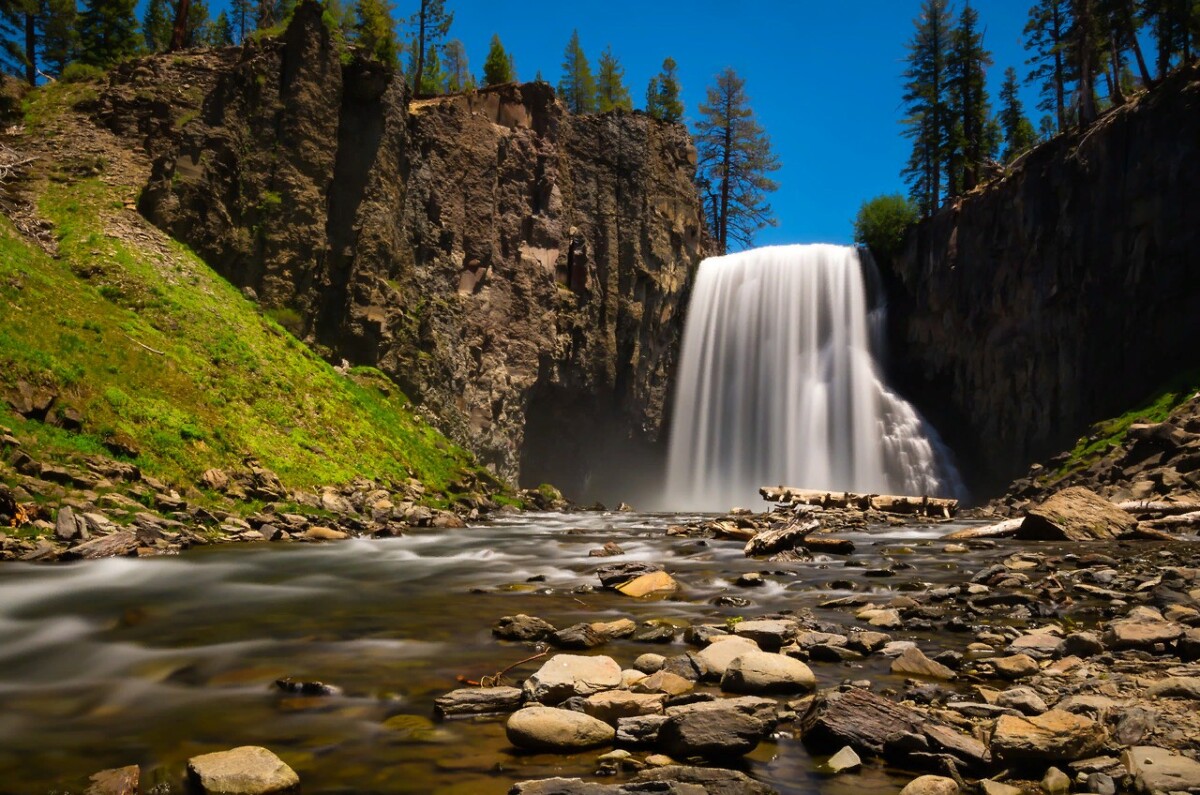 Watching these waterfalls can be a little bit tiring because of the amount of walking distance, so make sure you have prepared comfortable shoes.

Rainbow Falls is located in Watkins Glen State Park. This place has 19 waterfalls in total, and all of them are wonderful. However, Rainbow Falls is the first waterfall you should have a look at as it's the most popular one. This place can make you feel like an elf from Lord of Rings. There's also a carved bridge made from stone, and you can hike around it. Besides, standing on top of the bridge you'll get a nice view of two waterfalls at the same time.
How to get there:
If you're going by car, it will take you about 4 or 5 hours until you reach Route 81. The other option is to take an Amtrak train to Rochester, where you can rent a car and drive for 1.5 hours to Watkins Glen.
Taughannock Falls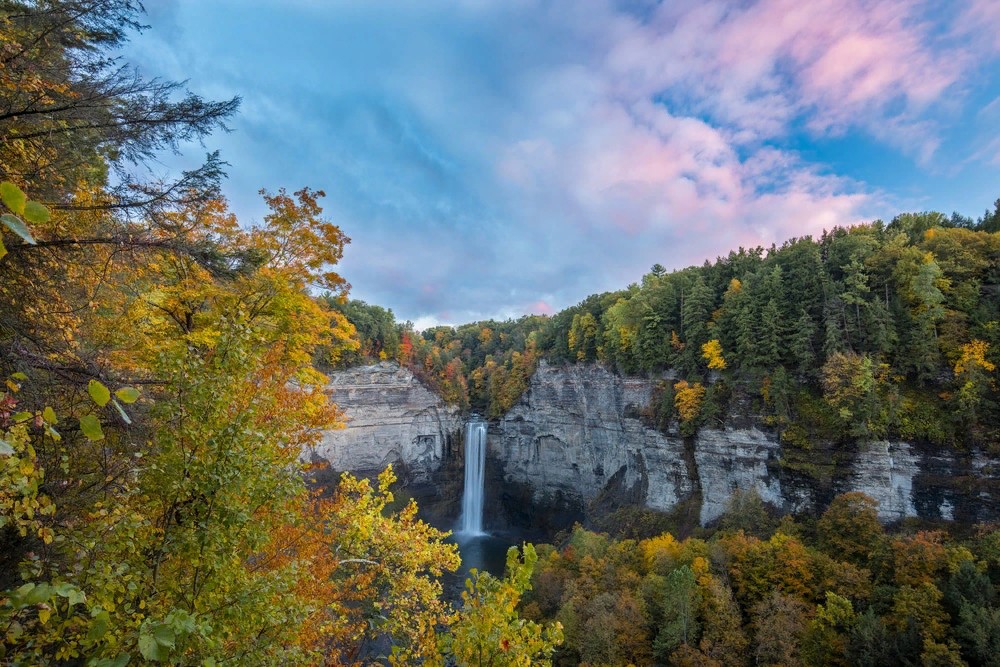 Taughannock Falls is considered to be the tallest single-drop waterfall.
Taughannock Falls is a 215-foot (or 66 m) plunge waterfall located in a state park named Taughannock Falls State Park. Its height is the same as the Pyramid of Menkaure in Egypt, and even 50ft higher than commonly known and adored Niagara Falls. Even though this waterfall is not as attractive as Niagara Falls, it still amazes a lot.
How to get there:
This trip is about a 4.5-hour drive until you reach I-81, or you can take the Amtrak to Rochester and rent a car from there.
Middle Falls
Letchworth State Park provides hot air balloon rides for its visitors, so you can have an amazing view of the Middle Falls, forests, and the city around.
Even though it's called the Middle Falls of Genesee River, it's, actually, the biggest of the three. For those who don't enjoy hiking, there's a paved walkway. Besides, the park provides many different opportunities for you. For example, you can hike out to Inspiration Falls, the Lower and Upper Falls within a short walk.
How to get there:
The first option is to rent a car and take the 5.5-hour-long drive. The second option is to take buses for 20 hours, which we don't recommend. And the third option is to fly to Rochester (it will take you one hour) and then rent a car.
Niagara Falls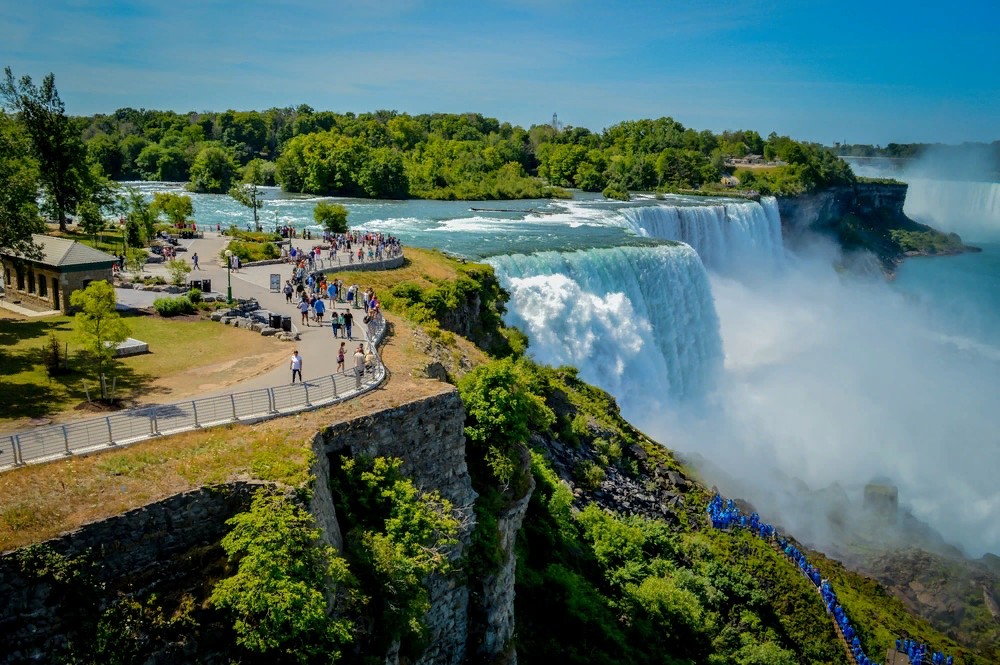 Interesting fact: the waterfall sits on the border between the USA and Canada.
Niagara Falls is a natural wonder of the world that constitutes a group of three waterfalls. It's the most popular and visited waterfall in the United States. Here you can not just have a look at the waterfall, but also take boat rides or helicopter rides, hike through the so-called "mist zone", and even eat ridiculous meals. Surely, you can't leave New York without visiting this memorable place.

How to get there:
Here you also have three options to choose between: a 6.5-hour car ride from the city, a nine-hour Amtrak ride, or a one-hour flight to Buffalo, which seems to be the best one.
Eternal Flame Falls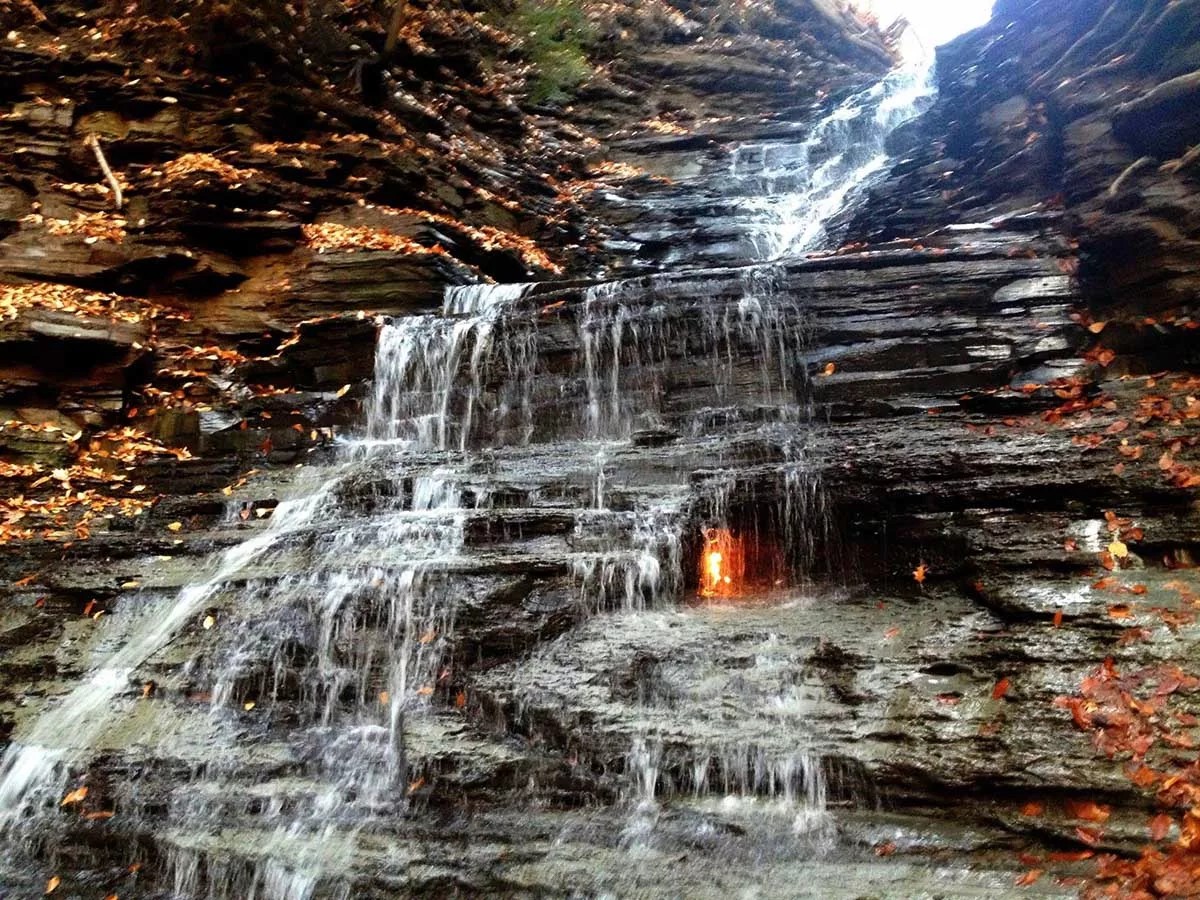 It's strange but at the same time, a very unique place which you didn't know existed.
The waterfall has gotten its name because of natural gas coming from a small cave, and that's the reason why a flame burns constantly. Even though the gas source is eternal, hikers usually light and relight the flame as it stops burning. Make sure your lighter is in your pocket. Make sure you've visited Chestnut Ridge Park before leaving New York.
How to get there:
Usually, it's a 7-hour drive from the city, or you also fly into Buffalo and get a car there (which sounds much better).
Eagle Cliff Falls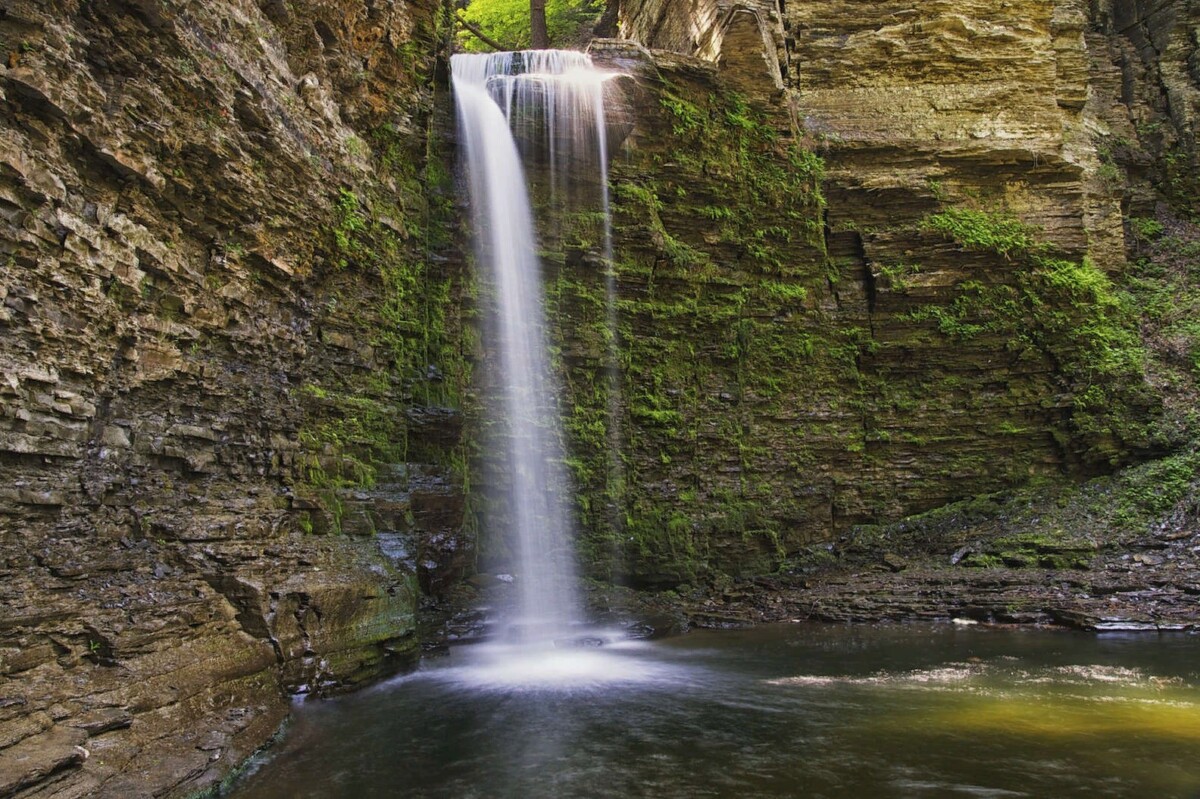 Apart from other waterfalls, here you can enjoy some time swimming in the base.
Eagle Cliff Falls is located in Havana Glen State Park, where you can also meet a couple of other smaller waterfalls. This waterfall has an easy path and access to get to, so there's no need for you to pass miles hiking – you'll have to hike only about 1 mile. Compared to others, Eagle Cliff Falls is not as popular as Niagara Falls and it doesn't draw thousands of tourists, but still, it's a nice place to visit.
How to get there:
By car: it's a four-hour drive without traffic.
High Falls Gorge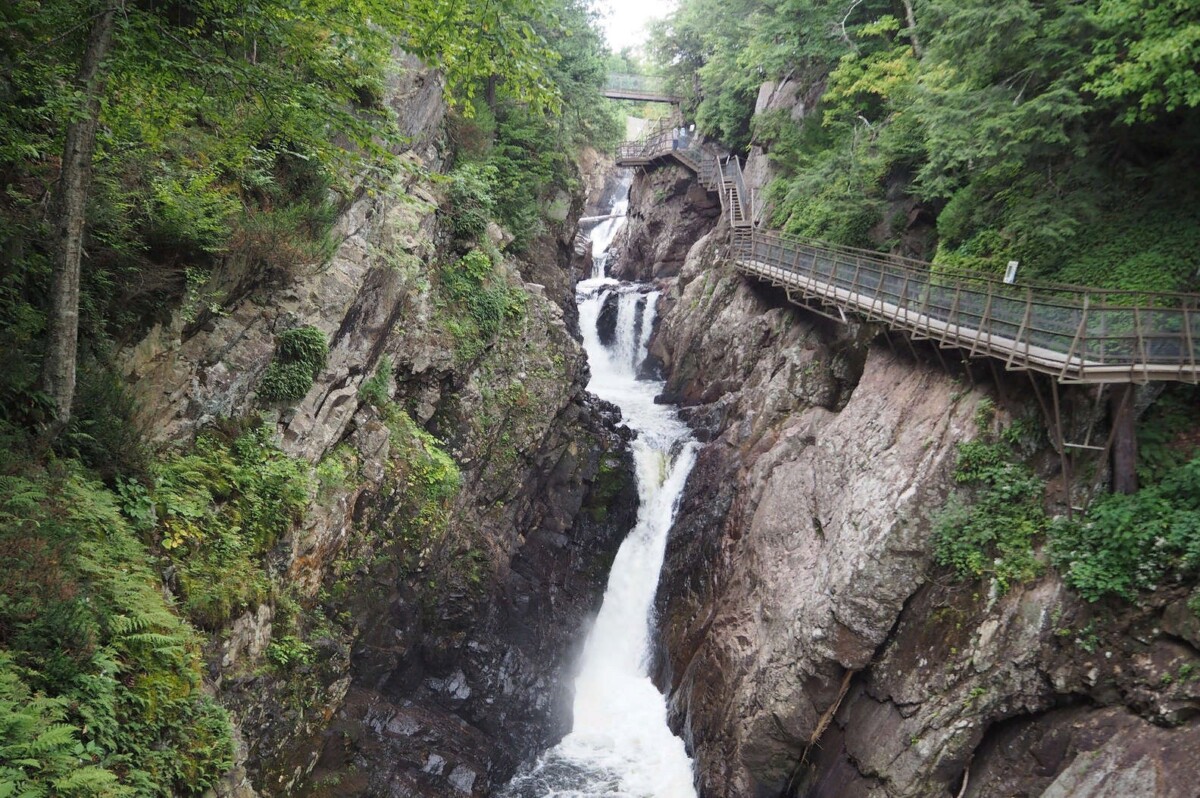 If you're into finding new things and collecting them, here you can mine for gemstones.
Just a short drive from Lake Placid and you're in Wilmington, where High Falls Gorge is located. If during hiking you generally suffer from vertigo, visiting this place is an optimal alternative for you: there are walkways all around the rock cliffs.
How to get there:

If you're going by car, it will take you about 5.5-hours to reach the destination. Another option for you is to take a bus to nearby Lake Placid which will take a similar amount of time.
Like us on Facebook for more stories like this: