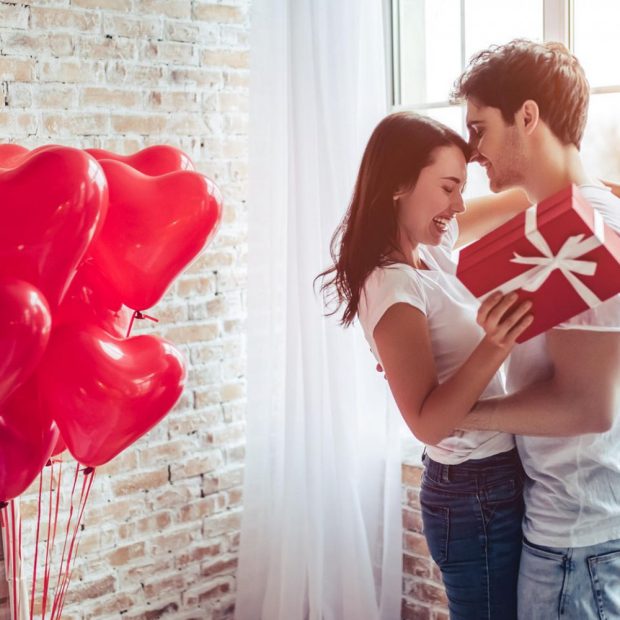 February 14th is Valentine's Day. Do you want to make your loved one happy with a Valentine's Day gift, but you lack the inspiration?

It's almost that time again and the day of love is just around the corner. A nice reason to surprise your girlfriend or boyfriend with a little gift. Flowers and chocolates always work, but there are also many other beautiful ways to make your partner happy – and it doesn't always have to be something material. If you're still missing a brilliant idea, you'll find plenty of inspiration here. Have fun giving away!
READ: Valentine's Day: Romantic Restaurants and Bars in New York
Valentine's Day Gifts for Women
Flowers in New York
Bouquet of roses: The absolute classic among Valentine's Day gifts is a bouquet of red roses. Roses stand for love and romance like nothing else and speak for themselves. If that's too trite or too boring for you, you can put together a colorful meadow bouquet with different flowers and grasses of your choice at the florists.
Chocolate or pralines: Small gestures that make your heart happy: on Valentine's Day you can surprise your partner with delicious pralines or beautifully wrapped chocolate. For example, add a piece of chocolate wrapped in a heart shape to your morning coffee and bring it to your loved one's bedside. The day couldn't start any better.
READ: Gene Analysis: What Germs Lurk in the New York Subway
Good idea for a gift
Necklace with (heart) pendant: In addition to flowers and chocolate, this is also a classic among Valentine's Day gifts: Every woman is happy about a beautiful necklace. For example, you can choose a necklace with a heart pendant to match the occasion. But a simple round pendant (with engraving) or a zodiac pendant is also a timeless and beautiful choice.
Tip: Pay attention to whether your partner wears jewelry in gold, silver, or rose gold and opt for a piece of jewelry in the same color so that they go well together.
Bracelet: Your partner prefers wearing bracelets instead of chains? Then go for a pretty bracelet that will at best go well with her other bracelets. You can't go wrong with a subtle chain in a similar tone. Filigree bracelets are feminine and go well with any occasion.
Valentine's Day Gifts for Men
Men's bracelet: Men are also happy about jewelry. How about a high-quality, masculine men's bracelet, for example? There are different styles to choose from, from simple leather straps to braided or corded models.

Men's chain: A men's chain is also a nice accessory for men. From a surfer look to bling-bling style, you have a variety of different designs to choose from. Also, decide on the model that suits your partner's taste best. Necklaces with a simple pendant can be personalized with an engraving, for example with your initials or the date of your first date or getting together.
Cufflinks
Cufflinks: Even if you don't wear them every day, cufflinks are a beautiful and lasting gift that people like to wear on special occasions. Cufflinks are available in different price ranges. Stainless steel models are available for less than 100 euros, silver-plated or silver models are usually more expensive. Another nice idea is to have an old family heirloom reconditioned by a jeweler.
READ: Helicopter Round Flight in Dubai: Soar in The Sky
Lighter: There has to be a bit of symbolism: Isn't a lighter as a sign of inflamed love the perfect gift for Valentine's Day?! Decorating with the date of your anniversary is also a good idea here. Simple lighters made of smooth stainless steel or silver are particularly suitable for this.
DIY Gift Ideas
Photo Album: Creating something for your loved one is much more personal than buying something. A nice gift, for example, is a photo album with shared memories. You can stick your most beautiful pictures in a photo album in the classic way or, alternatively, you can create a photo book online. Small texts, notes, and drawings make your album even more beautiful.
Framed picture: If you don't want to put together a whole book right away, you can also opt for a particularly beautiful picture of a couple, print it on high-quality photo paper, and frame it – done! Maybe there is a nice motif of the last trip together? If you find it difficult to decide, simply choose a folding photo frame that can accommodate several photos at once.
Homemade chocolates – a wonderful choice for a gift
Homemade chocolates: Homemade confectionery is even better than store-bought confectionery! Light chocolate, dark chocolate, marzipan, or nougat: You can tailor the recipe to the preferences of the recipient and also let your creativity run free when decorating. If you want something a little more unusual, you can find our recipe for gin and tonic truffle pralines here, for example.
Our tip: make your praline creation for Valentine's Day in a silicone mold with hearts.
Painted Mug: Morning makes the day. So how about a loving message to start the day on the coffee cup of your loved one? All you need is a cup, porcelain pencils, and a good idea. Whether a thousand colorful hearts or a funny saying, there are no limits to your creativity.
Like us on Facebook for more stories like this: