With a low budget in the outrageously expensive mega-metropolis New York City. Is that possible? New York has a reputation for being one of the most expensive cities in the world.

In this article, we give you tips on how to spend a good vacation in New York on a budget, where you can stay inexpensively, which restaurants are also something for the smaller budget, and, above all: which activities cost little or even nothing.
Low-Budget Hotels
No, it doesn't always have to be the 4-star hotel in Times Square. It is often the hotels that are a bit out of the way (also in Lower Manhattan or parts of Brooklyn and Queens) that have a positive impact on the travel budget. More and more New York visitors are now looking for a hotel in the neighboring state of New Jersey. Getting to Manhattan is uncomplicated and the hotels are significantly cheaper than in Manhattan.
Getting Around – The Courage to Take the Subway
Subway
There is no cheaper way to get from A to B in New York City – the New York subway is one of the largest and best-developed subway networks in the world and runs 24/7 and 365 days a year. Certainly, a small challenge for newcomers to find their way around, but compared to a taxi you save a lot of money with around 2.75$ (when buying the MetroCard).
READ: Barrier-Free on the Road: With the Wheelchair in New York City
Restaurants – Avoid Tourist Hubs
Wherever there are many tourists, you pay extra – everyone should be aware of that. Anyone who has ever paid $8 for a dry Pretzel at the 9/11 Memorial knows what we are talking about. That's why we always give everyone the tip: Visit the real New York, get lost in areas like Brooklyn, Harlem, or the Village. Here, many small, worthwhile restaurants lure with "normal for New York" prices, without paying the tourist flat rate on top. Therefore: avoid the brightly colored restaurants in Times Square, here a glass of wine costs a good $14. Besides, it's much better to eat among the locals, isn't it?
Culture – Are there Free Museums?
You can also save a lot at the museums: Many museums offer free admission on certain days of the week from certain times, even as a student or pensioner you can save everywhere here. The "MoMA" (Museum of Modern Art) opens its doors free of charge on Friday afternoon. You can find more information about the respective offers on the websites of the museums.
READ: New York With Children: Tips for Parents
Shopping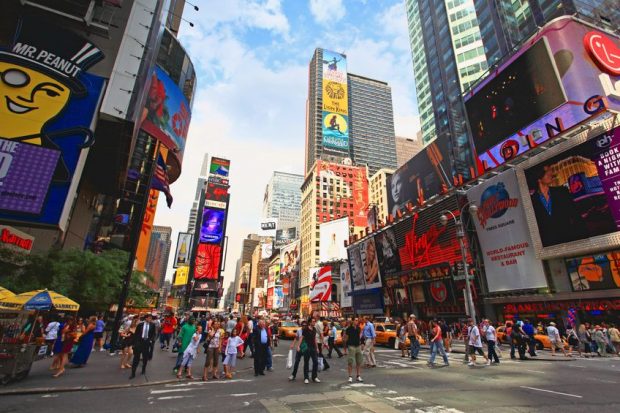 Shopping in New York
Sure, if you want to shop in New York City, you should bring the necessary change with you, but it doesn't always have to be Fifth Avenue that invites you to go shopping. Areas like Williamsburg – with great flea markets and thrift shops – or outlets in New Jersey offer a good alternative if you want to be a bit cheaper. The tax benefits alone make a trip to Jersey Gardens, or the Garden State Plaza Mall, worthwhile.
READ: Museum Of The Future: A Glimpse Into the Future is Possible at the Museum Of The Future in Dubai
The New York Pass: Save Money
The New York Pass is another way to save money at over 80 attractions and select restaurants and shops in New York. The New York Pass looks like a credit card and – once purchased – gives free access to over 80 different attractions in New York. It is available in several versions, which therefore also vary in price. You can choose whether the New York Pass should be valid for 1, 2, 3, 5, 7, or 10 days. You can also save up to 10% in selected restaurants, shops, and bars. Once paid, you can visit as many sights as you want or as you can. In addition to free entry to the attractions, you can also get various special offers on Broadway shows.
Like us on Facebook for more stories like this: