New York offers a wide selection of burgers and other fast food. It will be underestimated, but a good hamburger is a real work of art. The best burgers are of course in New York. Here is a list of the five best burger addresses in New York City.
Five Napkin Burger

About taste can be argued, but this restaurant really appears in all top 5 lists of the best burgers in New York and is our number one. Five Napkin Burger is a restaurant where you can order sushi and other dishes next to Hamburgers. An ideal combination if you go to eat for two and you want to order a little healthy while the other is desiring to the best burger in the city. The best burger in this restaurant is the original Five Napkin Burger, with special cheese and sauce. He is a great burger, a real heavyweight, many do not completely create. With the fries, it's a lucky thing, but most of them are good.
Location: There are several, but the reallocation is located in Midtown, west of Manhattan, not far from Times Square.
Tip: Between 18:15 and 21:00, there is usually a queue of at least one hour. Also between 12:00 and 13:00 o'clock, you should set yourself on a waiting time. The food is delicious, the atmosphere is good, but it's always full and therefore a bit hectic.
READ: For All Fans: Sports and Soccer Pubs in New York
Corner Bistro
The Corner Bistro is actually a bar. Do not expect a chic table decoration and noble cutlery, plates, and glasses. But do not be surprised if you find a long queue. The best hamburger here is the bistro burger with cheddar and bacon. The burger is not so hard in the stomach but saturates. The fries are always well fried.
Location: Between Chelsea and the Meatpacking District
Tip: You should definitely stop by Corner Bistro. It is a good place for lunch, but for dinner, however, less suitable. The waiting time for lunch can sometimes be up to 30 minutes. It's also fun to sit at the bar and drink a beer. The Corner Bistro accepts only cash and no credit cards.
Peak NYC
Peak NYC is a restaurant on the 101st floor of the 30 Hudson Yards. There is a floor above the Edge Observation Deck. In addition to the beautiful view, you can enjoy a delicious burger here. The American Wagyu Burger is with smoked bacon, Dijonaise, and Cheddar. The burger is served only at lunchtime and can be a bit expensive, but together with the breathtaking view, it is definitely worth it.
Location: Hudson Yards
Shake Shack
Shake Shack is known for its incredibly delicious milkshakes and incredibly long queues. Shake Shack has several branches in New York. We recommend avoiding the branch on 8th Avenue, as there is always a lot going on here. Go to one of the other locations outside of Midtown. Although – for the ultimate Shake Shack experience you should of course visit the very first branch in Madison Square Park. But set yourself in a long queue. If you only want to order a milkshake, you can contact yourself in the faster C line. And if you hear the question: "Do You Want It Malted?", Do you answer with Yes! Moment, was not the top 5 of the best burger? Yes, in fact, even the burgers are delicious here! Try the Shack Burger.
READ: It's Interesting: Curious and Worth Knowing Facts about New York

Location: Several branches, the most famous is in Madison Square Park
Tip: Even if it sounds crazy to wait for a milkshake or a burger for so long … it's worth it! If you find a queue from 15 to 30 minutes, you should use your chance. In summer it is always full, before 12:00 pm lunch, however, it is still limited. When it gets colder, especially in the evening is not so much going on. The shakes are quite powerful and a little enough completely enough.
Burger Joint
In the chic Le Parker Meridien Hotel hides a true gem. Go through the lobby and turn left into a narrow walk at the reception. You will hardly trust your eyes! Because suddenly they are in a student burger restaurant. Burger Joint has a great underground atmosphere and gives the impression that it landed in a cave. But the burgers are incredibly good! The best burger is the cheeseburger with "All the Works". It really is a surprising find and a real experience. Burger Joint is good for lunch or a snack, but not for a romantic dinner.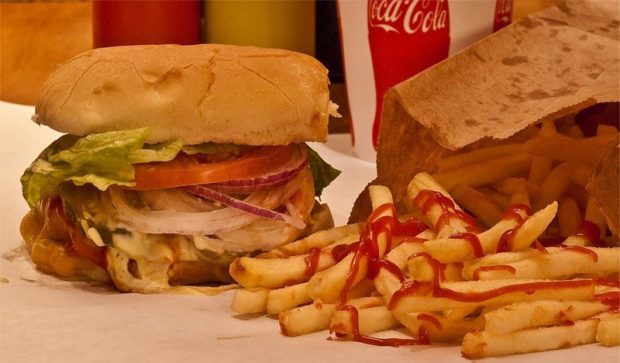 Location: Midtown Manhattan, near Central Park and Columbus Circle
Tip: Do not expect too much. Imagine only if you know what you want to order. Do not start to inquire about yourself if there maybe this or that, the motto is here: "What you do not see on the map is not." There are long queues all day long.
READ: Qatar Airways: Airline from Qatar in Dubai
Like us on Facebook for more stories like this: