OMNY means "One Metro New York" and is the new payment system for the subway (metro) and buses in New York City. Here you can find out how OMNY works, how you can use it and what that means for your next trip to New York!
The OMNY Metro New York in a Nutshell
It will replace the MetroCard for the Subway & MTA buses from 2023.
Up to this point both systems exist in parallel.
It works contactless directly via credit card, smartphone or smartwatches.
Payment via Google Pay, Apple Pay, Samsung Pay and Fitbit Pay.
Long Island Rail Road and Metro-Morth Railroad trains supported throughout the year.
Where is the OMNY Valid?

You can use the One Metro New York (OMNY) on every New York City bus and for all New York City subway lines, no matter which of the boroughs in New York you are traveling in.
READ: Shopping Tour to Woodbury Common Outlet in New York
How Much Does the One Metro New York Cost?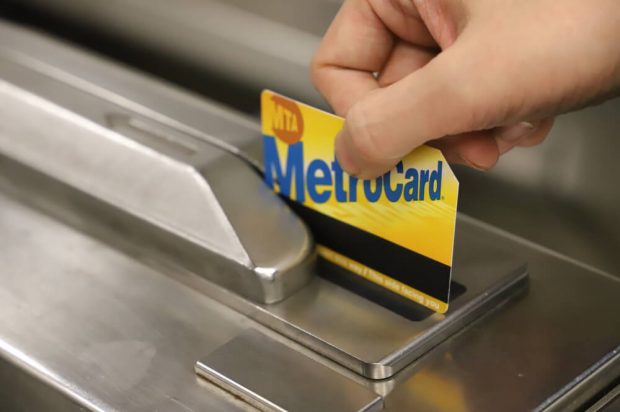 Metrocard
The OMNY service itself is free – as is creating your account. The costs for the journeys are the same as with the previous Metrocard.
Paying with cash will also be supported in the future, albeit via a detour: you can top up the contactless MTA Transit Card with cash at designated stations. Then you can enter the subway stations with this kind of "MTA app" as usual. This MTA Transit Card will be available from 2021.
READ: 10 Reasons to Love New York: Too Many Reasons To Love This City
This is How OMNY Works in New York
To use the new system, you must first register on the official site – it's free and quick:
Visit website and register.
Store payment method.
Confirm account via email link.
Finished!
You can manage everything in your account, from the payment methods stored to the password. And what we really like: you can see very quickly which journeys you have made – right away with the appropriate receipts. Now you can use the subway and buses of New York!
FAQ
What Does OMNR Mean?
The abbreviation stands for "One Metro New York" and is – in our opinion – a pretty good name!
Which credit cards are supported?

You can use the Subway via OMNY with all types of credit cards, whether it's a classic credit card, a debit card or a prepaid card – the only important thing is that it supports contactless payment (which all newer cards do).
READ: Dubai Сruise: Cruising from Dubai is an Experience in the Winter Months
When will the Metrocard be replaced?
The Metrocard will continue to exist until 2023, after which One Metro New York will take over the payment function.
What happens if you have multiple credit cards in your wallet?
It is recommended that you take the credit card you want to use to pay for the ride from your wallet and hold it up to the OMNY reader. Otherwise the system will not know which is your preferred credit card and will simply charge the first credit card it finds in your wallet.
I have stored several credit cards in my smartphone / in my watch. Which card will be charged?
The principle here is similar: it is best to select the credit card in the wallet that is to be charged and then point your watch or your smartphone at the OMNY reader.
Like us on Facebook for more stories like this: